Christmas markets and shopping in Manchester
Get your Christmas gift wrapped with our pick of the best Christmas markets and shopping for 2015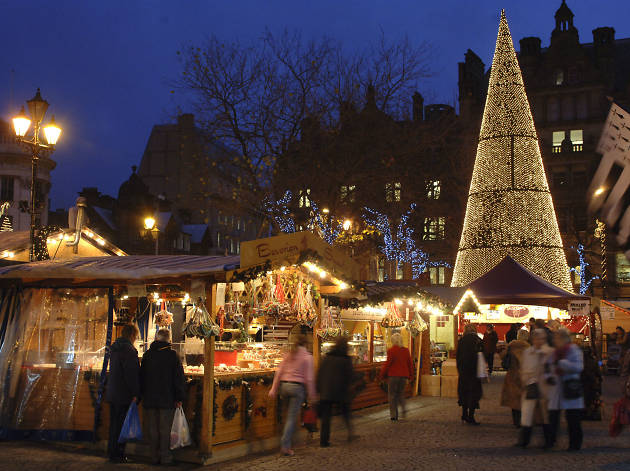 Looking for gift inspiration? Look no further than Manchester's Christmas markets and best places to buy gifts. Among a raft of special festive events you'll find foodie gifts, hand-crafted pressies and usually a bit of glühwein to help you get into that merry spirit.

Tickets make for a great gift as well so take a look at upcoming theatre shows and gigs to see if any appeal, as well as panto and Christmas shows for the family.



Awarded 'Best Independent Retailer' at the 2013 Manchester Tourism Awards, Manchester Craft & Design Centre boasts over 30 artists, designers and craft makers under one roof, perfect for your Christmas shopping.
Read more
On a cold rainy day, stay inside at the enormous and enormously popular shopping centre where you can find just about anything you want. It's a bit like being inside a massive Christmas bauble anyway.
Read more
The store to go to if you want to make something, you'll find all you need here, whether you want to create your own cards, decorate a cake or buy a crafty gift.
Read more
Slap in the heart of the city centre, the indoor shopping centre has all the main highstreet brands, plus the lovely market space for more individual goods.
Read more
The perfect place to buy a print, poster, limited edition or even original artwork. Particularly great for film and music lovers if you're looking for something special for a Christmas gift.
Read more
If your Christmas is on a tight budget you could find yourself a bargain or two here, where used music and second hand DVD/Blu-ray could be mistaken for brand new but at a fraction of the price - and there's rare vinyl too.
Read more
Whilst this is actually a café, they sell some lovely designery type items too, including wonderful kitchenware and hand made blankets - the coffee is good as well.
Read more
Head down to the Spinningfields area if you want some posh clothes, with designer brands taking up the majority of the retail space here. There's also an ice rink if you tire of shopping.
Read more