The 13 best things to do in Marrakech
From souks to scrubs, designer gardens to do-it-yourself tagines, these are the best things to do in Marrakech
Mint tea, hammams and haggling in the souks are the headline attractions of Morocco's vibrant capital, but scratch beneath the surface and you'll find that the best things to do in Marrakech have a contemporary feel to them too. Bespoke riads rub shoulders with carpet traders within the walls of the Medina—the city's old town—while, a bit further afield, there are up-and-coming neighbourhoods that have a distinctly French feel to them. And because of its north African location, you're pretty much guaranteed good weather on any visit, regardless of the time of year—c'est parfait!
Done something on this list and loved it? Share it with the hashtag #TimeOutDoList and tag @TimeOutEverywhere.
Find out more about how Time Out selects the very best things to do all over the world.
Best things to do in Marrakech
1
Jardin Majorelle
What is it? Created by the French painter Jacques Majorelle (hence the name), the botanical garden is home to more types of cacti than you can shake a terrarium at and has a stunning indigo blue art deco house as its centrepiece.
Why go? Phone cameras at the ready – Jardin Majorelle is pure Instagram gold. Although you will see some cringe photoshoots going on, it's impossible to take a bad picture here – but arrive early to avoid unwanted photo bombers.
2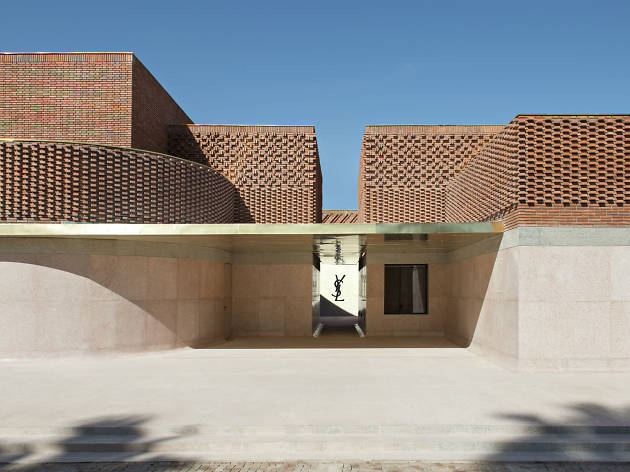 Musée Yves Saint Laurent
What is it? The famous French designer loved spending time in Marrakech so much that he actually bought Jardin Majorelle in 1980. Opened next door to the gardens in 2017, the Musee Yves Saint Laurent is dedicated to the fashion label owner's work and has a permanent display of hundreds of garments from his 40-year career.
Why go? Even if you're more Primarni than Armani, the YSL collection is an amazing body of work that even non-fashionistas can appreciate. It's all housed in a really cool building, too, which is worth a visit even if you don't fancy perusing the exhibits inside.
3
Bahia Palace
What is it? Countless rooms and courtyards are at the heart of this sprawling example of nineteenth-century Moroccan architecture. Stunning pieces of ornate decoration can be found at every turn – even on the ceilings.
Why go? Bahia is roughly translated as 'brilliance' and that's definitely not an overstatement. Escape from the heat of the midday sun to the palace's shaded spaces and get lost in all of the intricate detailing.
4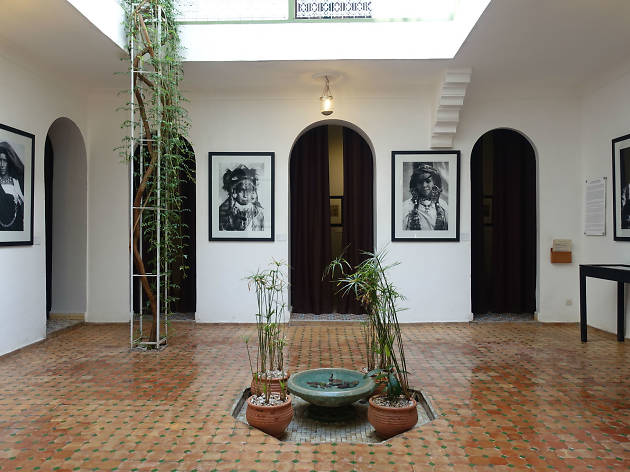 Maison de la Photographie
Maison de la Photographie
What is it? A three-storey space in the east of the Medina that's home to a number of exhibitions that document the history of Morocco. The photographs surprisingly reveal that, in more than a century, some things remain exactly the same.
Why go? Immerse yourself in a visual history of Marrakech and its surrounding area – one of the only places you can do this in the city. The rooftop café is a great spot for a drink and a bite to eat during your visit too.
5
Michel Teuler
What is it? Marrakech is famous for its souks (essentially a huge marketplace) and Souk Semmarine is the biggest of them all. Rugs, trinkets and crockery of all shapes and sizes are on offer in this maze of shops – just try not to get lost.
Why go? If you're looking for a true Marrakech experience, then get stuck in and do some haggling with one of the local traders. Knock them down from their opening price and come away with a memento for your trip.
6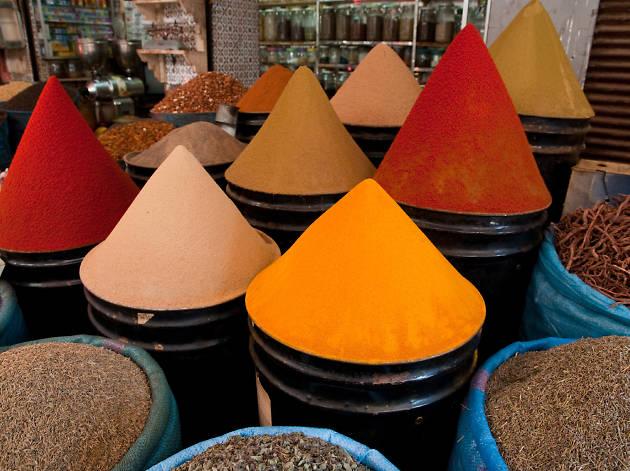 Michel Teuler
What is it? Moroccan cuisine is famous for its aromatic taste and wonderful colours, and it's all because of the spices that are used. Place des épices is a square-based souk home to a number of traders selling everything from allspice to za'atar.
Why go? It's worth visiting just to see the all of the spices piled high. Make sure to pick up some – even if you don't use it, at least your cupboards will smell nice.
7
El Badi Palace
What is it? What was once the location of a grand palace is now home to a vast collection of ruins. Large pools sit at the centre of the site, while some towers remain where you can get a panoramic view of Medina.
Why go? After spending the day in the confined spaces of the souks, El Badii Palace will provide you with a welcome break from the tunnel vision. There's also the chance to do a bit of bird watching too, with a muster of storks nesting on top of the ruins.
8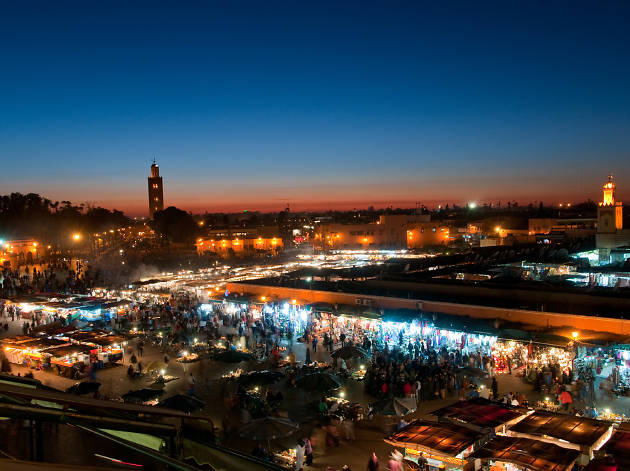 Michel Teuler
What is it? The big open square at the heart of Medina is one of Marrakech's biggest attractions. Expect snake charmers, street entertainers and over-enthusiastic henna artists at every turn.
Why go? Although it is a bit of a tourist trap, you have to wander around Jemaa el-Fna at least once. Grab some food from one of the street vendors in the evening (stall 14 does some mean fish dishes), before heading up to one of the rooftop bars to watch the sun set over the action below.
9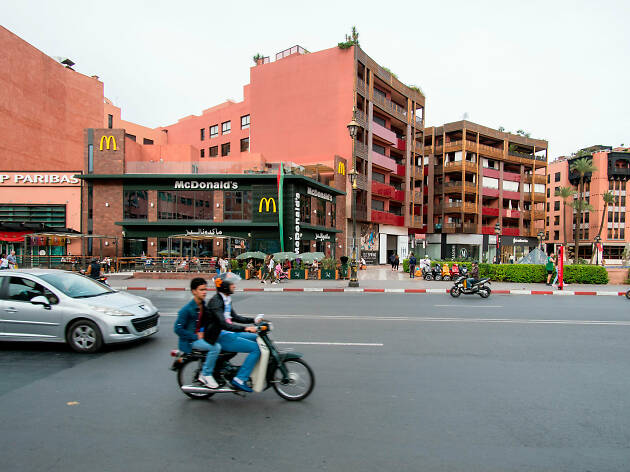 Photograph: Shutterstock
What is it? A short journey to the west of Medina, you'll find the up-and-coming neighbourhood of Gueliz. There are European-style shopping malls and small homeware boutiques aplenty, as well as a great selection of bars and restaurants for a post-retail therapy pit-stop.
Why go? If visiting Marrakech, there's a good chance that your riad will be within the old town's walls. Switch things up a bit and experience what modern-day Morocco is all about.
10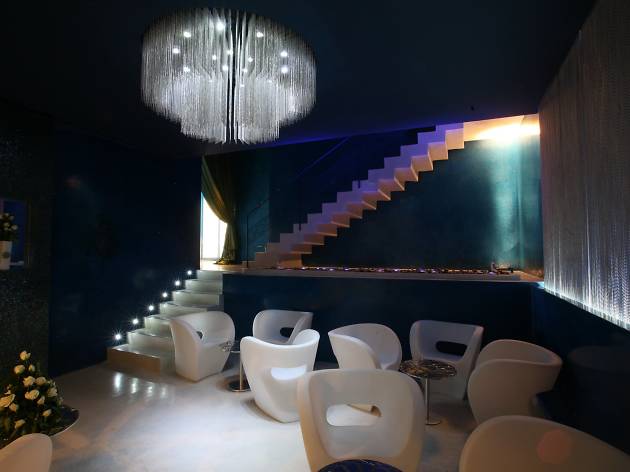 Hammam de la Rose
What is it? Steam baths, scrubs and massages are something of an institution in Morocco, so if you're going to Marrakech, visiting a hammam has to be close to the top of your to-do list.
Why go? There are hundreds of different options available, but De La Rose is definitely one of the best. Book ahead to guarantee your slot, and remember to relax as you have the living daylights scrubbed out of you.
11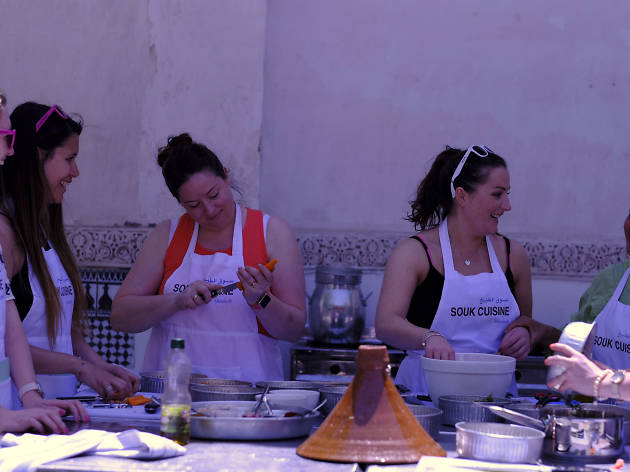 Souk Cuisine
What is it? The sessions organised by Souk Cuisine are a cookery class with a twist. Starting with a tour of the souks, you haggle for ingredients before heading to a riad where you're taught how to cook by a group of local women.
Why go? Food is a huge part of Moroccan culture, and the course will let you experience it first hand. You'll also make some of the tastiest tagines in town.
12
Oyourou Photography
What is it? Sampling Morocco's distinctively sweet take on mint tea is a must, and a mug at Zwin' Zwin' café to the south of Jemaa el-Fna is one of the best you'll taste in the city.
Why go? The tea and cakey treats at this spot are great, but pale in comparison to the panoramic views from its rooftop – in fact, on a clear day, you can even see as far as the Atlas mountains in the north.
13
El Fenn
What is it? Although parts of Medina appear quite rough and ready, there's also a wealth of boutique riads in the old town. A one night stay at this swanky pad would probably cost a month's pay, but even those without a six-figure salary can visit the bar for a cocktail without breaking the bank.
Why go? Hidden down a small side alley, you'll do well to find El Fenn – once inside though, you'll be glad that you've persevered. Sample a cocktail from the bar and drink in one of the city's most exclusive locations.