The 13 best restaurants in Marrakech
From fine-dining institutions to the city's plethora of bustling food stalls, these are the best restaurants in Marrakech
Few things make Marrakchis happier than seeing guests eat with gusto – so go on, do your bit for international relations and tuck in. Locals don't eat out often, and when they do they expect a generous diffa (feast) in a gorgeous setting. This typically takes the form of a four- or five-course banquet served in an atmospheric riad (courtyard mansion).
Beyond the traditional feast, Marrakech has an increasing number of French, Mediterranean and Moroccan fusion restaurants, most of which can be found in smart hotels and Gueliz, the so-called 'New Town', where Marrakech's rising middle classes hang out. Medina workers, on the other hand, head to the city's plethora of food stalls which serve sugared doughnuts, bean soup, stewed snails, fried fish and an epic evening barbecue that turns the whole Jemaa el-Fna into an open-air restaurant. Worked up an appetite ticking off this city's marvellous array of things to do? Here's our pick of the best restaurants in Marrakech right now.
Eaten somewhere on this list and loved it? Share it with the hashtag #TimeOutEatList. You can find out more about how Time Out makes recommendations and reviews restaurants here.
Best restaurants in Marrakech
For the most refined Moroccan food in all of Marrakech, head to this opulent restaurant at the Royal Mansour hotel. Set in its own lapis-floored riad, the dining room is richly decorated and manned by staff in elegant traditional attire. Everything on the menu is delicate and delicious, from the lobster seffa medfouna (vermicelli sweetened with raisins, almonds and cinnamon) to the mullet with chermoula (garlic, cumin and coriander marinade) to the lamb tagine with quince and orange blossom honey.
Price: Blowout
The hottest spot in Gueliz right now is Cassandra Karinsky's bright, modern Medi-Moroccan fusion restaurant +61. The chefs put ingredients sourced from the organic market down the road front and centre. The results are simple, but punchy. And very moreish. Don't miss the homemade ricotta with roasted red peppers, the spinach and wild herb tart or the fish of the day with celeriac and artichokes.
Price: Mid-range
If you want to get the lowdown on the state of Moroccan cooking right now, book a terrace table at Mes'Lalla, the fine-dining restaurant at the Mandarin Oriental. Produce is rigorously sourced: greens from the garden, and meat and fish from some of Morocco's best producers. Hence the delicacy of the soft-shell crabs which arrive direct from he Oualidia lagoon and the depth of flavour in your velvety Sidi Bou Othmane chicken tagine. Desserts, too, are exquisite. The orange blossom pastilla comes topped with gold leaf and violas.
Price: Blowout
Tucked away in the heart of the fabulous Bacha Palace is this fancy Belle Époque café with velvet tub chairs, chinoiserie wallpaper and giant potted palms. Although the main focus here is on the 200 varieties of single-origin coffee and a vitrine full of dainty Parisian patisserie (courtesy of the former pastry chef at the Mamounia), there's also a decent bistro-style menu serving a mix of French and Moroccan dishes. Think savoury stuffed croissants, cinnamon-spiced chicken pastilla (a layered pastry pie) and barramundi fish tagine.
Price: Mid-range
Probably the medina's buzziest dining venue, Nomad's towering rooftop is in constant high demand, so reserve ahead if you want to be sure of a seat at sunset. The décor is playful and stylish, with colourful woollen cushions and carpets nodding to the building's previous life as a carpet shop. The menu has a Medi-Moroccan slant, with highlights including the likes of cumin-slathered calamari from Agadir, organic chicken marinated in sweet harissa and crunchy cauliflower and fennel salad.
Price: Mid-range
Likely the best home-cooked meal you'll eat in Marrakech is served at the Amal Centre, a social cooperative that supports and trains disadvantaged women. The food includes unusual salads with lentils, cauliflower and leeks, a truly excellent fish tagine and a traditional Friday couscous. Prices are low, and there are crèche facilities, meaning the dining room is a happy mix of locals and savvy travellers.
Price: Bargain
The menu at James Wix's retro Moroccan restaurant draws straight from grandma's cookbook. Here you can sample traditional specialities such as berkoukesh (handmade pasta with a herb and tomato sauce), tride (shredded pancakes with lentils, chicken and saffron) and tihane (offal stuffed with spiced kefta, olives and lemons). Not so old are the contemporary, orientalist décor and the rather good cocktails, best enjoyed on the roof terrace.
Price: High-end
You'll find this chic French bistro down a quiet street in Gueliz, the so-called 'New Town' built by the French in the '20s. Le Petit Cornichon serves a reasonably priced three-course lunch menu featuring seasonal plates, while at dinner there's an à la carte menu of French classics including steak with béarnaise sauce, fillet of bream in beurre blanc with courgettes and rack of lamb with green beans. From time to time, they also host set dinners with wine tastings – check their Facebook page for details.
Price: High-end
This fabulous traditional restaurant is set in a gorgeously decked-out riad deep in the north of the medina. It was one of the first addresses in these parts to offer a multi-course gastronomic Moroccan diffa (feast) for a set price and 20 years on it's lost none of its shine. Take aperitifs on the panoramic roof terrace, then settle down for a waist-expanding meal in one of the lavishly decorated salons.
Price: High-end
If you're after a glimpse of the Marrakchi glitterati, book in for the lunch buffet or Sunday brunch at La Mamounia's poolside Pavilion restaurant. Here the city's great and good sit sipping glasses of gris (Moroccan rosé) and fanning themselves beneath parasols while other folk frolic in the pool. At 1,200Dh it's far from cheap, but the all-you-can-eat buffet includes a never-ending spread of salads, tagines, seafood, roast meats, dips, raw veg, savoury and sweet pastries, ice cream, fruit and dessert. Dress smart casual or you may be turned away at the gate.
Price: Blowout
This smart Lebanese restaurant is done out in khamsa (hand-shaped amulets), stripy textiles and hand-cut lanterns, and wouldn't look out of place in downtown Beirut. The owners emigrated here by way of Vienna and consider a matter of pride to showcase the best Lebanese cooking has to offer. The kibbeh and chicken salad are excellent, as is the fatet batinjan (aubergine covered in spicy mincemeat, yoghurt and pita chips). A decent selection of mezze and salads makes this is a good option for vegetarians. Portions are large, so consider sharing.
Price: Mid-range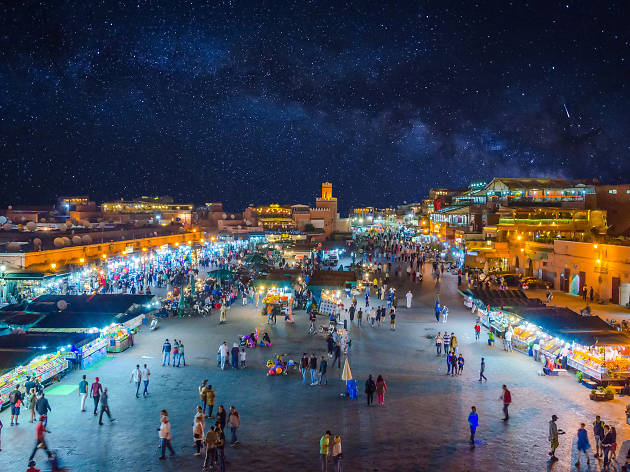 Photograph: Shutterstock
Easily the biggest, rowdiest, most popular restaurant in town, this epic open-air barbecue pops up each evening on the Jemaa el-Fna. From around 5pm, 100 or so stallholders set up shop and cook up a gloriously pongy meat feast of kebabs, tagines, sheep's brains and skewered hearts. Keep an eye out for clean grills and fresh meat, stick to bottled water and use your bread instead of rinsed utensils. Stall 34 specialises in spicy merguez sausages, while stall 31 does a mean fried potato cake.
Price: Bargain
La Famille serves an inventive vegetarian menu in a shady medina garden. Take a seat at one of the lop-sided lemon-wood tables beneath the fronds of a banana tree and contemplate the dips, salads, flatbreads and quiches of the day. Everything here is light, fresh and rooted in classic local flavours. Take, for example, the couscous, served with sweet onions, mint, almonds and dried figs. The homemade desserts are also delicious and usually feature a seasonal fruit tart, while fresh juices and herb-infused water are served instead of alcohol.
Price: Bargain
Need more sightseeing inspiration?
Within minutes of arriving in Morocco you'll learn a new word: 'Balek!' Rough translation: 'Move it or lost it, donkey coming through!' This is a city on the move, so you better budge and watch in awe as Marrakech rushes ahead.
Best selling Time Out Offers