The 10 best boutique hotels in Mexico City
If you want to enjoy Mexico City to the max, in a place that's comfortable, aesthetically pleasing and close to the city's best attractions, try one of these excellent hotels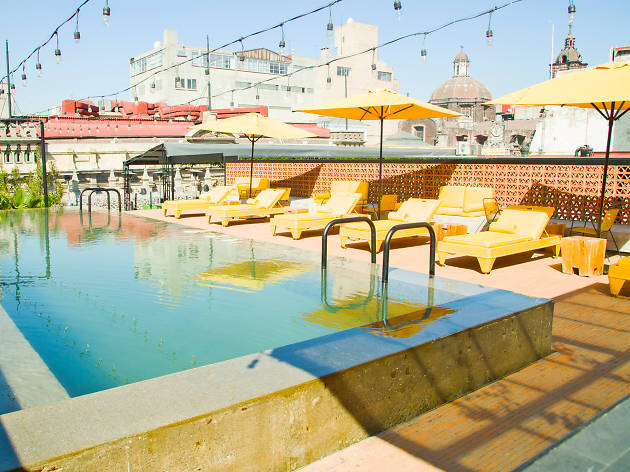 Visiting Mexico City is a serious experience. As much for foreigners as for local tourists, there is something for everyone to enjoy thanks to such a huge range of activities: from dining at fantastic restaurants to discovering the best museums and buildings which we've included on our list of the 20 best things to do in Mexico City, at least once!
The most important factor when it comes to immersing yourself in city life is to stay in a hotel that meets all your needs. If you're coming on business, for a honeymoon or simply to chill and explore, we can recommend 10 boutique hotels that are well worth the visit. Some stand out for their luxury, others for their beautiful terraces and of course, not forgetting those that are renowned for their excellent service and cutting edge design.
What do you say? Excited to visit Mexico City?
The best boutique hotels to stay in Mexico City
1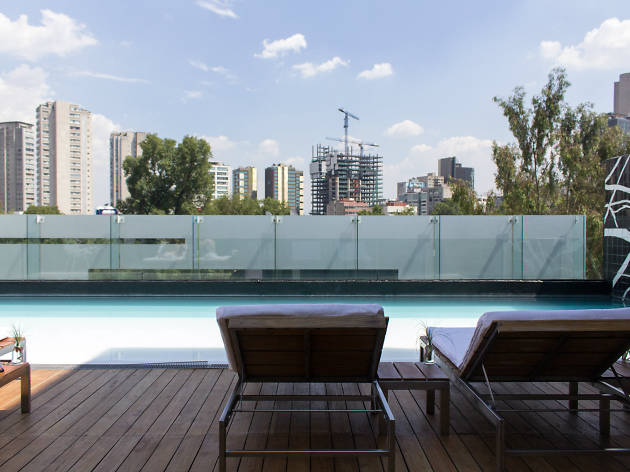 Foto: Mattza Tobón
Among the offices, grand avenues and shopping centers of Polanco, is a boutique hotel that's perfect for guests with demanding tastes. We're talking about Hotel Habita, a contemporary design building where you can enjoy the comfort of a hotel without straying from the luxurious style of the zone in which it's located. On the first floor, you'll find a restaurant that offers contemporary international cuisine. The restaurant's walls back up to the pool which breaks up a bit of the architectonic formality, with pieces by no less than contemporary artist Jan Hendrix.
2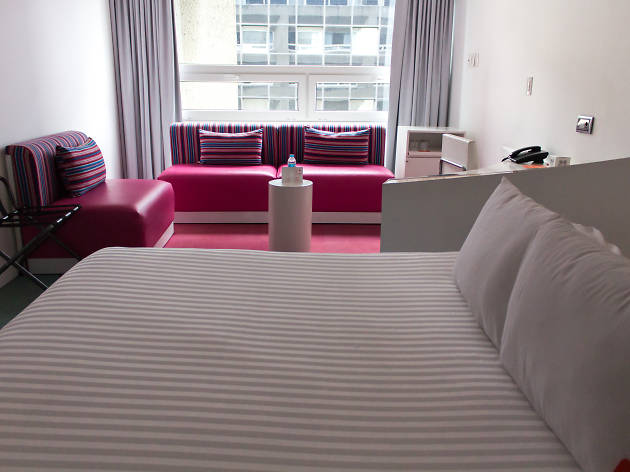 Foto: Mattza Tobón
There's nothing better than the feeling of staying at a good friend's house, and this is the inspiration behind Room Mate Valentina. This boutique hotel forms part of a hotel project that's present in more than 12 cities around the world. Each hotel is thought of and designed with the intention that guests enjoy comfort, attention and respect. Obviously, its great location in Zona Rosa doesn't hurt either. The reception area is adorned with colorful stained glass, comfortable seating and free coffee. On the first floor and inside the rooms, we'll find the work of interior designer Tomás Alía. Neon colors, geometric fabrics and floral prints that mix with the minimalist design of the hotel spaces.
3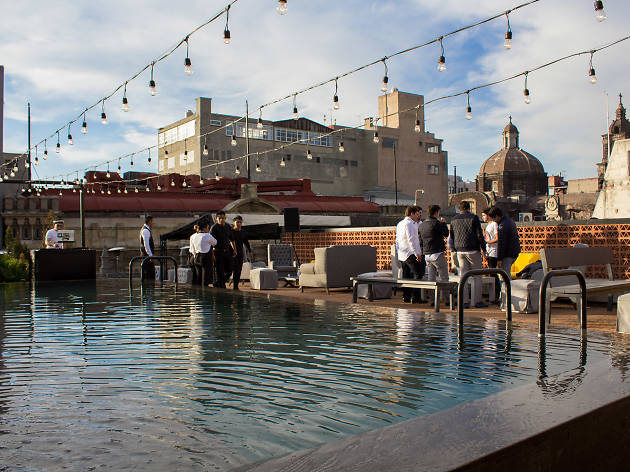 Foto: Mattza Tobón
In Mexico City's Zócalo, you'll find all kinds of establishments. In just one visit, you're privy to museums, restaurants and historic buildings. At the same time, when visiting Mexico City, staying right in the middle of it all is always a good idea. What's it like to stay in a hotel located smack dab in a commercial center? That is Downtown, a boutique hotel that's also from the Habita group. This singular hotel is located in what was once the Palacio of the Condes of Miravalle, and preserves its architectonic style from the 17th century.
4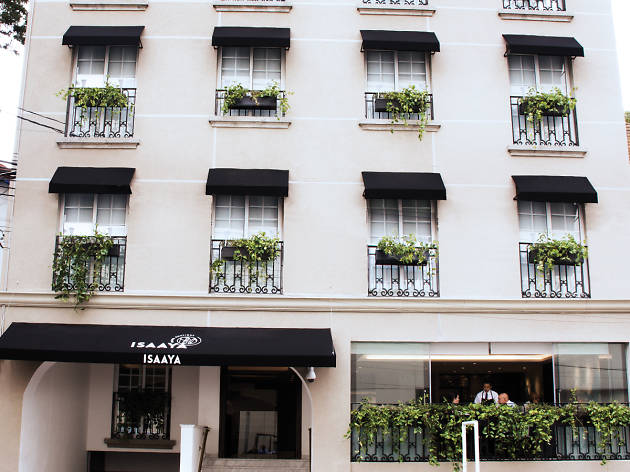 Foto: Cortesía Isaaya Hotel Boutique
In the middle of traffic chaos and offices, Nápoles is a neighborhood that houses a building with Manhattan-style balconies. We're talking about Hotel Boutique Isaaya, a great option for travelers who like comfort, but above all luxury. Located on the side of the World Trade Center, its terrace features a 360-degree panoramic view. Isaaya is a recently opened hotel, which is why you'll find rooms equipped with the latest technological novelties. Digital curtains, sensors that monitor movement, temperature and lights that are programmed to adapt to your sleep schedule: these are just some of the peculiarities that make you feel like you're staying in the distant future.
5
Foto: Mattza Tobón
If you're looking for a hotel where you're more than just a number among hundreds of guests, the María Condesa hotel is your best option. With a truly Mexican atmosphere, an interesting design, most importantly, friendly and personalized treatment: this boutique hotel offers an experience worthy of repeating. This small hotel of 16 rooms is located in the heart of the Condesa neighborhood. There are two types of rooms: deluxe king size rooms complete with air conditioning, a mini bar with some typical Mexican sweets (that you can replenish at no additional cost), Apple TV and cable TV, Internet access, a safety box and a coffee maker; and then there are three spa suite rooms that include a private sauna.
6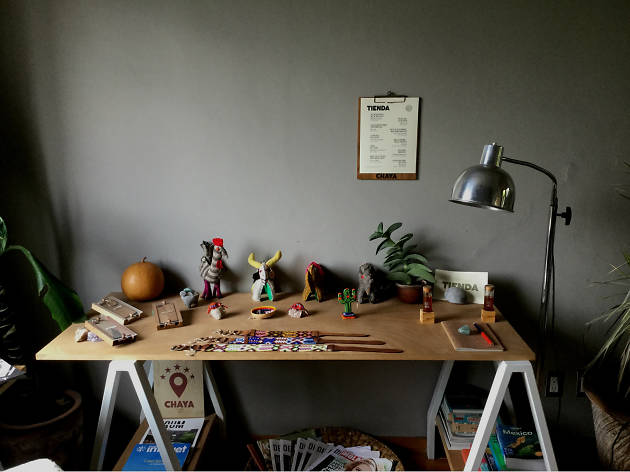 Foto: Mayumi Flores
Wake up! You're in Mexico City. You're in Chaya. Those are the phrases that receive you at the Chaya B&B Hotel Boutique. Its location is privileged, alongside the Alameda Central, which has been the protagonist of many events and legendary tales in the city, and was a source of inspiration for muralists who've worked to describe its peculiarities. What's for certain is that Chaya isn't a conventional place. Situated in a 1920 building, it forms part of Barrio Alameda. Its rooms run the gamut from modern to rustic and homey, some of which feel like taking a trip to a pueblo in Chiapas. Its design is highlighted by the use of wood, weavings and cement carvings. The hotel has 11 rooms, nine of which are standard deluxe double rooms, or junior suites, and two much larger master suites with bathtubs.
7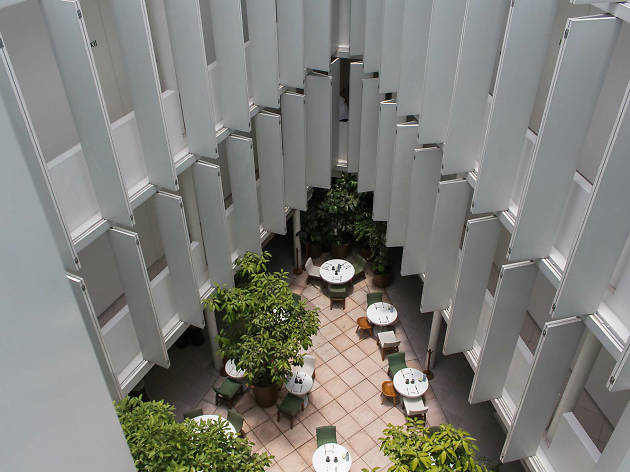 Foto: Mattza Tobón
The Condesa DF is situated in a neoclassical building that takes us back to the era of Porfirio Díaz. The interior spaces have been remodeled with a minimalist aesthetic and its distinct environment makes it an excellent option for spending the afternoon, whether you actually stay in the hotel or not.
The hotel restaurant offers a menu designed by French chef Romain Fouquet. On the top floor, you'll find an ideal terrace for escaping the chaos of the city, while taking in some sun on a lounge chair. Or even enjoying a Sunday with music and drinks in the triangular lounge. It's worth mentioning that the rooftop can be rented out for events. There's even a small Jacuzzi, sauna and gym equipment, so your vacation doesn't become an excuse to lose your figure.
8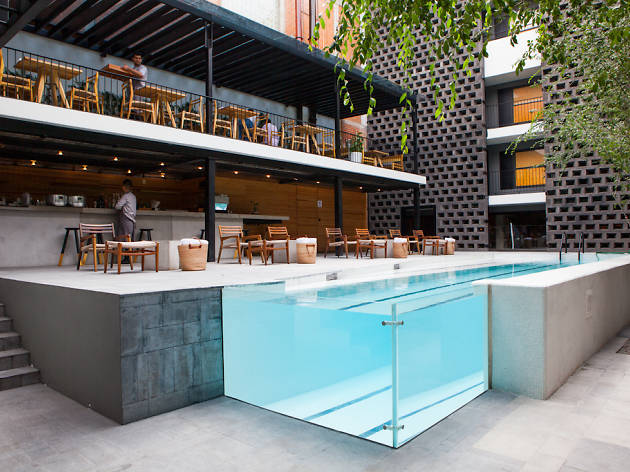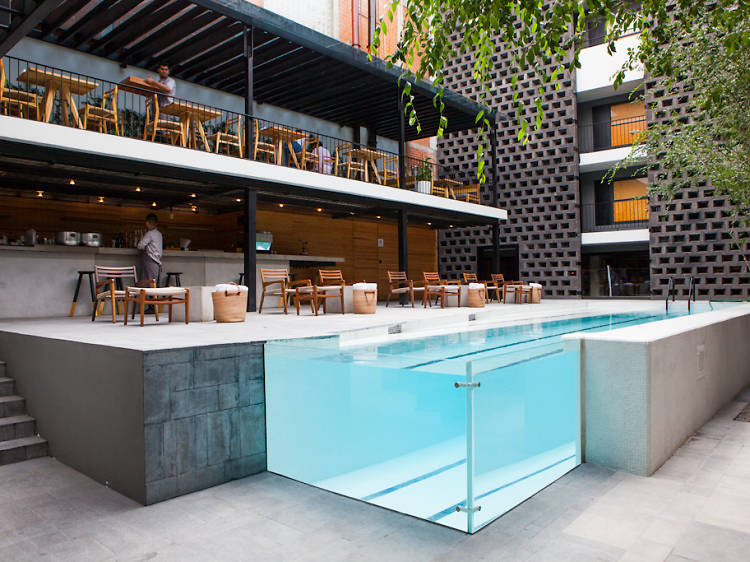 Foto: Reinaldo Odreman. Cortesía Disenia
The old Hotel Jardín Amazonas renewed its image with a minimalist, urban and highly stylized touch, full of vegetation and one important detail: it's pet friendly. The 36 rooms are available for you and your furry friend to spend the night or meander through any of its areas without any problem.
Hotel Carlota is a boutique hotel with a perfect location: in the Cuauhtémoc neighborhood, just a few blocks from Reforma, one of the city's most important avenues. The room was designed by La Metropolitana, a collective that repurposed many pieces of wood and created a collection exclusively for Carlota.
9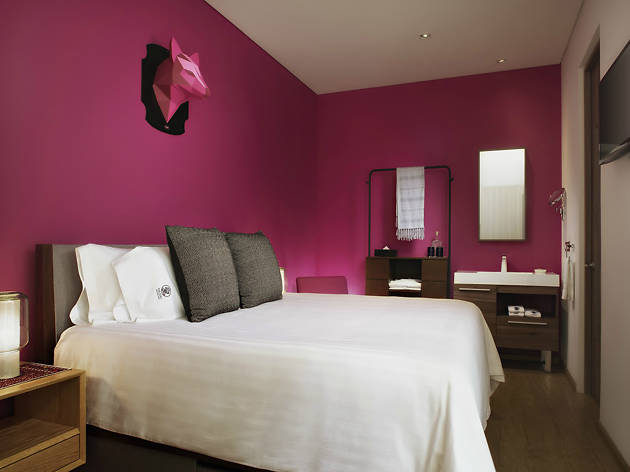 Foto: Cortesía Pug Seal Boutique B&B
You don't have to travel to Europe to enjoy an exclusive bed and breakfast. In the heart of Coyoacán, a mansion with seven rooms and an independent apartment offers a personalized stay and a way to escape the city, while still being very much in the middle of everything. José Manuel Quintana was the mastermind behind this project. Thanks to him and his team, you can rest in 100% cotton sheets, bathe with biodegradable soaps and warm water – a gift from the building's solar water heaters – and start your day off with pancakes with jam and fresh juice. Reservations are required, and hotel services are reserved for guests only.
10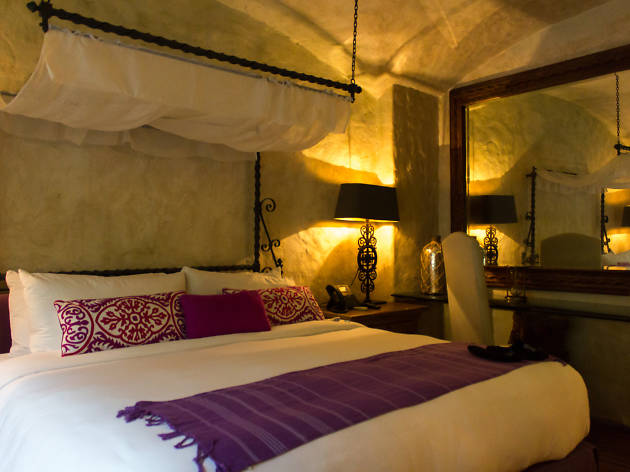 Foto: Mattza Tobón
Busué is the perfect blend of comfort and luxury. Located a few blocks from Parque Lincoln along Masaryk, Mexico City's so-called Fifth Avenue, the hotel on the outside looks like a house, with the exception of a discreet sign that announces the entrance.
Upon entering, you'll take notice of the painting on the ceiling, made by artisans using natural dyes, and a floor decorated with tiles in the form of figures. While they've modified various elements of the hotel, it still retains its Mexican baroque essence. Busué boasts a brilliant collection and distribution of art, including such famed artists as Leonora Carrington.
Find the best things to see and do in Mexico City
We are giving ourselves the task of exploring the city, picking out the best events, places, free activities and unmissable hotspots for tourists and locals alike.
More to explore