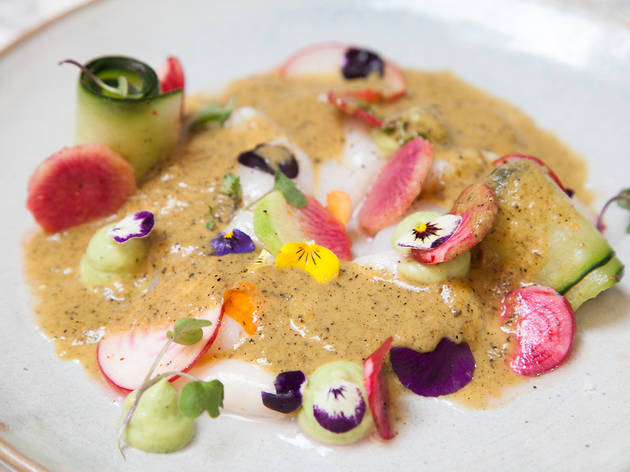 1/8
Foto: Alejandra Carbajal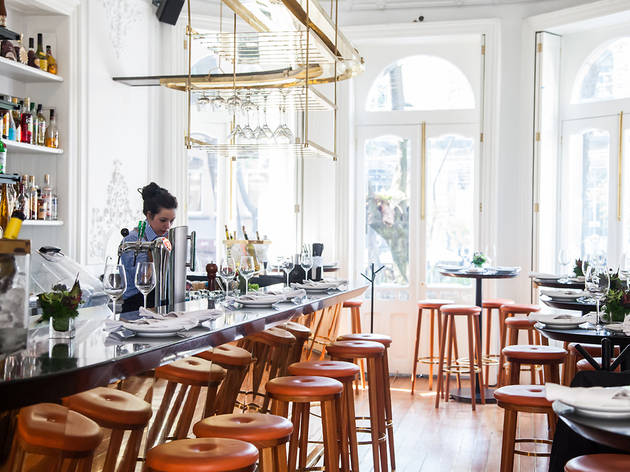 2/8
Foto: Alejandra Carbajal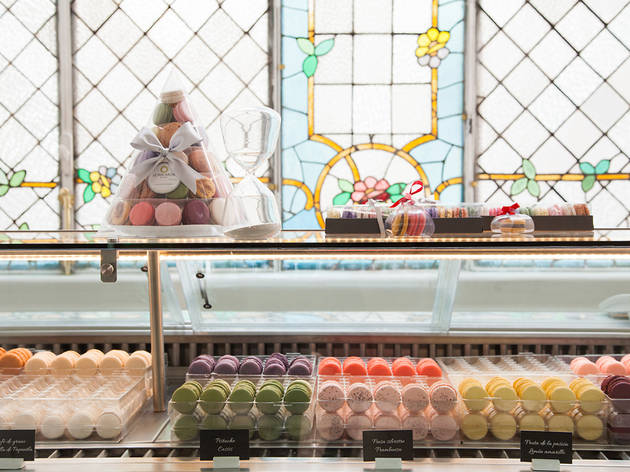 3/8
Foto: Alejandra Carbajal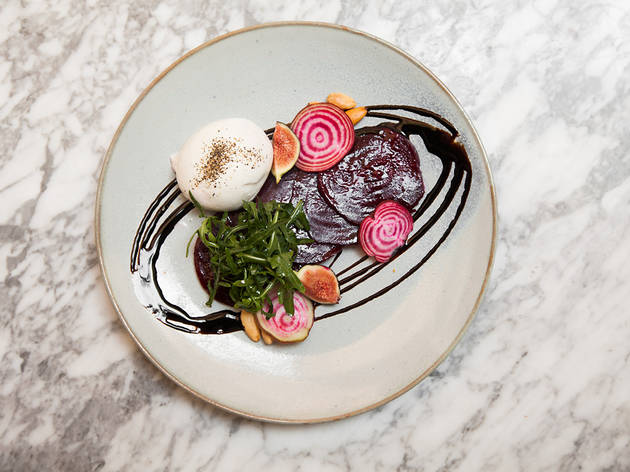 4/8
Foto: Alejandra Carbajal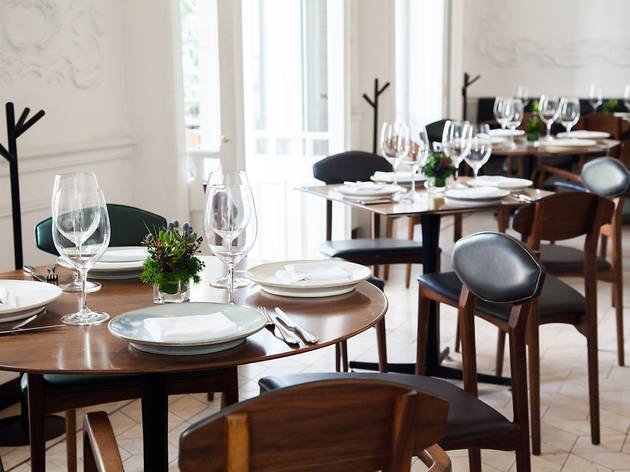 5/8
Foto: Alejandra Carbajal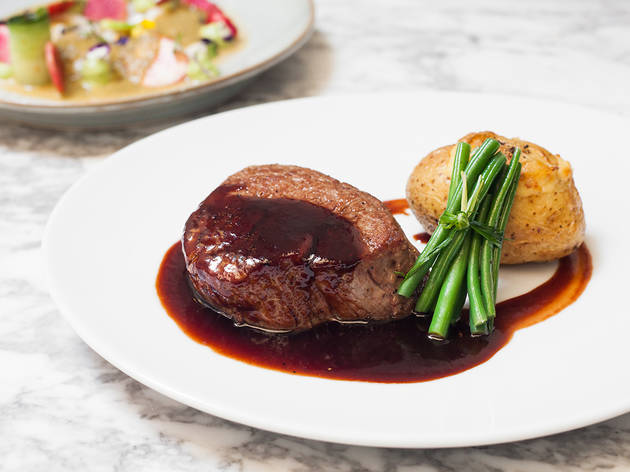 6/8
Foto: Alejandra Carbajal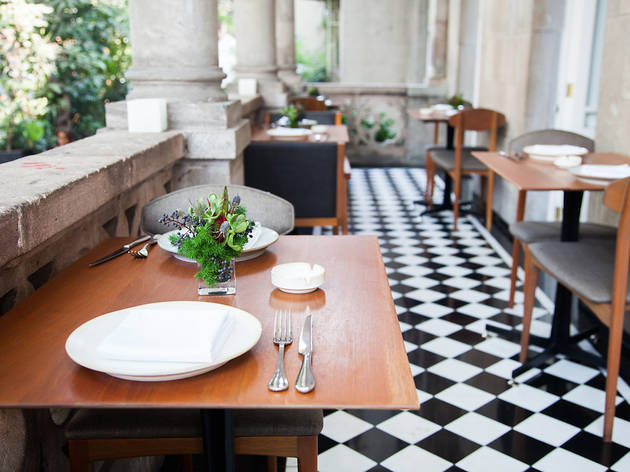 7/8
Foto: Alejandra Carbajal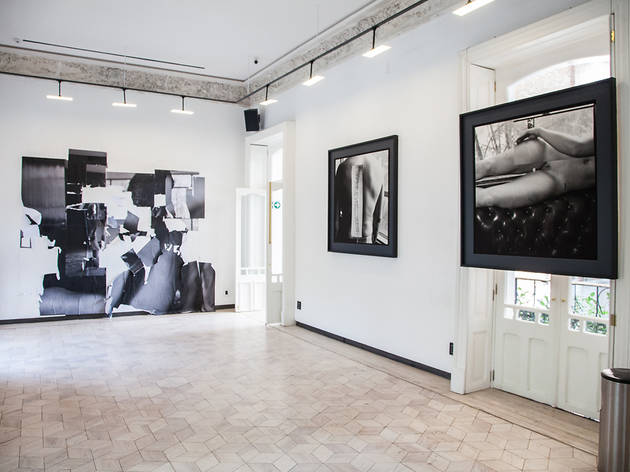 8/8
Foto: Alejandra Carbajal
Time Out says
White color denotes cleanliness, pureness, beauty and elegance; by taking the path of searching for gastronomic expansion experiences, Blanco Colima took a sensorial evolution.
Its architectonical spaces with marble, stone, black and white mosaics, colorful stained glass, decorative reliefs and baroque details all land the pleasure of an esthetic place into an haute cuisine promise. The Don Porfirio's time mansion is now located at the corner of Colima and Orizaba, and has everything it needs to satisfy demanding customers from la Roma, and they do it with three different methods to eat, drink and artwork presentations.
There's a minimalist lounge area located in the roofed courtyard, best known as Blanco Colima's bar. Black furniture contrast white walls and geometric figures that decor the roof. Both under natural sunlight. In the lounge's seats you can drink a cocktail or eat a snack from the tapa's menu. Roasted artichokes are an excellent option, the heart is tender while leaves are firm and seasoned with grain salt and a touch of white wine.
The first area of the house is the oyster bar, named Belafonte, predominating in mahogany colors. Japanese chef Hiroshi Kawahito created the menu merging his gastronomical Oriental tastes with ours. In this menu you'll find oysters and fresh seafood like scallops or shaved abalones; they didn't take any risks with different combinations, or playing with flavors, yet the execution was excellent.
Then comes Lázaro, the fine-dining experience. This dining room turns air into elegance with a much more gallant service, reassuring a first level experience. Try the Canadian gravlax —marinated in salt and herbs— with horseradish, caviar and blinis, you can add some drops of grilled lemon to freshen the plate even more. For the main course, you can choose the sirloin with red wine, truffled potato and green beans. Medium-well meat makes it juicy, and so along the semisweet red wine salsa and the potato with truffle oil; this dish persuades your senses into a tangible sensorial balance.
Blanco Colima's food expressed itself too safe, we expected more surprises and risks in the menu. Even though we can find these dishes in many other haute cuisines, technique, flavor and visual solution are impeccable and carry out their oath of contemporary kitchen.
For dessert they went top of the line with Le Macaron Boutique, a bakery with a display that pulls you through; there are cassis macarons with an intense purple color and fruity flavors, classics like chocolate or exotic ones like goat cheese with figs. Any of those can go to your table: from a moisty orange muffin to a coffee éclair. This bakery makes itself worthy.
Rooms for reunions or private events are available and located upstairs. You can also find the art room, where emerging artists exhibit their artwork. You can see from photography to fashion, since this place works as a cultural meeting point. You can catch up future exhibitions in their webpage or social media. Blanco Colima reunites so many cultural facets of Mexico City in one single place, letting you breath a joyful lapse of formality.
Details
Address:
Colima 168
Roma
México City
06700

Transport:
Metrobús Durango
Price:
Average main course $650
Contact:
Opening hours:
Lun-sáb 1pm-1:30am, dom 1-8pm
Users say