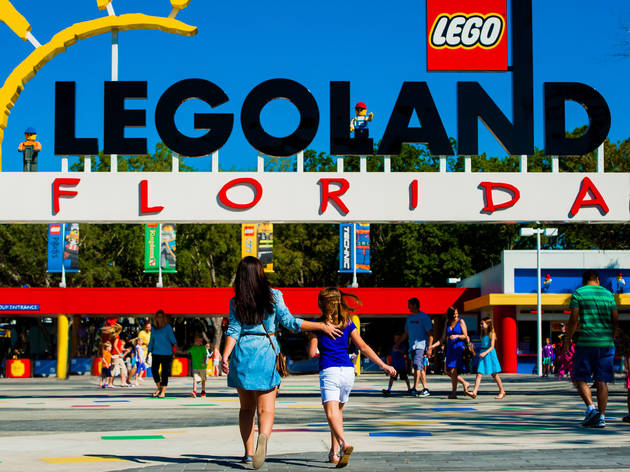 Florida's Legoland is reopening in June—and face masks won't be required
The Orlando theme park is ready to welcome back visitors.
Posted: Friday May 22 2020, 3:33pm
Disney World Resorts is slowly inching its way to reopening, but there's another Orlando theme park that's ready to welcome back visitors. Legoland announced that it'll be opening its theme park, water park and resort again on June 1. And the news comes with a set of strict new guidelines such as reduced capacity, cashless payments and heightened sanitization procedures.
Like all Florida businesses in phase one, the parks will only operate at 50-percent capacity—which should bode well for folks who hate to wait in line for rides. (We can only hope that fewer people inside will make for much shorter queues.) Legoland will also address overcrowding in its parking lots by allowing guests to leave an empty space on either side of their vehicles. A welcomed change for anyone who's ever tried to park their car at a theme park—it's always crammed.
Aside from ensuring people are social distancing, Legoland is making sure that surfaces are clean and anyone who steps foot onto their properties is not sick. Guests and employees will have their temperatures taken upon entering and encouraged to use the myriad of sanitizing stations positioned at the entrance and throughout the theme parks and resort. You can download Legoland's mobile app to find them, as well as to buy your tickets in advance, which is also encouraged. Cash will no longer be accepted.
Perhaps the thing on everyone's mind entering the world post lockdown is the need for masks—especially when your plans include wandering around outside in the Florida heat. While Legoland won't require you to wear them, they will urge the use of them by providing free face coverings to every person. It may not be the most pleasant accessory this summer, but it'll surely be the trendiest.
Want more? Sign up here to stay in the know.
Most popular on Time Out
-The best fried chicken specials in Miami for takeout and delivery
-Miami-Dade libraries are now offering curbside pickup for books and DVDs
-These Miami malls are reopening, but here's what you should know before you go
-Craving something homemade? Check out these underground pop-ups from Miami's top chefs.
-Masks are now required at Miami restaurants, plus more new dining guidelines you should know
Share the story