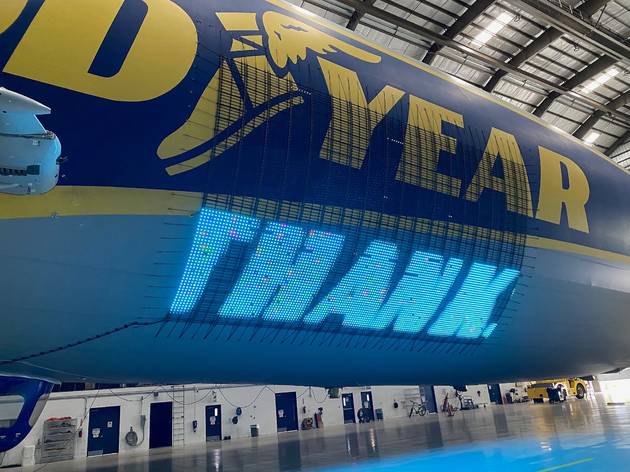 The Goodyear Blimp is flying over South Florida hospitals to honor local healthcare workers
Make sure you look up this weekend!
Posted: Thursday May 21 2020, 6:13pm
There have been many displays of gratitude for frontline workers, but literally none as grand as what's to come this weekend: The Goodyear Blimp will be flying over 11 South Florida hospitals on Saturday and Sunday to honor the area's healthcare community. Wingfoot Two, the second-largest in the fleet, will display a scrolling thank-you message on its massive LED screen from noon to approximately 3pm each day.
The aerial tribute, which kicks off at Mt. Sinai Hospital in Miami Beach (4200 Alton Road), travels north pulling double-duty as it films Sunday's Champions for Charity celebrity golf match. Featuring Tiger Woods and Peyton Manning versus Phil Mickelson and Tom Brad, the star-studded event will raise funds pandemic relief.
The massive blimp is a nice addition to the free meals, sing-alongs, and city-wide claps healthcare workers have received from folks showing their appreciation. And perhaps the one gesture that fills us with all kinds of feel-good nostalgia at the same time.
Most popular on Time Out
-10 single ladies get real about dating in Miami during the lockdown
-Miami-Dade libraries are now offering curbside pickup for books and DVDs
-These Miami malls are reopening, but here's what you should know before you go
-Craving something homemade? Check out these underground pop-ups from Miami's top chefs.
-Masks are now required at Miami restaurants, plus more new dining guidelines you should know
Share the story