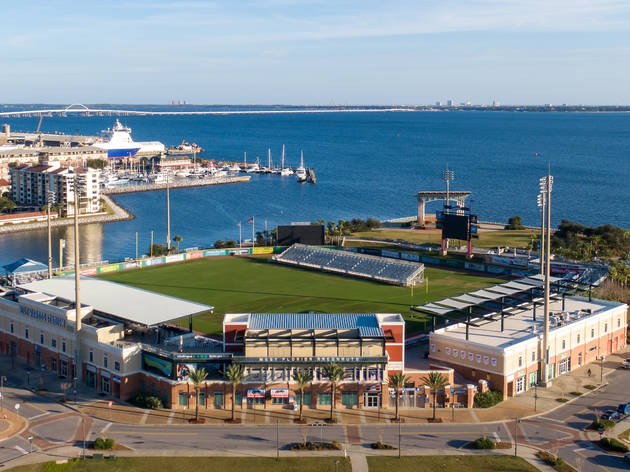 You can rent this entire baseball stadium in Florida right now
It'll cost you $1,500 a night but you'll have access to the whole damn thing.
Posted: Thursday May 28 2020, 4:58pm
Professional league Baseball is still temporarily canceled, but that doesn't mean you can't get your baseball fix another way. Pensacola's Blue Wahoos wants to rent you its entire stadium this summer, giving you the perfect opportunity to enjoy America's pastime while social distancing.
The Florida team's digs are available to rent via Airbnb for $1,500 a night for up to 10 guests. The hefty price tag includes access to private areas, including the clubhouse, the batting cages and the entire field itself. Want to picnic on first? Get to home base on home plate? The place is yours for the night to do whatever you want. But a stadium rep will be around to ensure all of your needs are met (and keep an eye on you and your friends).
You and your quaran-crew will sleep in the room adjacent to the renovated clubhouse, featuring four bunk beds and two queen-sized beds plus three shared bathrooms. Basically, you'd be cohabitating in an open space similar to that of a locker room—so you may want to keep that in mind when drafting your guest list.
The grounds have been the home of the Blue Wahoos for eight years and this is the first time they're opening it up to the public for use. And you don't even have to be a sports fan to enjoy it. The stadium makes a great venue for an outdoor birthday party or even an epic proposal. After all, Kanye West proposed to Kim Kardashian on a baseball diamond. As far as grand gestures go, renting a whole field will definitely score you a home run.
Want more? Sign up here to stay in the know.
Most popular on Time Out
-Missing the bar? Get your cocktail fix at these newly reopened Miami restaurants.
-Hard Rock Stadium is turning into a massive drive-in theater
-These Miami malls are reopening, but here's what you should know before you go
-Miami-Dade beaches are reopening on June 1, and here's what you can and can't do
-Masks are now required at Miami restaurants, plus more new dining guidelines you should know
Share the story