There are, and maybe always have been, restaurants designed to evoke a place: French bistros, Italian trattorias, Greek fish houses. These days, it's become popular to label a restaurant "Japanese izakaya" or "Tulum-inspired," which can end up being more confusing than helpful.
For Giselle, the new restaurant perched atop the E11even ultra-club, it's not immediately obvious from which city it's drawn the most inspiration. There's a helping South Beach glamor, a tinge of Euro lounge and perhaps a smattering of "Russian oligarch's drawing room." But, at some point in the night, the theme smacks you in the face: All of it, from the spare-no-expense setting to the lavish, truffle-topped dishes and "bumps" of caviar, reads very much Las Vegas.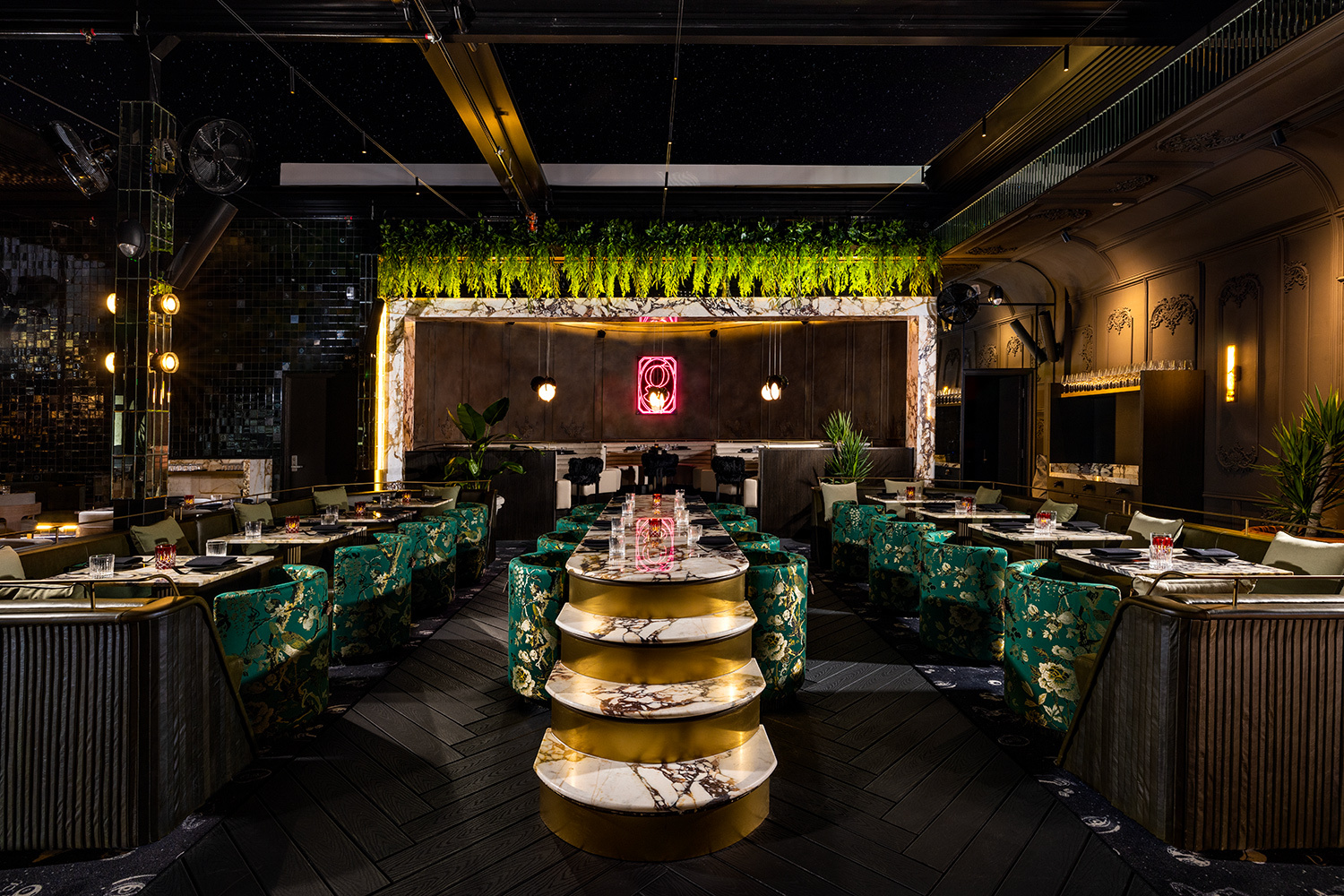 The food is decadent and the decor is glittering, just like places a gambler on the Strip might roll into after a legendary run. Giselle is the restaurant you'll want to bring someone impressed by excess. If it were a car, it'd be a Bugatti wrapped in 24-karat gold.
A towering, self-storage-center-sized nightclub in an otherwise rough corner of downtown, E11even typically features a parking lot full of exotic cars and velvet rope lines corralling bachelor parties. Giselle gets its own red carpet, off to the east of the main doors. Slightly hidden by rows of potted plants, it has the feel of a secret VIP entrance, leading to an elevator that heads three floors up to the roof.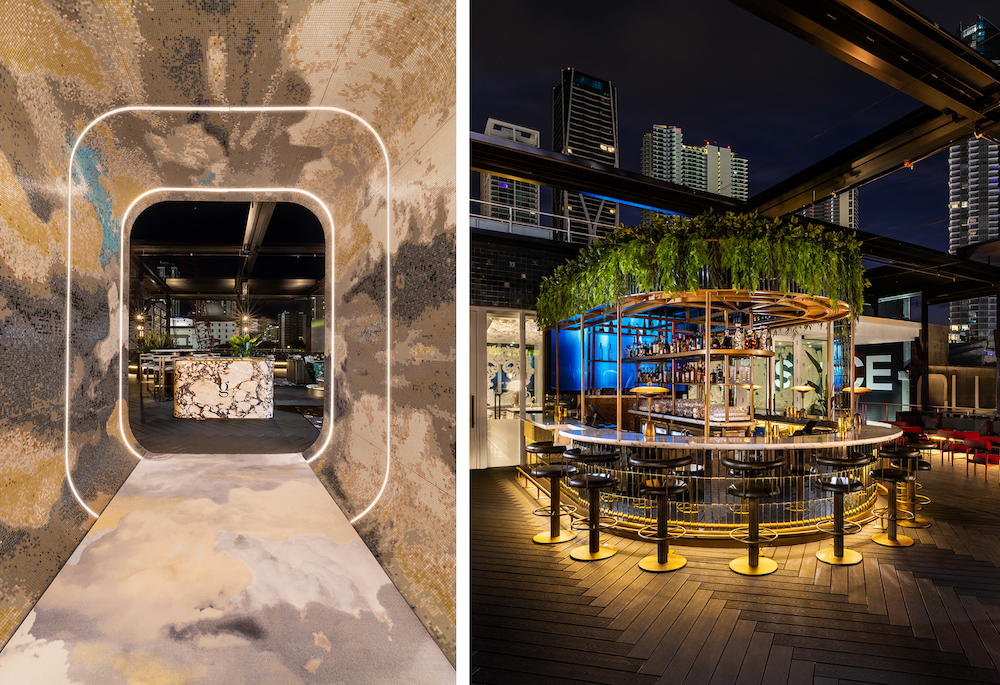 The doors open into a cave of stone and pixel-like tiles illuminated with light strips, a colon of splendor from which you will be ejected into utter flamboyance. Spread across the outdoor section of the restaurant are four-top tables made of deeply veined stone flanked by armchairs of chartreuse and gold patterns like Versace's finest PJs. A long banquet table in the center ends in gold-trimmed stairs, we're guessing to accommodate tabletop performances.
A retractable roof keeps the whole thing accessible no matter the weather, and the downtown skyline fills the horizon. It's a space that feels perfect for celebrating finding out you're a descendant of the Romanovs, for instance.
Cut left after an ornately decorated, U-shaped bar to find a smaller indoor space dubbed The Dream Room, which sort of feels like if Dr. Evil opened his own high-end lounge. Most everything is white, including the intricate latticework that creeps across the ceiling and obscures the windows. The same dramatically marbled stone from the tables continues here, wrapping around the long rectangular opening of the kitchen.
So who is Giselle, other than a maximalist with very extravagant taste? According to an official release, she's "complex and layered" and "an enigma," whose world-traveling ways are personified by the restaurant's furnishings, acquired from the far-flung places she's visited. Her tale continues on Giselle's website, where three paragraphs of prose detail how the elusive lover likes "the taste of the ocean, the salt on her lips to start." It's all very Alice in Wonderland—if Alice dropped three hits of Molly.
Giselle's fantasy world was dreamed up by E11even and The Restaurant People, a Fort Lauderdale-based group known for Yolo, Boatyard, S3 and an ill-fated, phallic-themed meatball restaurant, Fork & Balls. They've already branched out in Miami with Rosa Sky, one of the city's best rooftop bars. In Giselle, they've brought not only the unst-unst music track from their other spots but also a chef with some serious skills. Previously a senior sous chef at L'Atelier de Joël Robuchon, Giselle's chef Gustavo Zuluaga has created a menu that somehow manages to upstage the grandiosity of the space.
It begins with the oysters, topped with a champagne mignonette granita, green apple foam and lime zest. His tuna tartare comes in tiny ice cream cones, dotted with gold leaf and covered in a bouffant of shaved black truffle, a bite from wasabi cream hiding in the bottom. The truffle toast is a cute, crispy Leggo of brioche covered in raclette, caramelized creminis and generous slices of black truffle that drape over it like throw blankets. These dishes seem well thought out to combine sweet and tart, combining interesting textures and a bit of heat here and there—the product of a chef who knows balance, while also working hard to stay true to the restaurant's theme: opulence.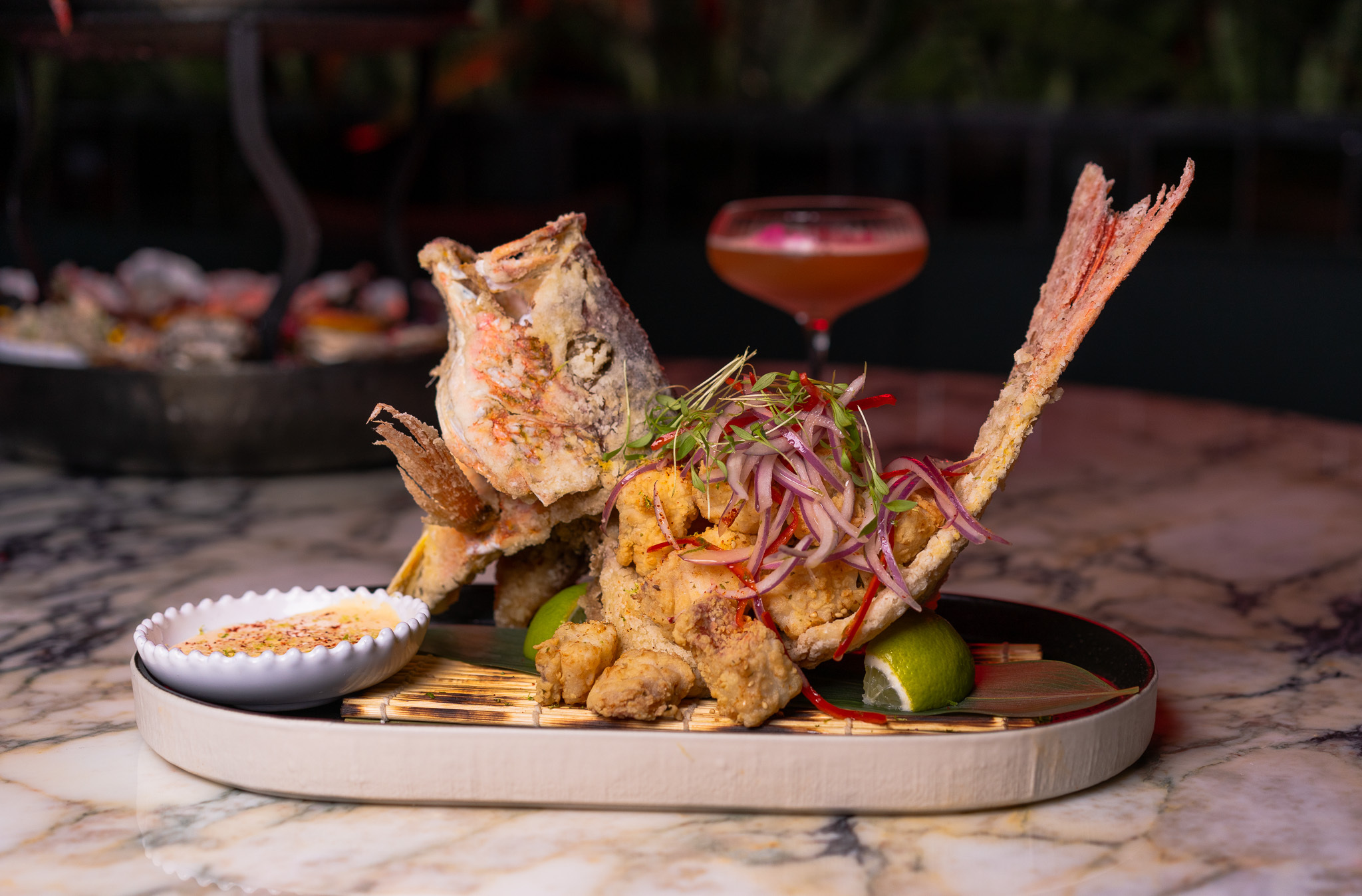 The whole snapper arrives looking as eye-catching as, well, everything else in the room. Its bony carcass is deep-fried into a virtual cup that's stood up so that it can serve as a vessel for chunks of battered meat. It's covered in a Peruvian salsa criolla that does a good job of cutting the richness of the aji amarillo mayo dipping sauce.
The chicken, roasted like a Peking duck, is well seasoned and served with all the fixings to make bao buns. Among the sides is a stunning "Standing Mac and Cheese," with big rigatoni noodles all arranged upright and jutting out of a shallow baking pan; the noodles are stuffed with a cheesy truffle sauce, and a crackly top keeps it somehow vertical. It's both addicting and unique.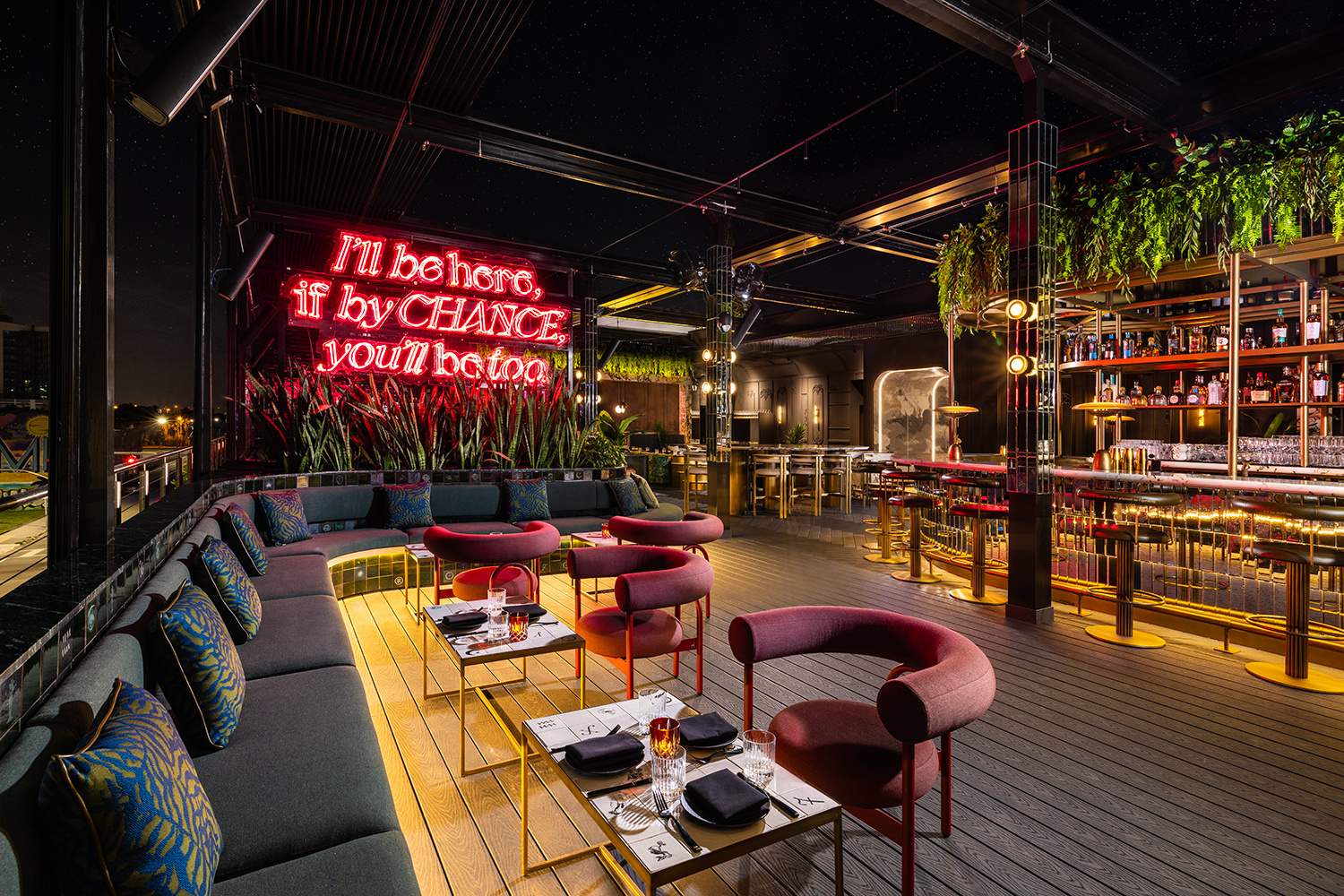 Unique is also a word we'd use to describe the Roquefort tart, a savory dessert set aflame tableside with Grand Marnier. Under its cracker-like exterior is pungent, gooey cheese that pools with the plum-colored sauce from cabernet-poached pears. We can't say whether you'll like that one—it's weird, for sure. But it's also a pleasant surprise to find that a restaurant in a club, with an outrageously theatrical design, is taking some risks and putting out some great dishes.
At the end of the meal, you'll head back out toward the elevator, through the made-for-selfies hallway, and back to whatever simpler life existed out there before. But for a few hours at Giselle, you'll feel very much like a blissed-out Vegas high-roller.