The food is quite good at Klaw, yes, but before getting into that, let's talk about the building. Built in the roaring '20s Spanish Revival style, it becomes a centenarian in 2026 and is full of ornate details, like the flourishings around tall arched windows. It's a downright miracle that it survived in a city where developers tear buildings down just to stay in the habit. Walking up to the portico, it feels special, like heading out to a rumrunner supper club with fellow flappers, a theme that continues well into the dessert course.
Klaw dropped into the once-abandoned Miami Women's Club building in Edgewater thanks to a partnership between Adway founder Sasha Krilov and restaurateur Mikhail Zelman, who's behind a few of London's favorites—Goodman Steakhouse, Beast London and Zelman Meats. They brought in Martin Brudnizki Design Studio to construct a restaurant that spreads itself out over three floors and 14,800 square feet, with a private dining room, a kitchen theater space and wine cabinets, all feeling equal parts contemporary and like it has been here forever.
Walking up to the portico, it feels special, like heading out to a rumrunner supper club with fellow flappers, a theme that continues well into the dessert course.
Just inside the door there's a check-in host who will suggest a drink before dinner on the top floor, and hopefully, you arrived early (not Miami early, AKA, a touch fashionably late, but actually early). Up on the sixth floor, there's a marbled bar with cushy barstools and intimate tables in a bright room, but the real destination is the patio, with views of Biscayne Bay and Margaret Pace Park next door.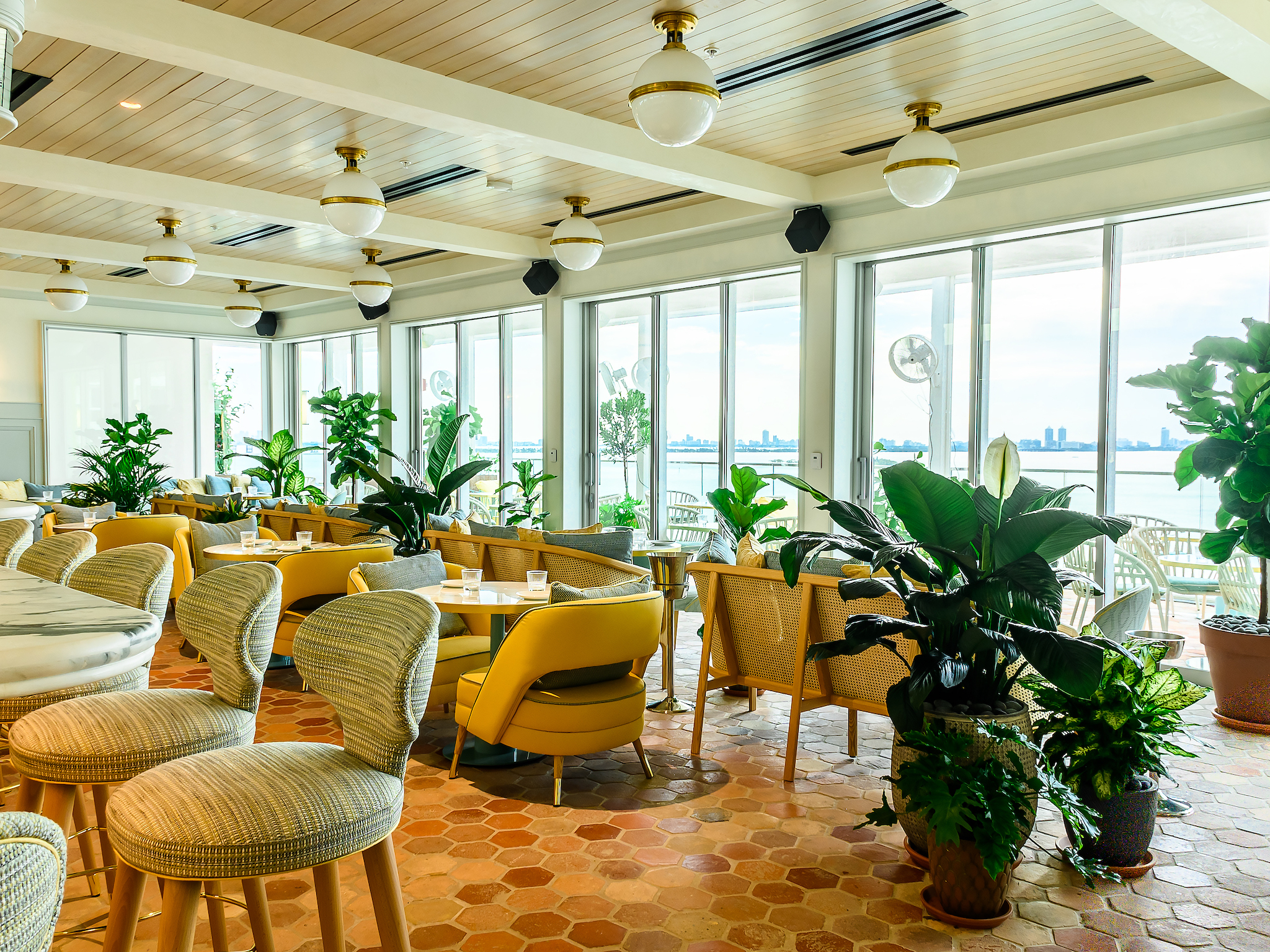 After, head down a couple of flights to a dining room that's a real-life version of the conservatory from Clue—huge windows beneath 21-foot-high tray ceilings of oiled wood, lighted cabinets separating seating areas, long Manhattan-library-like tables lit by candelabras. Early in the night, open tables sparkle with glassware and chairs are La-Z-Boy comfortable.
Smart-looking servers—yes, the servers seem like they all have master's degrees in maybe art history—introduce themselves quickly before returning a minute later with a tray of well-marbled steaks, dry aged and sourced from growers that do things to cows that seem unheard of, like feeding them kimchee to increase the gaminess. Before those steaks, though, comes a chimichurri-topped prawn as big as a sunfish, the head and tail blackened from the grill. A burrata salad with peaches boasts prosciutto that's as smoky as barbecued bacon.
The king crabs arrive next, and they're a specialty here. Flown in from Norway's Barents Sea, we assume on G6s, they spend their last moments in aquariums near the front entrance before their artfully stacked spindly legs are presented for inspection. Perhaps in a lesser restaurant, those legs would mean some work, but here, servers arrive tableside to scissor those shells open and present them razor-clam-like, laid out in rows along with herbed butter. Expect about two hundred bucks per couple for those candy-sweet crabs, but it's an extravagance worthy of an expense report that just might get flagged by HR.
The crab course should be followed soon after by a steak served in a hot Staub skillet, the T-bone perhaps, the filet and strip sides sliced and replated to their original positions, well salted and buttery, melty, perfect. Sauces on the side are truffled and dotted heavily with peppercorns, but you'll wonder if they're needed. The sides with it are all worthy of this steak, parmesan-truffle fries as crispy on the outside as chips, asparagus topped with avocado cream and on a bed of nutty romesco, and meaty mixed mushrooms in butter.
Desserts are appropriately decadent and well plated, a chocolate candy bar of sorts sitting atop cookie crumbles, a peach and ice cream flower where the fruit has been brilliantly brûléed.
Walking back toward the elevators, the last of a sunset might be visible out of the windows on the west side, large parties filling those library tables, couples celebrating an anniversary with a mortgage payment of crab legs. It all feels extravagant, even for a city that specializes in it. It's appropriate, though, for a grand building that's been reborn, a century-old spot to celebrate like they used to, with a meal worthy of this place.