Somehow—and we really, truly don't know how—the pretty people always seem to find the newest, coolest place. And they were out, hundreds of them in slinky dresses and shirts buttoned down enough to show the results of all those bench presses, on the Thursday night when we first took a culinary, boozy lap through Regatta Grove.
To their credit, those pretty people, they have good taste. Regatta Grove is stunning. It's the kind of party spot to bring out-of-towners who expect as much from Miami, and it's full of food-truck-like vendors putting out largely solid food. It comes courtesy of Breakwater Hospitality Group, the folks who brought us the now-closed Wharf here in Miami and its Fort Lauderdale sister.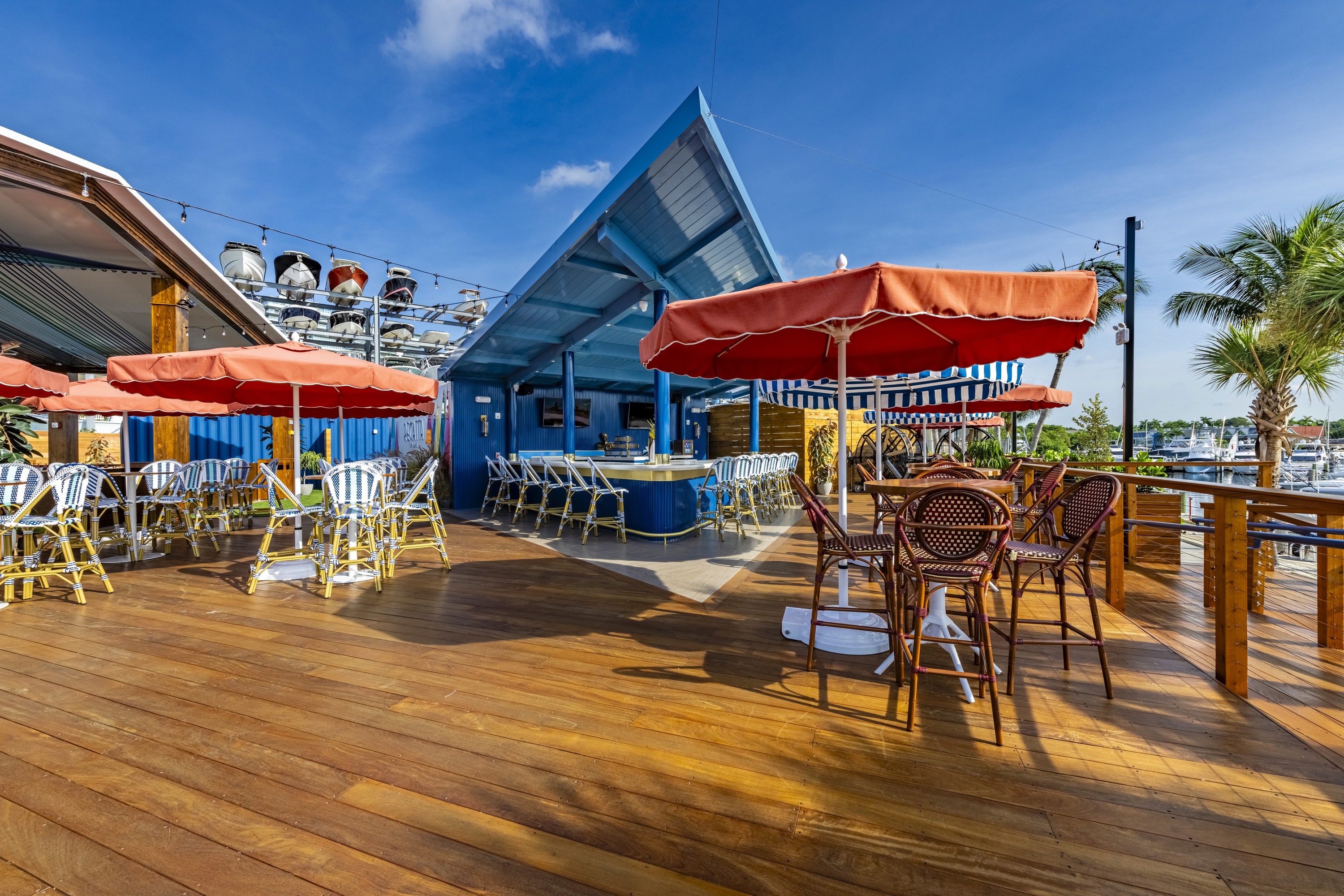 At this new spot in the Coconut Grove marina, they went a bit more upscale, with pretty banquettes, strips of fancy-looking wood running through the concrete floors and a massive circular bar in the center, the kind of spot where we can easily see ourselves happy houring on the regular.
Beyond the bar, there's a strip of faux grass with cornhole games, tables and a half-circle of food vendors with menus designed by some of Miami's finest chefs. Jose Mendin, of Pubbelly fame, slings pretty fine pizzas (just a little longer in the oven, with more leopard-spotting below, and we're talking). Michelin-starred Jeremy Ford serves fast-food-inspired items, like the Freak-O burger, piled high with a disc of crispy cheddar cheese, fried onions and mojo pickles.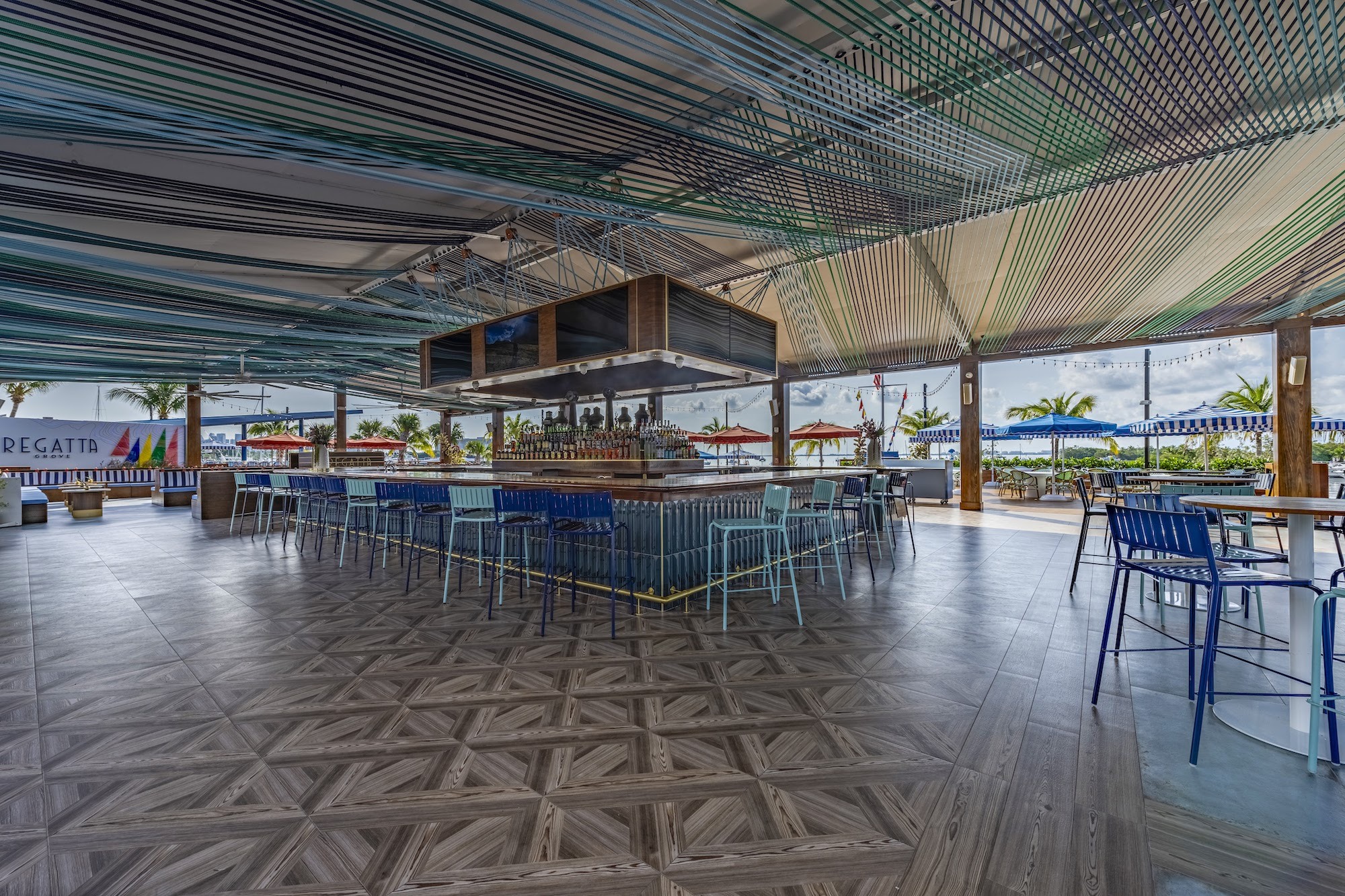 Chef Jeff McInnis puts out a damn near-perfect lobster roll. Kenny Gilbert's station offers indulgent comfort foods: an oozy mac and cheese under a blanket of cheesy topping and an insane chicken sandwich between two halves of a jalapeño cheddar biscuit oozing a tangy white barbecue sauce. But the best of what we sampled came from Janine Booth, who taps into her Australian roots with a lamb sausage roll that's equal parts sweet and well-spiced.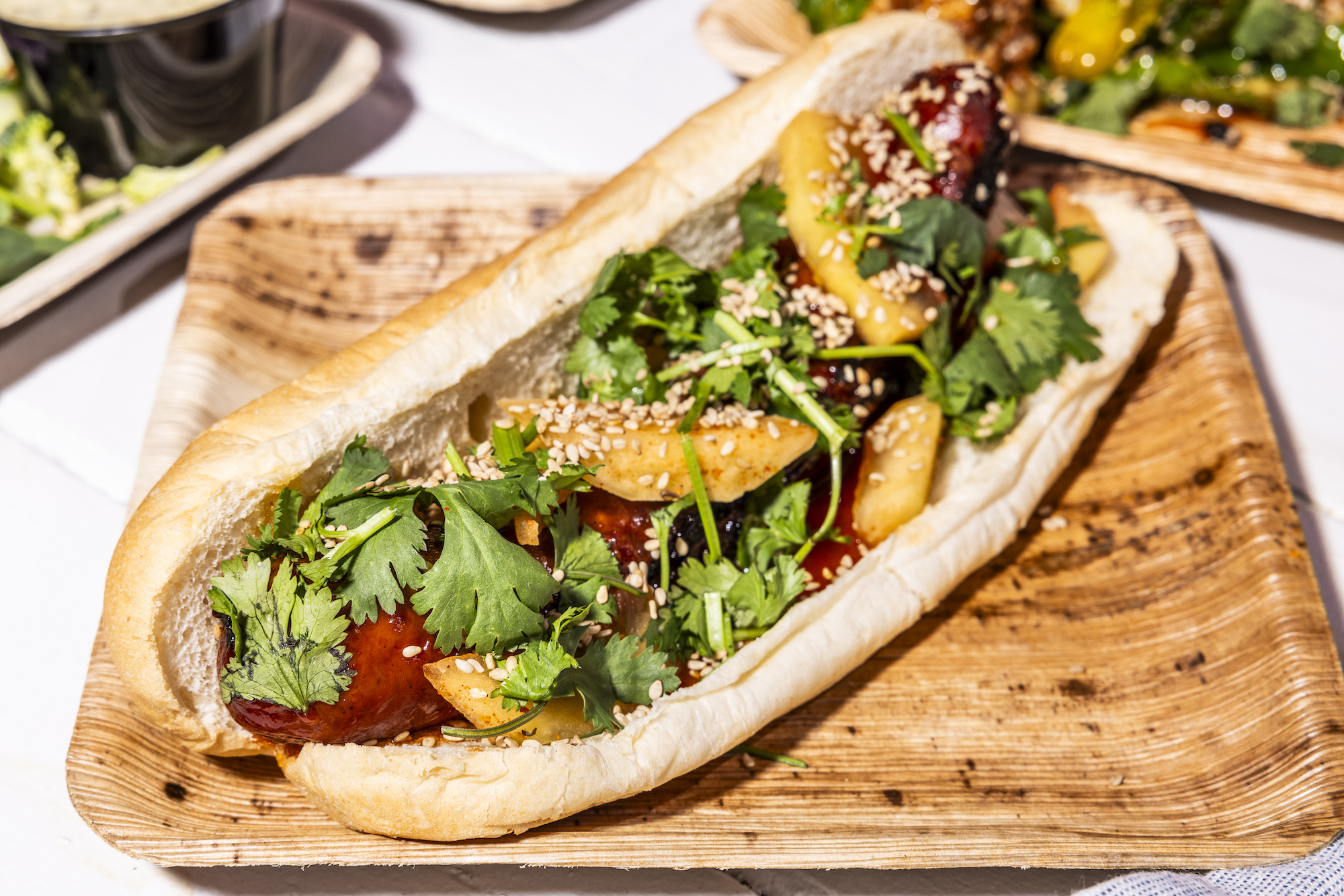 What would we change? Not a whole lot. Our first round of spritzers came in glass, but then a second round, Negronis, arrived in plastic, a bummer at these prices. And then there's the fact that the food comes in Grubhub-like takeout containers and paper plates reminiscent of a kid's birthday party. Sure, real plates and glasses mean somebody's got to pay for dishwashers. But the paper and plastic just don't fit Booth's darling hummus with crudités or Ford's incredible truffle fries (and it's not exactly eco-friendly, given the waterfront setting.
As we filled our table with this sample, a rainstorm rolled in from downtown, and the crowds that had gathered by the water flooded into the roofed section of the venue. The DJ seemed to sense the vibe and upped the sound. The pretty people, of course, looked as good as ever, with matted hair and damp dresses just leading to a few laughs. At Regatta Grove, apparently, even the rain won't to stop a party.