Enjoy an ice-cold beer and wind down after a long day at Heineken Afterwork
Shake off that nine to five with a few drinks and even better friends at Heineken's curated event series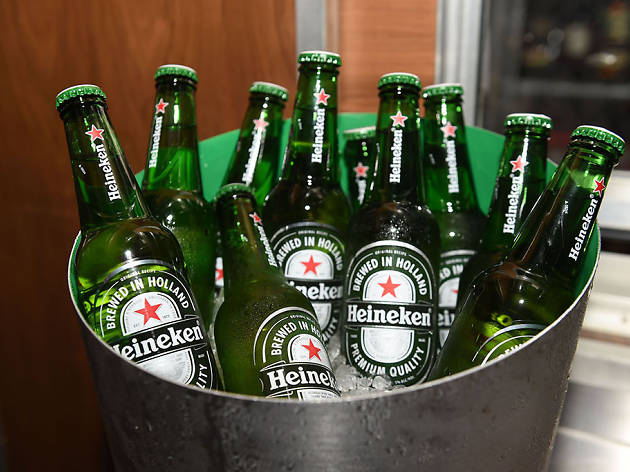 It's such a summer bummer to spend these long, sunny days sitting inside a (potentially freezing) office. So once you're finally out of work, you want to chill out, catch up with good friends and, most importantly, enjoy an ice-cold beer. This summer, head to Afterwork, a curated, multi-city event series brought to you by Heineken. Kick it with a crowd of young hustlers and take in the city views at a Miami hot spot, and indulge in an ice-cold Heineken.
Time Out says
For such a ridiculously hot week, the outdoor deck of East's Quinto La Huella was surprisingly refreshing for Heineken's inaugural Afterwork series. The breeze cut through a crowd of trendy young professionals, rocking suits and loosened ties.

This was not Miami's first Afterwork. The multi-city event sponsored by Heineken—which aims to give hard-working Miamians a happy hour that's more than just discounted beer—stopped by Sweet Liberty a couple weeks ago. But Brickell, with all its young hustlers, proved to be a perfect setting. After riding the sparkling elevator up to Quinto La Huella—EAST, Miami's chic Uruguayan restaurant that specializes in grilled South American classics—attendees were greeted by Heineken hostesses in green suspenders, who ushered guests past the green carpet and onto Quinto's open deck. The outdoor space featured two bars (equipped with no shortage of ice cold Heineken) a pool and plenty of seating.

Admission to the event was free with RSVP (plus-ones encouraged). The first beer was on the house and there was a caricature artist on site in case you felt like having the moment immortalized in oversize glory. If not, you could just chill with the rest of the hip crowd, who mingled, networked and unloaded office gossip while a DJ spun some relaxing beats.