The most Instagrammable places in Miami
Feast your eyes on the most Instagrammable places in Miami that make #WeLiveWhereYouVacation so very true for Miamians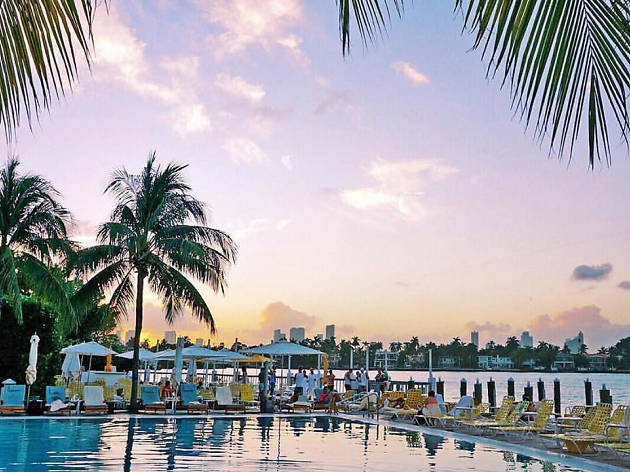 Looking to beef up your social feed? We found the most Instagrammable places in Miami—the spots locals would be proud to post. These are the colorful lifeguard towers that dot the best Miami beaches, the tropical fruit markets that line Little Havana, Miami's glittering swimming pools and more 305 essentials that are sure to rack up the likes. Get those digits ready: Here's where to find Miami at its most Instagrammable.
#POOLPICS
Psst: The 1 has four different pools, but you'll want to go for the rooftop one with an oceanfront view.
#DRINKS
#DESIGN
The Coppertone girl sign
Psst: The poor Coppertone girl was partially decapitated by Hurricane Irma. Fortunately, she's since been reunited with the upper third of her noggin. (7300 Biscayne Blvd)
Welcome to Miami Beach sign
Psst: Make sure to have a passenger snap this, as there is no parking on the Julia Tuttle Causeway, and the stop-and-go traffic requires your attention. (Heading east on the Julia Tuttle Causeway, near Alton Rd)
Psst: The murals in this free outdoor gallery change each year during Art Basel. Be sure to snap 2017's 12 new installations before they go away for good.
Colony Hotel
Psst: One of the oldest Art Deco hotels in South Beach, the Colony appears in Scarface and episodes of Dexter.
#ONLYINMIAMI
Calle Ocho rooster sculptures
Psst: Keep your eyes peeled for these colorful cocks, randomly situated every couple of blocks, when strolling down Calle Ocho. Though originally a flock of 80 in 2002, only a handful of these commissioned statues remain. (Calle Ocho at various locations)
Psst: This poem, written by student Nieema Marshall at Orchard Villa Elementary School, was painted on the roof of Mana Wynwood during the 2016 O, Miami Poetry Festival. Sadly, you'll need a drone to capture it.
#SALTLIFE
MacArthur Causeway
Miami Beach lifeguard tower
Obligatory beach view
Palm trees in the breeze
#EATS
Psst: The milkshake shop's interior is an exact replica of owner Matt Kuscher's childhood home. Thirsty? The washing machine is loaded with cans of PBR.
Los Pinareños Frutería
Psst: The market serves the best guarapo in town. Order one to drink while you snap the colorful produce. (1334 SW 8th St;305-285-1135)
Refuel while you shoot
Check the cheapest, most delicious eats in the city