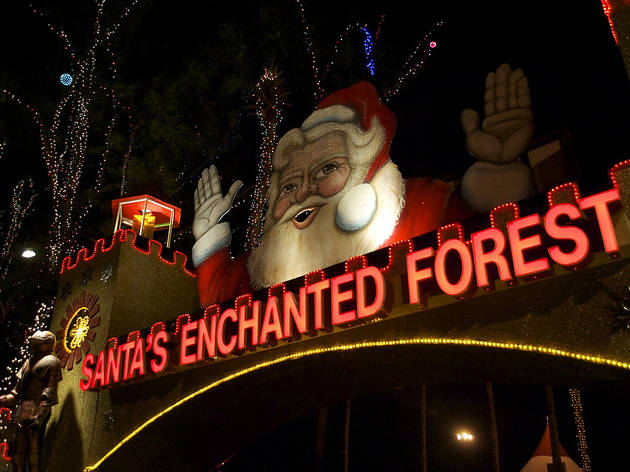 Miami gets a new neighborhood every year around this time. The resplendence of twinkling lights over the Palmetto Expressway is Santa's Enchanted Forest. That's right, Santa Claus is coming to town.
The world's largest holiday theme park (at least according to the website) returns for its 36th season with more shimmering lights (more than two miles of bulbs!), bigger carnival rides (including the tallest traveling Ferris wheel in the United States) and only-in-Miami experiences (like carols alongside reggaetón, because locals need more than "Jingle Bells" to get in the spirit).
"We have three new displays this year, including Casa de Salsa, which has Latin music and a salsa-dancing Santa Claus," says park director Buddy Cormican. But he points out that Christmas carols aren't the only thing Miami does differently. Concessions run the gamut from hot dogs and cheeseburgers to doughnuts, croquetas and, yes, Cuban coffee. "We've got to have that cafecito," Cormican says, chuckling, as he zips through the grounds on a golf cart. And with Cuban espresso running through Santa's veins, you can expect him to cut his delivery time in half this year.