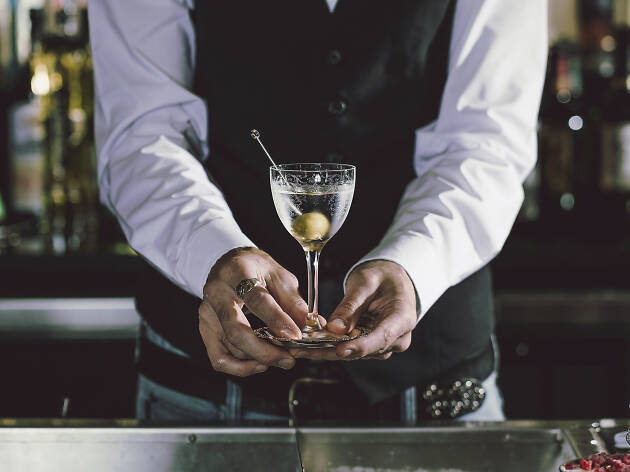 The 17 best Montreal cocktail bars to find the perfect drink
The top mixology of Montreal cocktail bars offers up the classy and the classic in hotels, speakeasy bars and more.
Trip on any given curb and chances are you'll fall into some great Montreal cocktail bars. From jungle-inspired tiki dens to classics served up in Victorian mansions, there's more than enough to go around, so there's no reason to settle for a bad drink. These top establishments feature award-winning bartenders and happening happy hours—sometimes doubling down as the city's best speakeasy bars. If carefully crafted drinks with liquor as the star player isn't your thing, try checking out the best wine bars or the best beer in town.
RECOMMENDED: Full guide to the best bars in Montreal
Best Montreal cocktail bars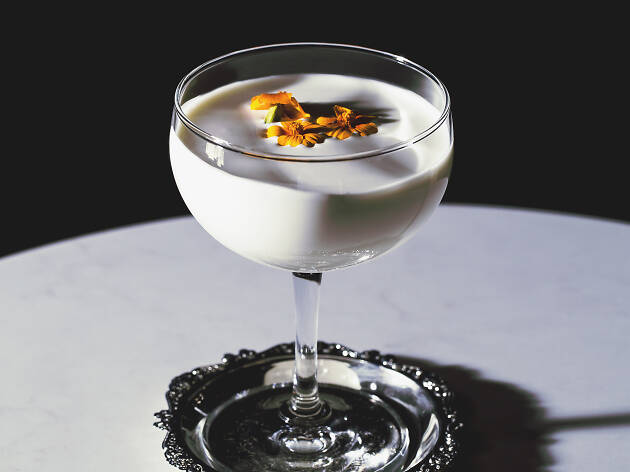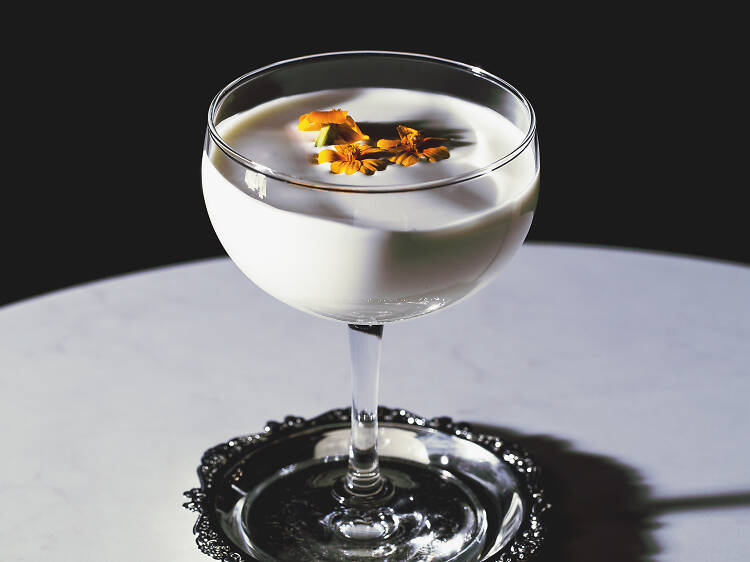 Photograph: Keven Poisson
Few cocktail bars, let alone hotel bars, go as heavy with experiential directives as this one does. Nader Chabaane made a lot of waves when his cocktail program here was unveiled, a 28-page menu featuring a flavour wheel that spins from spicy to sour, umami to sweet to bitter. You can't call yourself passionate about cocktails in this city without paying a visit to this address.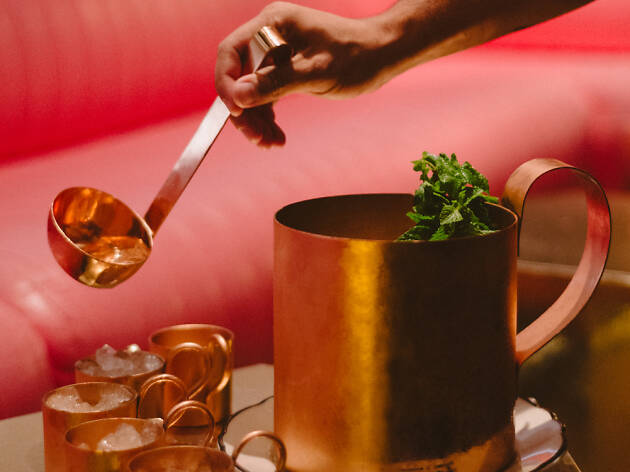 Photograph: Elizabeth Gartside
Looking for a decent cocktail near Notre-Dame and Atwater used to be a fool's errand. Then came the Atwater Cocktail Club, which shares a kitchen and an alleyway with the diner-bistro Foiegwa. Come early on a Friday or Saturday or expect a line and a bouncer to delay your enjoyment of a constantly shifting (and constantly exciting) cocktail program from Christophe Beaudoin Vallières. There's little—if anything—they won't try here, from smoked cocktails served in bell jars to booze buckets doled out by the ladleful.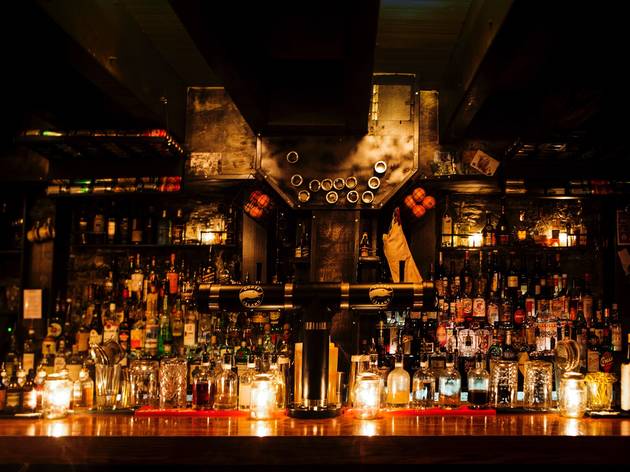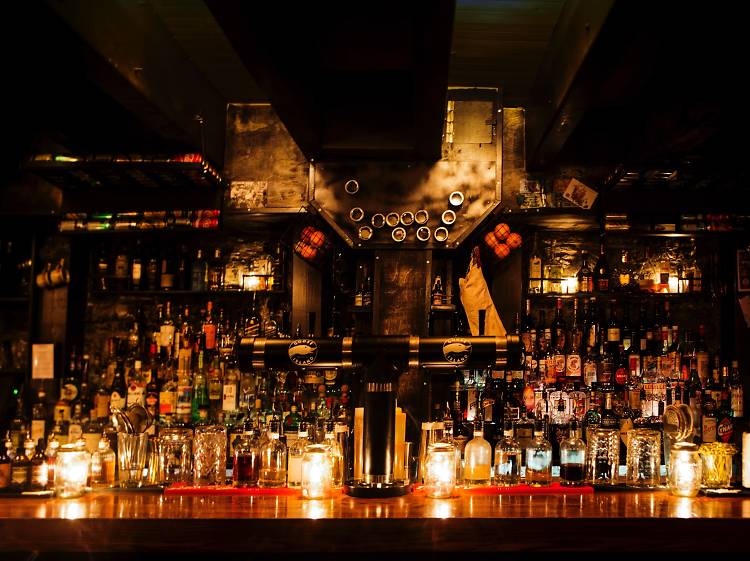 Photograph: @dan.esteban
Good times await in this dark, hidden, brick and stone-walled basement of a bar. One of the better speakeasies in town, this spot doubles down in quality by employing a supergroup of mixologists to craft its libations. It's one of the most coveted workplaces for local bartenders when they're not winning national cocktail competitions and coming up with drinks for their menu which shifts with the seasons. Just make sure you follow their house rules; this is the place to sip and relax, not party and dance the night away.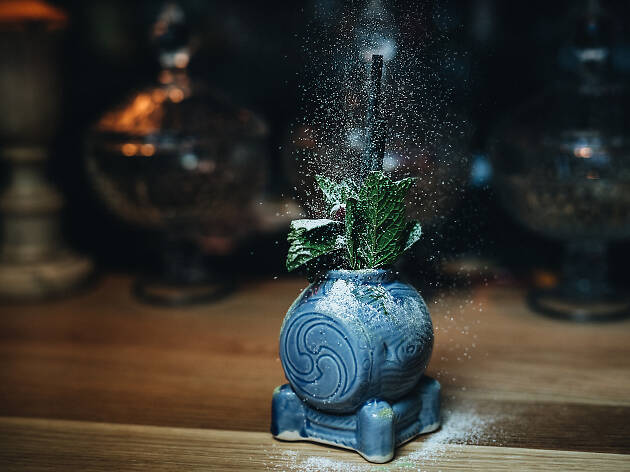 Photograph: Courtesy Nhậu Bar
Asian tiki is the theme at this speakeasy below Vietnamese restaurant Hà in Old Montreal. The short and sweet menu from local cocktail impresarios Maxime Daraize and Tao Zrafi is heavy on saké, soju, amari, teas, herbs and spices. Fan favourites here include the Do'rice—a mix of saké, Campari, Sichuan peppercorn, strawberries, blood orange and Quebec wildflowers—which comes in a mini taiko drum, or the equally flavourful group cocktails served in brimming conch shells and buddha statues.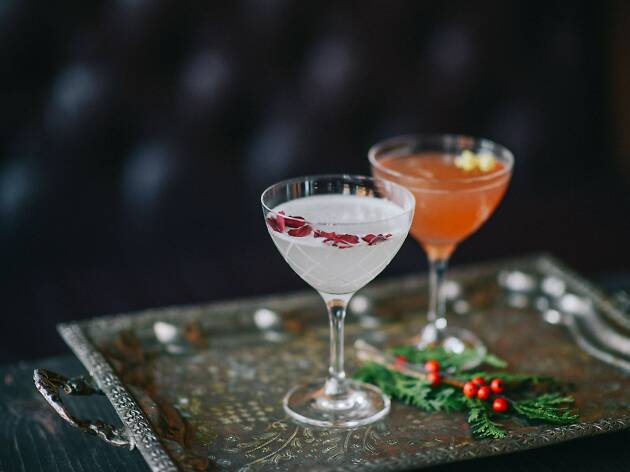 Photograph: Jade Wulfraat
Whose interest can't be piqued by tea cocktails and live jazz? The answer: We don't want to know them. The very British décor here—checkered floors and chandeliers—vibes nicely with the cocktails and their tiered platters of snackables. Anything with a foam or mousse comes particularly recommended (our pick's the Green Velvet with gin, Absinthe, Gyuokuro tea, celery-coriander mousse and cucumber) and know that the bar turns into a club later in the evening, complete with bottle service and the DJ sets to match.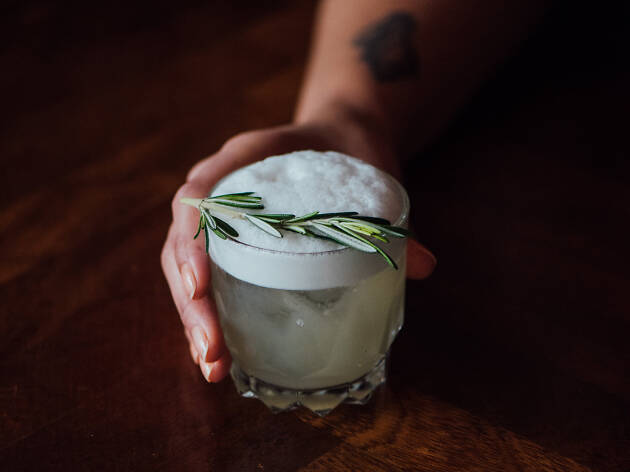 Photograph: Courtesy Bar Palco
When Prohibition dried up Verdun in 1919, it took 46 years for the government to allow restaurants in the southwest city to sell alcohol again, and even then, only with a meal. It took almost another half-century to be able to drink a standalone pint, and even longer for the first cocktail to be shaken into existence at Bar Palco, Verdun's first cocktail bar of renown. Now, it's hard to get a bar stool. Major plusses go to the cocktails by the pitcher and two-step drinks available on the cheap.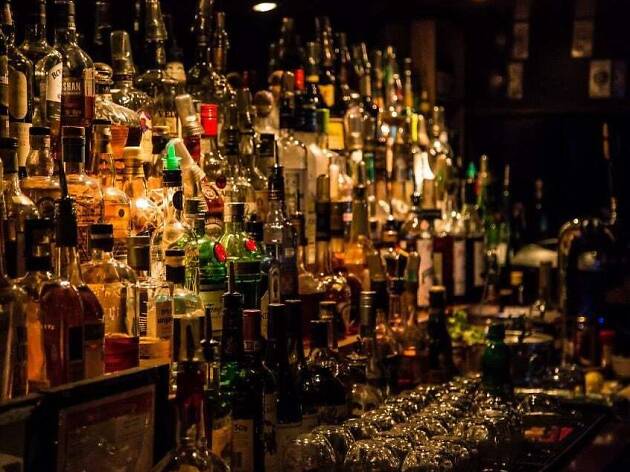 Photograph: Courtesy Yelp/N Sur Mackay
Where do you go when you're near the Concordia campus and want a hole-in-the-wall cocktail bar with friendly bartenders, micro-distilled ingredients and a stellar scotch selection? Here. From classics to creatives—think anything from elderflower and matcha to toasted marshmallows, rum and spices—N Sur Mackay is the most underrated downtown spot for lo-fi drinks, especially when you don't feel dressed up enough for classier establishments or just want somewhere a bit more broodingly dark.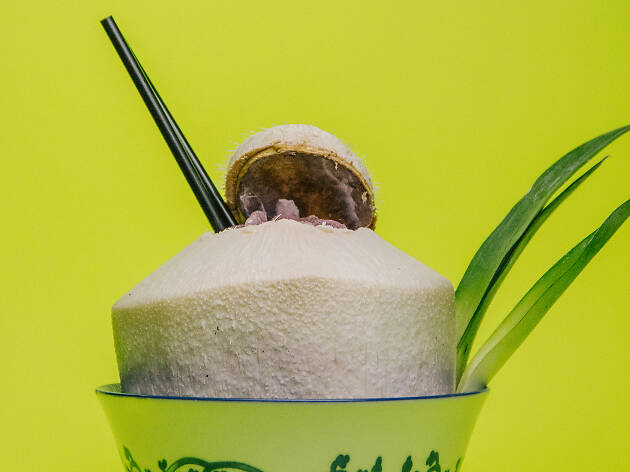 Photograph: Phil Nadeau
When Graham Warner, Dave Schmidt and pals opened the city's first tiki bar back in 2014, Montrealers beelined to Chinatown in search of rum-drenched drinks served in pineapples and coconuts. Unlike the overly sweet and fruity concoctions found elsewhere, this subterranean spot does it best with an innovative cocktail program that makes the most of its ingredients. Some of its most popular tipples have stuck around since the bar's beginning, and with good reason: Try their namesake Mal Nécessaire and an updated Chia Fresca with one straw or two.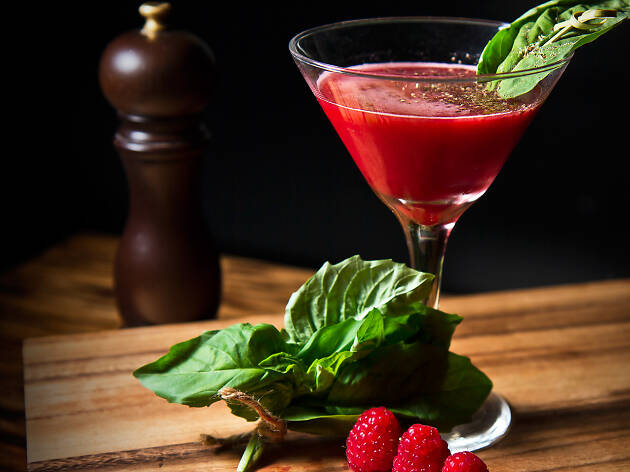 Photograph: Courtesy Le Lab
Le Lab was Montreal's original flair cocktail bar, and really, its first quality cocktail bar. It launched many-a mixologists' careers and, despite changing locations to the Quartier des Spectacles, still draws a large crowd with its extensive and experimental cocktail list. The daily happy hour specials and otherwise all have consistent quality the bar's renowned for. Drop in now and again for choice beverages, but you should definitely come back for Bar Wars, the venue's ongoing flair competition.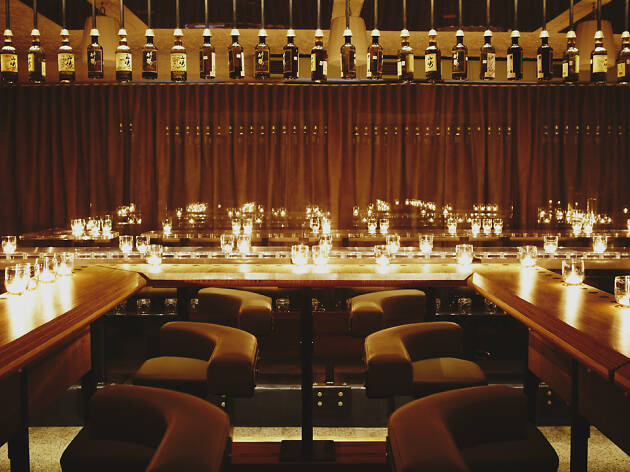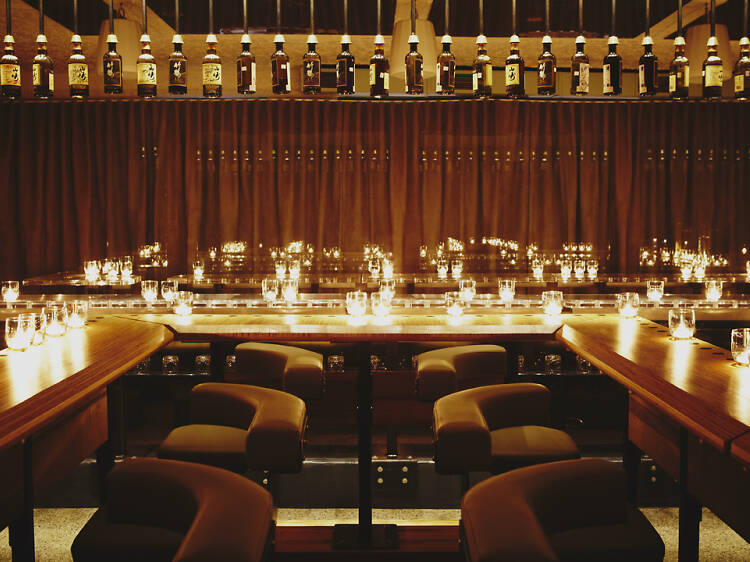 Photograph: Dominique Lafond
The Plateau's biggest little secret is this candlelit haunt with film noir vibes on the Main. Anywhere with whisky bottles hanging from the ceiling for regulars gets our nod of approval. Add to that some textbook souring options, from grapefruit to lime, and giant punch bowls of shochu, spiced rum, ginger and mint tea that go for $40 during happy hour? You'll have yourself a new favourite watering hole and hideaway.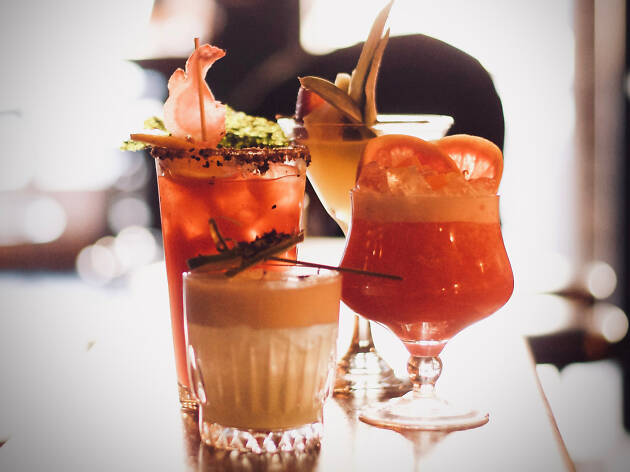 Photograph: Courtesy Bar Le Jockey
There are few bars that'll serve up a stellar cocktail alongside screens broadcasting the hockey game, and this La-Petite-Patrie neighbourhood bar's leading the pack in that respect. Sip on a classic Aviation while cheering on the Canadiens or while listening to some French storytelling on Sunday nights as part of the weekly Les Dimanches du Conte. While the cocktail menu has classics covered, you can also order up an original cocktail creation; Le Jockey's bartenders often compete in the annual Made With Love competition, so it'd be awfully considerate of you to help them practice.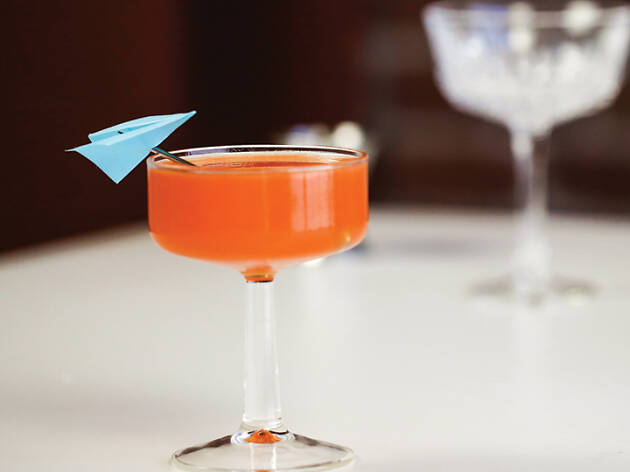 Photograph: Courtesy Paperplane MTL
This Saint-Henri bar's cocktail menu set at $10 per mixed drink sounds like a recipe for diminished quality, but you'll be pleasantly surprised after one round. One of the few occasions where savings are truly passed on to you, the customer, this pleasantly priced location is perfect for a late happy hour or casual drink before your night degenerates into a rum-fuelled party in its downstairs speakeasy, Broken Coconut.
Photograph: Ulysse Lemerise-Bouchard
13. Dominion Square Tavern
Come for its celebrity sightings and classy atmosphere and stay for the immaculately made Old Fashioneds, Cognac Sazeracs and G&Ts with your choice of spirit and homemade tonic. The drinks menu may be limited to classic cocktails plus a handful of beers and cider, and you've got to order food to drink, but that's no problem when the drinks and food are both excellent. We love ourselves an Absinthe rinse with Scotch eggs, Welsh rarebit and a sizeable Ploughman's plate of duck ham, pork rillettes, cured sausage, potato salad, deviled egg and cheddar. Good thing too: The only catch is that you have to snack when you're drinking here.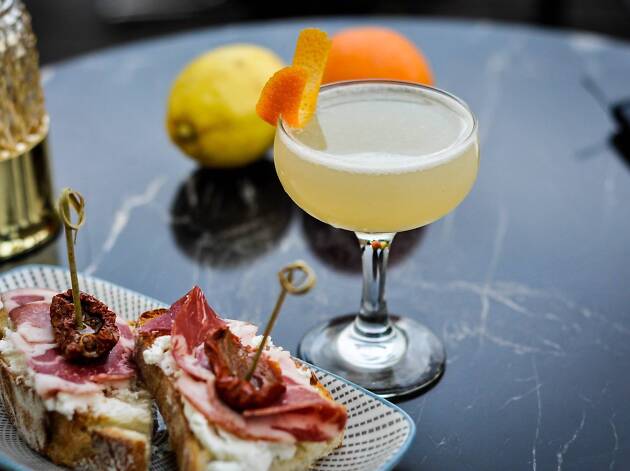 Photograph: Courtesy Bar Kabinet
This daytime coffee bar turns into a cocktail nook by night, complete with superb terrasse in the summer. Work your way through one of the city's longest lists of Amari or order any one of their Russian-themed cocktails for a good time. If anyone wants to switch off of liquor, they've also a formidable selection of biodynamic wines. As the music gets louder, take it as a sign that it's time to shimmy your way over to Datcha, the tiny Plateau nightclub next door.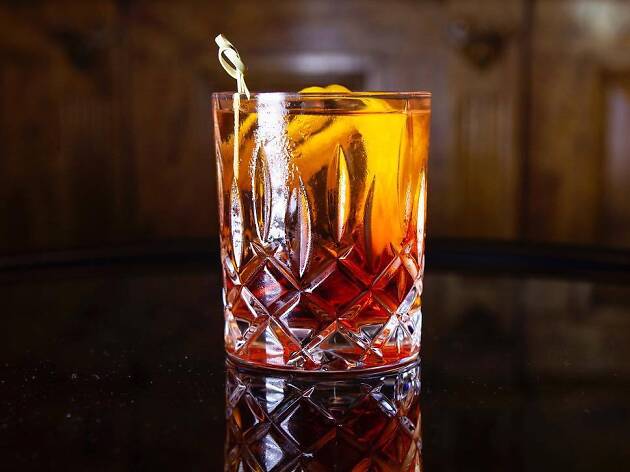 Photograph: Courtesy Bar George
People come as much for the décor as the classic cocktails at the bar in this Victorian mansion. A former private gentlemen's business club-turned-boutique hotel, this address still sports elaborate restored features like chandeliers, grandfather clocks, fireplaces and candelabras. Slurp Oysters Rockefeller with a Dubonnet cocktail nod to the Queen or shake things up with the Lady Stephen No.1 (sparkling wine, rum, pineapple, green tea).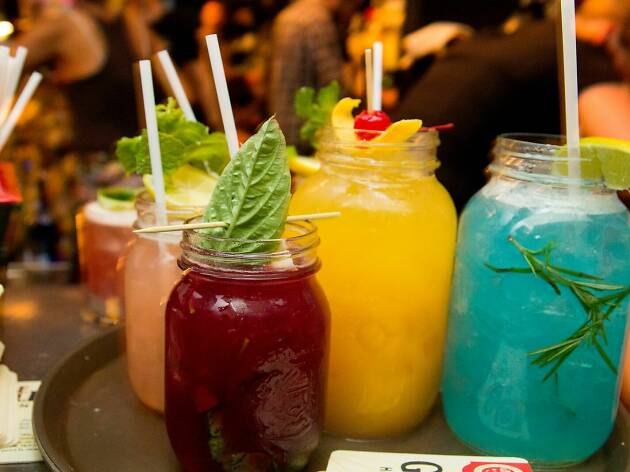 Photograph: Courtesy La Distillerie
After many years, this destination for sweet and rainbow-coloured concoctions served in mason jars has expanded to three Montreal locations and continues to be a favourite for a younger crowd looking to be knocked over by $19 Hurricanes. It's all for a good reason: The selections on the menu are delicious, conveniently divided into strong, fruity, refreshing and classic categories of cocktails, each packing their own special walloping of booze.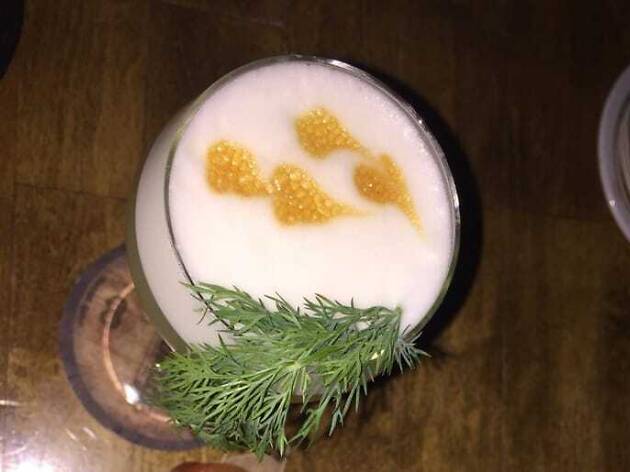 Photograph: Courtesy Yelp/Marie-Pier H.
From classics to seasonal creations, you're going to want to drink your way through the full list in Ahuntsic's favourite cocktail bar which highlights quality alcohols and house-made purées, syrups and shrubs concocted with fresh produce from Jean-Talon Market. All that sipping will—and should—inevitably lead to drunken Jenga with their jolly bartenders where loser buys the round. Funny thing is that you don't get better at Jenga the more you drink. Do the math.
More of the best bars in Montreal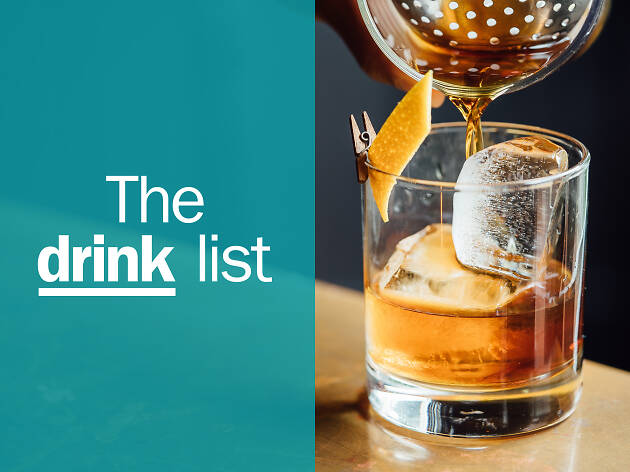 Welcome to the Time Out DRINK List, where you'll find our carefully chosen 'best of' Montreal's libational landscape.