Heads up! We're working hard to be accurate – but these are unusual times, so please always check before heading out.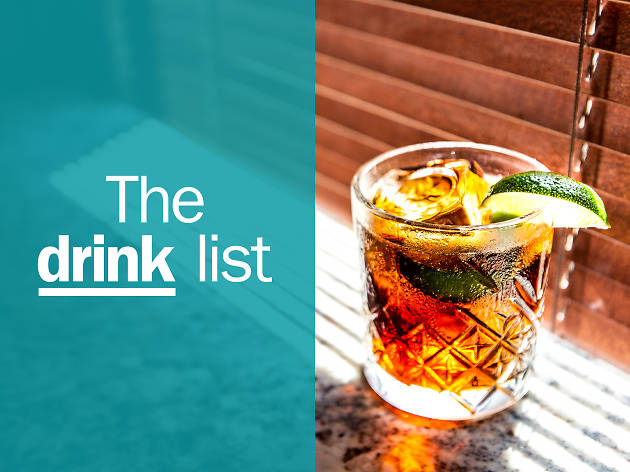 The 55 best bars in Montreal to quench your thirst
Discover the very best bars in Montreal on the scene right now for beer, wine, spirits and more with this must-read guide
November 2019: There's nothing quite like a drink in the best bars of Montreal, where anything that passes your lips is a top shelf experience. Staying up to date is the real challenge, and that calls for an update to our DRINK list of pubs, dives, wine bars, beer bars, mixology masters and everything in between. This year's final edition welcomes the cocktail bars Le 132 Bar Vintage, N Sur Mackay and Bar George to the fold, as well as the unforgettable DJ-driven nights found at Ti-Agrikol. Additions mean subtractions, so we'll bid farewell to Bar Alexandraplatz and Mayfair Cocktail Bar (both closed), as well as Bulma Bar and Kampai Garden—they're open and worth your wallet, but tastes and times are a-changing.
Welcome to the Time Out DRINK List, where you'll find our local experts' handpicked selection of the best bars in Montreal. These are the bars you drink at to remember, not those you drink at and forget.
Santé, Montreal!
We've done our homework (and got the hangovers to show for it) and explored the city's libational landscape to find which bars have the top drinks par excellence. One look and you'll find a distilled collection of the city's best wine bars and cocktail bars, pints of the best beer, speakeasy bars, nightlife hotspots and anything else you might be thirsty for. We've covered a full spectrum that ranges from local watering holes to high-end lounges, brews and bubbles alike, with some doubling down as being the best restaurants as well. You can't go wrong when picking your poison here; this is your guide of where to grab it.
Want to stay updated on what's best in Montreal? Keep your ears to the ground and your eyes on the prize by following us on Facebook.
Drank somewhere on this list and loved it? Share it with the hashtag #TimeOutDrinkList.
If you're curious, find Time Out's review and recommendation process for bars here.
Where to find the best bars in Montreal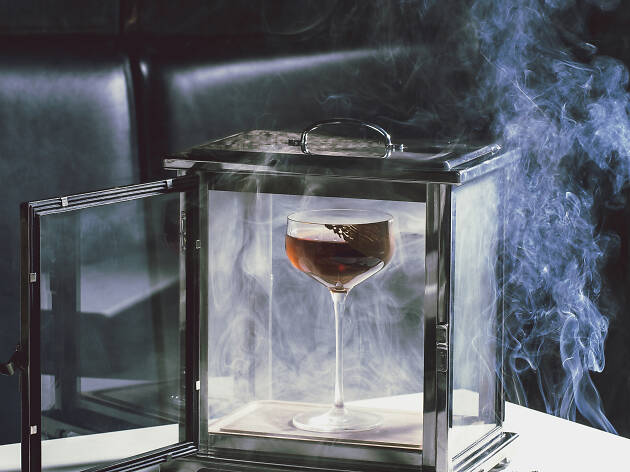 Photograph: Keven Poisson
The possibilities of what a hotel bar could be experienced a resurgence with this smart renovation in the Fairmont's The Queen Elizabeth downtown. Director of mixology and self-taught bartender Nader Chabaane's upped the game with his application of rotating cocktails, and a menu arranged as a tasting wheel so thirsty patrons can follow their flavour profiles. An inimitably cool establishment, the cocktails are a necessity here, but there's just as many beers, bubbles and wines for those less inclined.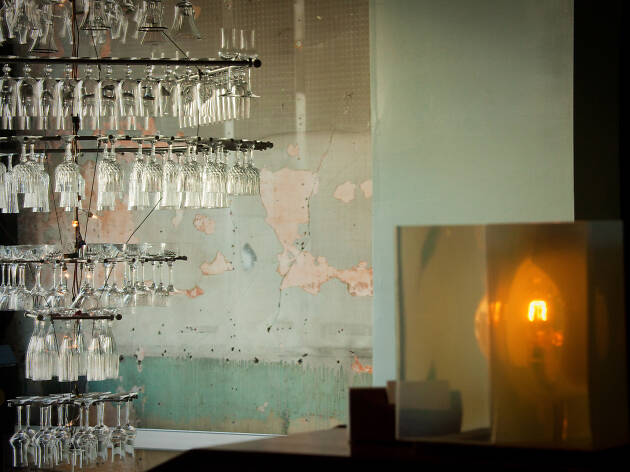 Photograph: Amielle Clouâtre
Since 2004, the wine bar Pullman from Catherine Bélanger and Bruno Braën stands tall on the sommelier scene, and not just because of its high-vaulted ceilings. Underneath an incomparably ornate chandelier made from wine glasses, the cavernous selection of bottles upon bottles of bubbles, red, whites, rosés and oranges is among the largest to be found in Montreal. Due to an old law that states bars like Pullman require food with booze, the only catch is that you have to snack. Luckily, there's a solid range of tapas-style dishes, none of which exceed $20 at most.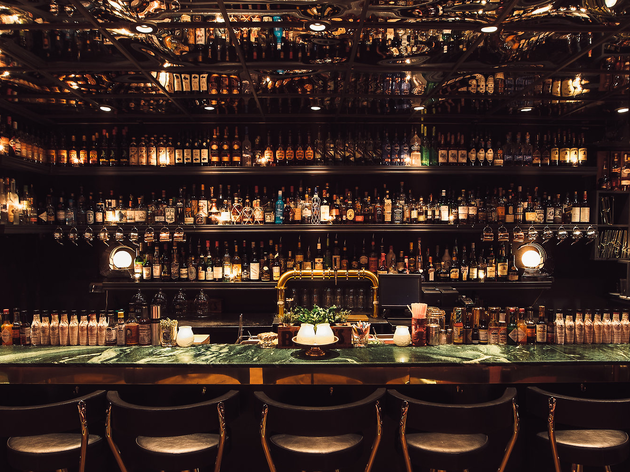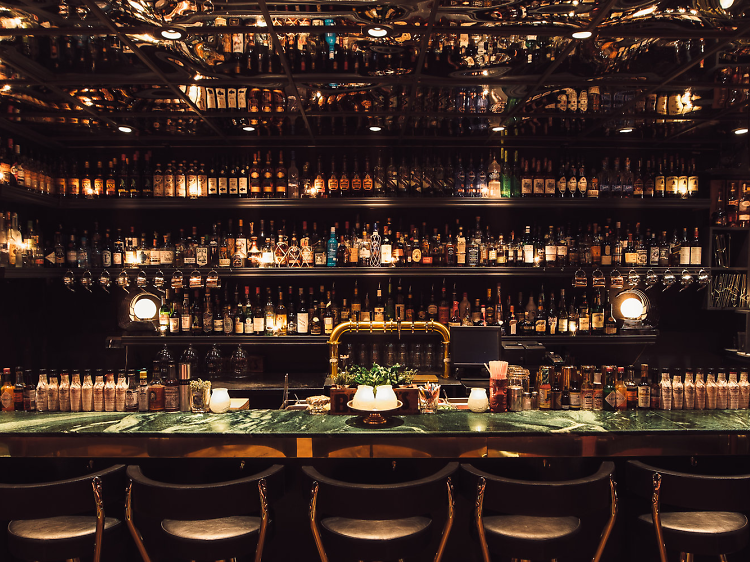 Photograph: Courtesy Atwater Cocktail Club
Wondering why there's a red carpet with red velour ropes set up in an alleyway behind the chic restaurant Foiegwa? Fashioned as a speakeasy, the ACC's a unique locale for a unique bar, albeit no password's required. Its pristine insides were designed with French discotheques in mind, and sports one of the more original cocktail programs in town by co-owner Christophe Beaudoin. If its staggering wall of liquors and resulting concoctions don't impress, then we'd be happy to take your seat; no reservations at this hotspot.
Photograph: Courtesy Bar Palco
With the neighbourhood of Verdun being historically dry for decades prior to 2014, this cocktail bar and tap house turned a lot of heads when it threw open its doors. The bonus lied in the quality of the drinks to be had, signature mixtures with a heavy emphasis on fruity elements coming by the glass or the pitcher. Couple that with a social club feel from board games, snack menus and musical performances, and that's a recipe for good times.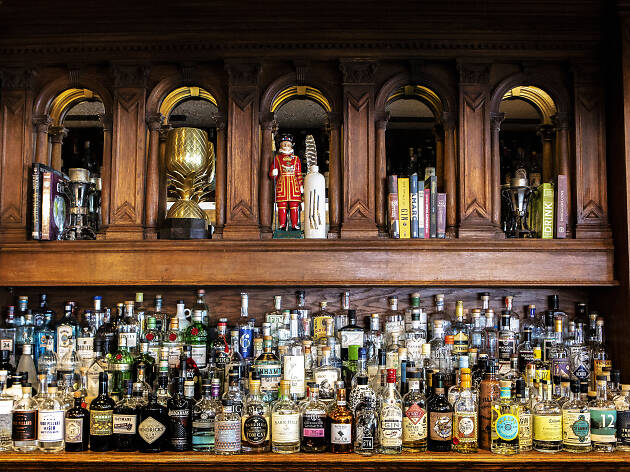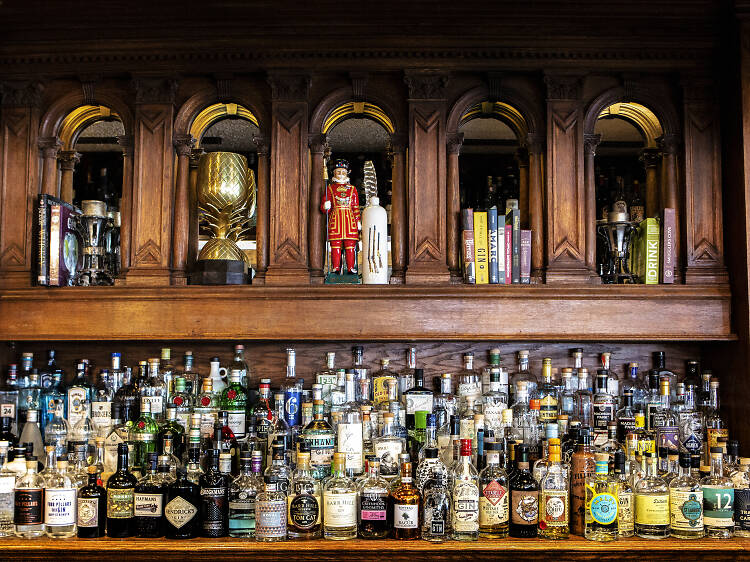 Photograph: Daniel Esteban
As native Londoners Michael Belben and David Eyre put it, the term 'gastropub' has been increasingly bandied around without enough good food to back it up. That, plus offering an genuine pub experience with the most impressive collection of gins in town, drove the owners to create this local favourite. Sure, the food here is a definite plus, but coupling it with a frothing pint or a cool cup of gin from one of 19 national sources? That's a win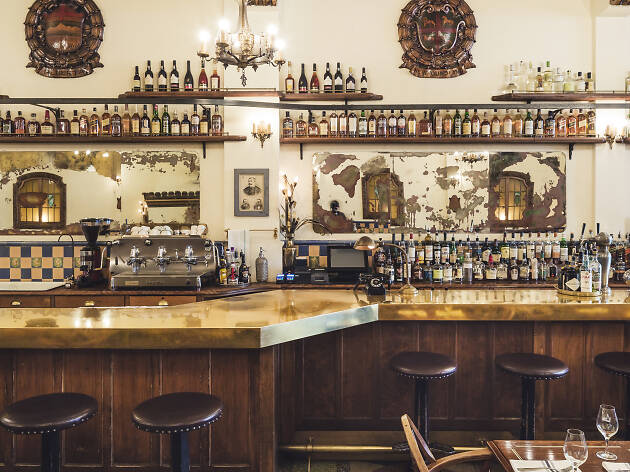 Photograph: Ulysse Lemerise-Bouchard
6. Dominion Square Tavern
Built from an old hotel and restaurant space that first began in 1927, this spot's got all the historic fixtures. Period furniture, antique chandeliers and a focus on classic cocktails completes the time warp, emphasizing gins and homemade tonic as much as proper absinthe servings, juleps, fizzes and smashes. However, a ton of new world charm comes from chef and co-owner Eric Dupuis and chef Bertrand Le François' English menus. Charcuterie comes especially recommended with your drink of choice.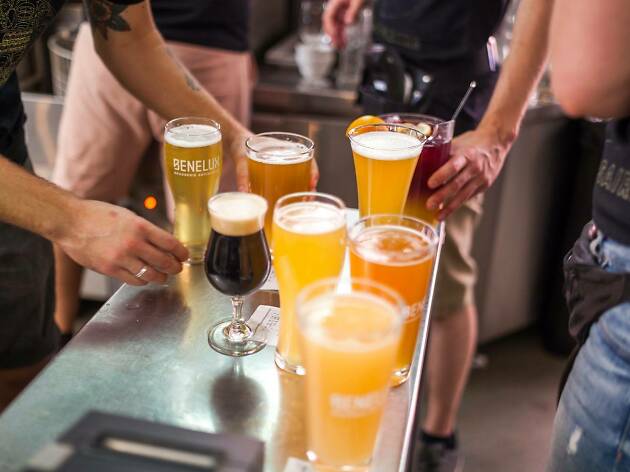 Photograph: Courtesy Benelux
The first bar to open up in Verdun after years of lingering prohibition, Benelux enlivened its neighbourhood's main strip with its artisanal brewing capabilities. The brews here rotate regularly with something for everyone: Equipped with a solid selection that reaches from bitters, stouts and pilsners to German varieties like Dunkelweizens and Hefeweizens, it provides a good old fashioned brouhaha with its tasting platters and solid sandwiches for pub grub.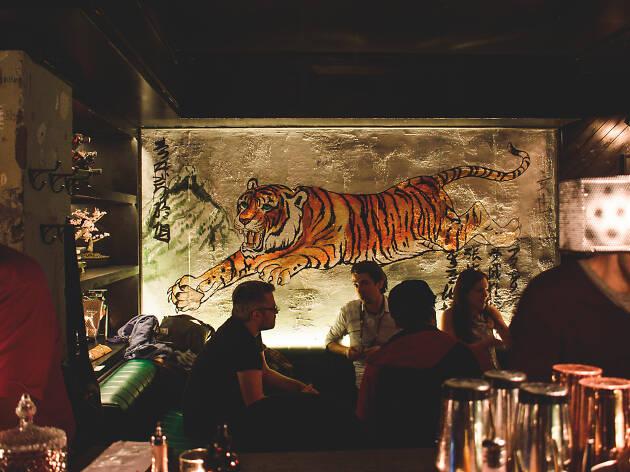 Photograph: Mehdi Lampropoulos
Quite possibly the finest address to come from restauranteur Yann Levy, Gokudo's a yakuza-themed bar inspired by his trips to Japan. Situated behind the back wall curtains of Ryoshi, a fish shack and chirashi counter, the dark nightclub vibes of Gokudo are offset by how quiet and secretive it is. A great bar for conversation, talk becomes cheap when one of its bartenders start expertly slinging their shakers or slink up to a table with your order of private import saké.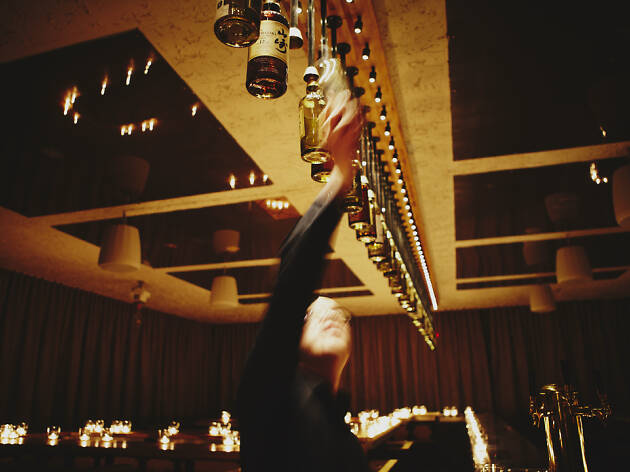 Photograph: Dominique Lafond
The curtain-lined, candlelit swanky digs of Big in Japan Bar aren't easy to find—behind a non-descript door to the right of Patati Patata—but once found, its reputation as a local gem settles in quick. Bowtied waiters greeting and seating aside, its long line of reserved whiskey bottles hanging from the ceiling is the regular eye candy. Purchased, signed and hung for up to a year to be imbibed at the customer's discretion, there's also choice cocktails from co-owner André Nguyen.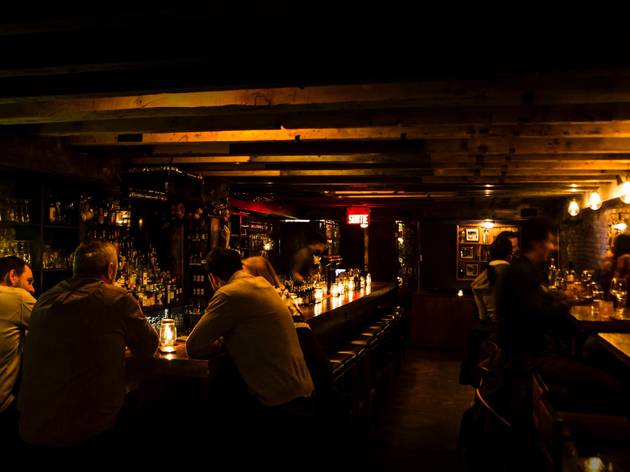 Photograph: Daniel Esteban
Driven by a motley crew of award-winning mixologists like owner Kevin Demers and head bartender Pierre-Hugues Marois, the Coldroom delivers all the goods a speakeasy should have without any cheap theatrics: A non-descript door, basic interior and solid, common sense house rules keep the ruckus in check and the service smooth. Expect to find a cocktail selection that shifts with the seasons plus spins on classics—an old fashioned with mezcal, anyone?—plus an incredibly knowledgeable and inventive team.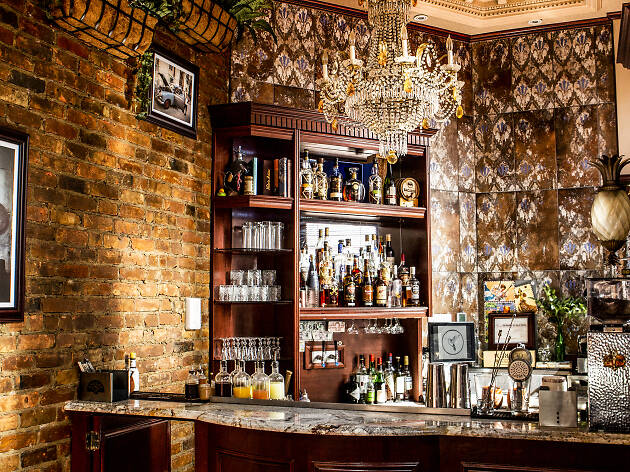 Photograph: Courtesy El Pequeño Bar
A fresh-on-the-block ode to a Havanan bar, this cocktail stop's nine seats can get crowded on a busy night, but that doesn't stop folks from flocking here on a hot summer night. Coming at Montreal from the folks behind the Coldroom, this tiny spot focuses on serving Cubanos, a small selection of rhum-based cocktails and beers. As plain and simple as it sounds, the work of the bartenders here is an exhibition of a lot of skill, if not resulting in delicious work.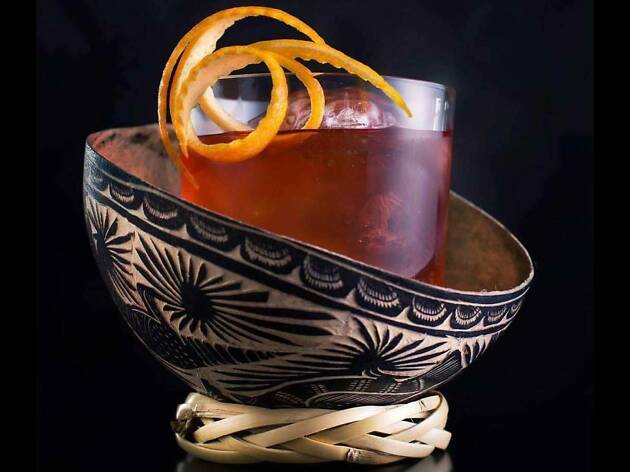 Photograph: Courtesy Clandestino
A speakeasy within a speakeasy, the downstairs mezcal and tequila bar Clandestino from Charles Manceau is available on request once you find your way inside of Boho in Old Montreal. Below, you'll find menus that includes upwards of 100 bottles to sample from across Mexico, east to west. That's topped by sturdy selection of ornate mixed drinks including both mid- to top-shelf liquors and over a dozen salts to pair. It's a more-than-extensive execution packed into an intimate thirty-seat spot.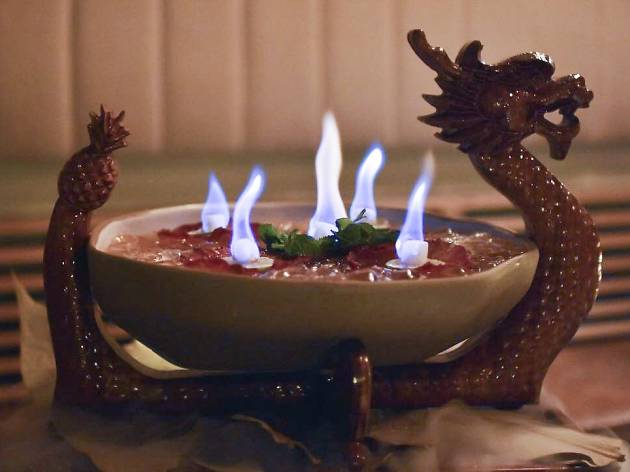 Photograph: Phil Nadeau
13. Bar Le Mal Nécessaire
Chinatown wasn't exactly bursting with bar options before David Schmidt's Le Mal Nécessaire came along. Excitement was immediately cemented by its strong tiki vibes, delivering cored fruit beverages alongside drinks coming by either the glass or the pitcher. The fun, green neon-soaked vibes are strong with this one, and there's a double benefit coming from its close-to-zero-waste policy (with the exception of using the neighbouring Chinese restaurant Fung Shing for grub). Look for the brightly-lit pineapple for good times.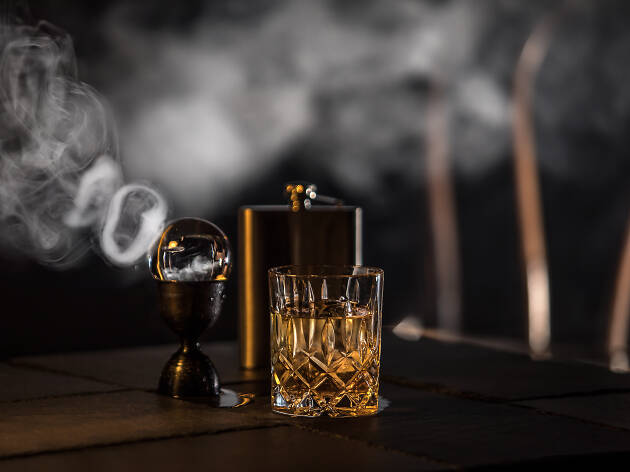 Photograph: Courtesy Le 4e Mur
A gamified bar experience, the location is a "well-kept secret" revealed through signing up for their newsletter online. Accessible by pushing against its entrance's 'fourth' wall, the mystery of a Prohibition-era speakeasy runs deep here. Burlesque shows and live jazz on Tuesdays and Saturdays, dapper bartenders, drawn curtains; it's all there. Even without the theatrics they commit to, trust the quality of the mixology of its founders when considering they've all accrued national championship cocktail titles, and one of them started L'Ecole du Bar de Montréal, a local bartending school.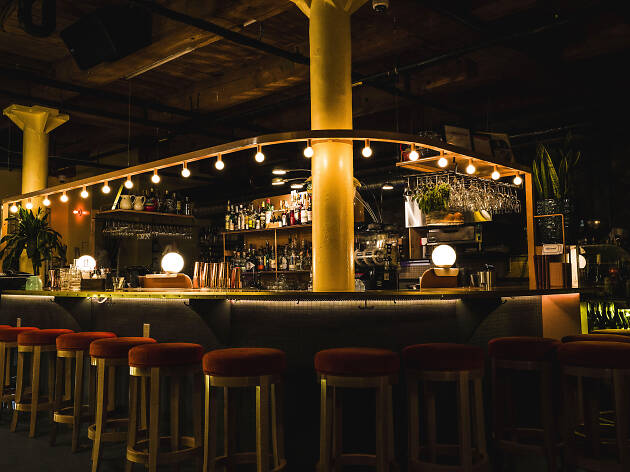 Photograph: Influencr Agency
Themed after the chic French pool club Piscine Molitor from the 1930s, Pelicano has the look and feel of descending into an emptied pool, complete with a central bar you 'swim' through the crowds to. One of the freshest addresses from local bar wunderkind David Schmidt, it doubles down on the cool by hosting a range of awesome DJs and offering short but sweet snacks from the restaurant Tiradito upstairs. All cocktails come with strong beachy feels, brimming with booze and crushed ice.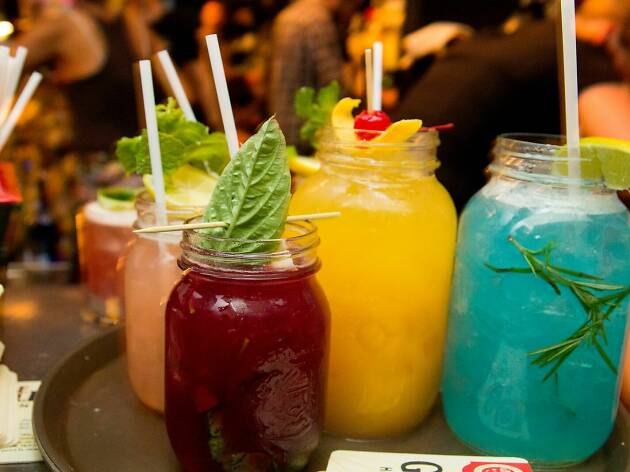 Photograph: Courtesy La Distillerie
The towering mason jar jugs of booze here have long been a popular business in Montreal, so popular that this particular name sports three different locations. Whichever one you choose, the quality's consistent across its four categories of drinks: Powerful, refreshing, fruity and classic (plus some mocktails for your teetotaling friends). The tall, jarred booze—and shorter drinks too—here change bi-annually, so the menu's always being refreshed. Take our advice: Don't rush into your second round too quickly. The drinks here pack a wallop.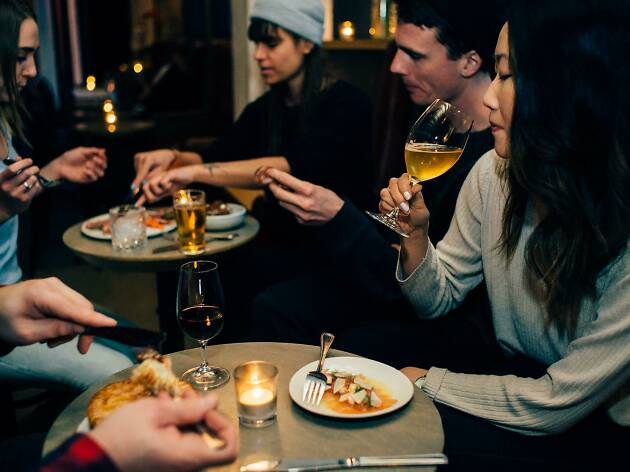 Photograph: Courtesy Loïc
Slowly, steadily, the neighbourhood of Saint-Henri achieved a lot of infamy first for its food, then for its nightlife. The flagship behind where to drink came from Loïc, a uber-sleek bar that features an impressive wine list alongside masterful cocktails, some concessionary beers on tap, and a kitchen dishing out simple yet effective menus. Sometimes a sighting ground for celebrities, a step into the space makes it clear that this is a great bar to get away from it all. The only issue comes from waiting for your turn on a busy night, but hey, that's popularity for you.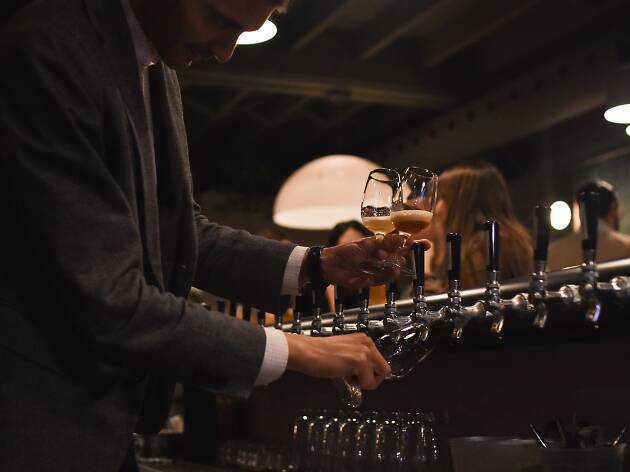 Photograph: Phil Nadeau
Part brewpub, part wood-fired restaurant, Pamplemousse has all the makings of an excellent pub but is set in a smooth cocktail bar-like setting. With its novella-length menu of taps to choose from, plus Caribbean-style food from chef Pelopieas Brisson-Tsavoussis, the nights here are regularly bustling with hungry and thirsty traffic. Seek this one out for a one-stop-shop that curates the best microbreweries in the city, as well as some mixed drinks that pack a wallop. Also, and fight us on this if you want to: Best radler in the city.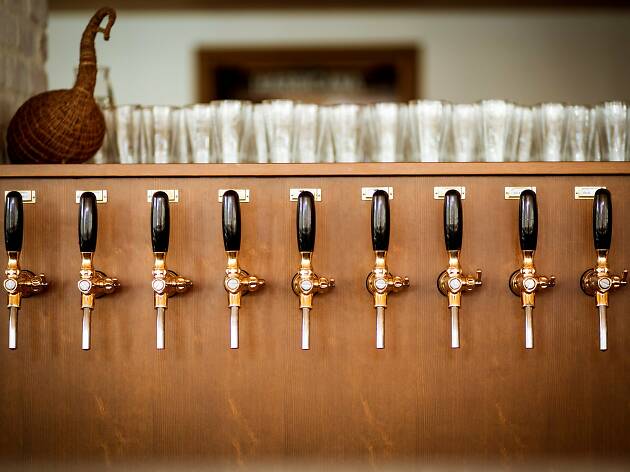 Photograph: Courtesy Brasserie Harricana
Sure, beer's been long regarded as a blue collar's post-shift repast, but that doesn't mean it can't receive a classy treatment. Harricana's selection of beer, many of which are brewed onsite, is of a distinguished quality that's delivered with smooth service staff who treat the wares no differently than they would a fine wine. There's some visiting breweries available here too, and that makes the taps number in at over three dozen. With its light-filled, airy interior spread out over several different areas and an outdoor terrasse with bleachers, the experience here can be as intimate or communal as you'd like it to be.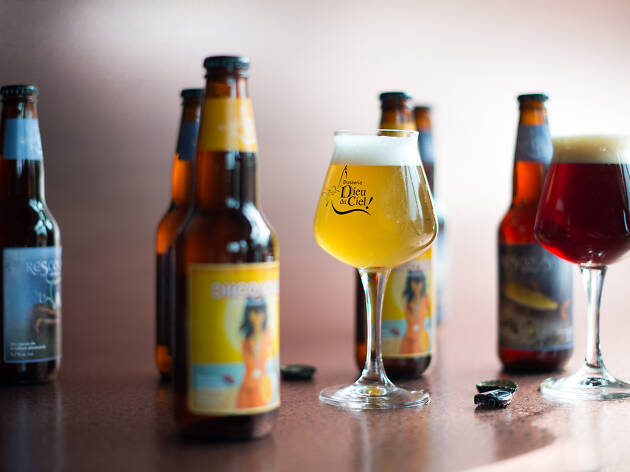 Photograph: Samuel Joubert
It was hot on the microbrewery scene when it first opened, and it's still hot on the scene today; Dieu du Ciel! is one of the premier spots to get entirely beers brewed entirely in-house (give or take a couple collaborations). With as many as two dozen recipes to choose from at any given time, the options can occasionally get a bit intimidating, but 4oz tasting glasses running at $2.50 a pop make that easy. It's fondly regarded as a great place to kick back; that is, if you can nab yourself a table. It's perpetually popular to say the least.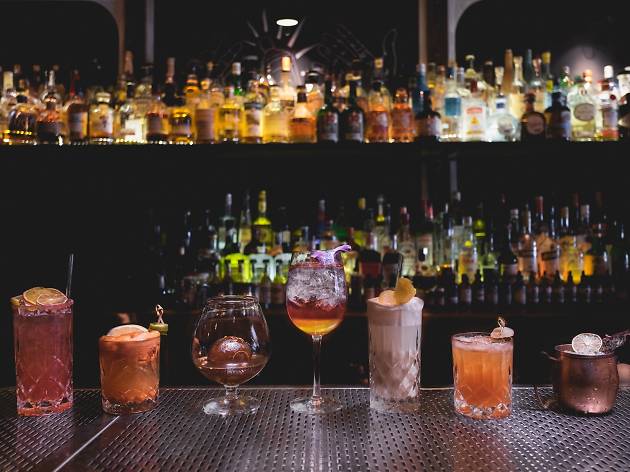 Photograph: Le 132 Bar Vintage / @132BarVintage
If you're a city core-dwelling student or think the Plateau's got everything you need, you need to reevaluate your life—well, you always did, but the drinks fashioned in this Ahuntsic cocktail bar will single-handedly have you considering what other treasures Montreal's got in store. From proper classics to supremely inventive drinks, this institution from Jean-Maxime Giguère helped put its neighbourhood on the map. You need to taste it to believe it.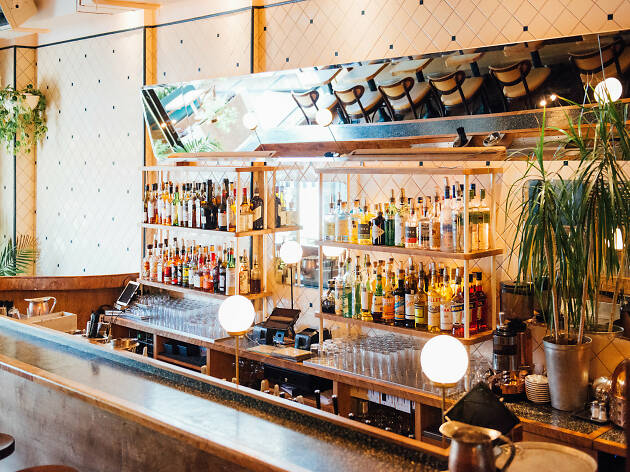 Photograph: Alison Slattery
An upscaled take on Portuguese tavernas from hotshot restauranteurs Alex Wolosianksi, Marc Bungarten, Eric Dupuis and Alex Baldwin, Henrietta's one of those reclaimed ideas that does its part in delivering what matters most. In this case, there's a highly rated kitchen delivering as many interesting takes on traditional recipes as there are classics, as well as wine lists that leans mostly natural and biodynamic (see: flavourful with a constantly refreshed selection). Food's no joke here, but really, folks drop in to see what's being uncorked every day of the week.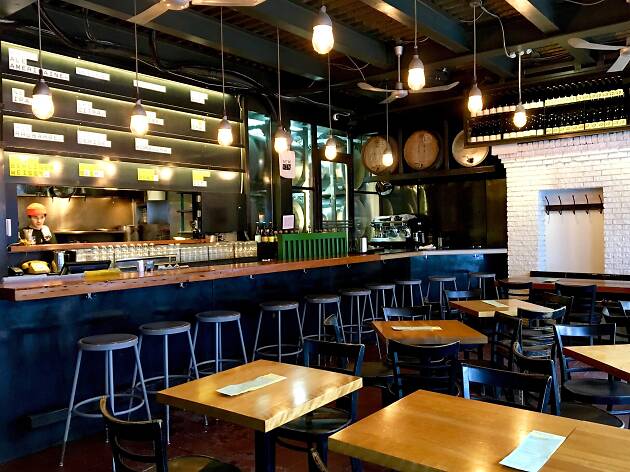 Photograph: Courtesy Réservoir
This brewpub maintained a long bout of notoriety for its reliability, delivering a classy spot to drink house-brewed beer atop their rooftop terrasse. Sure, the application of a stellar kitchen really put this place on the map for Montreal, but few dispute the choice beer they're making here, numbering in at about a dozen at any given time. Cozy and casual, the combination of brewmasters and chefs at Réservoir is one that wins on many fronts. Pick whatever poison you like, but their cherry beer's got a special place in our hearts.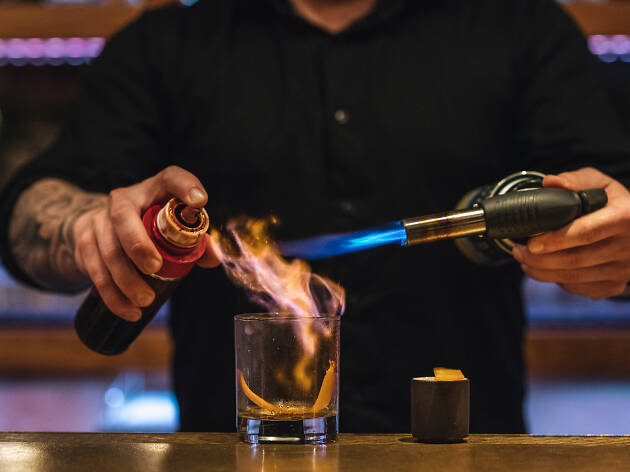 Photograph: Courtesy Flyjin
An Old Montreal supper club known for its work with cocktails as much as it is for packed dancefloors past 11 p.m. One would think having a household name like Antonio Park working on the menu would be the real drawcard—not to say the izakaya-style and raw fish dishes aren't good—but the bar here is where the real action is happening. Intricate drinks, saké, Japanese beers and a humungous bottle service menu all come together to form a nightlife hotspot that's been going strong since 2014.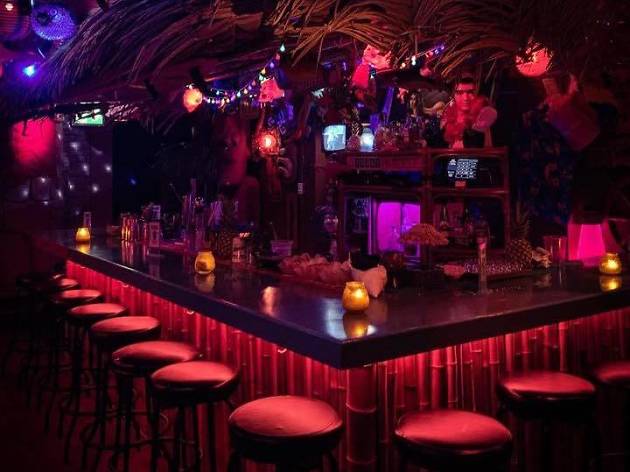 Photograph: Snowbird Tiki Bar / @snowbirdtikibar
This one's sure to get you stumbling: Owner Anthoni Jodoin's bar is a great place to grab a stool and order some seriously yummy beverages which are all organized by alcohol content according to the following stages of inebriation: I work tomorrow, I'm calling in sick, I'm texting my ex, and I lost my cell phone. Here you'll find many standard tiki quaffs like the mai tai and flaming zombie as well as overflowing cocktail bowls to wade through with your friends.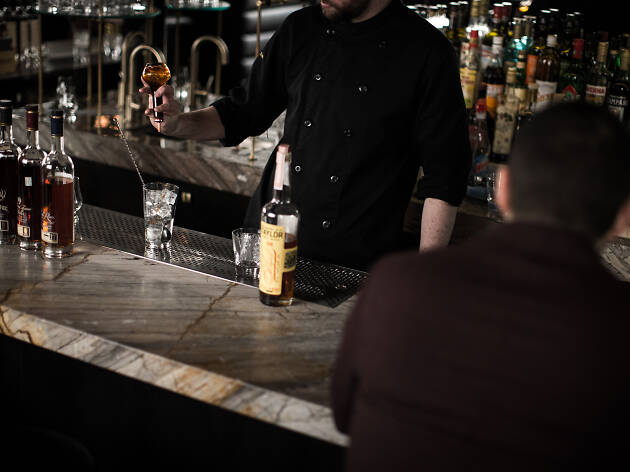 Photograph: Courtesy Cloakroom Bar
What originally began as a men's bespoke grew to include room for a discreet speakeasy accessible through its coat check in 2015. Since then, the Cloakroom has accrued itself some of the city's top mixologists and enough popularity to spur a second location across the Atlantic in Brisbane. It's about as swanky as it gets here, with drinks made to order and the ice so clear you can see the other side of the room through it. The cocktails here are as tailored as the suits (pun definitely intended).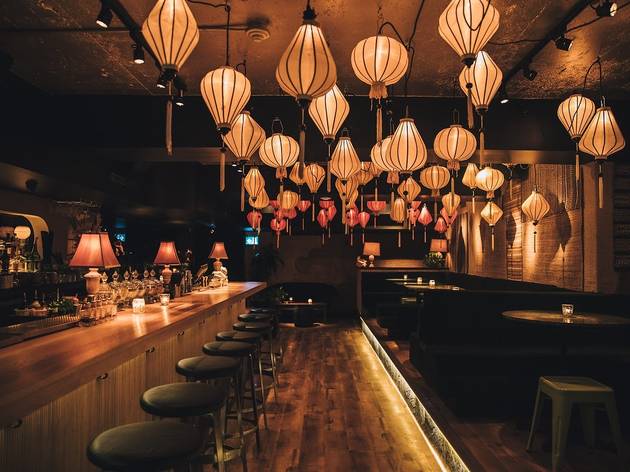 Photograph: Courtesy Nhâu
Located below Hà Restaurant in Old Montreal, the paper lantern-covered ceiling of Nhâu is just the right amount of fun in its decoration and speakeasy feel without being too kitsch. The cocktail program here—put together by whizkids Maxime Daraize and Tao Zrafi—works off of the bar's Vietnamese culinary counterpart with pan-Asian ingredients that include the likes of pandan, miso, sesame, oolong tea, and tamarind. Groups tend to lean towards a couple of their sharing cocktails, served in large vessels like hollowed-out buddhas or conches.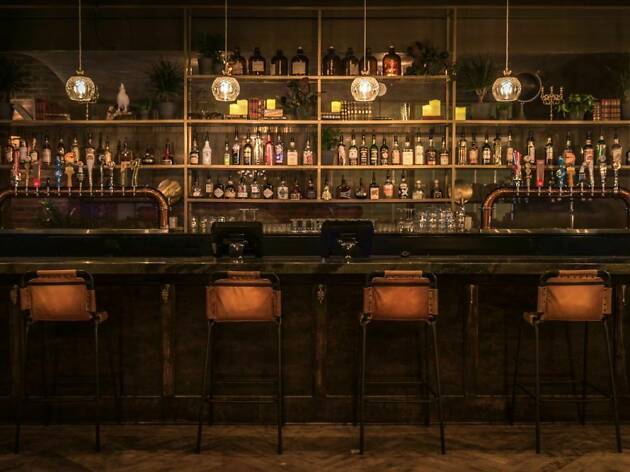 Photograph: Courtesy Yelp/Madame Bovary
An enhanced pub experience on the South Shore, Madame Bovary is set in the unusual location of a boutique strip mall, but looks can be deceiving. Inside, the space is designed with a posh combination of Victorian period fixtures, plus billiards. On top of it all, a small but mighty cocktail program exhibits some twisted classics alongside signatures that have inventive ingredients like cassis jam, fruit and flower syrups and pear purée. Served by the pitcher or by the glass, and with DJs spinning on weekends, it's all Victorian class with none of the struggle.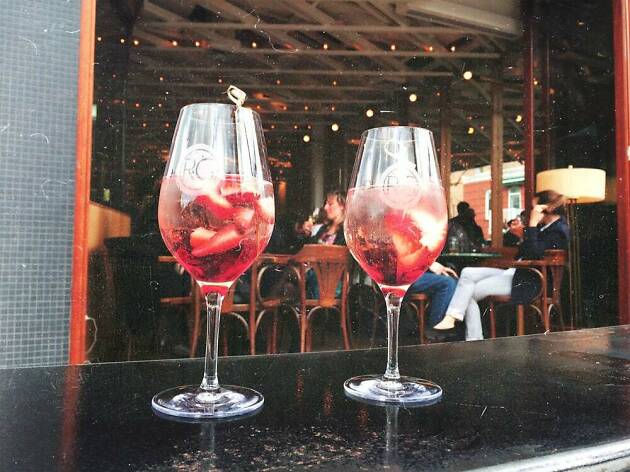 Photograph: Courtesy Yelp/Marjorie D.
Unless the name isn't enough of a giveaway, Rouge Gorge is devoted to quaffing glasses upon glasses of fine wines. For lovers of the grape, take note: This address boasts one of the most impressive cellars in the city and is a great spot to discover new regions' and countries' vintages. What's more, the long multitiered space is sleekly designed and the kitchen's been known to please as well. Located in the Plateau, it's in a neighbourhood that has no shortage of cool spots to check out, but it's certainly more stylish with this one.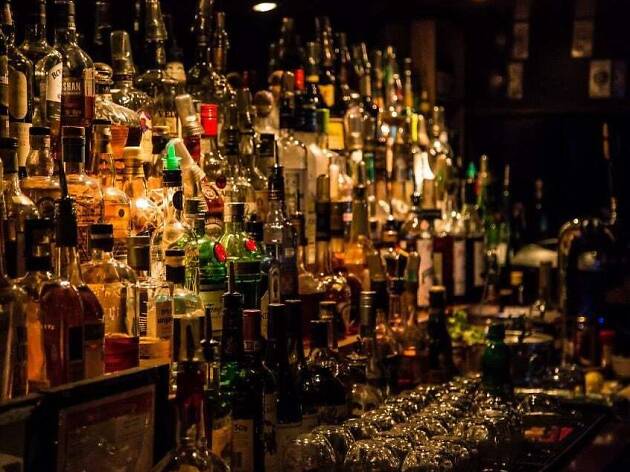 Photograph: Courtesy Yelp/N Sur Mackay
Now and then we'll mention to friends that we're ducking into this bar for a quick drink, to which they'll reply: "Who?" We're all for exposing best-kept secrets in this city, but we ask you treat this one with respect. N Sur Mackay's one of the most unpretentious yet masterful cocktail bars in town, a place that'll make you any classic drink you desire, whip up something on the spot or proffer something from a rotating list of seasonal recipes. Best of all, bartenders here are exceedingly convivial. We wouldn't want to change a thing about it.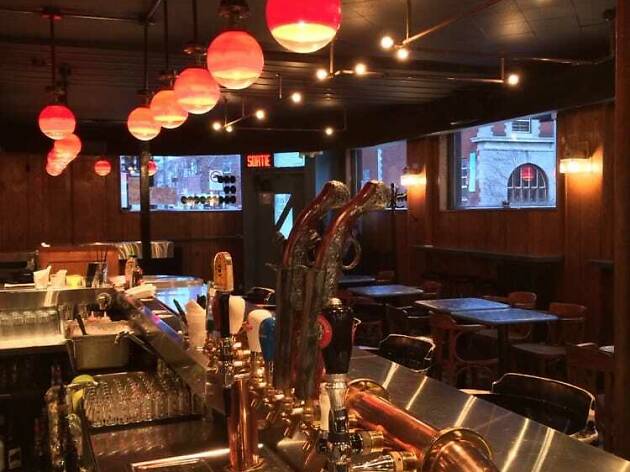 Photograph: Courtesy Yelp/Ann T.
Amongst all of the watering holes and dive bars in Montreal, only so many execute their no-frills program in a way that's consistently convivial. Bar de Courcelle's one of those spots, having been a dive bar in the past for Saint-Henri locals before renovating into a 'new' spot that kept much of its original charm. With tall bottles of beer and classic cocktails in hand, people relax here after work during the day, and stay for its constant slew of DJs, live acts and open mics at night.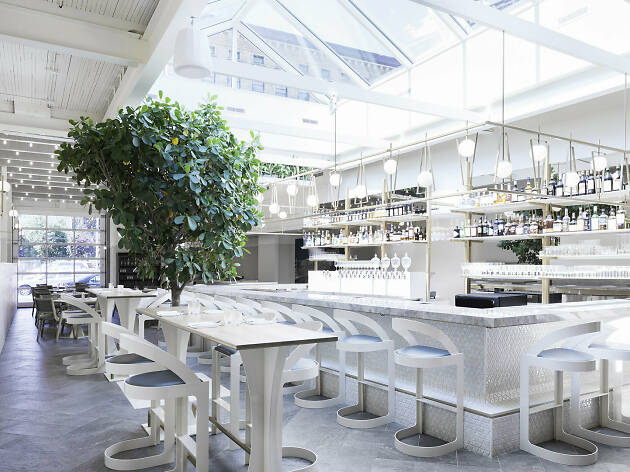 Photograph: Courtesy Perles et Paddock
Maxime Perrault and Jessica Goulet's meticulously renovated garage with precise designs excels for many as a restaurant, but the bar program alone is worth visiting for. Jonathan Homier's cocktail program is a touching tribute to fine liquors with its artful presentations and spot-on flavours. As for the beer selection, there's focus on Québécois microbrewers from across the province, handled so carefully that even temperature control plays an integral part. If none of this is enough to tempt you, consider that this is one of best designed bars in the city.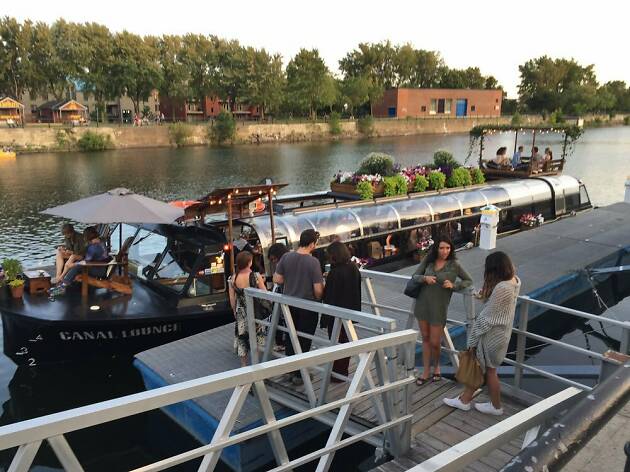 Photograph: Courtesy Yelp/Charles N.
Aboard this retooled bateau-mouche floating on the Lachine Canal, Montrealers and tourists alike enjoy grabbing one of its nautically themed cocktails or a glass of wine. As gimmicky as it may seem, it's far from a tourist trap when considering how well recipes both classic and novel are executed. Open from late May to the first week of October, this 45-year-old canal boat's one of the most unique bars in town to enjoy a hot day in the sun.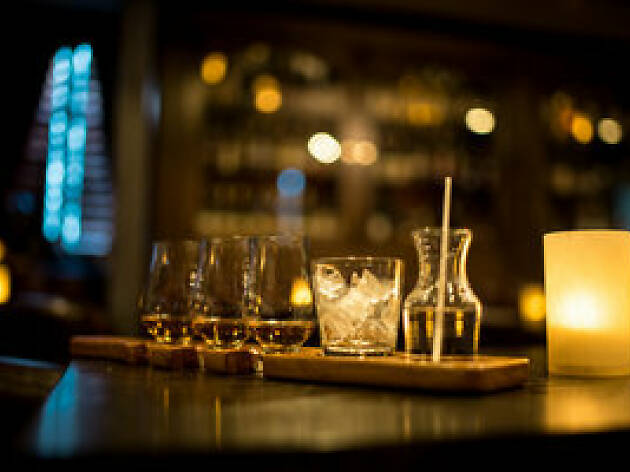 Photograph: Courtesy Burgundy Lion
Few bars can boast being as excellently British as the Burgundy Lion, and that's not just because football matches are on TV or the food here's traditional. Upon entering, thirsty patrons can see its staggeringly large whiskey collection—the biggest in the province—prominently displayed above its bar, and the taps are always running. The space is pretty immense when considering its first floor indoor and outdoor spaces, a second floor equipped with its own bar and an indoor skylighted terrasse for high tea.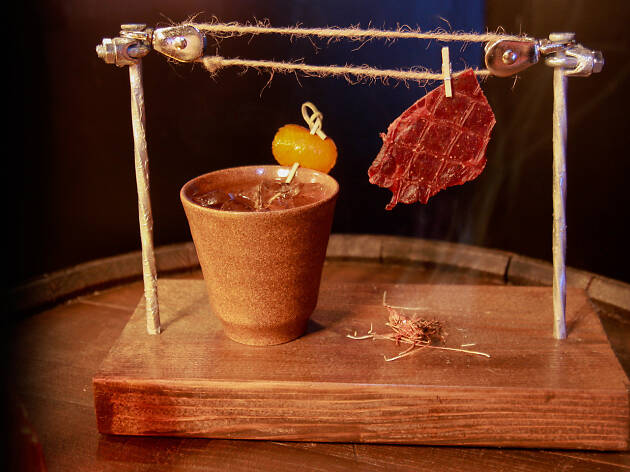 Photograph: Courtesy Bar le Lab
Like the name implies, this is one of the premier Montreal locations for experimentation in mixology. Drinking here's an educational experience when tasting any one of its cocktails, mocktails, shooters or 5 à 7 deals. Shifting its recipes with the seasons, the bartenders here are so devoted to their craft that they've developed their own product lines for ingredients that fit their standards. No particular part of the world of cocktails is sacred here, as they'll serve up teapots full of buttered grog as much as tiki and flaming beverages.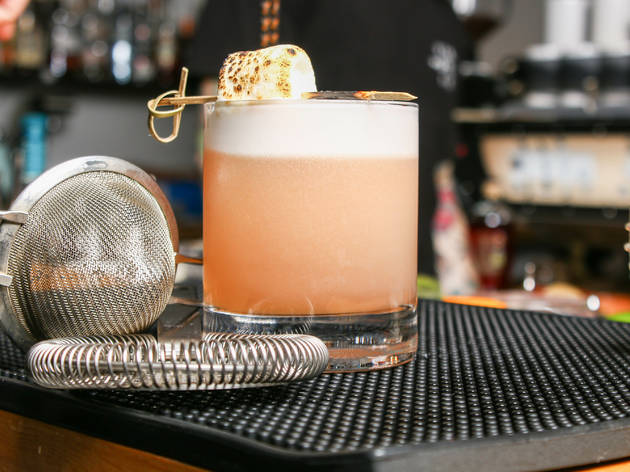 Photograph: Courtesy IronPort Creative
While built first and foremost as a café, bar and conservas stop for its neighbours, Cordova has slowly and steadily grown to be an attraction for the city at large. Our money's on their cocktails as the reason, as they're pulling off the basics with as much precision and panache as they do its more original creations. One visit's all it takes to see that owners Anthony Benda, Aaron Polsky and Elayne Teixeira-Millar are all well-heeled restauranteurs of the city; now that the food here is also picking up steam, Cordova's horizon's looking bright.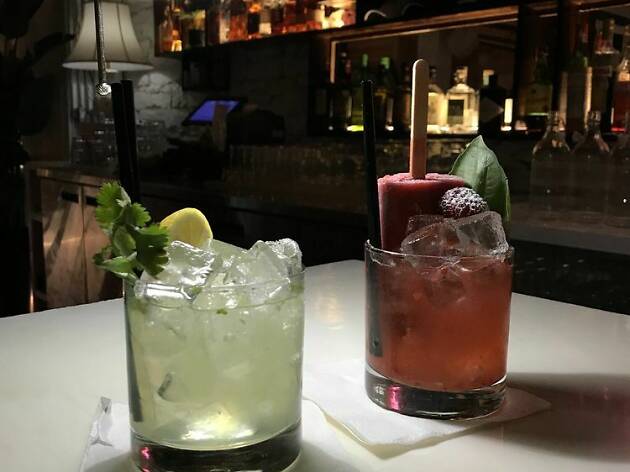 Photograph: Courtesy Yelp/Shadoe H.
Next door to the Californian-themed poké bowl restaurant Venice MTL is a paleta shop, but behind that? The jungle vibes of Boho, a speakeasy that's the more casual counterpart to the downstairs bar-within-a-bar Clandestino. Boho puts a strong emphasis on cocktails that are light, refreshing and brightly flavoured, which makes this is the spot to hit when you're in the mood for sweet or sour drinks with fruity kicks, or for a spot with strong Miami clubbing vibes.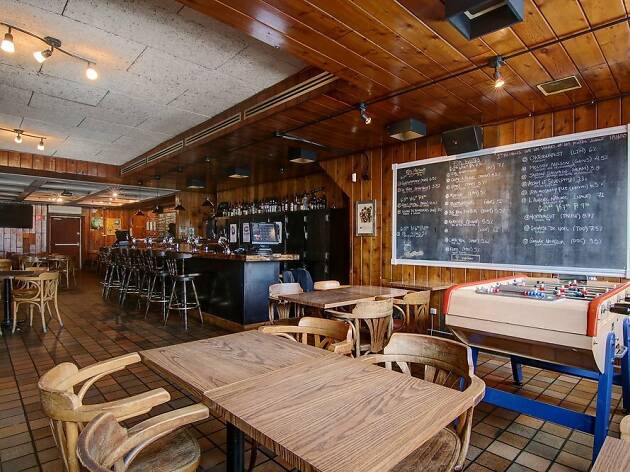 Photograph: Courtesy Yelp/Daniel E.
The tavern look and feel's strong at this microbrewery and pub, and makes a solid address for anyone looking for a bar devoted to beer. With its own brews on tap and visiting breweries being featured, ranging from the cool and refreshing to the heady and heavy, there's something for everyone at this welcoming address. A major bonus comes from its well-rounded menu, including the poutiflette, a luxuriant take on the classic poutine best taken after more than a couple rounds.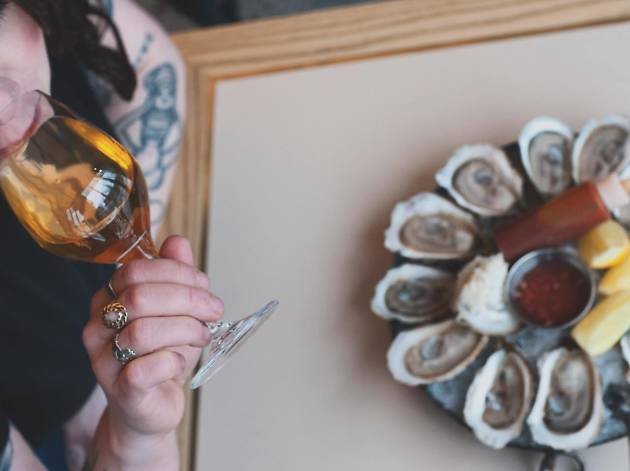 Photograph: Bar St-Denis / @mcstp
Locals might remember this spot as its former incarnation of a dive bar, and while it's major (and we're talking MAJOR) makeover might make cheap beer aficionados feel ostracized, trust us: That's anything but the case. Built for the neighbourhood by a quartet composed of ex-Au Pied de Cochon chefs and bar veterans, it's a stunningly beautiful space where the cocktail program receives just as much attention as the wine list and beer selection that includes as many basic ales as there are moustache-twirl-worthy IPAs. All that and a figurative bag of chips: You'll have wasted your time here if you don't dip into the food in the slightest.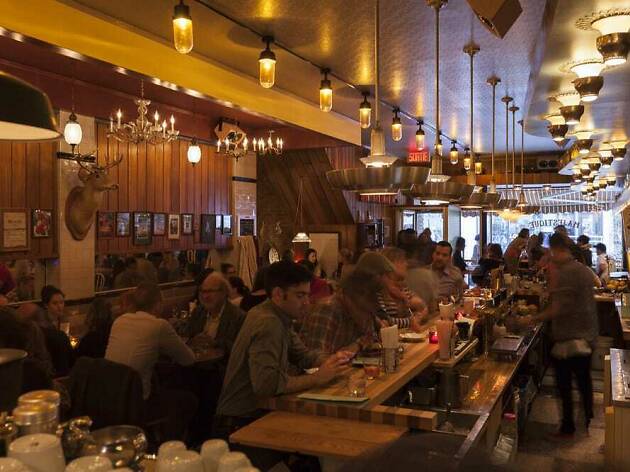 Photograph: Courtesy Yelp/Le Majestique
This jovial location with a Vaudevillian design comes from a lot of skilled names on the Montreal scene, and that skill's amounted to a lot of quality offerings. Looked to as a bar that comes with a stellar menu and raw bar, the oysters and foot-long luxury hotdog are common choices here. Most of all, their carefully selected wine lists of private imports that shifts regularly is what establishes this place as an excellent wine bar in the city, one that happens to mix up a damn fine cocktail as well.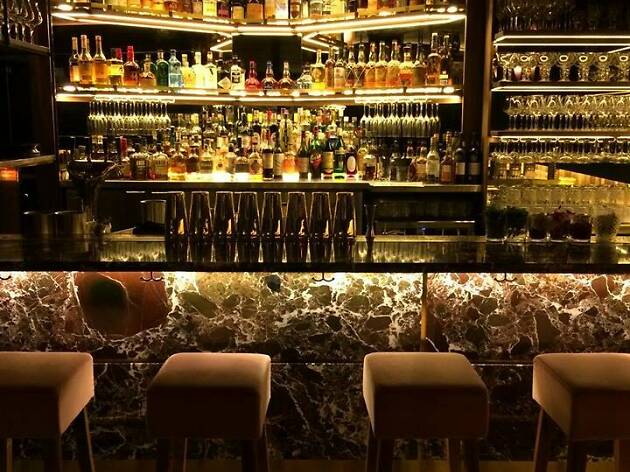 Photograph: Courtesy Yelp/Coco B.
A basement speakeasy component to the wine bar Rouge Gorge, Le Royal makes a point of making the most of its intimate space lined with velvet and mirrors. Oysters and sparkling wines are but one reason why this Plateau spot gets packed, as their small but mighty selection of cocktails makes excellent use of their spirits. We recommend you pay particular attention to their curation of liquor coming from Québec and enjoy how they're worked into recipes by mixologists Alexandre Beaudin and Dimitry Saint Louis.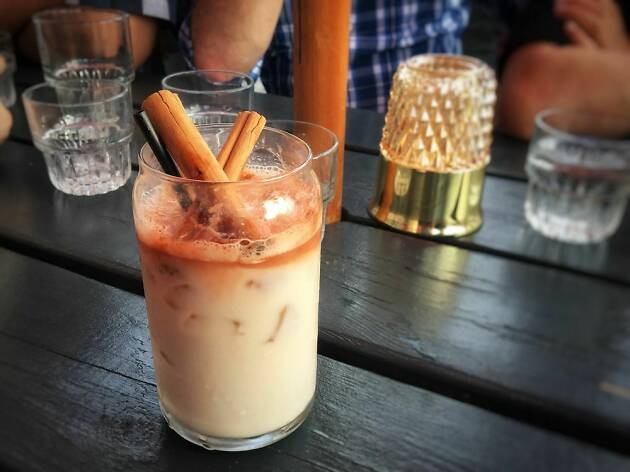 Photograph: Courtesy Yelp/Carlos B.
A coffee house by day and a cocktail bar in the evenings, this locale inspired by the designs of 19th- and early 20th-century Imperial Russia is an essential stop for any Russophile. Accessible by walking through the nightclub Datcha, the bar here puts its amaro selection, beer by the bottle and tap, and cocktails front row and center. The mixology's none too cute by laser-focusing on vodka for example, and instead displays a full range of flavours and techniques (though vodka is, of course, available). A great spot for those in search of a calmer alternative to the bustle of a busier bar.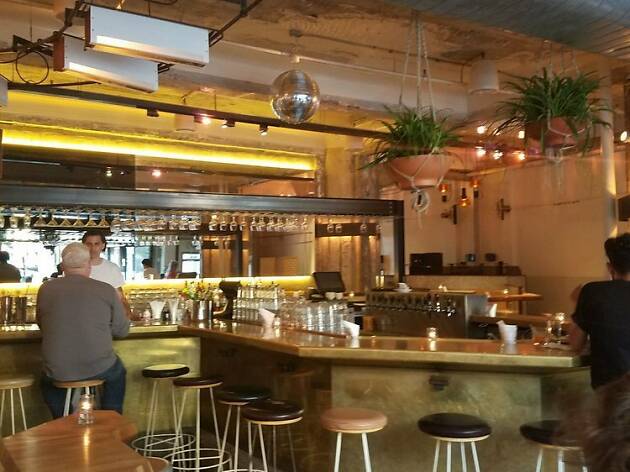 Photograph: Courtesy Yelp/Tracy A.
Named after the fur warehouse that once occupied its space, Furco's commonly known to anyone bound for downtown as a spacious and lively bar. Cocktails both classic and original feature prominently here, but one look around its room will reveal wine glasses in most hands. Whatever the variety of bottle you're looking for, the selection is small but exceptionally chosen. It's also a beautiful space, having been designed by Zébulon Perron, a local household name in hospitality and food interiors. Look to this one for beautiful times in a beautiful place.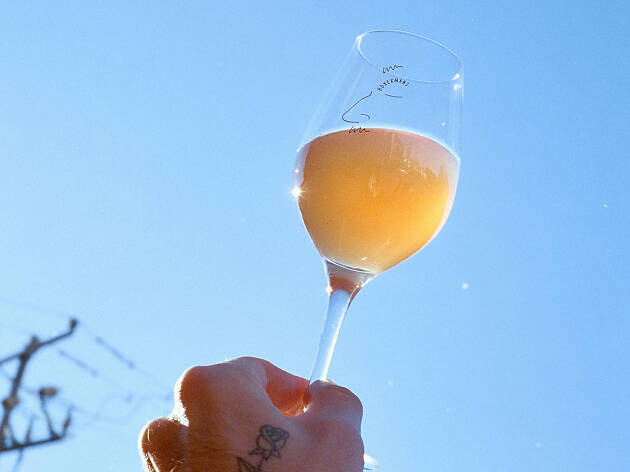 Photograph: Courtesy Boxermans
After earning their stripes in bars both in Montreal and abroad, owners Eric Berlin and Jade Fortin Côté have settled into this spot that's as smooth as velour. Long, impeccably chosen wine lists, cocktails and a menu by Grégoire Routy are all complimented by interior design by the up and coming Kyle Adams Goforth. Think of it all as a hybrid between a bistro and wine bar, where both snacking and drinks balance out nicely and act as a choose-your-own-adventure kind of establishment.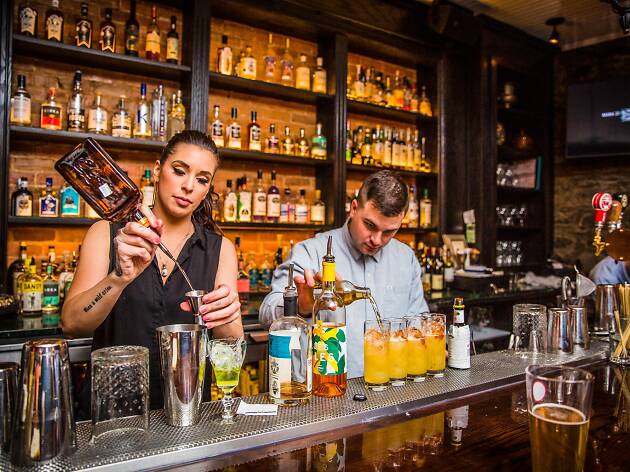 Photograph: Courtesy Wolf & Workman
The art of the pub is experiencing a huge comeback in Montreal, and this beautiful Old Montreal spot doesn't merely ride that wave; it gives it even more speed, force and impact. Part of the reason is that it's operation from the public house savants behind Burgundy Lion and Bishop & Bagg, and that means assured quality. Just like those last projects, this one pushes food offerings beyond what can just be cooked out of deep fryers that can be enjoyed with a wide range of taps and a solid set of house cocktails. Word to the wise: Bottomless mimosas for brunch on weekends.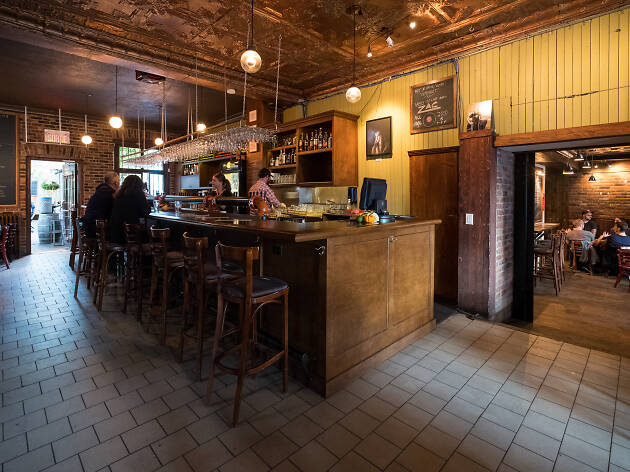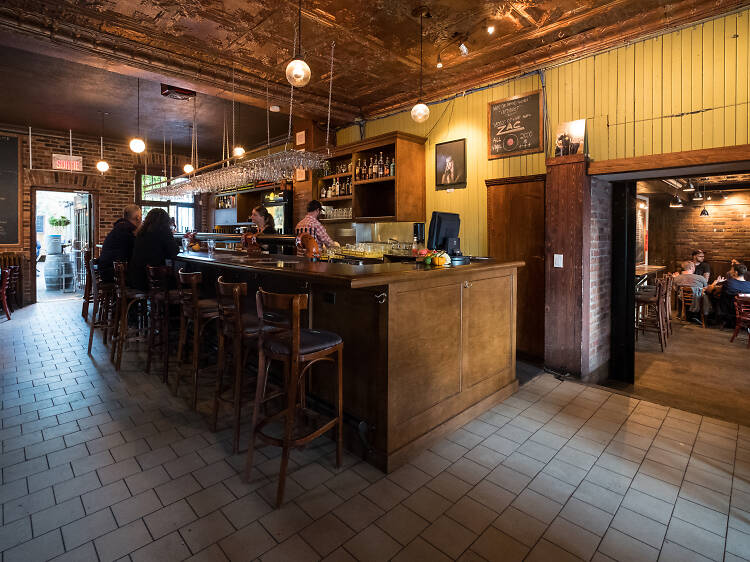 Photograph: Olivier Bourget
Part of the unofficial microbrewery collection that's forming in Montreal's Little Italy, this artisanal taphouse is among the best the city has to offer for both its quality and selection. With 40 taps in total, all flowing with the work of independent Québécois brewers and collaborations with the bar itself, Vices & Versa is commonly looked to as the great place to taste and test. Sure, you can sip at some scotch, whiskey or wine as well, but a trip here isn't complete without trying at least a couple beers.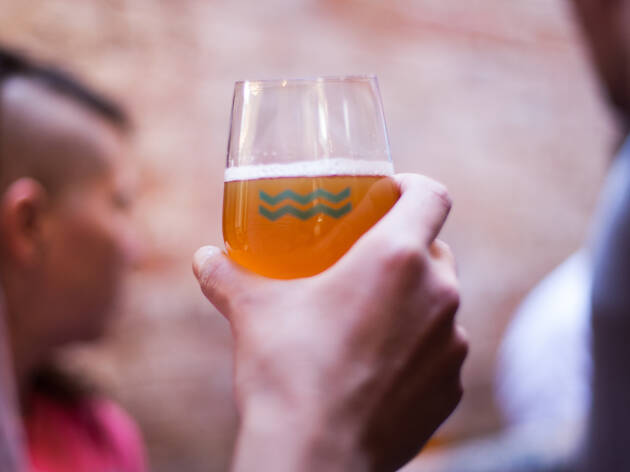 Photograph: Fanny Côté
A microbrewery formed by a supergroup of five restauranteurs, chefs, and brewmasters, Isle de Garde gives a little bit of everything you'd want in a huge brewpub. 24 taps with beers sourced from across Québec and its own brewmaster Olivier Chest Dupras come together to form a multifaceted selection that goes from bright and sweet saisons to dark and brooding stouts. Props to the chef Marc-Aurèle Lussier here as well, who crafts some scrumptious ideas from the typical fare found in pubs elsewhere.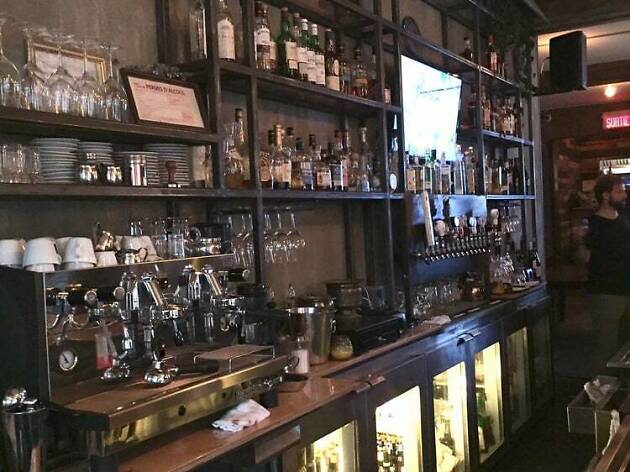 Photograph: Courtesy Yelp/Charles N.
The working-class neighbourhood of Pointe-Saint-Charles experienced a little burst of excitement with the 2015 arrival of this nod to the history of the influential Knox family. An upscaled joint with tons of natural light and built with raw materials like wood and brick, Knox isn't particularly loud about its cocktail program, but it has every right to. Known to put care into every product that extends to house sodas, the cocktails here are more than on point thanks to the work of Thierry Valiquette.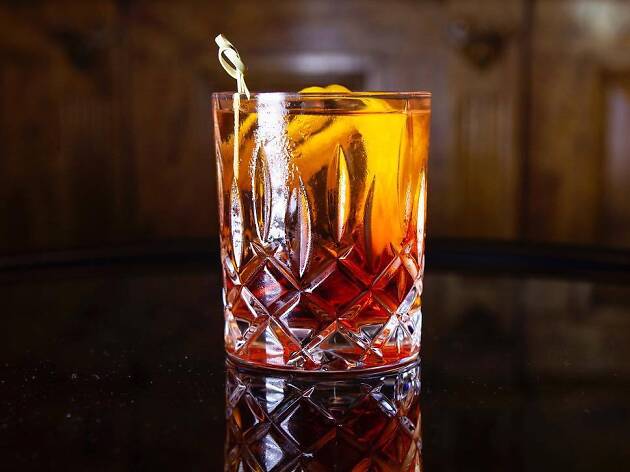 Photograph: Courtesy Bar George
It's one thing to gawk at this address' stunning interior, but it's the cocktail menus you should be paying attention to. With a relaxed hotel bar atmosphere on weekdays and a source of major parties on weekends, their blend of signature and classic cocktails are all crafted with a supreme level of attention. The level of class applied to the drinks arriving on your coaster is only matched by the amazing repurposing of a bygone tycoon's personal manor.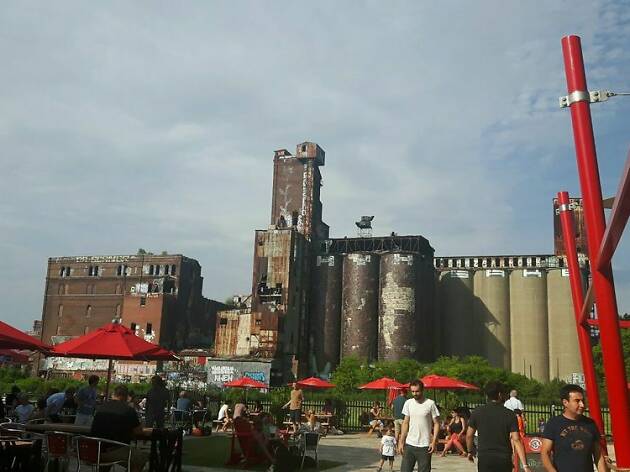 Photograph: Courtesy Yelp/Konstantin E.
The homegrown and homebrewed work of McAuslan Brewing has gone from a locally powered operation in 1989 to a far-reaching brand sporting dozens of beers. That's the history. The real fun, however, is had in the beer garden attached to the brewery's back. Facing the Lachine Canal and with a view of the Canada Malting Silos, it's scenic area to relax and enjoy one of the taps after a day spent along the water. Open in the warmer months, there's always its Annexe bar in colder months.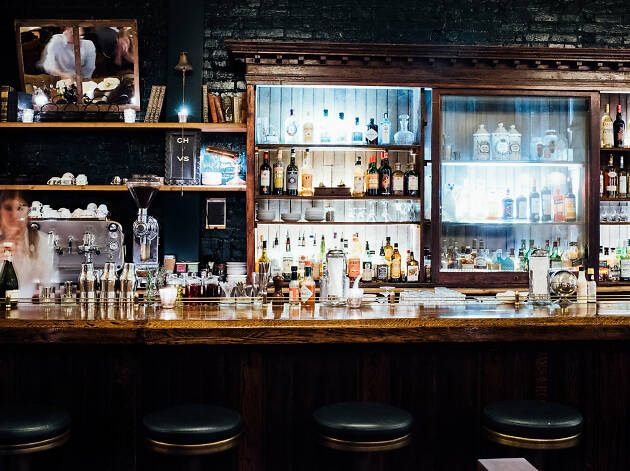 Photograph: Alison Slattery
With a décor that feels like the set of a Wes Anderson film, the Balsam Inn is the next-door neighbour and family member to the Dominion Square Tavern. It makes a point of being more of a bar than the Dominion however, with a larger selection of cocktails, spirits, beers, wines and apértifs. The drinks here are made with quiet contemplation, a far cry from the pan flashes found elsewhere, as bartenders quietly mix and pour in a soothing setting. And while it's more of a bar than a restaurant, the food here's just as on point as the Dominion.
Photograph: Maria Jose Govea
Leave it to members of Arcade Fire to know how to keep a party lively at a bar. Don't be surprised if you find Win Butler or Régine Chassagne picking the vinyl that's spinning at pumped levels when you visit this sister spot to the Haitian restaurant Agrikol. This is where you go if you're a rum lover, especially if you want to take it as ti' punch with tons of cane syrup and lime wedges served on a measure-it-out-yourself platter. The music's great, the booze selection's great, the vibes are supreme; what more could you ask for?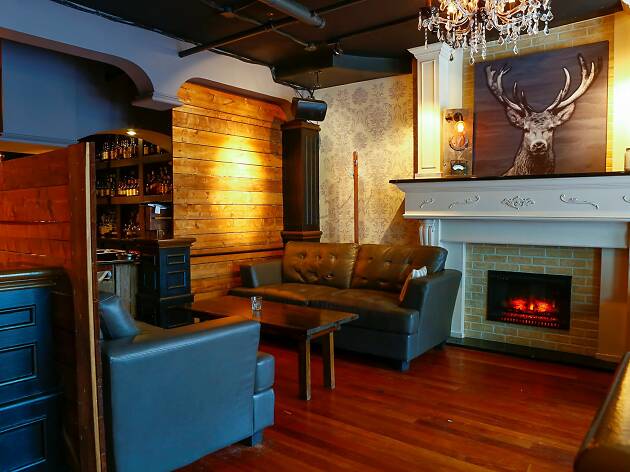 Photograph: Courtesy Bootlegger L'Authentique
53. Bootlegger L'Authentique
A 1920's bar that specializes in whiskey and cocktails, the Bootlegger's got heaps of fun to be had. With its tasteful use of jazz, swing and blues music alongside period decorations, this bar makes a point of pushing its theme a lot: A collection of cocktails named after famous mobsters, classic options, and a dizzyingly huge list of scotches and whiskies to choose from. To top it all off, this bar's just as good for a bucket of beers and lounging as it is dancing along to the DJs playing electro swing.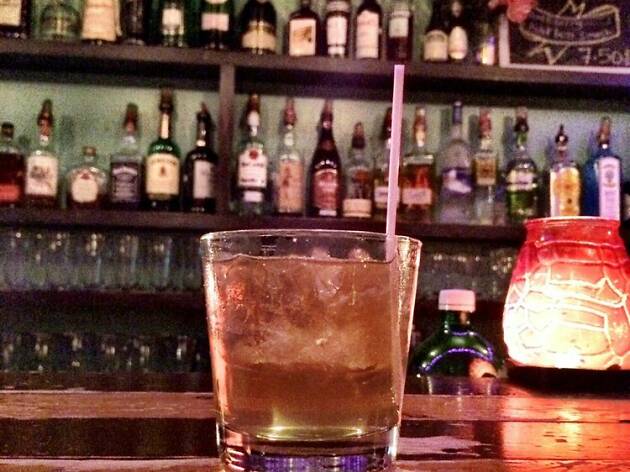 Photograph: Courtesy Yelp/Jack D.
54. Bar Notre-Dame-des-Quilles
A great LGBTQ-friendly establishment, this dive bar draws a lot of people for the good times to be had: The DJs, social events like karaoke and speed dating, and being the address of a New York-style pizzeria Pizza Bouquet are all stellar fun. Primarily there for the neighbourhood, the bar is pseudo-split into two areas: One half's a watering hole, the other containing more tables around analog bowling alleys and fantastic 'za by the slice or by the whole pie. When the party picks up here, it really picks up.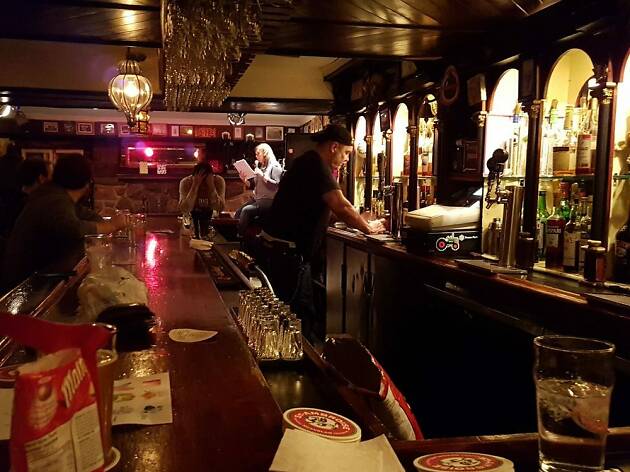 Photograph: Courtesy Yelp/Steve D.
Every borough in this city's got a pub in some shape or form, many of which fall into the 'Irish' or 'English' category. Not to knock those traditions, but Grumpy's is exceptional in how it offers its own Montreal-style take. No nationalistic kitsch, no fancy cocktails, no gimmicks; just fresh kegs on tap for cheap, shots of whiskey, a stage to host folk jams on Thursdays, jazz nights on Wednesdays and visiting talent of every musical creed on weekends. Don't come here expecting to have the most amazing night of your life; you come here because you want an honest, clean dive bar without any bullshit. Salt of the earth and all that.
Discover Time Out Market: The best of the city under one roof
Best bars by neighbourhood
Hungry for your next new restaurant?
Welcome to the Time Out EAT list, our handpicked 'best of' selection of Montreal's culinary delights.