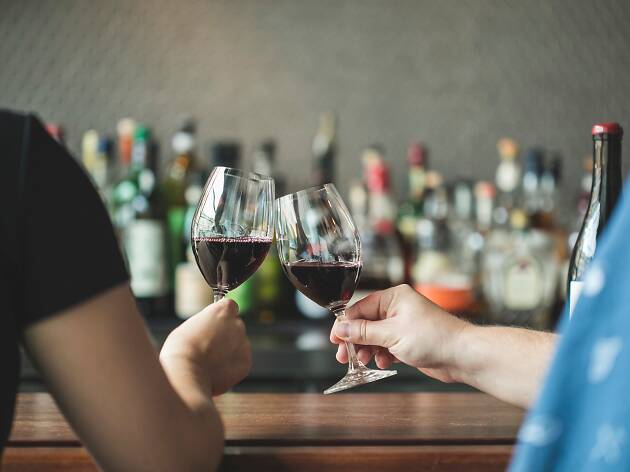 The best wine bars in Montreal to sip and savor right now
Whether it's red, white, orange, rosé or sparkling, the best wine bars in Montreal have you and your thirst covered
Canadians are known for a love of the best beer, but wine bars in Montreal are among the world's best for drinking wine, whether you're hitching yourself to a barstool to sip funky naturals or lounging at a leather banquette with a classic cuvée. The government alcohol monopoly is the spur to creativity, the private import system its outlet; some of these places have restaurant licenses—among the city's best restaurants with the best charcuterie—while others are bars where you can sip without snacking.
RECOMMENDED: More of the best bars in Montreal
Best wine bars in Montreal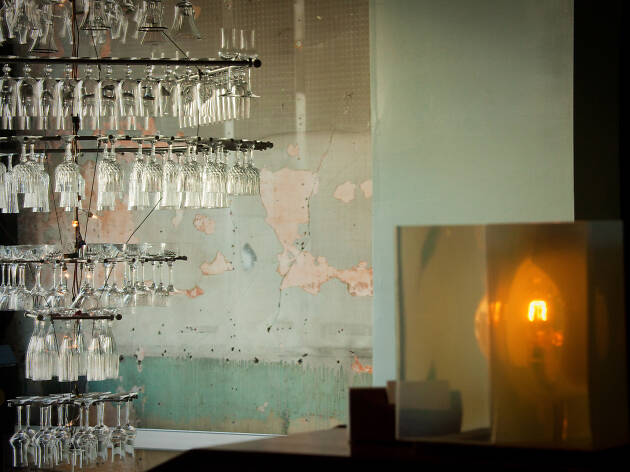 Photograph: Amielle Clouâtre
Whatever you're drinking, take your nose out of your glass and gaze up in wonder at the magnificent chandelier here, a waterfall of downturned glasses. Then look back down, because this list is fabulous: At least 20 well-chosen wines by the glass, flights that allow you to compare three cuvées from a given producer without falling off your leather stool, and a bottle list running into the hundreds that is 98% private import. One of the city's first wine bars, Pullman isn't technically a wine bar at all, as its restaurant licence means you have to order food. But the small plates of gougères, mini bison burgers or the famous 'grilled cheese' make that duty a pleasure. Meal Required.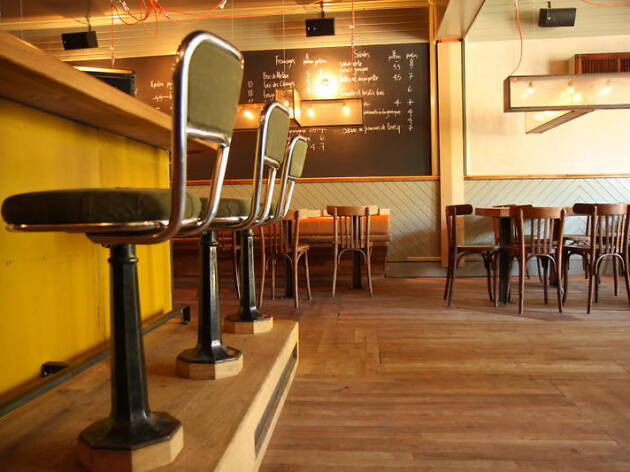 Photograph: Buvette Chez Simone
Someone should bottle whatever they were putting in the water in the Bélanger household: While Catherine grew up to found Pullman, her sister Gabrielle (with four friends, including the eponymous Simone) opened Buvette Chez Simone further up Parc Avenue. The latter is simpler, all wood and chalked blackboards with a stomach-liner menu of charcuterie, cheeses and surprisingly sophisticated small plates where the vegetables come from their own farm. Three things are unmissable here: The freshly-roasted chicken, the deep terrace in summer and the wine list, which changes frequently but is reliably packed with delicious oddities, many of them French. Meal Required.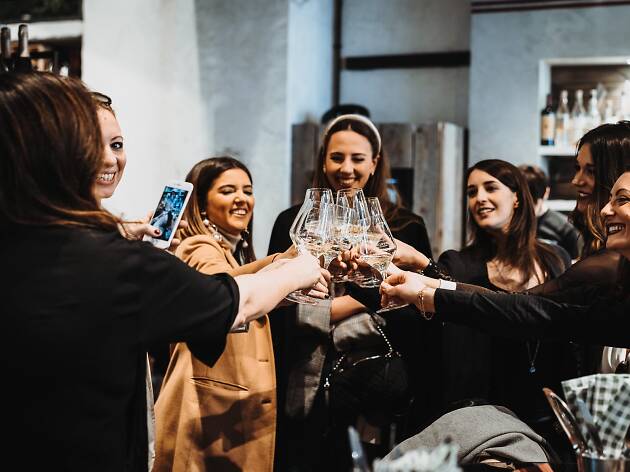 Photograph: Courtesy Signorvino
Marco Romanelli likes to be known as 'The Wine Guy' – hence, presumably, the name of this excellent wine bar he opened with Roberto Cardillo in Little Italy in 2018. They also own a private-import business, which must make sourcing the bar's wine that much easier. It certainly looks easy from one of some 50 seats (plus terrace), whether you're staring at the wine list or the walls. The latter are stacked with tempting Italian bottles; the former, arranged by colour and region, tells you which of them you can afford to be tempted by. Dishes are traditional—gnocchi, risotto, ossobuco—and portions hearty, which is a great excuse to waft out on the hot breath of a Grappa: There's a choice of around a dozen.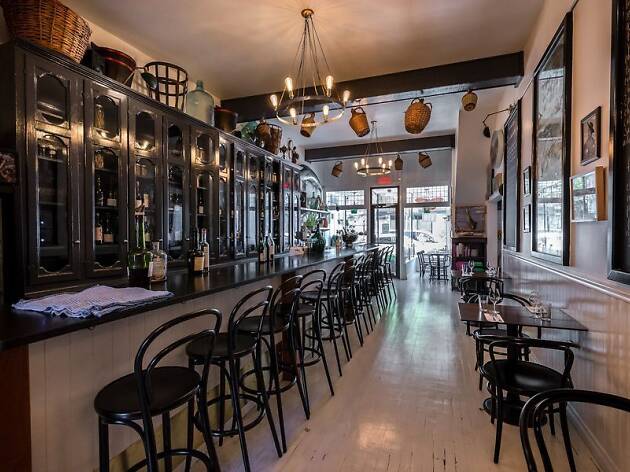 Photograph: Courtesy Vin Papillon
Joe Beef is legendary, but so are the difficulties of getting a table. Their fabulous wine bar two doors down doesn't take reservations, although there are queues. The wait is worth it: Funky décor, the crazily inventive food that made the restaurant world famous and one of the best natural wine lists in creation, thanks to sommelier Vanya Filipovic's exceptional palate. Everywhere you look, there are reminders that this place is all about great food and drink, from the chalkboard menus on the painted-brick walls and the beautifully presented small plates to the open kitchen and the bar, where bottles you long to try jostle for space and attention. Meal required.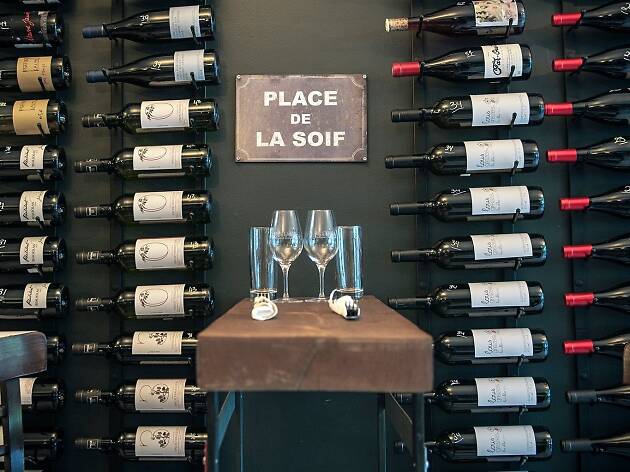 Photograph: Courtesy Cul-Sec
A ten-minute walk from one of Montreal's best SAQs is one of Montreal's best wine bars: Maybe premium wine outlets, like grapes, come in clusters. Martin Juneau (chef-patron of Pastaga) and his co-owners use some of the best private importers and even offer bottles to take away if you buy a take-out meal to match. Which is no hardship, given the menu—oysters, superb beef tartare, fabulous pork ravioli—but then, nor is opening a bottle of really good wine (mostly natural, organic or biodynamic in fact if not on label), hoisting yourself onto one of the high wooden stools, and settling in. Meal Required.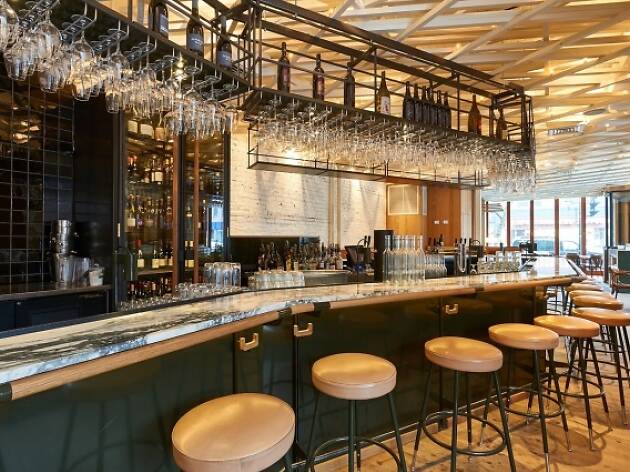 Photograph: Le Rouge Gorge
There aren't many Montreal bars cooler than this hangout designed by Zébulon Perron, with its marble-topped bars, white-painted brick walls and gentle spotlights peeking through the ceiling slats. Owner Alain Rochard knows wine – he makes it, in Minervois in southern France—so a list that leans heavily towards his homeland is no surprise. The chef, Alain's son Julien, has a similar bias but both know when to quit: There are pastas and ceviches, octopus tempura and barbecue ribs on the short but smart menu, and you can visit Italy or South Africa, Hungary or Australia, by bottle or by glass without leaving your artfully placed table. Meal Required.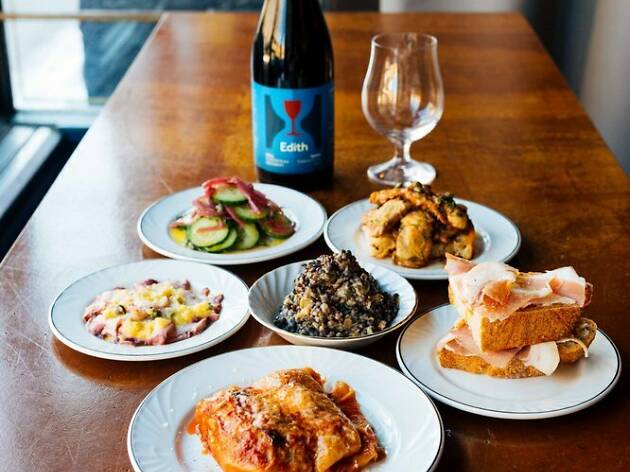 Photograph: Courtesy Yelp/Bri G.
This dinky bar-café-restaurant from the crew behind Lawrence has wines even trendier than the cuts of meat in their restaurant and butcher shop around the corner. You don't have to eat but you should: The charcuterie is obviously fantastic, but so are the vegetable dishes and the toasties, including flammkuchen and Welsh rarebit. The wines, mostly private import, range the globe without exploding the wallet. If you want to drop nearly $200 on a Sicilian Zibibo or a Pyramid Valley Pinot Noir from New Zealand, you can, and there would be worse ways to spend it. There are interesting bottles for a quarter that, however.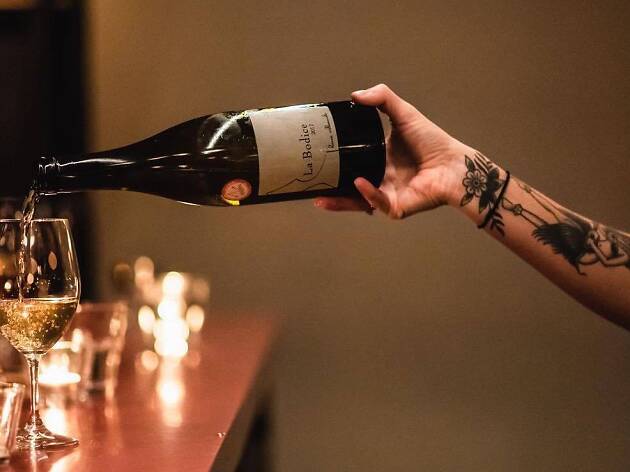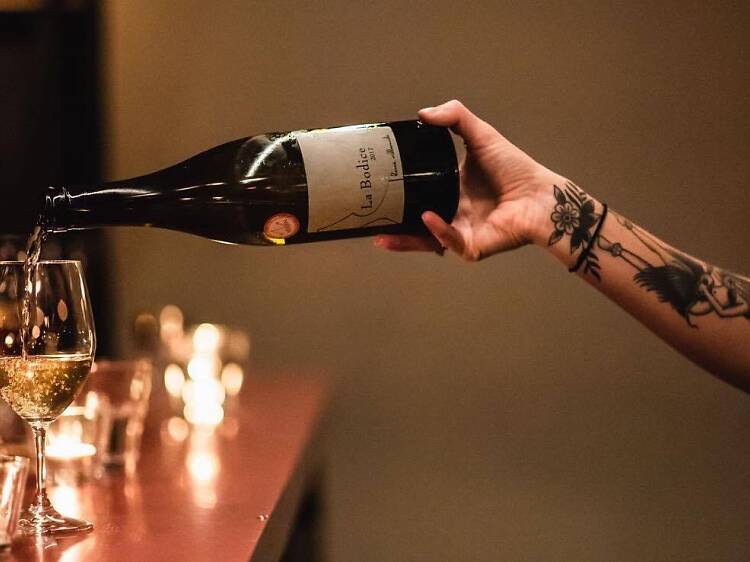 Photograph: Courtesy Loïc
This former bank in trendy Saint-Henri has a dark interior brightened by an extremely red bar-top, a lovely leafy terrace and a list stuffed with natural wines, including an impressive selection of orange wines; no surprise that it's a neighbourhood favourite. Folks flock here to drink and to eat with options like clams with bacon on the menu, or a cheeseburger on homemade brioche bun. The wine list has some great oddities from the likes of Eduardo Torres Acosta, who swapped his native volcanic soil on Tenerife for Sicily's fuming Mount Etna, or Equipo Navazos, who release small-production sherries in limited bottlings.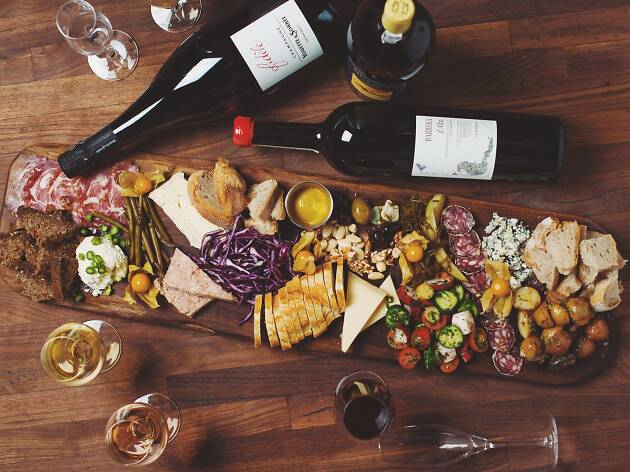 Photograph: Courtesy Philémon Bar
An Old Montreal staple since 2010, Philémon was designed by Zébulon Perron (who's also a co-owner) and its wine list—entirely private imports—is overseen by Sébastien Langlois of Buvette Chez Simone. Chef Misha Smarsik creates small plates with good quality vegetables like mushroom toasts and beet salad, but carnivores need not fear eating here: There's the obligatory beef tartare and charcuterie as well as a couple of fortifying pasta dishes. The location and the after-work crowds call for loud tunes, premium bubbles and a choice of orange and macerated wines, and that's what they get. That includes over a dozen wines still and fizzing by the glass, and there are a fair few magnums for when after-work becomes after-week. Meal Required.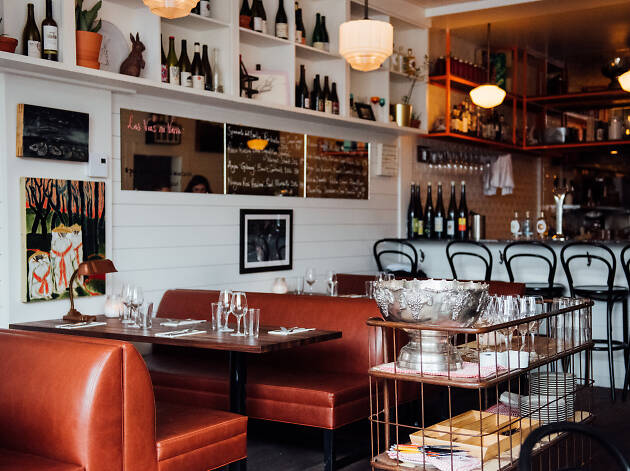 Photograph: Two Food Photographers
In 2018, the magic team from Joe Beef ventured outside Griffintown at last. This Little Italy outpost has just 35 seats on leather banquettes or at the bar and takes no reservations, but patience is rewarded with a terrific list of natural wines and ever-changing small plates made by chef Jessica Noël with locally sourced and seasonal ingredients; think mussels from Salt Spring Island make such a great pairing with Hochelaga oyster mushrooms. It's all perfectly calibrated, from the wine list and menu to the arty, easeful décor. In fact, the only struggle here is to stay solvent and sober enough to get home when you leave.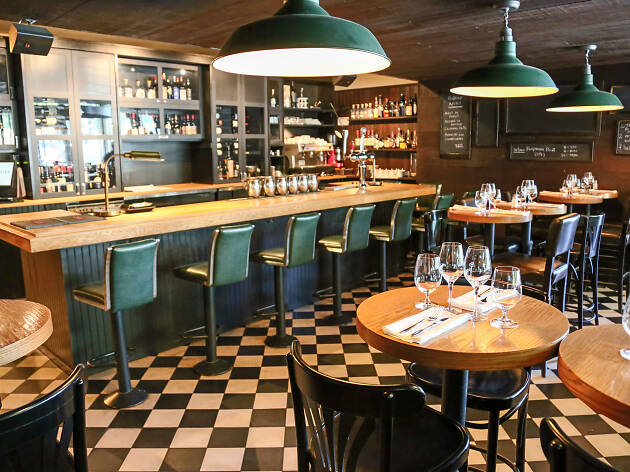 Photograph: Les Cavistes
An excellent place to try a list of mainly private-import wines, including some with a few years' age, this Ahuntsic bistro-bar is also great for French-influenced food made from Canadian produce; the best of the world and the best of right here, both on the plate and in the glass. The décor is snappy with black-and-white checked floor and emerald leather bar stools that match the sinuous industrial lamps, while the wines range from cheap but interesting to world-famous names at reasonable mark-ups. Food is a mix of the obvious—oysters, beef tartare, charcuterie and cheeses, steak frites—and the unusual, such as French onion soup with smoked pork broth or boudin with celeriac and Jerusalem artichoke purée. Meal Required.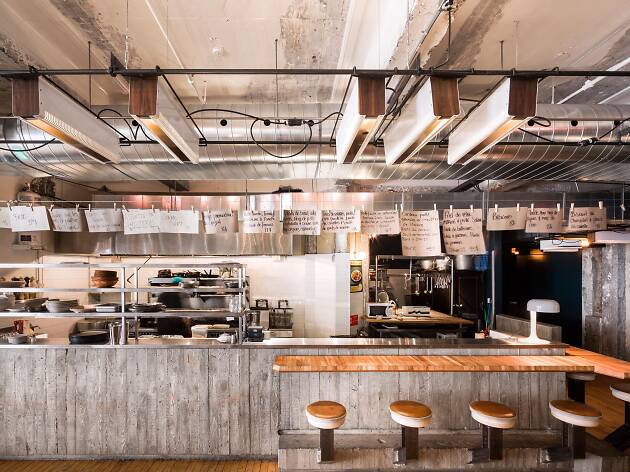 Photograph: Stéphane Groleau
Zébulon Perron's stripped-back and award-winning redesign of the Canadian Fur Company building has proven a draw for downtown's wine-lovers. The menu is adventurous—chili and caramel with the quail or marinated octopus with the sea bream, while sweetbreads populate the snack menu—and so is the wine list, with lots of quirky options including orange wines and surprising varietals, most of them from Europe. For those less keen on the crazy options, there are charcuteries and cheeses to eat and Chardonnay or Bordeaux blends to drink. Either way, you'll leave as warmed through as the CFC's clientele once did. Meal Required.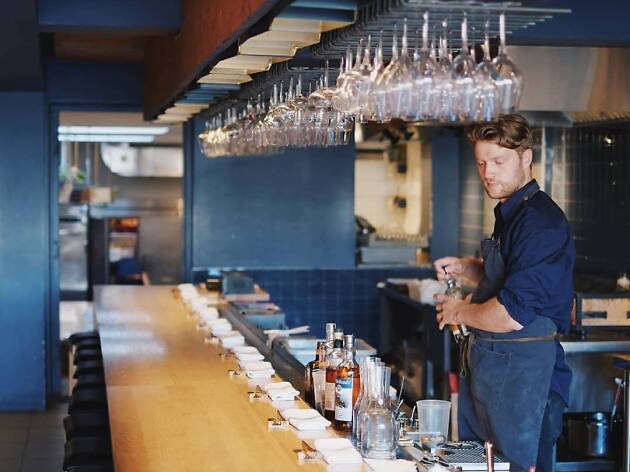 Photograph: Clayton Sandhu
Chef Aaron Langille believes in what's small but perfectly formed. His place has just 25 seats, mostly at the long wood-topped bar next to the kitchen, so you can watch the plates take shape as you sip on a glass or two of natural wine: It's a long list, with lots of Jura, Beaujolais and Vin de France, and masses of orange wines, but a few good Australian naturalistas, too. Langille's time in Barcelona is an obvious influence—hence the tapas-style dining—but so is Asian cuisine. There's XO sauce and dashi, a touch of umiboshi here, green curry sauce there. All this makes wine matching an interesting challenge… or there's always the saké.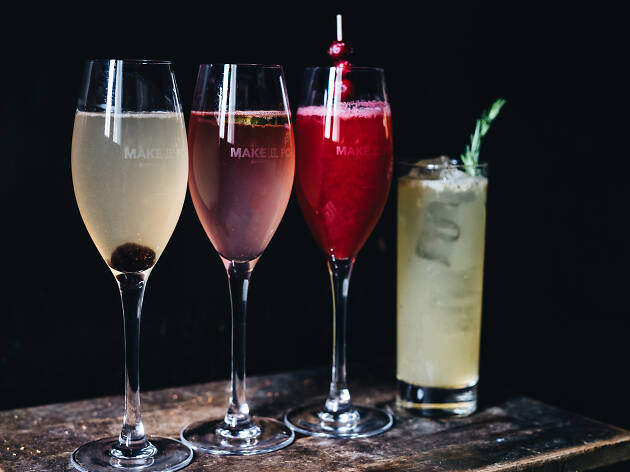 Photograph: Courtesy La Champagnerie
Maybe you've never opened a bottle of fizz by sabrage, the creation of vibrations along the bottle's neck—invisible but imperceptibly weak—causing the neck to sever in dramatic fashion. And perhaps you've never tried Franciacorta, the sparkling wine from northern Italy that makes most Prosecco look ordinary. This bare-brick Old Montréal bar-restaurant has both saber service and style, along with a menu that mooches from raclette to Puglian burrata and from seafood stir-fry to lobster and foie gras poutine. Plus there's DJs with your dinner at weekends; who knew that drinking the wine most associated with celebration could be this much fun? Meal required.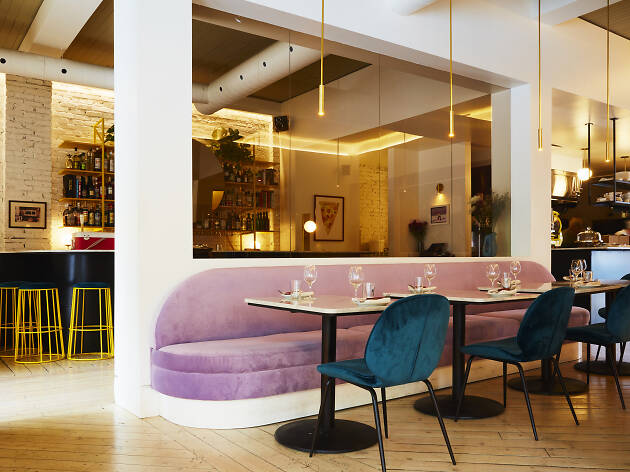 Photograph: Dominique Lafond
Not content with the success of their second restaurant, Elena, the Italophile founders of Nora Gray have opened this tiny, brightly-tinted bar in the same Saint-Henri building. First go round the back and bag one of the 13 indoor seats or one on the terrace. Then you can get your coffee fix via single-roast Ethiopian beans from De Mello Palheta in the morning, eat oblongs of Roman-style al taglio pizza during the day and then head to Italy's south for seriously good Neopolitan-style from Elena's wood-fired oven in the evening. All that dough requires a little washing down and the list here is natural, slanted towards Italy and lovingly picked by co-owner Ryan Gray. Do Italian orange wines go with pizza? Here's your chance to find out.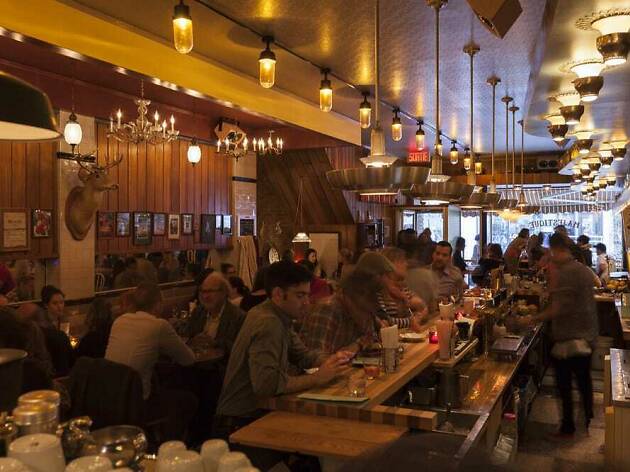 Photograph: Courtesy Yelp/Le Majestique
With a wine list this good and a closing time of 3 a.m., you're going to want to save room for the menu here. That's no hardship: Their original consulting chef back in 2014 was Charles-Antoine Crète, formerly of Toqué!, and he and current chef and co-owner Dominic Lalonde (also ex-Toqué!) seem to have embraced the opportunity to have some fun. The foot-long hot dog with spicy mustard and leek slaw is a legend, as are the mostly private import wines from small, artisanal producers. Then there's Thomas Csano's busy, cheery décor with the long bar and small wooden tables, which adds to the buzz.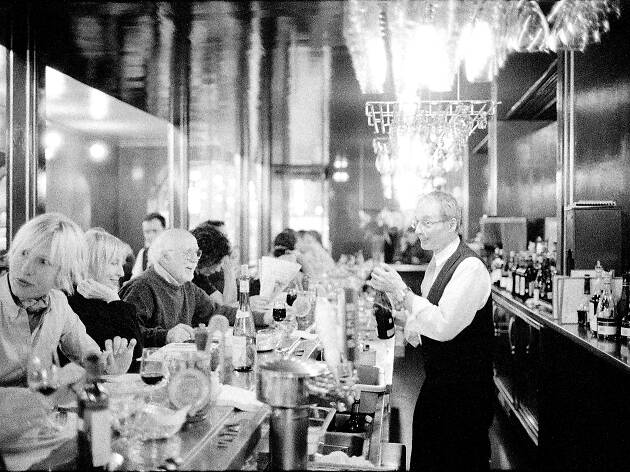 Photograph: André Cornellier
This is one of Montreal's great restaurants, with exemplary classic French food and 11,000 well-chosen bottles: There probably isn't a really good wine list in the entire city that doesn't owe something to Mario Brossoit, who oversees that incredible cellar. The look, by the late Luc Laporte, is quintessential French bistro, straight out of a mid-century movie: Black and white-checked floor tiles, large mirrors, scarlet bar stools, white tablecloths, a palm tree. The staff know their stuff, and more: Brossoit says there are no sommeliers here; just servers who understand wine. No wine bar could claim to top that. Meal Required.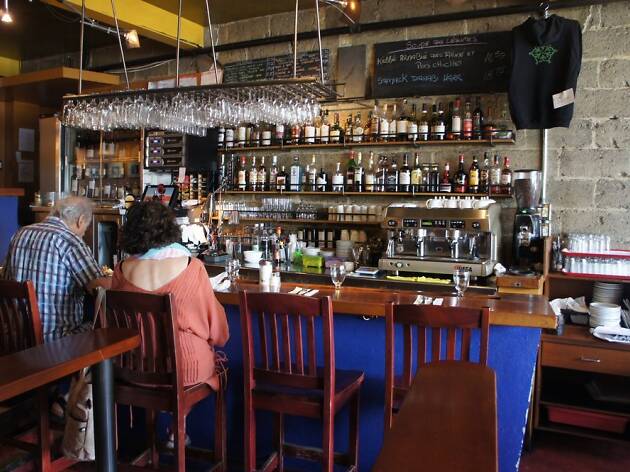 Photograph: Courtesy Yelp/Jonny M.
It's no disadvantage for a restaurant to be near Jean-Talon Market, and Alep and its no-reservations, no-frills wine bar Le Petit Alep are very close indeed. They call their food Syrian-Armenian and some dishes are entirely unfamiliar—muhammara, made from breadcrumbs, pomegranate seeds and molasses, or the Levantine tartare kibbeh—but others like falafel and hummus have become ubiquitous. Less expected is the wine list, which is excellent and lengthy: A lot of French wine figures here, but some Italy, Spain, Slovenia and Greece also occur. A reminder, were any needed, that Syria too is a Mediterranean country.
Looking for something a little stronger?
From jungle-inspired tiki dens to classics served up in Victorian mansions, there's more than enough to go around, so there's no reason to settle for a bad drink. The top mixology of Montreal cocktail bars offers up the classy and the classic in hotels, speakeasy bars and more.
Best selling Time Out Offers