Time to get mobile, Montreal: Today, the city announced its plan to set up new pedestrian and bicycle paths across the island to the grand total of 327km, allowing Montrealers to move safely around town this summer.
The plan for pedestrian and bicycle paths will start up in early June and will be carried out in two phases: "Montréal will start redeveloping Boulevard Saint-Laurent, Rue Saint-Denis, Avenue Christophe-Colomb, Avenue du Mont-Royal and Boulevard Gouin in order to add 61 km and five pedestrian/cyclist corridors to connect Parc du Mont-Royal, Parc Maisonneuve, Parc Jarry, Parc Frédéric-Back and Parc de l'Île-de-la-Visitation," reads the city's press release, adding that "Avenue du Mont-Royal will be made pedestrian during the first phase."
They're called "active safety lanes" (or the Safe Active Transportation Circuit), where a new, temporary setup will include a wide network of lanes that will be dedicated to traveling the city by foot and bike. These paths will connect with many of Montreal's green spaces and the main commercial arteries in a bid to increase accessibility to local businesses. With fewer cars in the streets, there's ample room for expansions along these lines.
"This summer, the Safe Active Transportation Circuit will transform Montréal into a safe, enjoyable city, where everyone can move around while respecting physical distancing rules, rediscover their city and encourage our merchants," mayor Plante tweeted this morning.
#COVID19 : 112 km de Voies actives sécuritaires seront créées. Ces corridors piétons et cyclistes temporaires s'ajoutent aux infrastructures prévues et aux 900 km d'aménagements existants. Cet été, 1200 km seront offerts pour bouger en sécurité. #polmtl https://t.co/B4nnZu2odq pic.twitter.com/WzSZQUm3uS

— Valérie Plante (@Val_Plante) May 15, 2020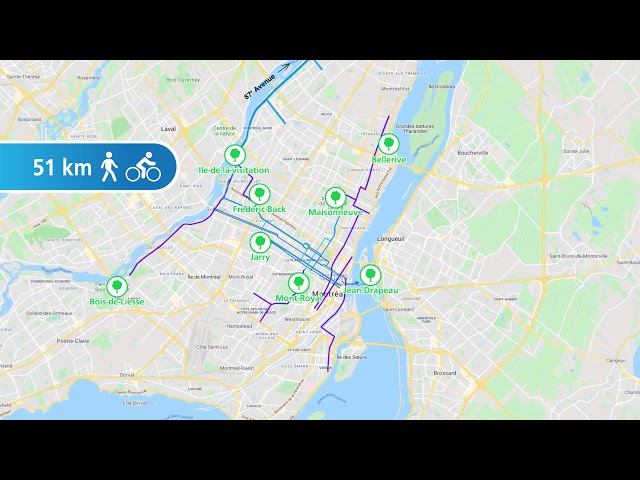 Here's where you'll be able to find these new pedestrian and cycling paths (source: City of Montreal)
Mont-Royal — Rachel: Mont-Royal Avenue can expect to become pedestrian and a pedestrian and cycling corridor will be created on Rachel Street in the Rosemont–La-Petite-Patrie borough, linking Mont-Royal, La Fontaine and Maisonneuve parks.
Christophe-Colomb: A multipurpose corridor will be created on Avenue Christophe-Colomb. This circuit will link the St. Lawrence River to the Rivière des Prairies. As well, through local linking, Parc Frédéric-Back et Parc Jarry will be connected to the network.
Sainte-Catherine: Rue Sainte-Catherine Est will be pedestrian again this summer. Rue Sainte-Catherine Ouest will also be redeveloped. Details will be shared by Ville-Marie soon.

Saint-Laurent: Addition of a one-way bike path as well as a pedestrian zone. New patios on the road on Boulevard Saint-Laurent, as permitted by public health authorities, due to relaxed regulations.
Saint-Urbain: Like Rue de Rivoli in Paris, the bike path will be doubled to improve distancing on this busy street.
Saint-Denis: Beginning of the Express Bike Network (EBN). In partnership with the Rue Saint-Denis commercial development corporation, the city will find solutions to permit occupancy of public property and design the space safely.
Ontario – Hochelaga: A transit mall is being designed.
De la Commune – Vieux-Montréal: Rue de la Commune to be made pedestrian; addition of a bike path. At the same time, Ville-Marie is working to make the streets of this historic neighbourhood into "shared streets."
Wellington: Rue Wellington in Verdun to be made pedestrian
Canal de Lachine – Notre-Dame: Active mobility corridor to be created on Rue Notre-Dame, in Le Sud-Ouest, between Rue Peel and Place Saint-Henri.
Camilien-Houde – Côte-des-Neiges – Queen-Mary: Improvements to Cyclovia Camilien-Houde to allow for extended hours and traffic on weekends, and additions to be integrated into pedestrian corridors on both main streets in the Côte-des-Neiges neighbourhood.

Gouin: Like the Stroller Project in Rivière-des-Prairies–Pointe-aux-Trembles, Montréal wants to make Boulevard Gouin one way to free space for pedestrians and cyclists. This circuit will also open up neighbourhoods that are hard hit by the current crisis.
With warm weather on the way this weekend, Mayor Plante also asked Montrealers today to not "invade the parks", as was seen one recent weekend that saw people coming out to parks in overwhelming droves.
Most popular on Time Out
- This Canadian company has plans for world's first mobile grocery stores
- Where to buy face masks in Montreal
- When will schools reopen in Montreal?
- "Give us permission to save ourselves": Inside the struggle of Montreal's wine bars