Heads up! We're working hard to be accurate – but these are unusual times, so please always check before heading out.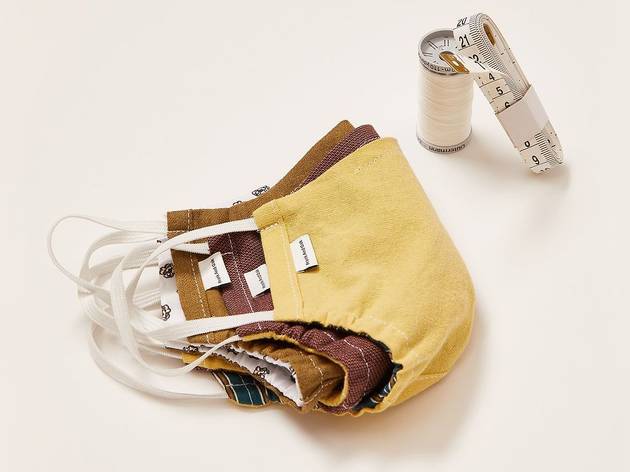 Where to buy face masks in Montreal from local shops, designers and more
Looking for face masks in Montreal? Check out these brands, designers, boutiques and charities' offerings
August 26, 2020: We're always looking for new names in the local mask-making industry! Do you know a local Montreal vendor making reusuable masks for the public and think they should be on this list? Send the editorial staff at Time Out Montreal an email to be listed! We're working hard to make sure that Montrealers have a wide selection to pick from.
As Montreal continues its gradual deconfinement and, whether or not there's a second—or third, or fourth—wave to handle, it'll be touch-and-go for a while. That's since prompted the province's premier and our city's mayor to ask Montrealers to keep their faces covered, but between single-use masks littering the streets and frontline workers needing N95s, the question remains: Where do you buy face masks in Montreal?
If you're in search of something protective, these Montreal designers, brands and organizations have got you covered—literally. Ranging from high-end boutiques that make up some of the best shopping in Montreal right down to affordable options (plus some how-to's on making your own or getting one for free if you work on the frontline), these reusable non-medical cloth masks work well with regular washing.
The government of Canada has a bunch of guidelines to consider when it comes to non-medical masks like these, from proper care and use to understanding the limitations surrounding them. Even with a face mask, you should be trying to stay home as much as possible, avoid touching your face, mouth, nose or eyes and—if you do go out—maintain a safe social distance of two meters from others.
RECOMMENDED: Full guide to the best things to do in Montreal
Where to buy face masks in Montreal
View this post on Instagram
Creating masks in 50 different patterns across multiple styles—such as ones that use Scuba foam or ones that can act as a scarf or headband—this manufacturer based in Pointe-Claire has flipped their usual production line to create masks for Montrealers (and North Americans at large if you want to spread the word). At their highest cost, masks here barely break $15 and shipping is free if you spend more than $75, so buy 'em up for the family while you're at it.
View this post on Instagram
Bien Aller specializes in reusable face masks and mask accessories, making face coverings that are reusable—made from 100% cotton—and come with two filters. Coming with adjustable nose pieces and ear straps for comfort, they're available in three different sizes and a variety of colours. Based on the mission to keep disposable masks out of landfills, they've raised $30,000 for charities and counting. Filtered masks are $17 and filterless simple masks are $14.
View this post on Instagram
Made by a local seamstress with over 25 years of experience, Amanda Elias wanted to masks with breathability in mind. Suffering from chronic rhinitis and allergies herself, she wanted to make something that would protect Montrealers while being fitted for comfort. Basic models have metal pinch strips to secure them down, are equipped with a filter pocket in the design, and are reusable while being built to last—and with custom prints, they barely break $20.
View this post on Instagram
Don't you just love it when a brand does exactly what it's advertising? Locally-made here, this order-thru-Instagram mask maker is doing personalized masks with just about whatever print you want on them. Prices very, so you'll have to send a DM if you know what you want, but really? Now that masks are just as much of a fashion item as there functional and important things in our lives, you might as well make it look the way you want.
View this post on Instagram
Located up in Anjou, this company was originally founded to make quality backpacks and bags, but has since launched a line of reuseable face masks. Coming in bulk—something to consider as none of your cloth masks are meant to be used forever—a package of 5 cotton masks go for $35, and we'd call that a pretty big steal in our books.
View this post on Instagram
Coming in two sizes—regular ones that fit around the nose and jaw, and foldable one that can stretch out longer for longer faces—this homegrown company is sending your personalized order to one of three pickup points around the city. The designs are pretty, the quality comes with handmade love and care, and it's made locally here in Montreal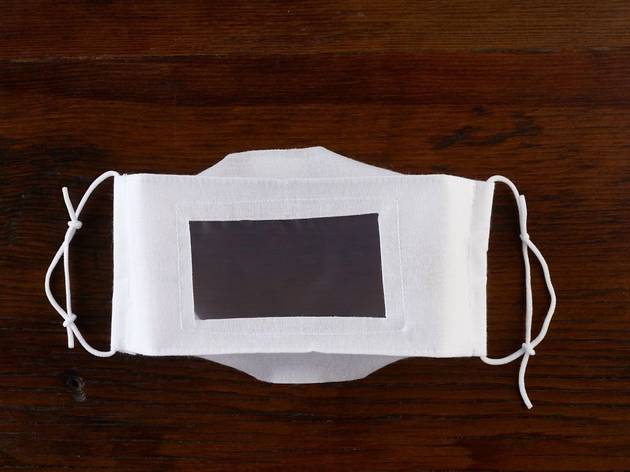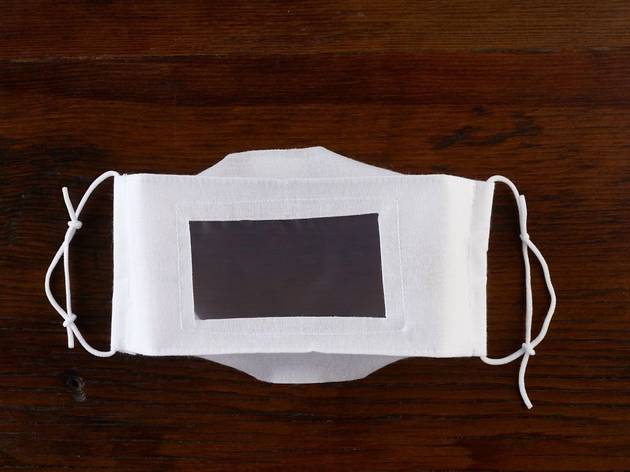 Photograph: Canamasq / canamasq.com
You're not looking at a hole cut out in the middle of this company's masks: It's a transparent window. Perfect for people who don't like the lack of communication and verbal cues, it can come in handy for working with seniors and kids as much as it is for showing facial and verbal cues (and avoiding some awkward conversations with strangers). Best part: They're reusuable if they're hand-washed.
View this post on Instagram
Coming from a Montreal who's been in the sewing game for more than 23 years, local seamstress Tammy Joho's choices for prints brings some fun Southern Californian vibes to the city. You want dinosaurs? Moustaches? Star Trek? Batman comics? She does it all for $15 per adult mask, $12 each for the kiddies. Our favourite part about these, however, is giving us a selection of sizes; folks with longer faces can pick the 'roomy' option so your nose isn't constantly poking out.
View this post on Instagram
At $20 per mask and 10% of proceeds going to the Montreal Jewish General Hospital, this local designer's tough guy logo and vibes have caught a lot of attention from a few celebs like U2 frontman Bono and UFC champs. Washable, antibacterial, sweat-absorbant—heck, they're even UV resistant—make these masks plenty durable, each of which can be used up to a maximum of 20 times.
View this post on Instagram
Formed from a small team of designers and arts sector workers, + MASK + is one of those companies that's formed out of the pandemic. That means they've done their research and are constanting adapting what they offer to match daily needs: That means masks for as low as $22 per (or $70 for 4), as well as handy-dandy pouches to keep them in.
View this post on Instagram
Looking for something bright anc colorful? We're really digging the masks from this Montreal designer who's added masks that follow on the heels of her colorful and striking prints. Masks normally go for $16 each, but are currently on sale for just under $14. Machine-washable with elastic bands to fit just about anyone, it's a favourite of ours among everything offered through the art distribution company Society6—a good place to find other artists' masks as well from abroad.
View this post on Instagram
Made in Montreal, this print shop has expanded into mask production at a low price coupled with free shipping. A huge selection of masks come in a wide selection of prints to mix and match with just about anything you plan to wear, and they're all going for $12 each before taxes. Pretty sweet.
View this post on Instagram
Born from the network of vintage pop-ups in Montreal, Citizen Vintage has become one of the most popular boutiques with reliable alternatives to fast fashion. Made by the community for the community, Citizen has been making masks that go for $15 or $20 (depending on material), with free pick-up in the city or a flat shipping rate of $10 (free if you spend over $100).
View this post on Instagram
This Montreal brand's currently got a bunch of stay safe essentials to pick from, from hand soap to—you guessed it—face masks. They're in high demand, and no wonder: Made from unsold garments, a set of two masks goes for $24, with individuals being limited to ordering three sets per person; find options for women here and masks for men here. If you can't wait to order, they've posted instructions on how to make your own here.
View this post on Instagram
Isolde is a Montreal-based designer normally focused on small-scale womenswear that's made-to-order, but now is making both his and her masks that are either $20 for the 'minimal' option or $25 per mask for something 'fancy' (see: frill, ribbon, you name it).
View this post on Instagram
The Montreal-based Suzanne Foucault continues to make stunning womenswear, but masks are now part of her wheelhouse now. Going for $20 each, they're both functional and fashionable with their black, white and/or grey use of solid shades, images and abstract patterns. If your mind leans towards 'how do I accessorize with a mask?' then this is the answer.
View this post on Instagram
If you were watching François Legault during his press conference on May 21 and were distracted by the Montreal Canadiens mask sent to him by Shea Weber, two things: You're not alone, and here's where to get them. If you're a big fan of your city's local team, these masks for kids and adults are only $15 each and purchases put money towards Moisson Montreal.
View this post on Instagram
You likely already know this brand for its hybrid boutiques in the city that feature either workshops or galleries. Its founders have put together an all-star team to run these multiple operations that bring a lot of culture to the city—and now, masks! $20 each, everything is made to order, and they use good quality fabrics alongside some latex-free cream rubber elastics that stretch long and are soft on the ears.
View this post on Instagram
Going for $25 apiece, these Montreal designers inspired by gamer culture offer a more edgy look. H4X has pledged that 19% of all proceeds from mask sales will go to the World Health Organization and their COVID-19 Solidarity Response Fund to support efforts during the pandemic.
View this post on Instagram
Christina Julien's a Little Italy-based artist running this ceramic and textile goods-based brand in the Montreal, and now masks are available. Free delivery and fine fabrics on good quality products (read: everything's 100% vegan) are the real drawcards here at $25 per mask.
View this post on Instagram
Orginially founded with a focus on footwear, V-Franz is made up of two designers who are now offering a wide range of masks that come in a lot of different colours and patterns. Depending on whether it's for a child or an adult, the price can anywhere from $15 to $20.
View this post on Instagram
Making luxury womenswear in Montreal with a sustainable focus, Elisa C-Rossow has been making a lot of sleek clothing that works in shades, not colours. If you want a straightforward, adjustable black mask that's of high quality, grab one of these for $22 each; the purchase of a mask puts $5 equally to Suicide Action Montreal and The Canadian Centre for Child Protection. If you see they're sold out, check back every Monday at 10am.
View this post on Instagram
The designer Katrin Leblond and her Plateau-based boutique have—among other stylish wares—face masks available in packs of four for $79 in a mix of different prints for both adults and kids.
View this post on Instagram
These simple and effective masks for $13 each come from a Southwest-based artist that uses a lot of cool prints and colours (we're currently digging all of the food-based ones that feature stuff like pretzels or fried eggs). They're going super fast these days since the word got out, but check back regularly or send a request.
View this post on Instagram
The name of this local brand might come off as a bit grim, but that was established well before the current situation. Since 1998, Judith Desjardins has been premiering her work in Montreal and NYC, with everything made right here. Masks go for $26 each or a set of two for $48.
View this post on Instagram
For $15 each, this Montreal-based designer with garments found all over the world is making machine-washable masks that are cotton-based, feature a slip to insert a filter and have wires to help fit it to your face. Good quality and price are on offer here, and that's all we really want.
View this post on Instagram
Chiefly known for producing compression materials used for workouts, this athletic wear company from Montreal is offering washable, reusable masks to order in packs of two for $20.
View this post on Instagram
If masks are meant to be the hottest new accessory of 2020, then the sleek and futuristic design of this Montreal-based business' masks is a perfect fit in more ways than one. What originally was making bespoke neon signs—they still do, FYI—is now making plain and simple masks for adults and kids for $15 and $10 respectively, as well as face shields for $15.
View this post on Instagram
Normally operating out of her boutique General 54, Jennifer Glasgow Design's is a brand housed in Montreal that began with the mission of creating ecological and all-purpose womenswear. Now it's making non-medical grade face masks for adults and children for $20 each.
It's not a place to buy masks, but if you or someone you know works for an organzation that could use masks—from frontline workers in hospitals to people working at local grocery stores—then contact Cinémask. Funded mostly by industry unions in the film industry, they manufacture hand-made protective masks on a voluntary basis. Send them a private message on Facebook if you know people in need.
View this post on Instagram
Denis Gagnon's had a passion for fashion ever since he first attended school in 1988. Primarily known for his work with leather, the current times have driven him to develop face masks that go from a soft velvet for $30 to fancier sequined options for $50 (if you want to use this time in our lives to make a statement).
Maison Marie Saint Pierre
View this post on Instagram
Marie Saint Pierre has spent more than three decades building a solid presence in Montreal's fashion scene. To buy a mask from her boutique is a solid bet on quality, but that comes with the price tag to match: There are two face masks to purchase for $70, with two higher-grade options for $85, all made with a lot of care and attention.
View this post on Instagram
Luxury fashion designer Mathieu Caron's designs for face masks have gone so far as to be featured in the New York Times, and it's no wonder: Using material from figure skating costumes, masks can range anywhere from $45 to $300. The kicker here is that all proceeds from this collection will go to the World Health Organization—so it's win-win.