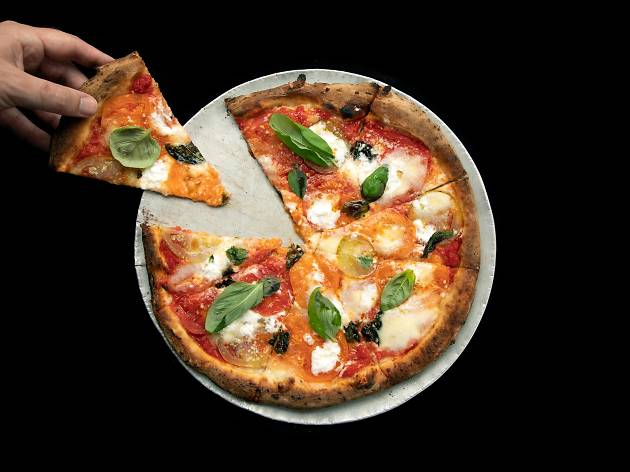 Inside the rise of Italian restaurants and pizzerias in Montreal
Posted: Wednesday November 20 2019, 1:33p.m.
There are three kinds of pizza in Montreal. You've got your down and dirty late-night street pizza with a thick crust, canned sauce and rubbery cheese (the kind which, for the most part, has given this city a bad rep for pizza); you've got your New York style imitators (check out Pizza Bouquet inside of Notre-Dame-des-Quilles if you want a top notch example); and you've got Neapolitan pizza. The Southern Italian version of the dish has a storied history here, dating back to the huge wave of Italians that moved to Montreal in the post-war period.
The first Italian restaurants, pizzerias and cafés essentially served their communities. Quickly though, these establishments garnered popularity among English and French Canadians, to the point where diners, delis and casse-croûtes started including pizza and pasta (even pizza-ghetti) on their menus. In a familiar narrative of multi-generational immigration, as Italian fare became more widespread and was integrated into the Canadian diet, Canadianized and fusion versions of pizza, pasta and other iconic dishes also started to dominate the scene.
Thankfully, the rise of "red-sauce Italian" and "Italian-Canadian" restos has only increased Montrealers' appetite for more authentic and rustic renditions of the cuisine. Moleskine's thin crust, Neopolitan pies are part of a new trend of Italian eateries opening across town that emphasize fresh pasta, traditional food prepared with seasonal, locally-sourced ingredients and, of course, pizza—better pizza. Moleskine's new location at Time Out Market Montréal has a full-scale pizza oven, where they bake pies featuring a mix of Italian specialities like fior di latte, straciatella, burrata, homemade ricotta, accompanied by a wide selection of only the freshest veggies and a few nods to Montreal standards like smoked meat.
Time Out Market Montréal is now open to the public inside the Centre Eaton de Montréal (705 rue Sainte-Catherine Ouest, niveau 1). Hours: Monday to Wednesday 8am—9pm, Thursday to Friday 8am—midnight, Saturday 9am—midnight, Sunday 9am—9pm
Share the story