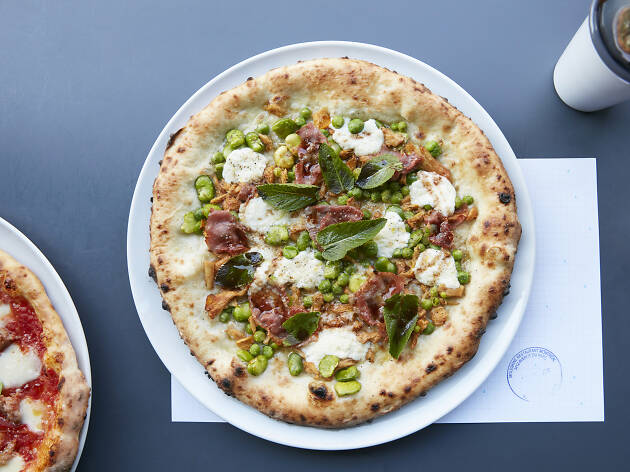 The best pizza in Montreal
From Italy to New York to this city's own way with pies, you'll find the best pizza in Montreal at these excellent spots
While it's no New York or Chicago (or Detroit or Rome), Montreal and its best pizza includes a plethora of great places ranging in price, style, and quality. Some of them figure heavily among the city's best Italian restaurants, feature wine lists that make them contenders for the best wine bars, and they're great places to fuel up before experiencing Montreal's nightlife. There's so many that knowing how to navigate all these choices can be a challenge, but this guide's here to help you find the right piece of the pie.
RECOMMENDED: Full guide to the best restaurants in Montreal
A pizzeria we love so much that we welcomed them into Time Out Market
Among all the second-wave Neapolitan-style pizza joints to hit the streets of Montréal, Moleskine is at the top of our list. Chef Frédéric St-Aubin's one-two punch of both traditional and seasonal ingredients makes us do a double take at just how fresh, comforting and fun the dishes are. Fans of bona fide Italian pies will love their Marguerite, Américaine, and Salsiccia pizzas, made with delectable ingredients such as specialty sausage, stracciatella di bufala and fior di latte cheese, and, yes, tons of olive oil and tomato sauce.
Best pizza in Montreal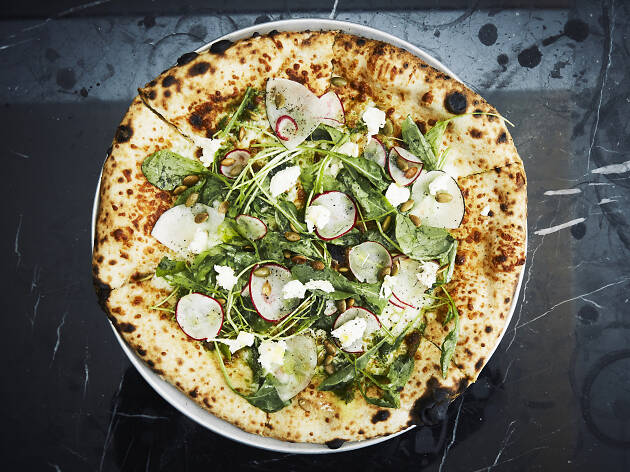 Photograph: Dominique Lafond
This Saint-Henri eatery from Ryan Gray and Emma Carderelli, owners of the prestigious Nora Gray, is perhaps the highest calibre spot in town now. Its menu, consisting of coffee, natural wines and complex pizza variations have received critical acclaim since its opening in February of 2018. The atmosphere here is casual—the space airy and bright—but the innovative combinations of flavours on these pizzas are anything but. Indulge in blue cheese and pear or mushroom and celery root pies at Elena, the perfect spot for an upscale evening out with down-to-earth eats.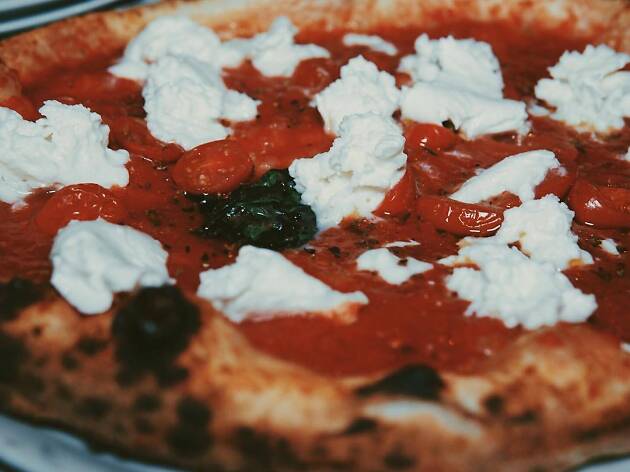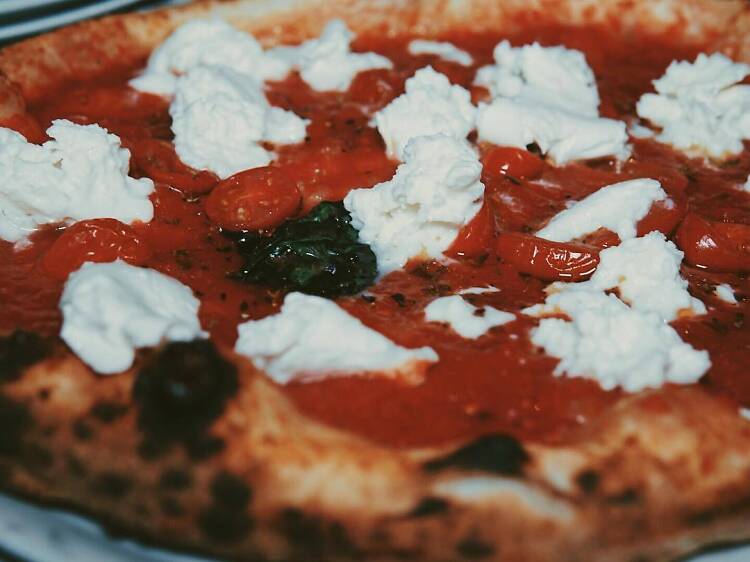 Photograph: Courtesy Bottega
Authenticity is the name of the game at this Little Italy pizzeria. Brothers and co-owners Fabrizio and Massimo Covone have maintained this restaurant's reputation for over a decade, and in that time, they've mastered the art of the wood-fired pie available with or without tomato sauce (bianche). Much of their popularity is also due to their appetizers and wine list, so those looking for a well-rounded dining experience would be well-served by coming here.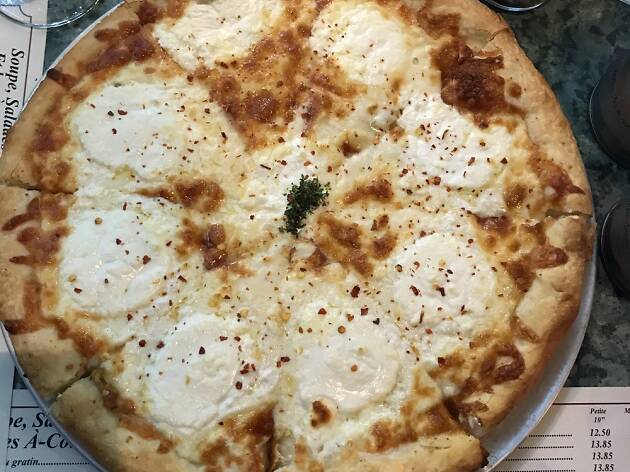 Photograph: Courtesy Yelp/Alix-Ann P.
A fan favourite among students residing in the Milton Park neighbourhood, Amelias is a cozy family-run operation that serves a range of Italian dishes in a warm brick café atmosphere. After a bankruptcy scare in 2015 that ultimately led its owners to rebrand and change the title from 'Amelios' to 'Amelias', the restaurant thankfully still serves up the same beloved pizza recipes, but now better than ever. Its signature slices include a vegetarian, Hawaiian, and a take on white pizza with multiple kinds of cheese that puts all others to shame.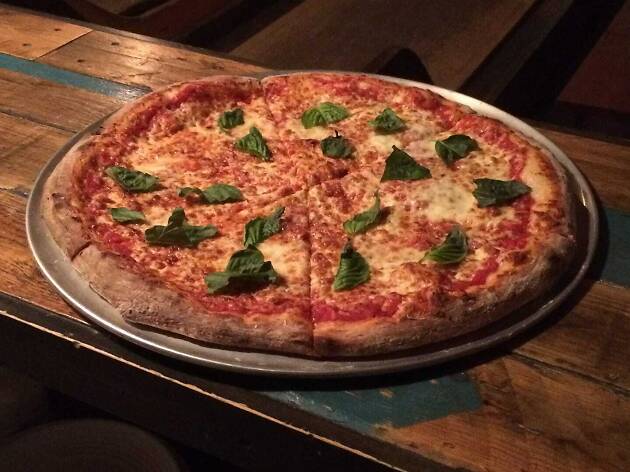 Photograph: Courtesy Pizza Bouquet
Bouquet is one of the newer New York-style pizza joints to take Montreal; this by-the-slice counter in Little Italy helmed by Andre Theriault serves up slices with a thick, chewy crust for only $3.25 a piece. While they've marketed themselves as a simple take-away spot, their recipes are rather complex: From a Staten Island-style upside-down pizza with mozzarella on the bottom and topped by a garlicky pomodoro sauce, to other varieties like a soppressata, honey, goat cheese and red onion combination, be sure to order ahead to ensure the pie of your choice.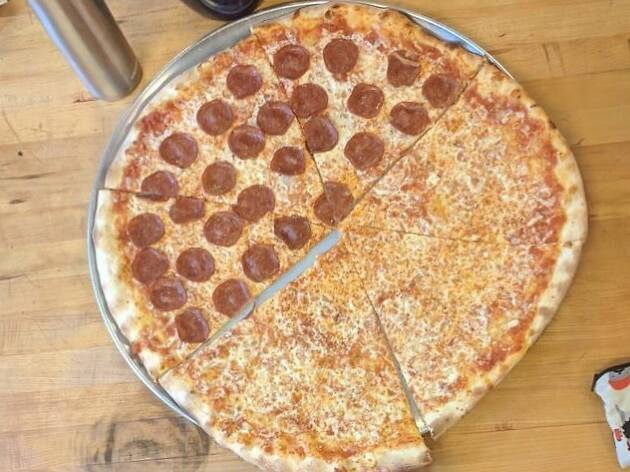 Photograph: Courtesy Yelp/Carlito B.
One of very few pizza-by-the-slice counters à la NYC in Montreal, this Saint-Henri joint from Tony Campanelli is a no-frills counter for quick bites. The pizza here is old school, thin crust slices that are served deli-style individually or as whole pies. While there are classic varieties like cheese, pepperoni, pesto and Hawaiian, there are a few new school options as well for the more adventurous eater like tomato and ricotta or brisket and pickles. The upside to all of this? You really can't go wrong with any of them.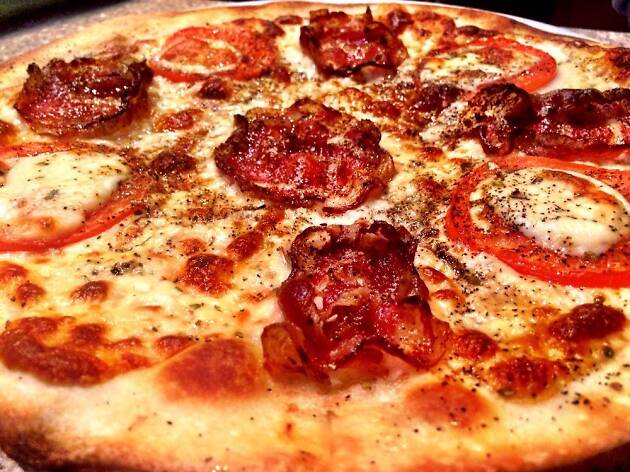 Photograph: Courtesy Yelp/Jack D.
It's not uncommon to spot a long line outside this Little Italy bring-your-own-wine pizzeria, which won the Consumer Choice Award for the Island of Montreal three years in a row and advertises itself as having the best pizza in the city. Their list of pies is indeed robust, with 41 variations of Neapolitan-style pizzas ranging from a marinara with shrimp and clams to a vegetarian with olives, onions, green peppers and mushrooms. But the antipasto, pasta, and dessert portions of their menu are equally long, meaning that whatever your craving, it's hard to go wrong here.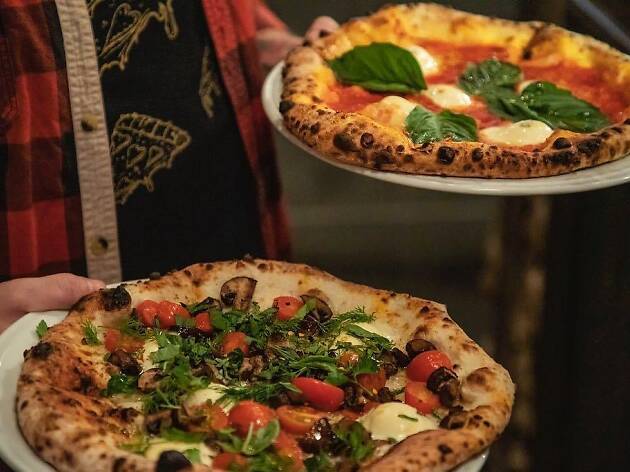 Photograph: Courtesy Pizzeria Magpie
This Mile End pizzeria from brothers Boris and Peter Popovic has been receiving critical acclaim from some of the city's highest regarded food writers for years now. The wood-fired Neapolitan pies at Magpie are, quite frankly, to die for; its margherita has been called the best in the city more than once. Its ambiance is romantic, yet fun, making this spot an ideal candidate for a down-to-earth date.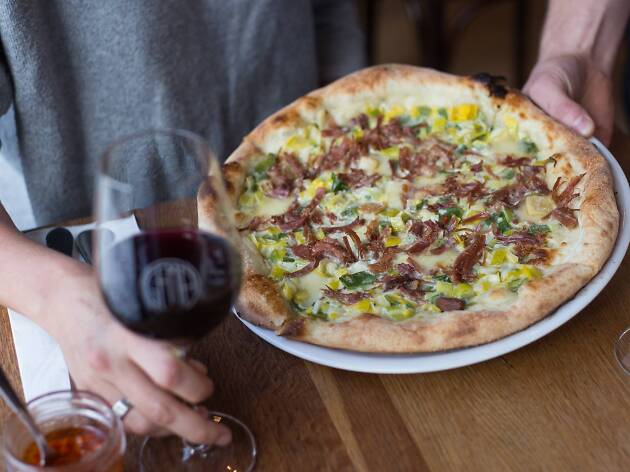 Photograph: Gema Pizzeria
From owners Stefano Faita and Michele Forgione of its sister restaurants Impasto, Gema is the perfect pizza spot for locavores. This Little Italy gem uses entirely local and seasonal ingredients, like Quebec bufala mozzarella and homemade pepperoni, all served atop a thick and puffy crust. And as if this spot couldn't get any more appealing, its wine list is vast, its wooden decor cool and trendy, and its ambiance welcoming.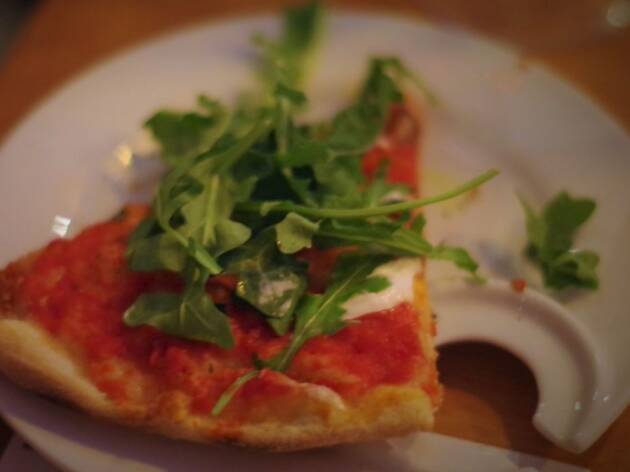 Photograph: Courtesy Yelp/Joanie M.
Co-owners Nathalie Côté, Sara Belley and chef Alessandro Bleve put this upscale restaurant on the map in September of 2016, and it immediately generated buzz for its hip, laid-back ambiance and delicate slices. Also on the menu are a number of light starters, like a kale salad with pancetta and a beet salad with caramelized orange zest, but c'mon: The pizza's what's king here. The Plateau pizzeria is also home to a charming terrasse, good for indulging and socializing on summer days.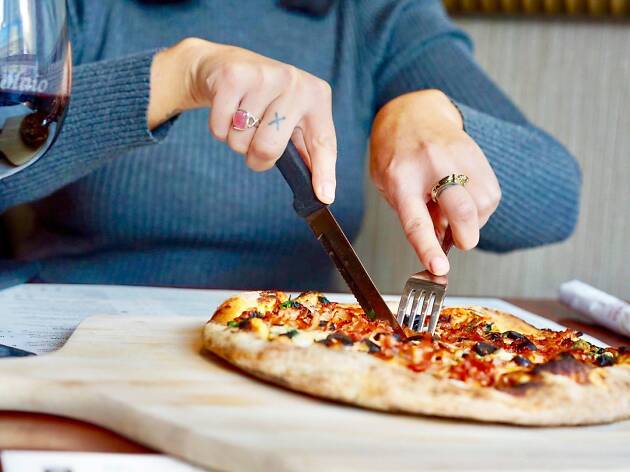 Photograph: Pizza Il Focolaio
Located by Square Phillips in the heart of downtown, Pizza Il Focolaio has garnered popularity among the public since its opening in 1984. Its menu is the most expansive in town with 77 different types of pizza—including vegetarian, gluten-free, and vegan options—alongside an array of salads, calzones and subs. It's a warm, friendly spot for a convenient sit-down slice, whichever one you fancy choosing.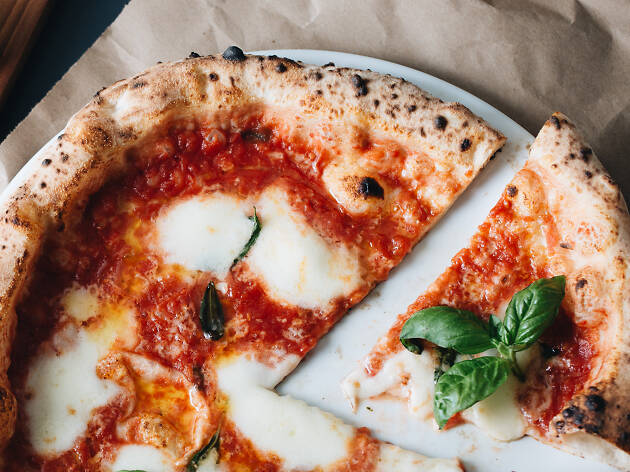 Photograph: Pizzeria No.900
This city-wide chain from Dominic Bujold and Alexandre Brunet is known best for its melt-in-your-mouth Neapolitan style pies and cozy atmosphere. The crust at No.900 is puffy yet chewy, its flavors all unique takes on traditional red and white styles. Beyond its highly regarded service and thoughtful menu, No. 900 also offers an efficient take-out service, ideal for those in a hurry, yet unwilling to compromise on quality. They're also one of the choices in town who deliver.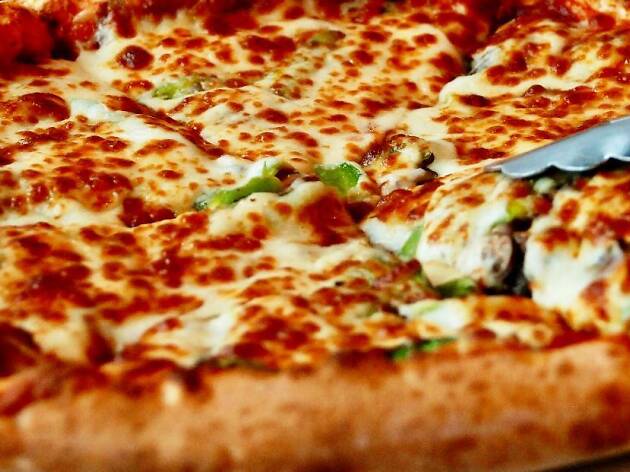 Photograph: Calzone
A humble family spot, this pizzeria is home to what many know to be the best pizza on the West Island. This is the spot to visit for thick crust, extra cheesy slices, topped with any number of a long list of ingredients and available in six sizes, ranging from 8 to 18 inch pies. And if you've got a hankering for something else Italian, chances are this place has got it; their menu also includes a number of subs, pastas, fries and—you guessed it—calzones.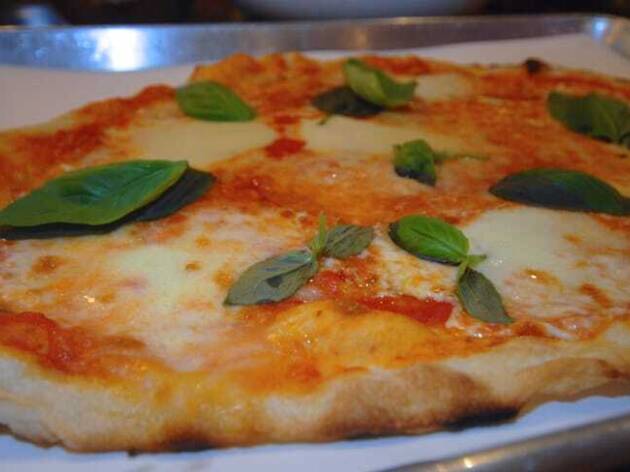 Photograph: Courtesy Yelp/Globeater M.
This down-to-earth pizzeria serves up a range of Italian dishes in generous portions, the most highly regarded of which being its Margherita pizza. These coal-fired, thin-crust slices are crispy on the outside, chewy in the middle, and brimming with authenticity, simplicity, and deliciousness. If you're looking for something more adventurous, no worries: Prato's extensive pizza menu also features ingredients like prosciutto, peppers and sausage to go atop their pies. Pair these with any number of drinks from its long list of wines and craft beers for a full-bodied evening without regrets.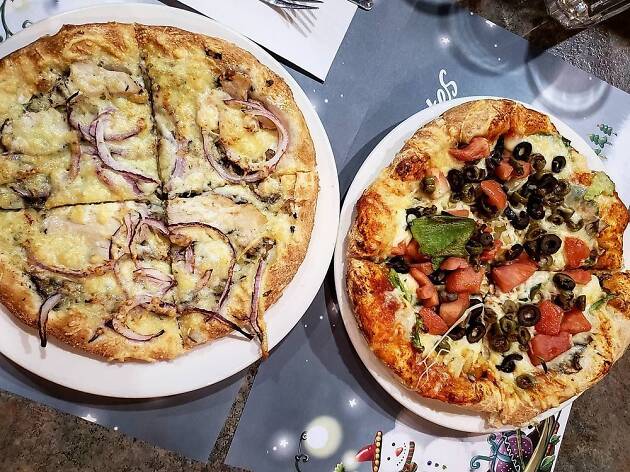 Photograph: Courtesy Yelp/Helena U.
Among the best pizza restaurants on the South Shore, Como Pizzeria is a family-friendly diner serving a wide variety of dishes, from greasy spoon staples like nachos and wings to classic Italian dishes like pastas and subs. As for their pizza, however, Como serves pies in five different sizes, from a tiny bambino to XL, all of which have over 18 different combinations of toppings. We've regularly got a soft spot for whatever's new, including the Tropical Tornado with its Italian sausage, pineapple and mango. Bonkers, but bodacious.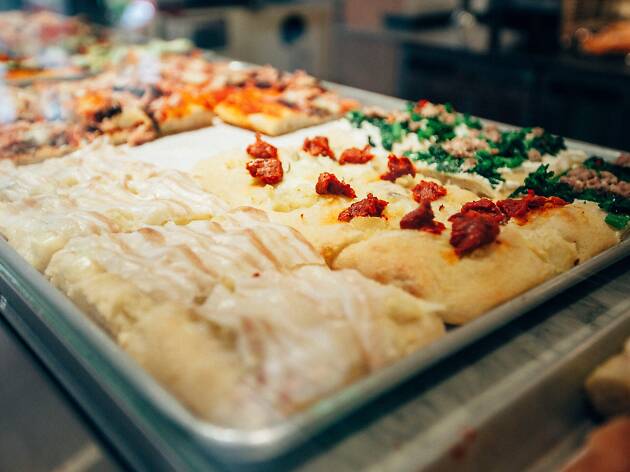 Photograph: San Gennaro
This small, homey cafe in Little Italy is the best bet for a slice to go in the neighbourhood. San Gennaro serves several classic Roman-style variations like pomodoro, margherita and salami pizza. Whichever you order, you can't go wrong with any of them. From the same owners as Bottega, this resto also serves Italian sweets like gelato, biscotti and cannoli for a happy ending to any meal.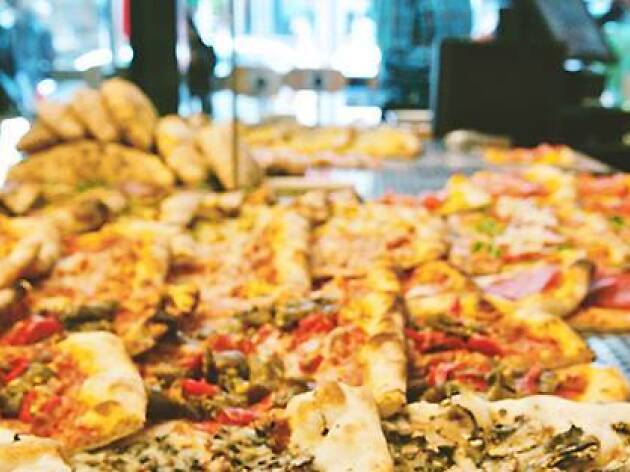 Photograph: FCO di Fiumicino
Located in Montreal's downtown core, this casual stop-in spot is the top spot for Roman-style pizza al taglio, similar to Neapolitan style but rectangular and with a thicker crust. Their varieties venture into bolder territories that are worth the visit: Our vote goes to varieties like their goat cheese, prosciutto cotto, mozzarella and Sicilian pistachios, or their pizze with whole kernel corn and cherry tomatoes. Finish any of these off with their gelato and you've got yourself an authentically Roman meal on your hands.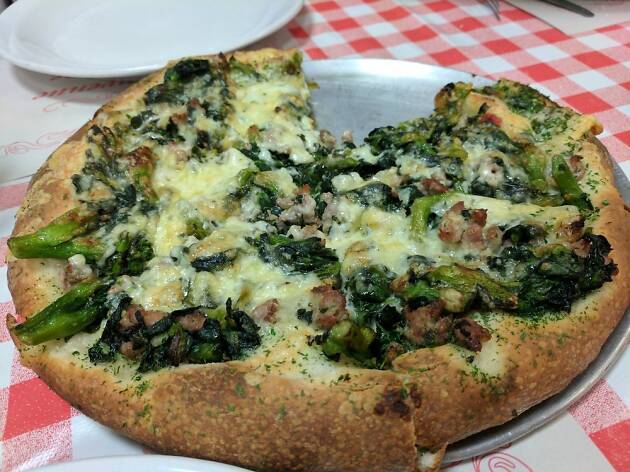 Photograph: Courtesy Yelp/Denzil D.
Known for its old school Montreal-style pizza that's defined by puffy, golden crusts and an excessive layering of tomato sauce, toppings and cheese, D'Agostino is a hidden gem in the Pointe-aux-Trembles area. Sicilian owner Agostino Lumia is happy to load on the toppings; this spot is perhaps known best for its twist on the all-dressed pie, which comes topped with heaps of crispy bacon, pepperoni, green bell peppers and white onions.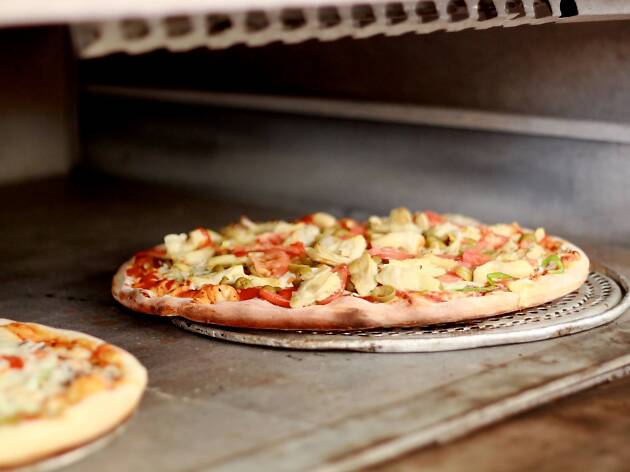 Photograph: Woodland Pizza
This mainstay in Verdun has been around since 1960, and owner John Xenos takes pride in continuing to serving top-notch ingredients over all these years. The menu consists mainly of classics, like vegetarian, meat-lovers', and hawaiian pizzas, available to order on a thick or thin crust. Whatever's ordered, the pies here come with toppings piled high enough that they might be confused for deep dish. Woodland also serves brochettes, steaks, and pastas, all of which can be delivered late into the night on weekends.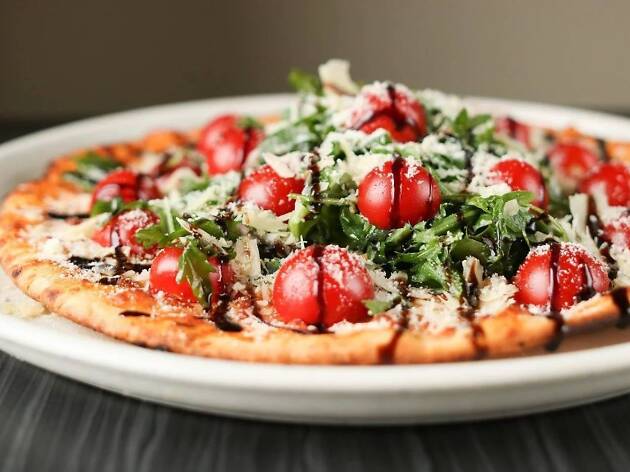 Photograph: Elio Pizzeria
Elio has been a beloved neighbourhood gem for residents of Rosemont-La-Petite-Patrie since its inception in 1964. It's a down-to-earth hub for Montreal-style pizzas and Italian fare and a safe haven for those with dietary restrictions (all of its vegetarian options are marked on the menu, and its crust can be done thin for those looking to cut down on calories). Plus, its patio is particularly pleasant in the summertime, making this a family-friendly destination with excellent food.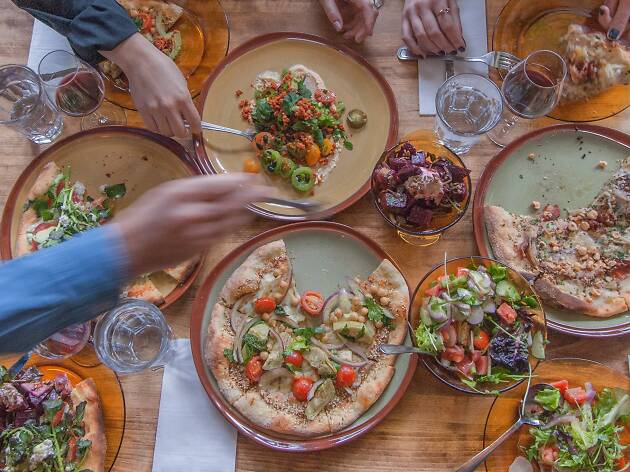 Photograph: Café Parvis
A trendy, casual downtown café, Parvis is not somewhere you'd necessarily expect to serve up great pizza, but they do. Their lunch and dinner menus include a number of unique Roman-style pies like an arugula and goat cheese option and a watercress pie with tomatoes, avocado, sour cream, green onions, feta, and jalapeño. Follow up any dinner here with a visit to Furco next door and enjoy their wine selection. It's the best of both worlds.
Find more of Montreal's best Italian food
From pasta masters to pizza slice slingers, these are the best Italian restaurants in Montreal you've got to try.
Best selling Time Out Offers