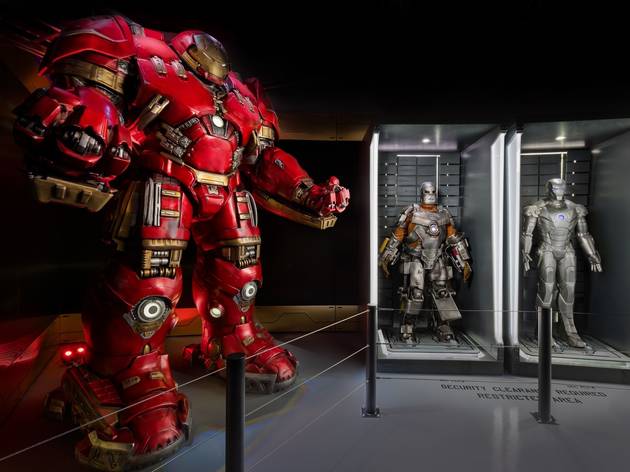 A huge Marvel's Avengers exhibition with original props and costumes is coming to Toronto this fall
Sometimes Toronto gets to have all the fun—the Avengers S.T.A.T.I.O.N. is a Marvel's Avengers exhibition arriving in the Ontario capital this fall.
Posted: Tuesday September 8 2020, 3:28p.m.
According to speculations by the Toronto-based media company blogTO, the Marvel's Avengers attraction AVENGERS S.T.A.T.I.O.N. (Scientific Training and Tactical Intelligence Operative Network) will be coming to the city's Yorkdale Shopping Centre.
View this post on Instagram
Following job postings from the Canadian National Exhibition—a massive annual event in Toronto that's on an indefinite hiatus due to the pandemic—signs are pointing to this Marvel's Avengers exhibit coming to Canada for the first time and might be running from October 2020 to March 2021—details have yet to be completely confirmed.
View this post on Instagram
Coming originally from New York, the exhibition allows guests to "delve into the history, science, engineering, genetics, technology and profiles of Captain America, Hulk, Thor and Iron Man," reads the event's website. Ticket holders can "interactively assemble case files on each of the characters and move on to become qualified members of the AVENGERS S.T.A.T.I.O.N.".
According to this Las Vegas site which housed it during its visit to the city, the exhibition is an "interactive and educational exhibit" that aims to immerse guests in the world of this massive franchise.To date, the exhibition has traveled from its inception point in New York to cities like Las Vegas, Paris and Seoul in recent years.
Just like the exact dates, there haven't been any release issued about what a ticket would cost or how social distancing measure would be carried out, but at its current stop in Vegas, it's $34 USD per adult and all children over 12; children under 11 costs $24 USD while children under the age of three aren't charged.
Most popular on Time Out
- BIXI's new fleet of self-service electrically-assisted bicycles in Montreal is the largest in Canada

- Kwizzinn's headquarters for Haitian eats is now on the menu in Verdun

- Huge vintage bazaars are popping up in the Plateau—here's where to find them
- How Saint-Henri's Bar de Courcelle has been bringing its open mic series to the people

- Plan the perfect Labour Day weekend picnic with these dishes from Time Out Market Montréal
Share the story