Heads up! We're working hard to be accurate – but these are unusual times, so please always check before heading out.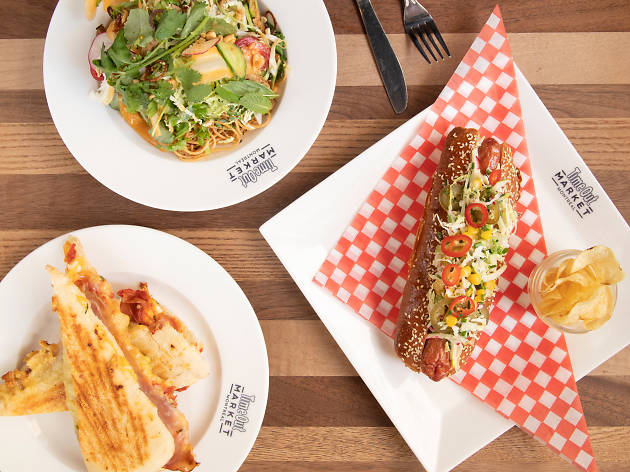 Time Out Market Montréal reveals more stellar chefs and eateries
It just keeps getting better as Foxy, Grumman '78, Olive et Gourmando and more join Time Out Market Montréal's lineup
Just when you thought it couldn't get any better, the culinary and cultural destination Time Out Market Montréal is ready to announce more of the curated chefs and restaurants joining its curated lineup later this year. They'll be taking center stage of a 40,000-square-foot space inside the Eaton Center—with a massive skylight!—that will feature a total of 16 kitchens, three bars for beer, wine and cocktails, a cooking school for honing skills and learning new recipes, a demonstration kitchen for immersive dining experiences, and a retail space, in addition to cultural elements for art installations, music, and more. The mission is simple: Bring the editorial curation of Time Out Montréal to life by bringing together the best of the city under one roof.
RECOMMENDED: Full guide to Time Out Market Montréal
Six chefs and restaurants from across the city join our growing lineup of spectacular eateries on offer, as well as the local institution which will helm the cooking academy. Chefs Leigh Roper and Vince Russell will bring the heat of their wood-fired restaurant Foxy; Grumman '78 is serving fusion-forward tacos that blend influences from Latin America, Tex-Mex cuisine, and beyond; Olive et Gourmando will kickstart our mornings with its all-day breakfast and coffee program; Foodchain will keep things fresh with its rapid-fire vegan and vegetarian dishes; Marusan will bowl us over with ramen and donburi; Dalla Rose will keep things sweet with their ice cream, sorbet, and gelato with ice cream sandwich options; and Ateliers et Saveurs will deliver expertly guided classes in cooking and wine tasting.
These top picks join our first chef and restaurant lineup announcement, which includes Claude Pelletier and Mélanie Blouin of Club Chasse et Pêche, Charles-Antoine Crête and Cheryl Johnson of Montréal Plaza, Normand Laprise's Burger T!, pastries from Jeffrey Finklestein's Hof Sucrée, pizza from Moleskine, the iconic eats from Romados, Italian goods from Il Miglio, and Vietnamese street food stylings from Le Red Tiger.
Read on for more details about our latest curations below, and follow @timeoutmarketmontreal to get the latest and most delicious announcements.
Foxy: Sleek and inimitable with a rustic wood-fired menu, Griffintown's Foxy finds few equals in the culinary landscape of Montréal. Its menus from chefs Leigh Roper and Vincent Russell have been an instant hit with plate after delectable plate touched by smoke, sparks and char. Their roasting, grilling and braising techniques—plus new creative avenues heretofore unseen from Foxy—will be on offer, all evoking summertime cookouts even when warming up winter nights.
Grumman '78: Owners Gaëlle Cerf and Hilary McGown have set a lot of high bars for experiential eating in the city with Sébastien Harrison Cloutier, a chef who's skillfully dishing out the restaurant's fusion-forward plates of tacos, salads and more that are inspired by Latin America, Tex-Mex cuisine and beyond. We're stoked for the lively vibes they'll bring downtown, much like how they revivified the Montreal dining scene nearly a decade ago with their chartreuse green food truck.
Olive et Gourmando: If you ever find yourself on the streets of Old Montréal wondering what's causing long lines of locals and tourists to snake up the street, this is the reason. This café from Dyan Solomon and Eric Girard has been serving insatiable crowds its breakfast, brunch and lunch offerings for over 20 years. Time and again, folks make return trips for their comforting goods like gooey paninis, refreshing salads and chia bowls, hot-out-of-the-oven pastries, savory Cubanos, and choice cups of coffee with highly satisfying results.
Foodchain: Built by a supergroup of local game-changers in cooking, baking, design and branding, their combined efforts have built an amazingly fresh and healthy concept that turns fast food on its head: Raw vegetables are sliced and diced to a uniform consistency, then paired with a dressing especially crafted to each recipe's flavour profile and topped with options like toasted seeds and additional proteins. If you want something sweet for dessert, they've got that too (vegan, of course). Consider this one a salad bar on steroids; we can't wait to eat our greens.
Marusan: Hideyuki Imaizumi's restaurant Marusan may have started as a quick counter for Japanese eats in Old Montréal, but a meal at any hour of the day provides a wide range of traditional dishes and omakase services delivered with pinpoint deliciousness. That's thanks to Marusan's chef Tetsuya Shimizu, whose specialization in kaiseki cuisine employs a collection of skills and techniques that gives careful attention to every element of a meal. With this new eatery, we'll be getting a taste of Shimizu's recipes for savory bowls of ramen and donburi.
Dalla Rose: It takes some serious skill to make ice cream, gelato and sorbet tempting for Montrealers who spend half their year in sub-zero temperatures. That meant Michael Dalla Libera and Nick Rosati had to offer something special at Dalla Rose, and go figure, it's their whole menu: Fruits, spices, seeds and vegetables are used to create some seriously irresistibly smooth creations that will be on offer by the bowl, cone or mashed between two fresh cookies baked in-house. Prep your sweet tooth, Montréal: The frosty work here's a local favourite for a good reason.
Ateliers & Saveurs: Leave it to restaurateurs Arnaud Ferrand and husband-wife duo of Éric and Fanny Gauthier to take the wheel of Time Out Market Montréal's Cooking School. Ever since they started giving in-depth, hands-on lessons in Old Montréal in 2008, they've since grown to three different locations in Québec. Whether you're a novice or a seasoned veteran, there's something for everyone among their selection of workshops guided by professionals that share decades of industry experience between them. Enjoy learning, cooking and, of course, eating your creations while dabbling in a wine tasting course or two. Classes will be available to book several weeks before the market opens via the website of Ateliers & Saveurs.
Follow @timeoutmarketmontreal for more updates on the latest and greatest chefs and restaurants joining the lineup.
Learn more about open Time Out Markets in Lisbon, Miami, New York and Boston, as well as future markets coming to Chicago, Dubai, London and Prague.