Heads up! We're working hard to be accurate – but these are unusual times, so please always check before heading out.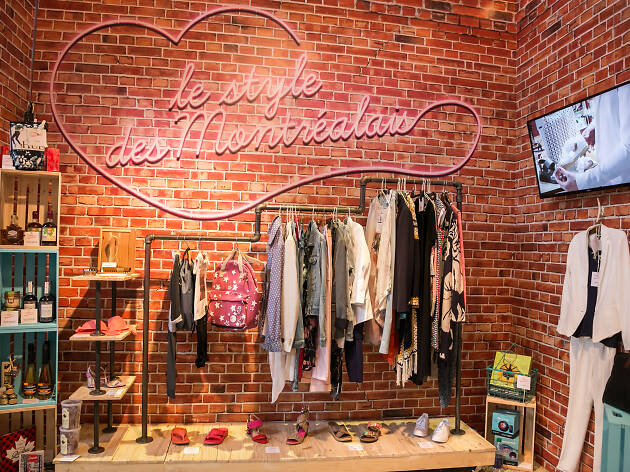 Where to go shopping in Montreal
It's a 'til-you-drop affair with the 21 best places to go shopping in Montreal for clothes, shoes, jewelry and more
Ever wondered what makes Montrealers so fashionable? Take one look at some of our favorite stores for shopping in Montreal, and the answer's clear: This island's a haven for great shopping options, whether it's for casual wear or something to slip into before enjoying the city's nightlife. From high-end fashion to accessible everyday looks, vintage boutiques and flea markets to department stores with don't-miss discounts, there are options that suit everybody's different needs and budgets. Call up your squad, grab some brunch and check out these places appealing to all (cat)walks of life.
RECOMMENDED: Full guide to the best things to do in Montreal
A retail shop we love so much that we welcomed them into Time Out Market
Founded by Vanessa Lachance and Maxime Tremblay, Signé Local specializes in bringing together the best products from Québec, from food and fashion to décor, cosmetics and just about anything else coming from across the province. Whether you're looking for a gift for a special occasion, ways to load up below the Christmas tree or just treating yourself to new trinkets, you'll find it here. Best of all, poring over the selection here is as local as you can get.
Where to go shopping in Montreal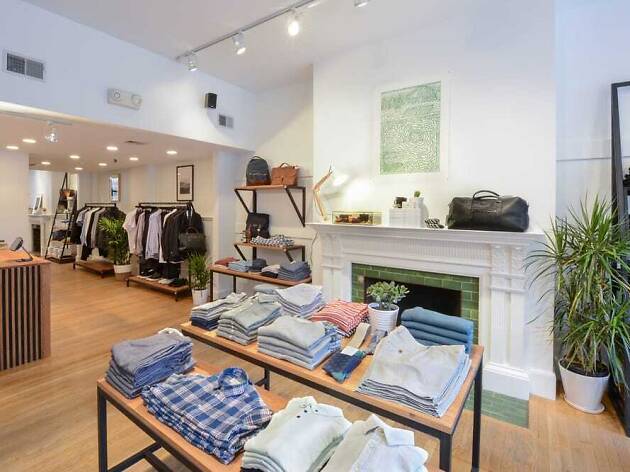 Photograph: Courtesy Yelp/Frank And Oak
Born in Canada and renowned as the Montreal Canadiens' preferred denim brand, Frank and Oak is the brainchild of eco-friendly clothiers that's on-trend and at medium-affordable prices. Have fun perusing the minimalist aesthetic of their stores, the cut of their jeans and their monthly style subscription boxes. Bonus points go to this brand's philanthropic endeavors, including making garments in collaboration with Montreal's Petites-Mains, an organization that aids women in need to integrate into the workforce with a new wardrobe.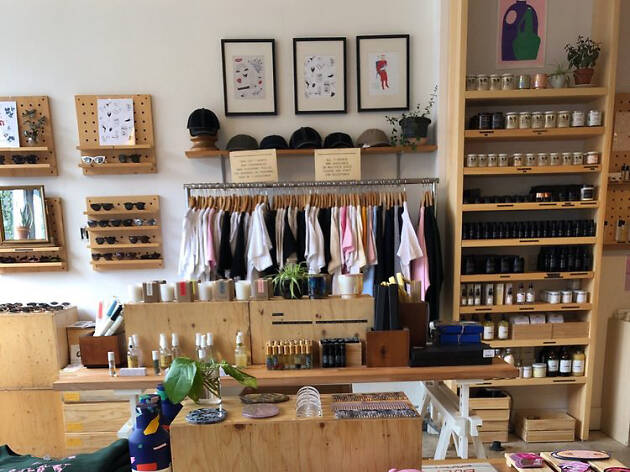 Photograph: Courtesy Yelp/Amanda H.
Annex Vintage is an chic and enjoyable boutique in the heart of the Mile End. A sister store to Citizen Vintage and Empire Exchange, this flagship boutique provides a lovely mix between its siblings by supporting both the vintage clothing movement and the local designer movement. Look through their collections for the Montreal brand Stay Home Club, in addition to quirky tote bags, scents, accessories, sunglasses and jewelry.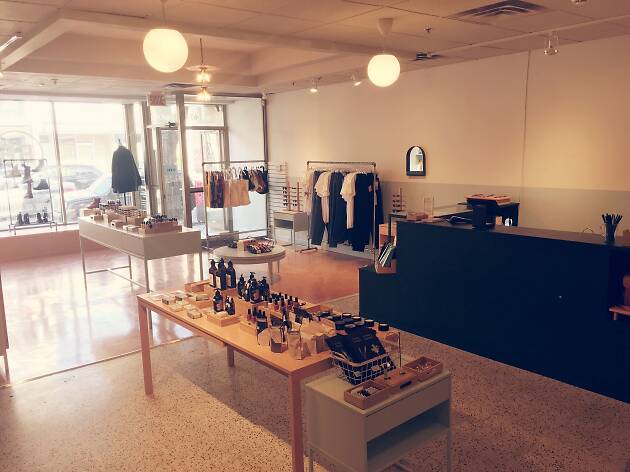 Photograph: Empire Exchange
Rid yourself of your old clothes and trade them in for some new, rare finds at this shop. The saying 'old is gold' is more than applicable here, where one person's trash is truly another's treasure. You'll find pieces donated by others hanging on their racks (washed, clean and in great condition, of course) and after making your donation, you could opt to shop cash-free with store credit! If you'd rather have the cash, they'll pay you; no need for consignment.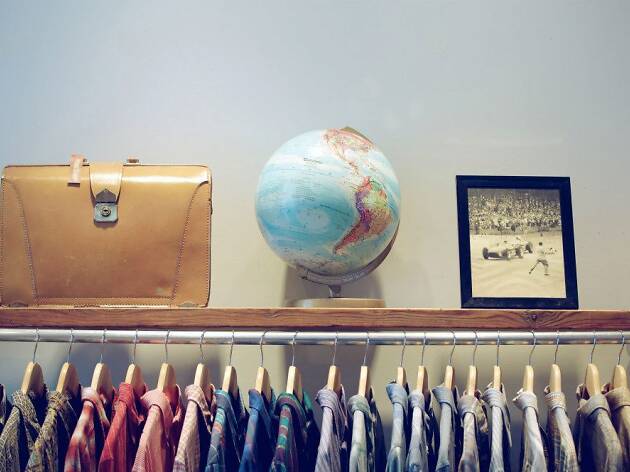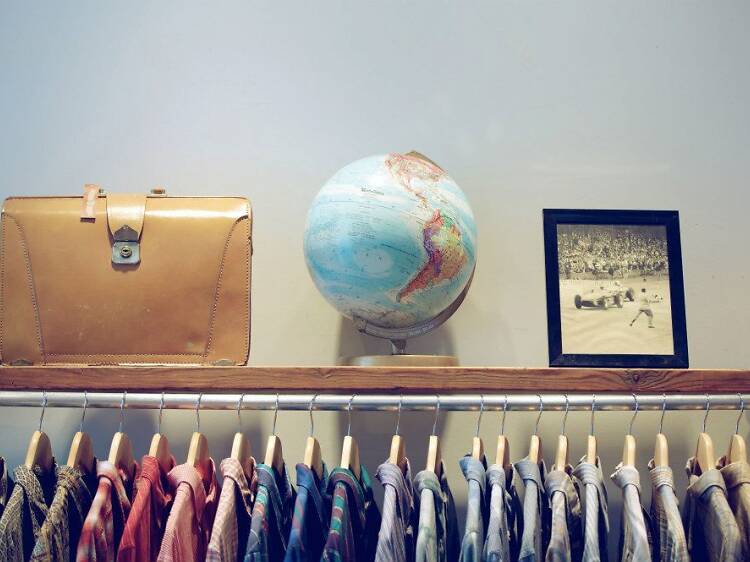 Photograph: Citizen Vintage
Consisting of curated vintage finds, an in-house handmade brand and spotlit selections made by local designers, Citizen Vintage is a Plateau/Mile End go-to of many stylish Montreal residents. The boutique is an all-around crowd-pleaser: Jackets, shoes, denim, rompers—whatever season you're looking to step out into with style, this place offers the perfect piece that'll make you stand out from the crowd.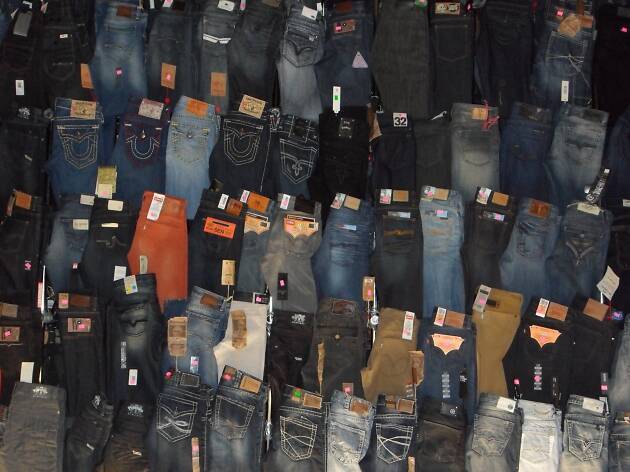 Photograph: Jeans Jeans Jeans
If you're on the hunt for a great pair of jeans, then this is where you need to dive in. An industrial spot in the heart of the Mile End, this denim mecca offers racks of jeans at every style, fit, wash and price just waiting to be worn down to death. The variety is more than substantial here, and know that people always refer each other back to this place when looking to invest in a new pair of the essential. Best of all, if your find doesn't fit perfectly, there are alteration services that go along with your purchase.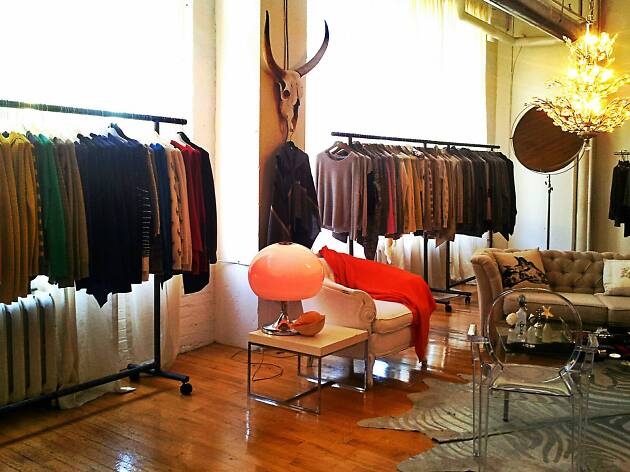 Photograph: Room Service Loft Boutique
6. Room Service Loft Boutique
Looking for chic clothing for your professional life? Look no further than Room Service Loft Boutique. The store's been curated with the young urban professional in mind, serving up eclectic looks in a chic setting with pieces from the city's favorite local designers and brands, ensuring that whatever your purchase becomes an essential in your closet. With a general aesthetic that mimics its trendy Old Montreal location, each piece found in this boutique is a classic work of art.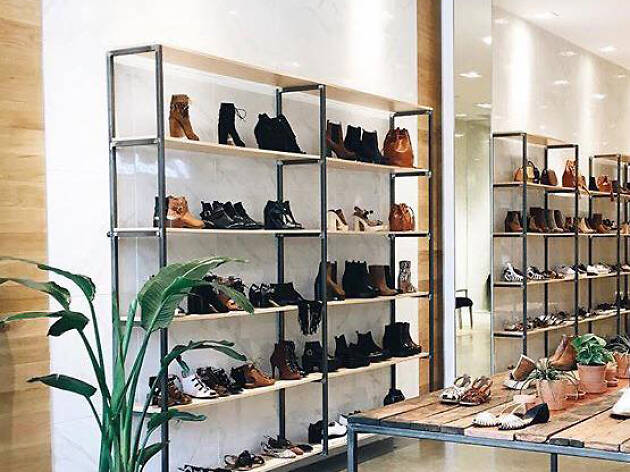 Photograph: L'Intervalle
For the shoe fetishist at heart, this local concept brings you brand-inspired pieces from Spain at off-the-street prices. Step out in style with all the great findings you'll discover in one of L'Intervalle's locations in and around the Island. Strappy sandals this season? No problem. Espadrilles? You got it! There's little you can't find with this address that specializes in redefining fast fashion.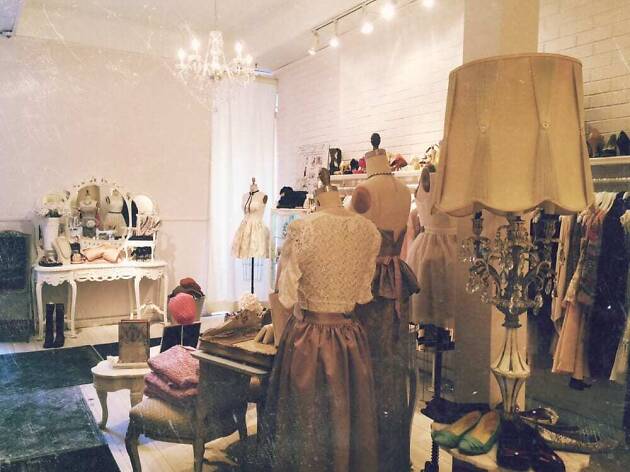 Photograph: Courtesy Yelp/Marjorie D.
This establishment is the brainchild of Castle Ho, a Montrealer with an affinity for the glamor of the Victorian Era. We call it one of the best places to grab a chic cocktail dress for an event, a wedding, a party or even just for yourself. It isn't only cocktail dresses at 1861 though, as you'll also find other stylish pieces, accessories and shoes curated by Castle herself. Checking back with them regularly reveals collections that are constantly shifting, and keeping us coming back on the reg.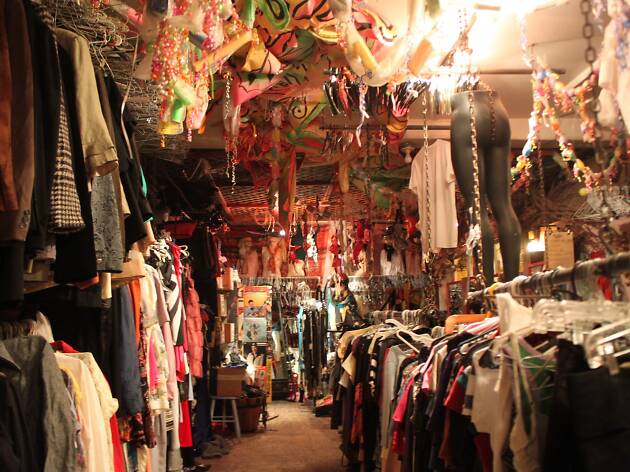 Photograph: Eva B
With one-of-a-kind finds on their racks, you'll always walk out of Eva B carrying some kind of vintage or antique treasure. This is where you can literally dive into piles of cheap clothing, in addition to enjoying their café during your stay or sticking around for when their space becomes a venue for local events. One of our favorite features is their impressive Halloween costumes for rent, which have helped out in a pinch in the past. Eva B accepts clothing donations too, so you'll be able to rid yourself of old garments and make room for new ones in your closet.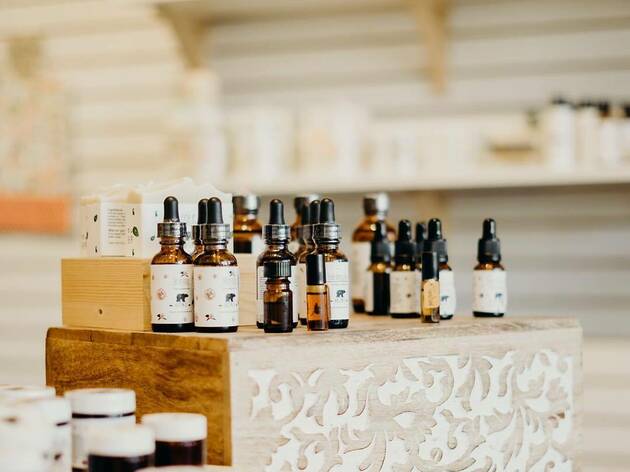 Photograph: Klova Boutique écoresponsable
You'll fall in love with this Saint-Denis gift shop as soon as you walk in. Eco-friendly baby products to perfectly gift new parents, beauty products, lifestyle products—there's little this shop doesn't have. Small but mighty, Klova's inventory can put a smile on anyone's face while ensuring them that they've done good by shopping sustainably at a zero waste rate. The same rules apply when shopping around for some of their home essentials, right down to the cosmetics and aromatic hair products.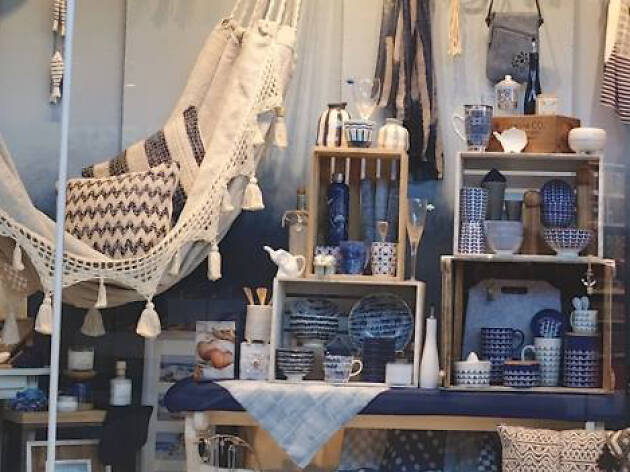 Photograph: John Nolan/Chez Farfelu
From fluffy bathmats to kitschy animal ceramics, fun kitchen gadgets and other trinkets, Farfelu offers something for everyone. It best serves its purpose when you want to add an exciting new decorative piece in your home, or when you're looking for a nice housewarming gift to give. Colorful and diverse, half the fun here is just in walking around, but be warned that you'll probably walk out with a bag full of goodies.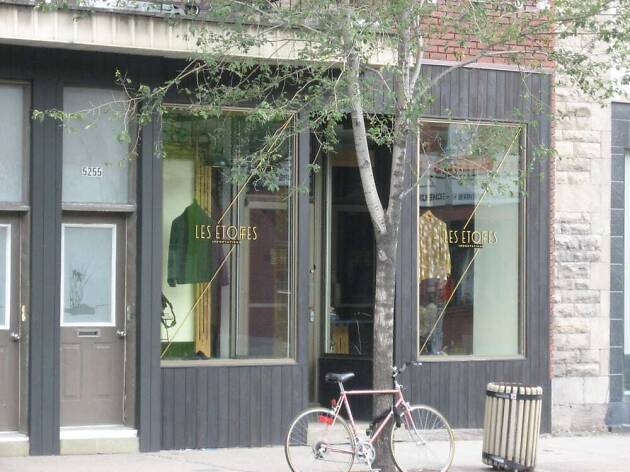 Photograph: Courtesy Yelp/Risa D.
This Mile End unisex boutique is the epitome of cool. If you're craving some serious edge and modernity to your wardrobe, then this is your new favourite shop. Pop in to invest in a beautiful pair of unique shoes, an on-trend outfit or a quintessential seasonal piece. Though it may seem pricy, Les Etoffes only serves up quality to its customers and purchases here will always become staples in your wardrobe.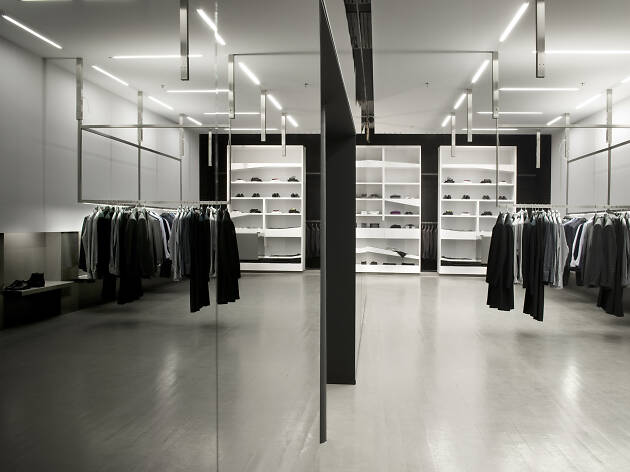 Photograph: Marc Cramer
Gentlemen, if high-end pieces are what you're after, then Michel Brisson is your calling. Commonly referred to as the best-known menswear store in Montreal, Michel Brisson regularly updates their collection with on-trend quality styles that are sure to make themselves at home in your home arsenal. We can say with confidence that anything you walk away with at Michel Brisson will always be seen as a total investment.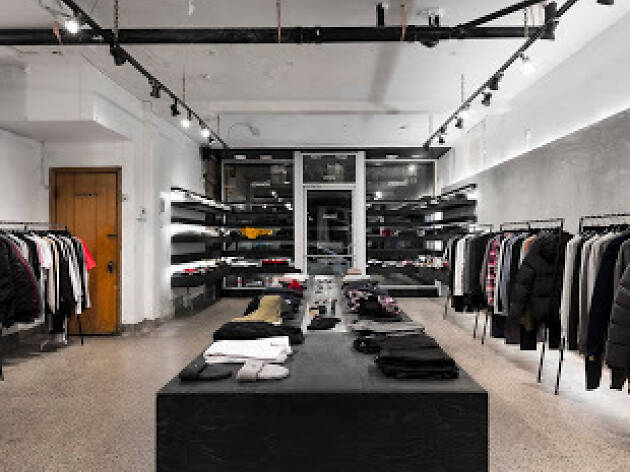 Photograph: Les Hommes
With a curated collection of styles sourced by the owner of the store, Men can find truly unique pieces at this Little Burgundy boutique. You may spend all afternoon leafing through all the possibilities, walking away with more than you bargained for, but it definitely is a trip that's worth it as the different brands brought in contain best of all worlds: National and international alike all figure in heavily here in a highly curated collection.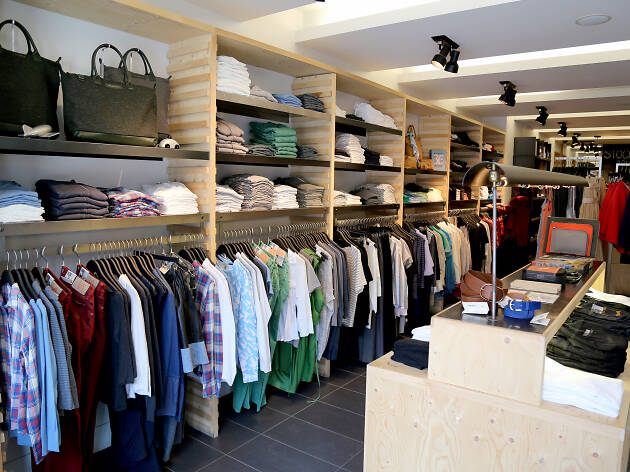 Photograph: Boutique STOCKMARKT
Located in the heart of the Southwest, this trendy unisex boutique speaks directly to the souls of young professionals. The great thing about it is that while their pieces are of the haute branded variety, they take an archival approach to what they offer, which makes them available at accessible prices. The Little Burgundy neighborhood situates the store steps away from Atwater Market, making it the prime location for a sweet shopping expedition for snacks after.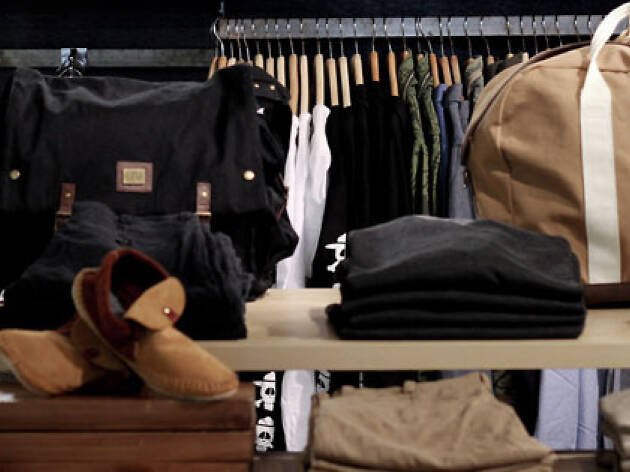 Photograph: Off the Hook
Since its inauguration in 1999, Off the Hook has been a mecca for fashion-forward Montrealers. Specializing in casual wear, you'll find anything you can think of here: Sneakers, workout clothes, cardigans, modern sportswear—even gorgeous bath and body essentials by some of time-honored brands. Their athletic and lifestyle footwear collection has been stepped up over the years, and 20 years after opening, they now offer most household brands imaginable. Question is: What don't they have?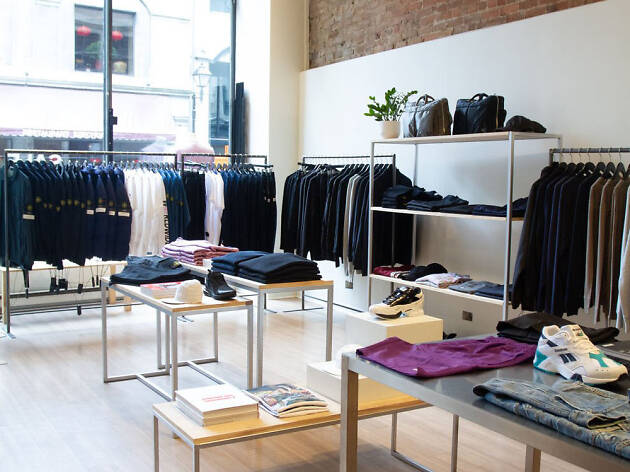 Photograph: Rooney
When Rooney first opened its Old Montreal boutique in 2006, they launched with the intention to share the discovery of eye-catching up-and-coming brands with the masses. Almost 15 years later, Rooney continues to hold its promise to the fashionable by constantly collaborating with emerging designers, prioritizing quality manufacturing in every curated piece. Every sneaker, top, accessory, tote bag and otherwise that makes its way into Rooney has a unique story behind it; just ask the attentive staff there.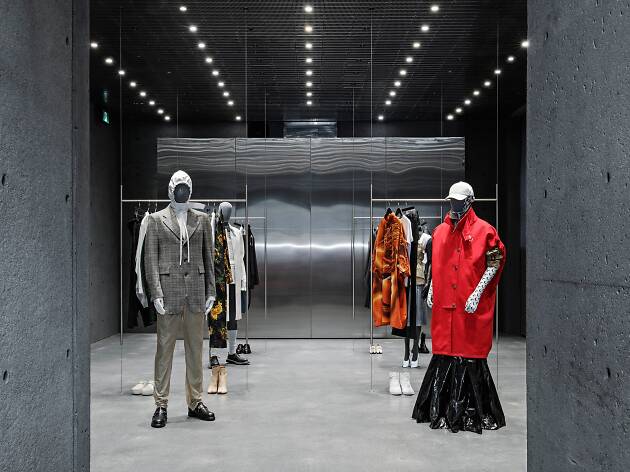 Photograph: Ssense Montréal
Everyone is always talking about Ssense in Montreal. It's reputable for being the city's newest and hottest space that houses designer brands, offers a personal shopping service, and hosts installations and events—not to mention the Ssense Café on the top floor with menu by the city's own chef Jason Morris. Despite all of the super high-end hype surrounding this store, it's worth nothing that they also pack some insanely generous sales: We're talking at least 50% off, sample sales, and selections marked down to as low as 90%.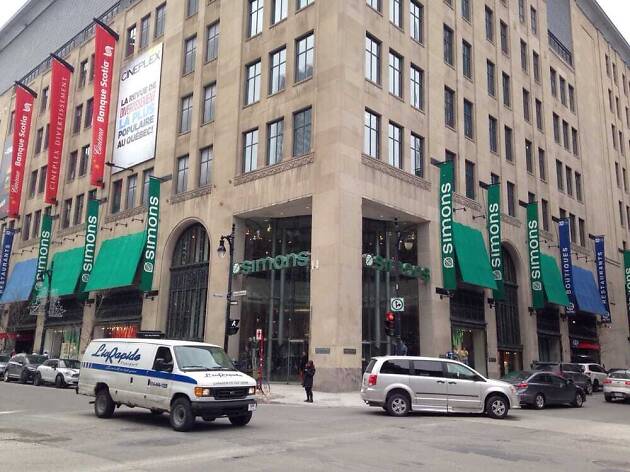 Photograph: Courtesy Yelp/Marie-Édith V.
A trip to Simon's is always an afternoon well spent. This Quebec-born institution has quickly become a household favorite, filled to the brim with goodies for all. Fashion-forward clothing, chic home accents, accessories, lingerie and underpinnings—you name it, and Simon's has it. Don't shy away from their prices either, as this place prefers to deliver quality and is known to be very generous with their sales and sizes; tailoring options are available on-site if you need them.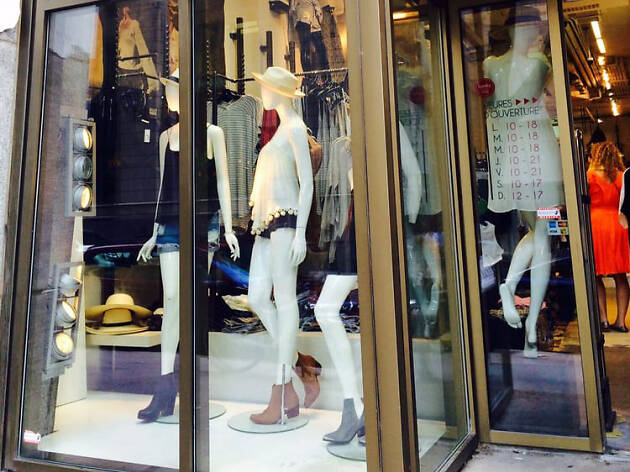 Photograph: Courtesy Yelp/Des T.
Editorial is a marketplace for the edgy, independent and modern young woman to find the outfit that goes along with her voice. The pieces that make their way into this boutique are so current that they're often the determining factor of what's about to be trendy on the market. Expect to see branded shoes from Doc Martens and ROA Hiking on offer, as well as great sunglasses from brands like Le Specs.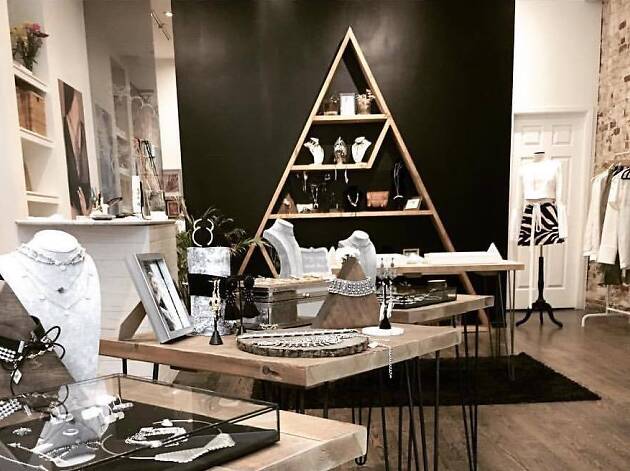 Photograph: Corail Blanc
Make room in your jewelry box! Born and bred in Montreal, Corail Blanc prides itself on its pieces that are all handmade and original. If accessories are the cherry on top of your outfit, then this gem of an accessible store is the one to visit. What's best is that the jewelry you find will be unique, with styles ranging from the edgy to bohemian and refined, and none of them will break the bank.
More great things to do in Montreal
Amazing things to do in Downtown Montreal are found on every corner, each bursting with arts, culture, food and drink.