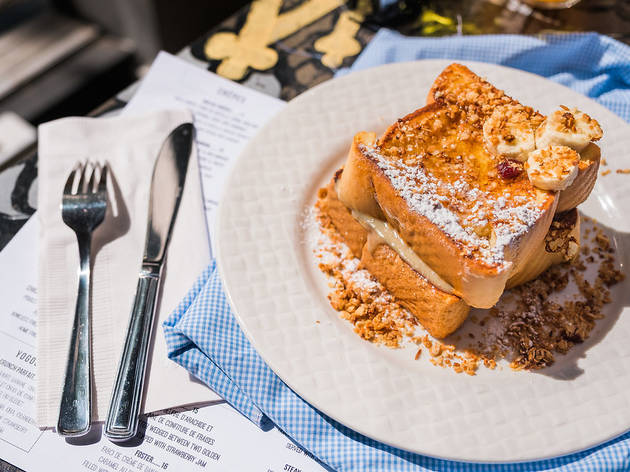 Where to find the best brunch in Montreal
From bottomless mimosas to fine dining and greasy eats, fuel up and luxuriate with the best brunch in Montreal
UPDATE, September 2020: We've got a whole new batch of excellent spots to add to the best brunch in Montreal. Our additions this time around feature more than a few neighbourhood favourites, a pair of long-standing institutions, and several of the city's finest high-end restaurants—all important contributors to Montreal's ever-evolving brunch scene.
If you dipped your toes into some Montreal nightlife the night before (or dove in head-first), hopped across the city with the best bars in Montreal, or you just want a sumptuous start to the weekend, the best brunch in Montreal has got your back. There's a huge range of choices here, running the full gamut from diners and boozy brunches to classics and innovators. You want new-yorkaise Eggs Benedict and North African shakshuka? No problem. How about Chinese dim sum? You got it. Whatever your preference, there's something for every tastebud. Fuel up and finish off your week right with these curated choices.
RECOMMENDED: Full guide to the best restaurants in Montreal
Best brunch in Montreal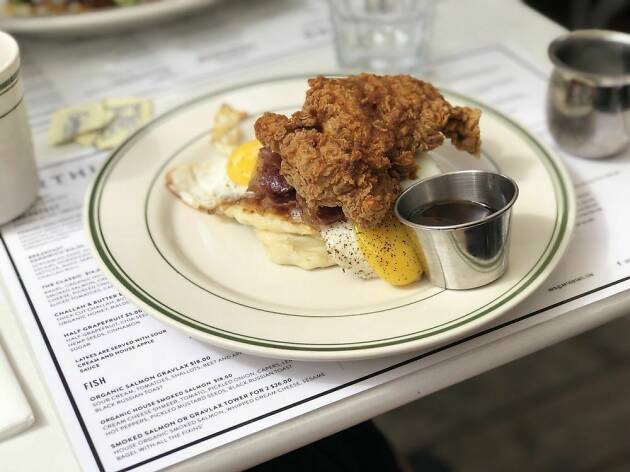 Photograph: Courtesy Yelp/Yutong Y.
One of the hottest tickets in town right now, this restaurant in Saint-Henri from Raegan Steinberg and Alex Cohen has a small but serious brunch menu on weekends. Their menu's a delicious salvo of Middle Eastern and Eastern European flavours running through breakfast platters. That, plus their regular menu with homeruns like the McArthurs (chicken schnitzel with iceberg slaw, mayo and pickles on challah), means this is the place to nosh on the regular.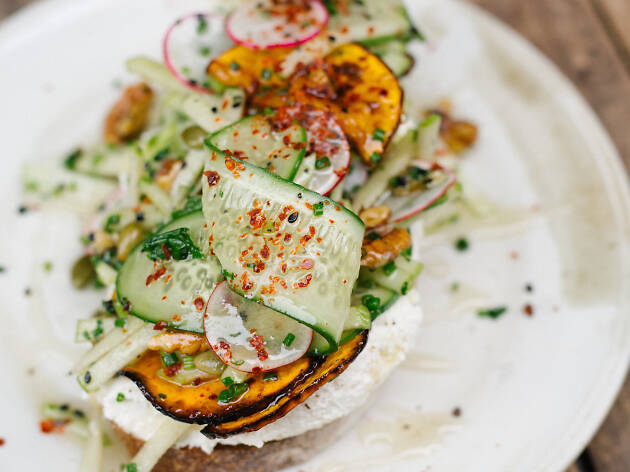 Photograph: Courtesy Olive et Gourmando
An Old Montreal restaurant doing breakfast and lunch incalculable justice throughout the week, this one got popular like a bat out of hell. Be it the regular menu or its weekend brunch, Dyan Solomon's offerings might seem run-of-the-mill at first glance, but everything here is immaculately tasty enough to draw long lines. Just be sure not to pass up the baked goods for a post-brunch snack.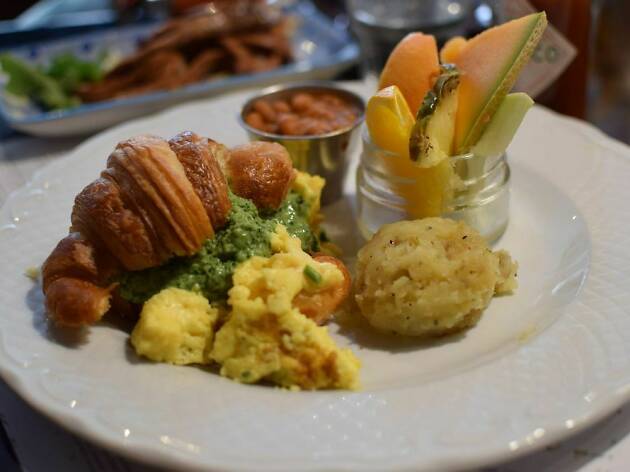 Photograph: Courtesy Yelp/Eric C.
Every day of the week, Café Régine—and its Verdun counterpart Janine Café—continues to uphold its reputation as one of the finest brunch-focused restaurants in the city. It serves dishes from across the mealtime's sweet-savory spectrum, along with the prerequisite Caesars, mimosas, liquid chocolate and coffee you'd care to guzzle. All of this is served in surroundings reminiscent of British high tea with impeccable service, so popular that the line-ups run long at this one.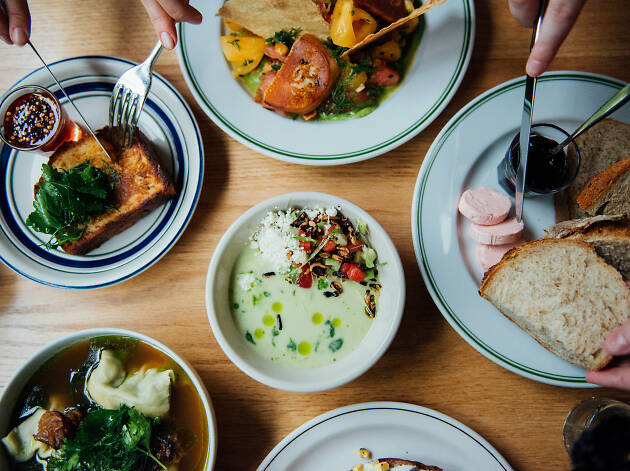 Photograph: Alison Slattery
Sure, there are breakfasts and lunches both healthful and luxuriant to be had at Nadine Boudreau, Julie Romano and chef Jens Ruoff's establishment, but all of that coalesces and congeals nicely in their brunches running from Fridays to Sundays. A glance at their dishes, from mains to sides, draws exclamations of inspiration. We'd tell you about we love to eat here, but then it'd be just us reading off the whole damn menu.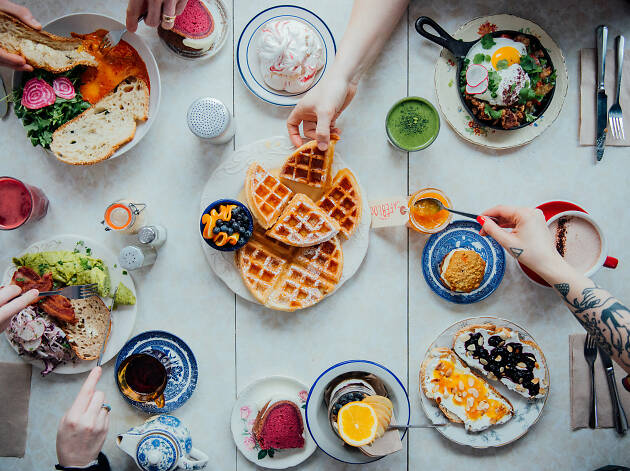 Photograph: Two Food Photographers
Jessica Bégault's café ownership savvy, combined with the work with of chef Norah Paré, makes for a delicious combination indeed. Sure, there's good grub to grab at breakfast and lunch during the week, but the brunch on weekends? Grand slams, a vegetarian croque monsieur and some of the best French toast in town for its use of milk-based bread in a heavy cream bath. It's all excellent, just like momma used to make.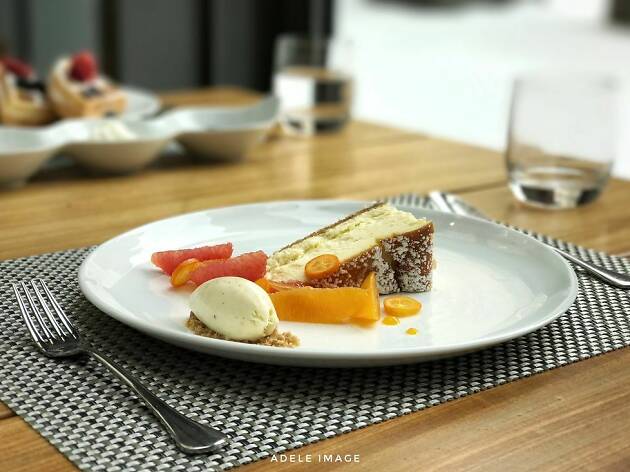 Photograph: Courtesy Yelp/Adele Z.
It's not unheard of to plan your entire travel itinerary around Michelin star recipient Daniel Boulud's masterful creations, and his brunch is no exception. Housed in the Ritz-Carlton hotel, Maison Boulud is a cultural touchstone wrapped into one perfect phyllo dough pastry. Dining al fresco in the renovated garden overlooking a pond of ducks provides even more of an incentive to pay the establishment a daytime visit (and half your salary for some well-worth-it snow crab on brioche and a juicy DB Burger topped with pork belly and Oka cheese).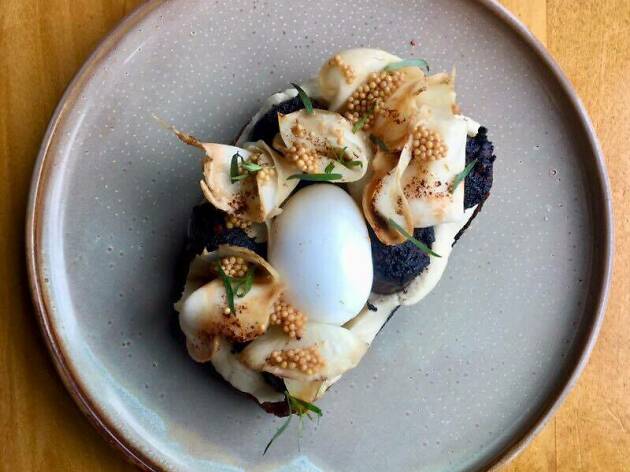 Photograph: Courtesy Réservoir
Hear us out: A pub—wait for it—with food. You'd stop us because, yeah, you've heard that one before. What you haven't heard is that Réservoir's chef and bartenders are among the best in town at it. Chef Marc-Alexandre Mercier wasn't a talent to be wasted when the beloved local joint Hôtel Herman was no more and was scooped up to produce amazing menus with heretofore unseen combos. Dishes like cockerels with cream and sherry blood sausage with celery root are nicely rounded out with beer mimosas, and that's a win in our books.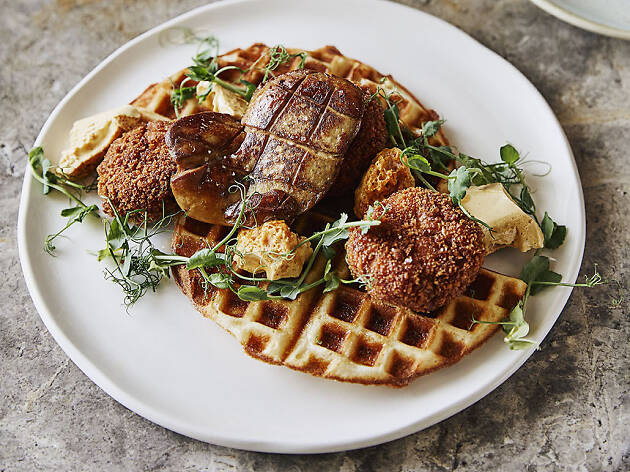 Photograph: Sylvie Li
Were you looking for a hole in the wall-style greasy spoon in which where you can weep regrets about last night into a cup of dishwater coffee, you've come to the wrong place. Perles et Paddock's elegantly constructed space is brimming with natural light, and is serving a little bit of everything for the hungry masses with twists and turns: Breakfast sausage is now boudin, avo toast is an avo tartine, steak and eggs are now covered with chimichurri. Just familiar enough while still being dressed to the nines.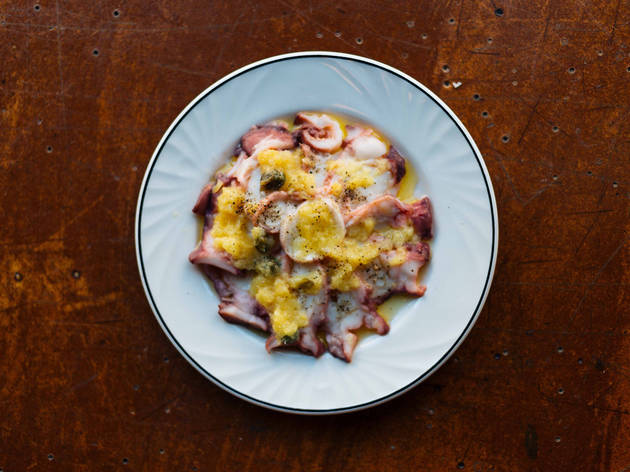 Photograph: Larrys / lawrencemtl.com/larrys
It's breakfast all day at this massively popular Mile End destination from Lawrence chef Marc Cohen. It fulfills spirits and stomachs on so many fronts, acting as much as a neighbourhood bistro as it is a swank hangout for kids who want to be seen. From its small but sturdy breakfast options to a wider range of savory dishes that easily figure in as a decent brunching dish, a taste of one dish yields a desire for another, and it'll pain you once you realize that generally only a handful of them fits in your stomach.
Photograph: Pub Bishop & Bagg / @bishopandbagg
Part of the spearhead of a recent British Invasion onto Montreal's food landscape, Bishop and Bagg is an English-style pub in the Mile End that's knocking it out of the park with its weekend brunches. The menu is a mix of traditional and modern British fare, including classic ploughman's lunches alongside fried chicken French toast Monte Cristo sandwiches and full English breakfasts alongside a curried lentil, poached egg, and cheese curd concoction cheekily named the Earl of dahl-housie. The fun, eclectic menu combines well with the pub's cozy leather and hardwood decor to make it a great roost for a lazy weekend meal.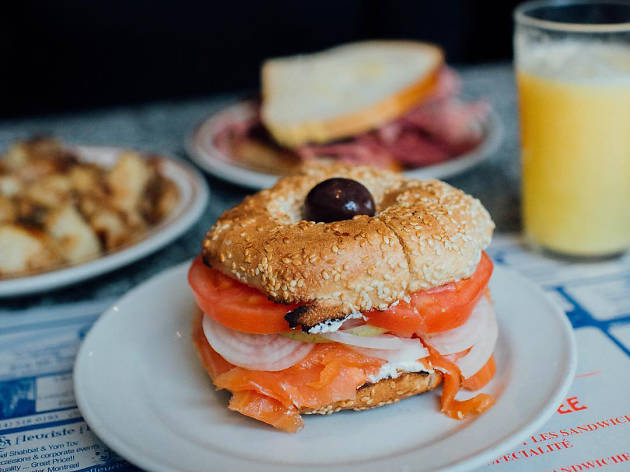 Photograph: Two Food Photographers
11. Beauty's Luncheonette
Since 1942, Beauty's Luncheonette has been serving up generous portions of their lovingly cooked Jewish-inspired breakfast and lunch fare in their timelessly cool retro 50s diner on the corner of Saint-Urbain and Mont-Royal. In fact, Beauty's is one of the oldest operating brunch joints in town, and depending on who you ask, it might just be Montreal's first. Beauty's serves all the classic brunch stapes, including full breakfasts, fresh-pressed orange juice, salads, sandwiches, pancakes, and waffles, but also several unique specialties including their coveted bagel lox platter and downright legendary mishmash omelette, loaded with salami, hot dogs, green peppers, and fried onions.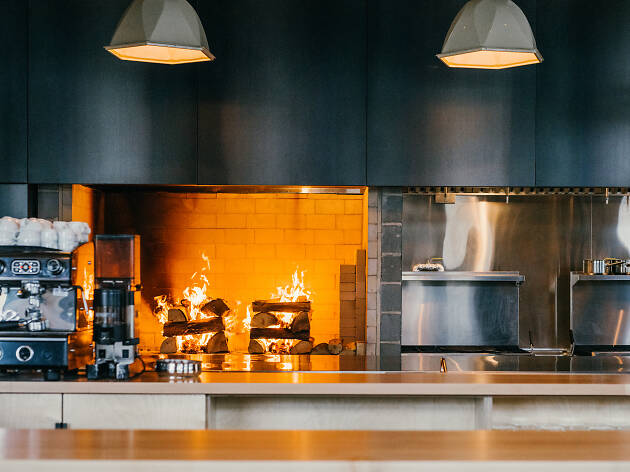 Photograph: Alison Slattery
The taste of wood-fired food is irreplicable, and so's the skill that chef Marc-André Jetté brings to his brunch services. In a menu that leans towards proteins, the team pumps out both surf and turf in a delicious and artsy fashion. The drinks are cheap, the coffee's great, and the execution of the food leaves you gloriously satiated. Our particular favourites include the croquettes, hangar steak or anything with a poached egg.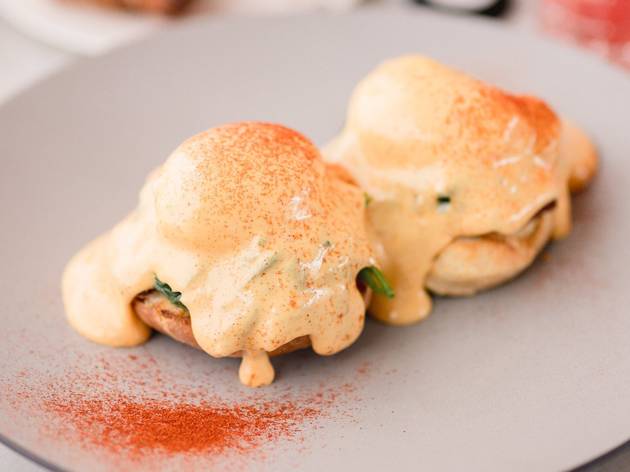 Photograph: Patricia Brochu
Celebrity chef Marcus Samuelsson's self-titled restaurant concept in the Four Seasons Hotel has the whole city aflutter for jump-starting the dated hotel bistro formula. In addition to bold breakfast, lunch, dinner, and even high-tea services, Marcus also serves a stellar Brunch. Dishes include everything from eggs Benedict and gravlax to fried chicken waffles and multi-tiered, build-your-own bagel and lox platters. It's certainly not the cheapest brunch in town, but it's a great option when a special occasion rolls around.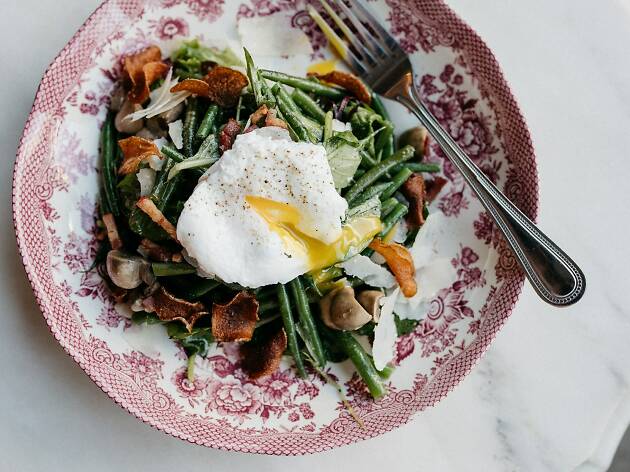 Photograph: Laurie-Anne Thuot
Beautiful, bright, airy and known for its brunches. Mélisse has all the look and feel of a Californian café, but earns that glamorous veneer through service and style. Sure, you've got your artisanal drinks and kombucha for sale, but the choice cocktails, open sandwiches and breakfast casseroles will cement this place in your mind as a worthwhile endeavor. Just maybe don't show up in your sweatpants and expecting to chug pitchers of mimosas here.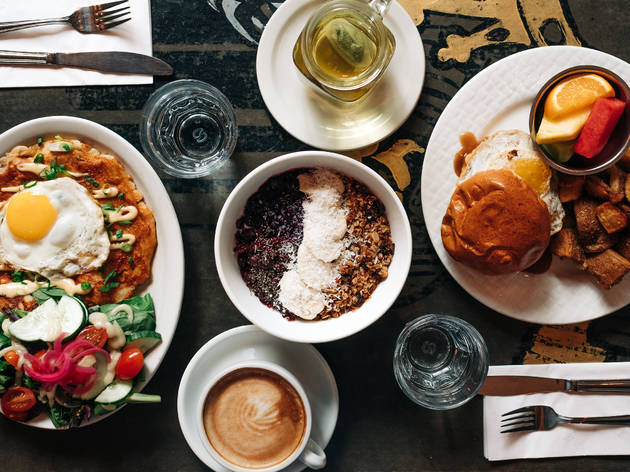 Photograph: Victor Le
A hip, lighthearted spot that hit the ground running when it first opened in 2010, Fabergé has since become a Mile End go-to for nourishing hangover cures. The interior is open and airy, which does well to accommodate the hordes of famished bunchers the restaurant receives on the regular, and the menu has a distinct 'turned up to 11' character about it. The menu is lengthy and features arrays of creative eggs Benedicts, breakfast sandwiches, omelettes, and more— as well as a bunch of wacky and decadent outliers. These outliers include a Japanese style pancake dish with bacon, cabbage, egg, mayo, and otafuku sauce as well as a mythic breakfast poutine made with home fries and topped with a poached egg smothered in hollandaise sauce, just to name a couple.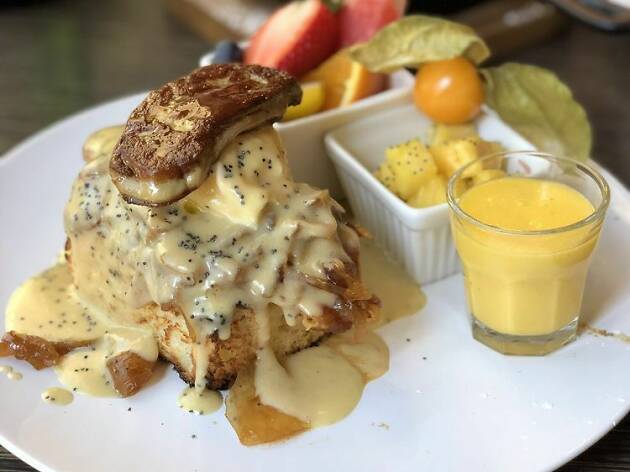 Photograph: Courtesy Yelp/Rosy L.
The Gay Village is generally more popular for a night out than it is a day after, but a smattering of superb restaurants turn that notion on its head. Le Passé Composé is one such place. Chef Arnaud Glay's menu has a high level of quality to it, full stop. A variety of poached egg plates take up a fair share of a page here, but don't pass up the sweeter side if you can with panko-encrusted French toast and apple doughnuts. Oh man. Those apple doughnuts.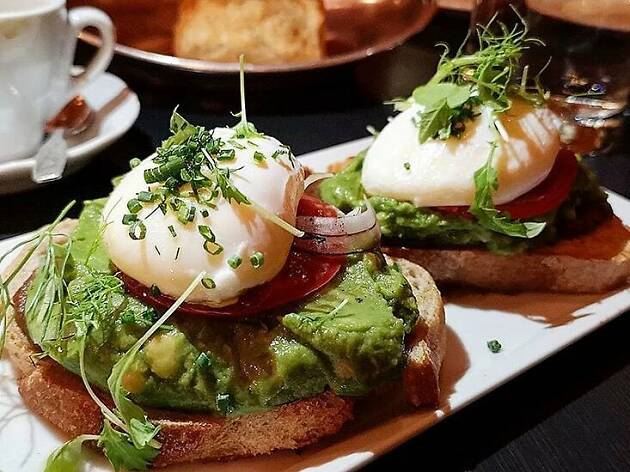 Photograph: Courtesy Bar George
The heritage building of Le Mount Stephen hotel carries itself grandly with vaulted ceilings, dangling chandeliers and plush seating. That forms a beautiful setting for a proper British brekkie and brunch, dishing out as many full English plates as they do poached eggs atop avo toasts—scones and duct fat potatoes on the side, of course. Given your surroundings, it won't be long before being tempted by luxury add-ons like a make-your-own mimosa or Aperol spritz packages either.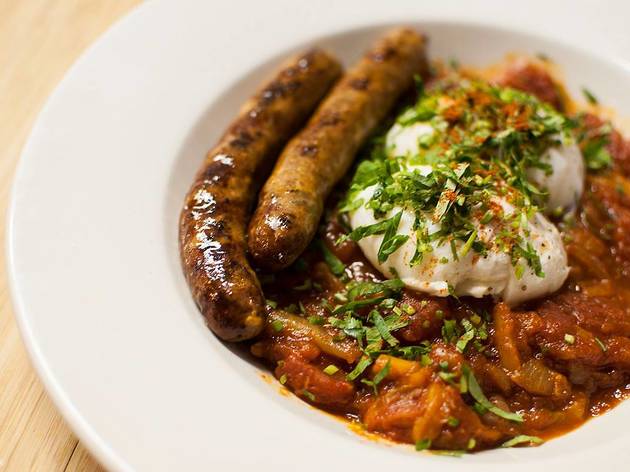 Photograph: Le Sparrow / @TheSparrowBar
Sparrow is a well-established and much-loved gathering ground in Mile End and was an early pathfinder among the small but influential contingent of British-inspired restaurants and pubs that have sprung up in Montreal in recent memory. Sparrow's interior is a lush mix of tasteful old-world design choices, including the requisite steamer trunks, old church pews, and antique light fixtures— all reminiscent of stately manor libraries lost in the British Isles. Far from being only skin deep, the brunch menu is also a decidedly English affair. And while you'll find tea and scones as well as full English breakfasts, much inspiration has been drawn from the flavours of some of England's former colonies, and you can expect shakshuka, breakfast banh-mi, and Turkish coffees as well.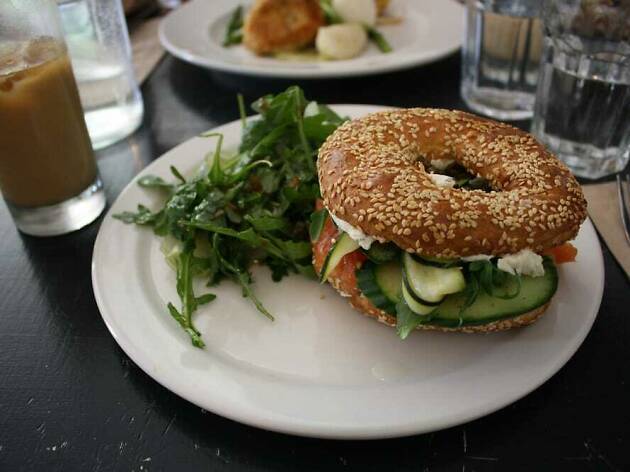 Photograph: Courtesy Yelp/Jessica M.
Aptly named, this little nook in Montreal's most artsy (read: hipster) milieu spins classic brunch fare on its head. Someone had the—ahem—brilliant idea to dangle light bulbs from the ceiling, a feat of decor that contributes all the more to its pseudo-intellectual-beatnik vibe. Buzz foods like quinoa and tofu dot the menu, but make no mistake: You'll leave as stuffed as a breakfast burrito. Cod elevates the humble Eggs Benedict while duck confit makes poutine the perfect hair of the dog.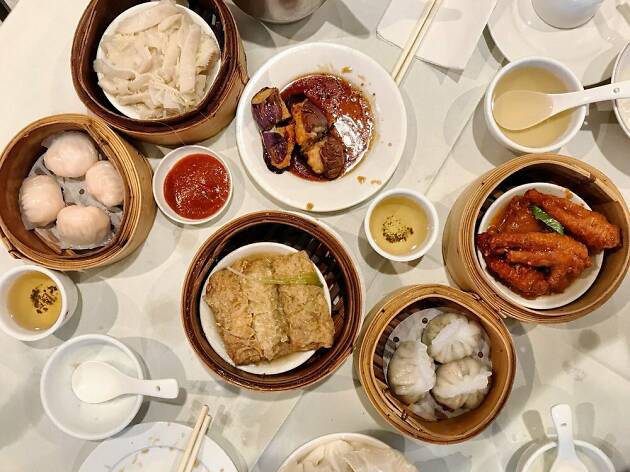 Photograph: Courtesy Yelp/Meimei Z.
There are a lot of great Chinese restaurants for dim sum in Montreal, but Kim Fung is the one doing it right. Centrally located, it serves a proper brunch service to a constant stream of hungry patrons by the cartload. As the tea flows, a choice of any of their fried or steamed goods is a sure bet, from dumplings to sticky rice, eggplant stuffed with shrimp to spring rolls. While not for everyone, we can attest to their chicken feet and beef stomach stew as well: It's all awesome.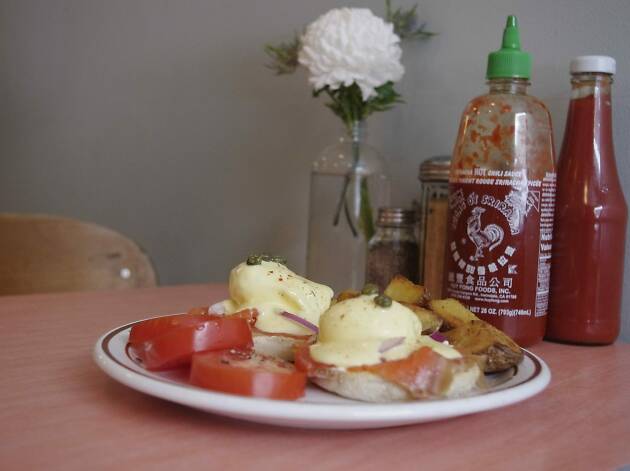 Photograph: Courtesy Le Vieux Vélo
This keep-it-simple neighbourhood restaurant puts Little Italy on the map with its two-page menu full of brunching goodness: Two-egg breakfast platters (vegan option available), French toast, burgers, cocktails and a sturdy selection of Eggs Benedict keep folks coming back throughout the week. Built to support the working class and starving artists, no one can argue with its items that never break the $15 mark.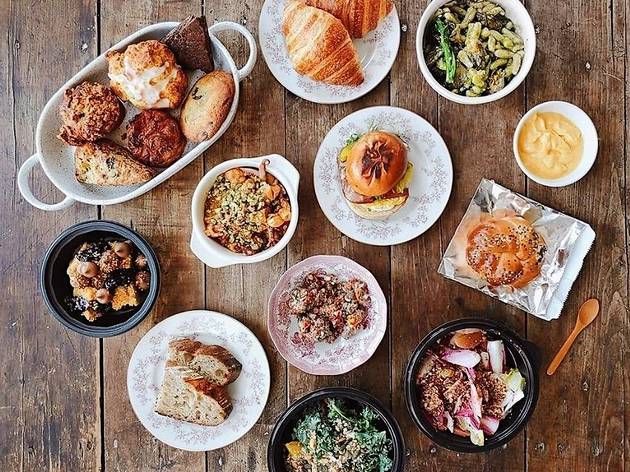 Photograph: Hélico / @lamainrebelle, @ondejeune
Hélicoptère is already well known as an approachable, small-plate format hotspot opened by former team members of the heavy-hitting, ultra-soigné French restaurant, Bouillon Bilk. And while some restaurants in the upper strata of Montreal's food scene can tend towards respectable, but otherwise uninspired brunch services, Hélicoptère devotes the same love and attention to detail to its creative brunches as it does to its evening services at their attached café Hélico. The brunch dishes there can oscillate anywhere between humble and comforting bread puddings to duck hearts with sumac and raisins, all presented as parts of intriguing multi-course tastings with an emphasis on sharing and seasonal ingredients. ALSO: One of the best breakfast sandwiches in the city.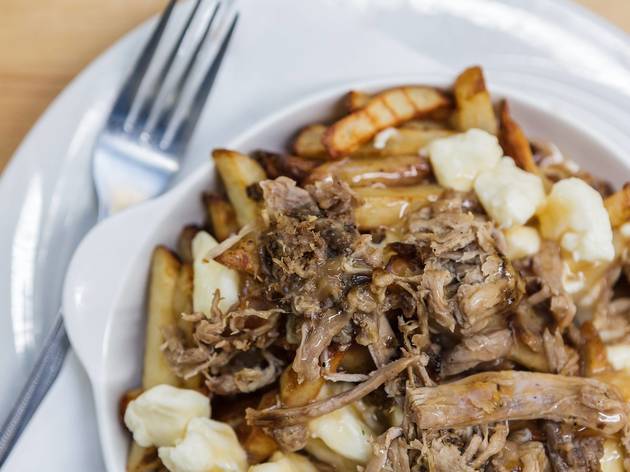 Photograph: David Leonard
When it comes to classic Quebecois-style brunch, there's really only one contender for the title of city's best: La Binerie. The original location of La Binerie on Mont-Royal Avenue began operating way back in 1938, and they've counted city mayors, famous artists, and professional hockey players among their regular clients. These illustrious patrons came back time and time again for La Binerie's classic Quebecois comfort dishes like tourtière, slow-cooked ham, and their famous fèves au lard. Although they've recently relocated to a brand new location (only a few blocks away) and they've adopted a range of new menu items, they haven't lost the charm or the flavour of the fantastic homespun dishes that first put them on the map.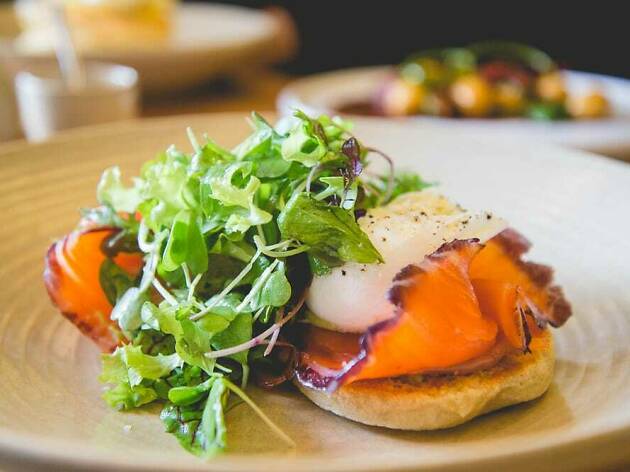 Photograph: Courtesy Yelp/Le H4C
Set in its reclaimed Saint-Henri heritage building, H4C's brunch service from chef Dany Bolduc is second only to Maison Boulud in its high-class delivery. Far from static, the kitchen serves up a lot of classics with artful tweaks and touches; doughnuts with homemade jams for example, or shiitake omelettes and tuna tartare with sea urchin. Couple that with a wine cellar full to bursting with reds, whites and rosés and you've got yourself a recipe for an impeccable brunch.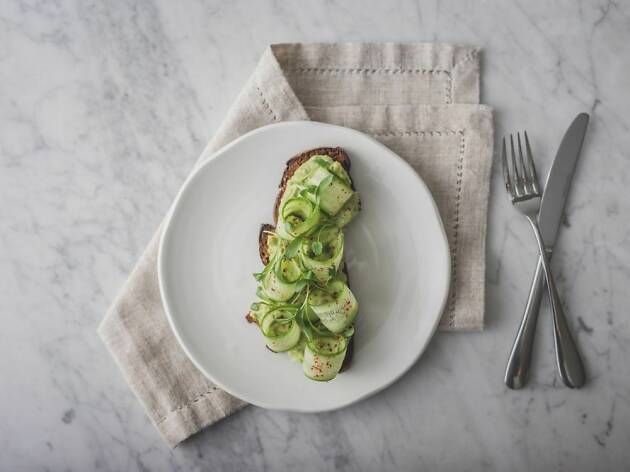 Photograph: Courtesy Yelp/LOV McGill
If the once-restaurant-now-take-out spot Crudessence made being vegan chic, chef Stéphanie Audet (who once cooked for them) made it cool. No other restaurant is like it, filled with hygge-inspired surroundings while nearly every menu item stamped as vegan and gluten-free. They do a mean dinner, and they do a great could-have-fooled-me brunch. Praise is due to their pancakes, waffles, chia bowls, and Eggs Benedicts—their optional poached organic eggs being the only non-vegan thing they've cooked to date.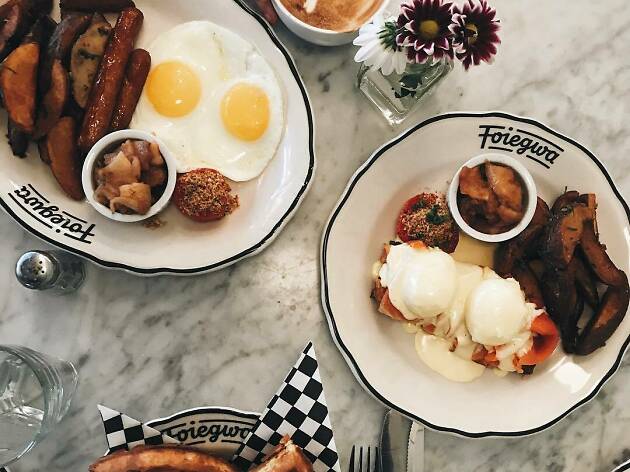 Photograph: Courtesy Foiegwa
Hats off to anyone who reappropriates an old, disused space like a cheap diner and revivifies it with an elegant touch. That's Foiegwa—having taken an old casse-croûte and given it the old tablecloths-and-crystal touch—but the brunch is still a modestly-priced affair that hits all the right spots. Imagine your favourite breakfast items infused with truffles, plus fluffy ricotta pancakes, milkshakes, Bennies and chia bowls. Oh, and you can add foie gras to anything for the princely sum of $10.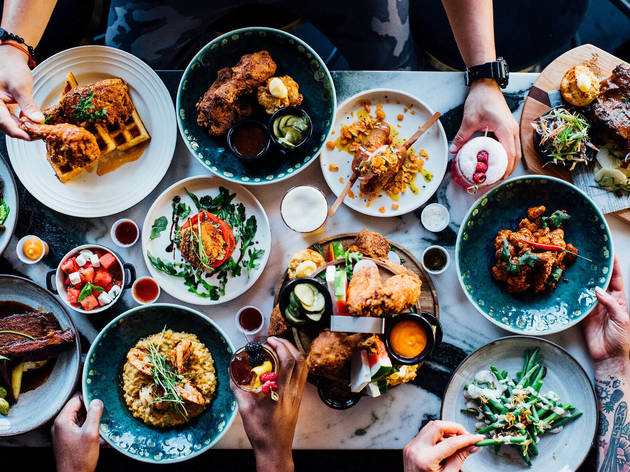 Photograph: Le Bird Bar / lebirdbar.com
Chef Kimberly Lallouz spent months experimenting with chicken-frying techniques before opening this temple to the fried bird, and the results don't disappoint: Their technique's akin to a country-fry via pressure cooking, which maintains juicy meat with a crispy skin. Even better, it forms one half of an awesome chicken and waffles dish for weekend brunch services. There's also shakshuka, breakfast burritos, Eggs Benedict and frittatas, but come on. Chicken and waffles makes for finger-licking goodness.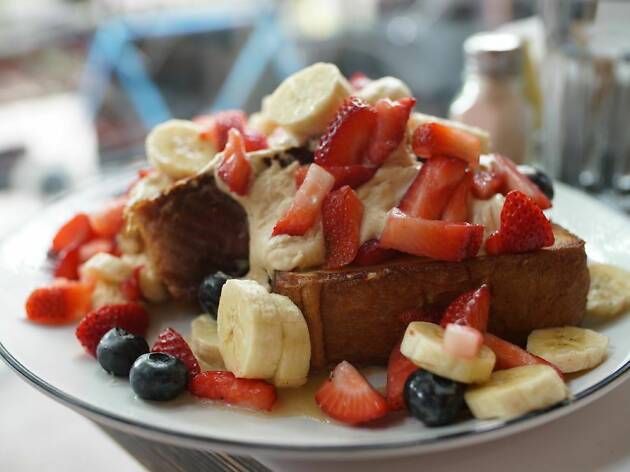 Photograph: Courtesy Yelp/Hoang T.
It boasts rock & roll/hip hop concert vibes thanks to the graffitied walls, a motorcycle dangling from the ceiling and restrooms that are straight up glow-in-the-dark-trippy. If you can bare the hour-long wait outside at one of its three locations, you'll fall in love with the invigorating atmosphere. The portions are also downright massive. Have your leftovers for both breakfast and lunch the next day, if only to savor the genius blend of pancakes and cheddar cheese one last time.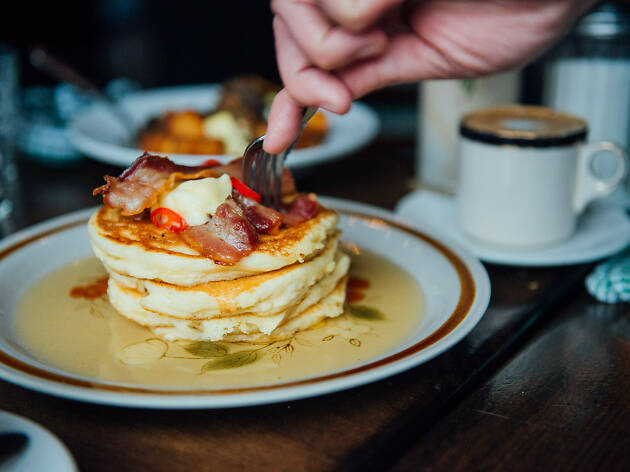 Photograph: Alison Slattery
Derek Dammann's restaurant already steals many-a show for his top quality cooking at night here and at McKiernan Luncheonette, but the brunch here's equally deserving of credit. It's not a gastropub at Maison Publique—however much it may look like one—but the brunches here are where the menu's most akin to a pub's offerings. English breakfasts for two with bone marrow, popped yokes oozing out of breakfast sandwiches and pancakes with bacon may all sound plainspoken, but a bite will immediately prove otherwise. Oh, and the booze here is great too.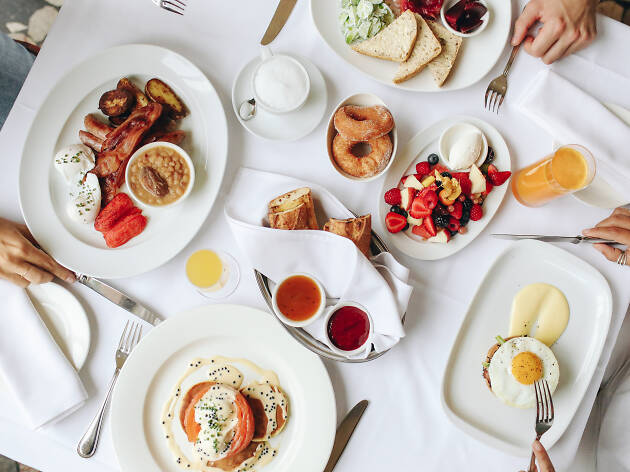 Photograph: Evelyne Pellerin
With all the cases to be made for wild takes on classic brunch dishes or healthy living options, where are all our straightforward bistros offering calming services, low volumes, and delicious eats? Leméac fulfills that need, the kind of place you can drag your hungover shell of a former self to and gestate at the menu with a wilting finger without taking off your shades. Then, the food comes, whatever hearty or sweet or sable thing your heart desired, and it's so good. Classy and classic, it's both endearingly basic while setting a high baseline with its French jouissance.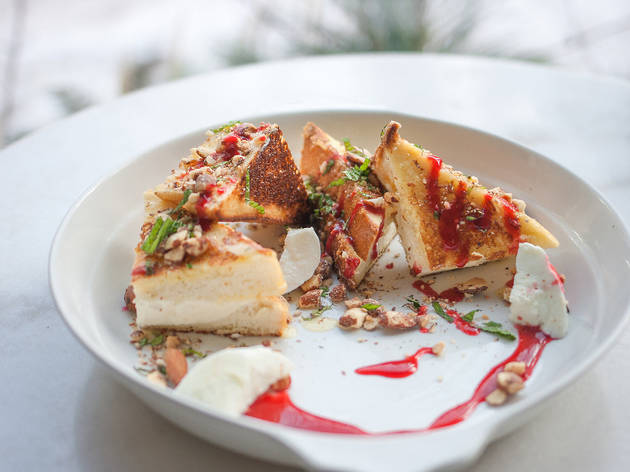 Photograph: Café Parvis / cafeparvis.com
Lying low in an easy-to-miss sidestreet in the Quartier des Spectacles, Café Parvis has long been a popular standard for fashionable office workers, and its bright, verdant dining room is often packed to the gills during the week. Come on the weekend though, and you'll be treated to the same playful Italian-ish cuisine with a focus on simple preparations and fresh ingredients that have made them so popular. Menu items include endive salads with mozzarella di bufala, pork rib and egg tacos, gravlax platters, and even a breakfast pizza with bacon bechamel and leeks.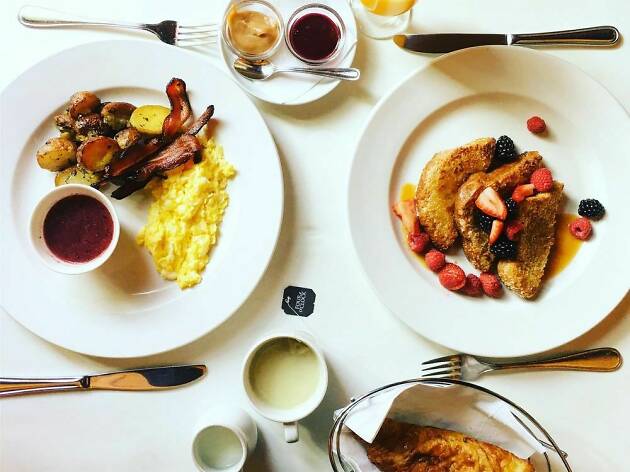 Photograph: Courtesy Yelp/Jenny M.
Brunch is sometimes suspect, an excuse for restaurants to pawn off aging inventory as new dishes. The French brasserie Holder does no such thing, delivering the same level of quality to its brunch service as it does the rest of the week. It's versatile too, with menus available as à la carte or for groups as large as 20 and up, plus an uncommon kids menu. Dine on French toast with a caramel-rum sauce, goat cheese omelets with roasted fingerlings and cheese platters to your heart's delight, washed down with a bubbling mimosa.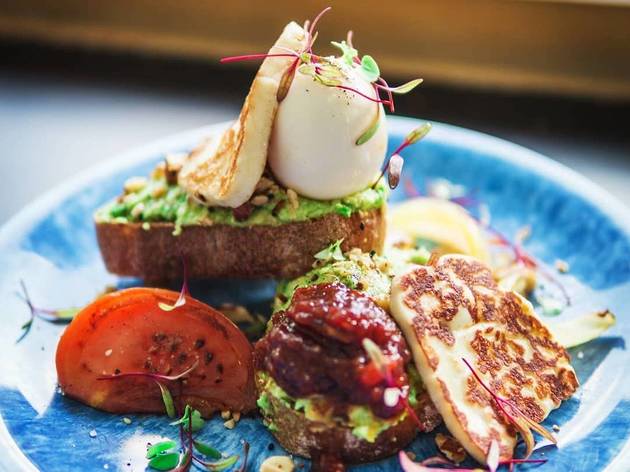 Photograph: Café Melbourne / @no_thaitle_
Part of a small but surprisingly robust cadre of Australian-inspired, Montreal restaurants, Café Melbourne has certainly cornered the market on brunch between them. Menu items include waffles, stacked salmon bagels, smashed avocado, halloumi, and soft-boiled egg platters, and a famous chipotle chicken sourdough toastie. As a bonus, all of Café Melbourne's sunny, down-under-style dishes pair perfectly with their in-house roasted coffee, just what you need to bring a little Australian outback to your weekend, even in the depths of a Montreal winter.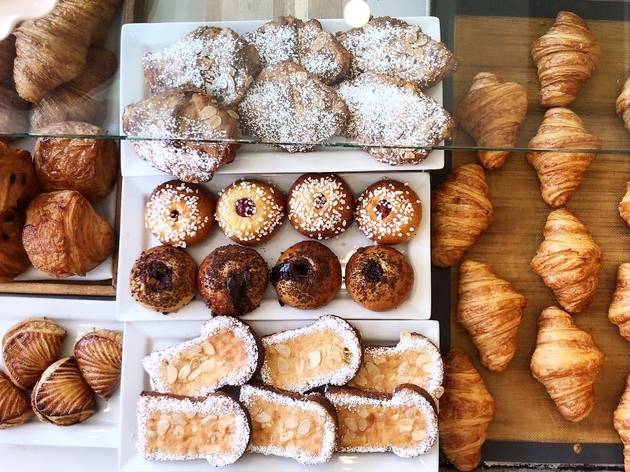 Photograph: Café Bazin / @cafebazin
While not a brunch spot in name or by definition, Bertrand Bazin's café and bistro is delivering all the necessary elements and makings of an excellent brunch restaurant. The menu here ranges from the ease of snacking on pastries—and pastries are an absolute must here—alongside hot espresso to savoury French classics like quiche and Niçoise salad. That said, options here feel like they're strictly intended for breakfast or lunch, but together? You do the math.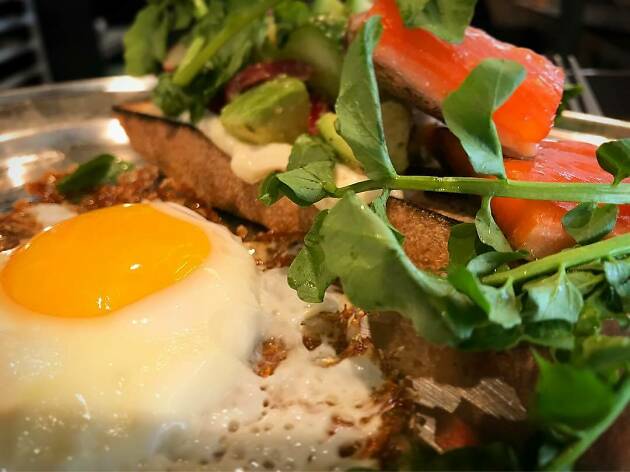 Photograph: Courtesy Hof Kelsten
Jeffrey Finkelstein is no ordinary Montreal-bred name; his bakery, inspired by the Jewish bakeries of his childhood, supplies some of the best restaurants in town with their bread while serving up seriously awesome sandwiches and pastries in house. Blink and you might miss their weekend brunch services, delivering a tiny but mightily tasty menu: Shakshuka, schnitzel, salmon croquettes, smoked fish specials, vegan platters, French toast. That's it, and that's all it needs.
More of the best early bird-style eats in the city
Blood(y Mary) is thicker than water when you're getting friends together and enjoying the best boozy brunch in Montreal.
Whether it's starting days off right or repairing last night's damage, go to the best breakfast restaurants in Montreal.
You'll find the glorious greasy spoons, luscious luncheonettes and casse-croûte champions among the best diners in Montreal.