Here's how to get cannabis delivery in Montreal
Stay glued to your couch and go with cannabis delivery in Montreal, with goods delivered straight to your doorstep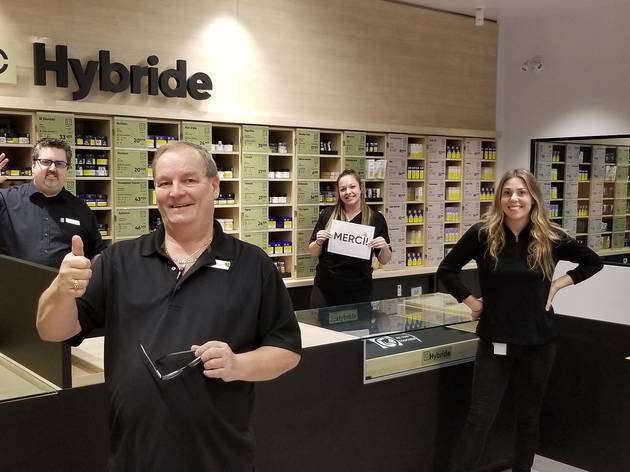 Cannabis delivery in Montreal just makes things so easy. Whether you're the type of person who needs a crowbar to pry themselves off the couch or you're just too busy in your day-to-say to make the skip, hop and jump over to a Montreal dispensary, the SQDC's delivery system for cannabis is the greatest thing since sliced bread to get your hands on marijuana in Montreal. Thankfully, the whole system's pretty straightforward and requires the minimal effort with access to the internet, a credit card to process orders and some patience being the key factors at play here.
RECOMMENDED: Full guide to the best things to do at home in Montreal
How do I get cannabis delivery in Montreal?
The whole process is pretty simple stuff: Provided you have a Quebec address, anyone in the province of the age of 21 can order cannabis and cannabis products through the SQDC website. Create a profile by filling out all the required information or use the site as a guest, be able to pay (Visa/Mastercard/American Express/Visa Debit/Debit Mastercard/pre-paid credit card) and be ready to receive it at your door—post-purchase, you'll be given a tracking number to keep an eye on when it should arrive, and if you can't be there to receive the package, have someone 21 or older to sign for it. Orders made through the SQDC's website generally take one to three business days (no deliveries on weekends or statutory holidays).
How do I get cannabis delivery in Montreal?
In order to get some greenery delivered to your door, you'll need to cough up an extra $5 per order. This is a flat fee that applies no matter the amount you're getting, so it's best to use this opportunity to stock up, rather than buying something small that would be better picked up while you're out and about and able to go to a Montreal dispensary yourself in person.
How much cannabis can I order?
If you're thinking you can order up a couple pounds of kush to tide you over for a few months, think again. The law stipulates that you can only order up to 30 grams of cannabis products in one go. You could follow up the next day by making another order, but be warned that this restriction is based on how you can only be carrying 30 grams on your person at a time legally.
What kinds of

cannabis can I order for delivery in Montreal?

Hold onto your bongs: The online site gives you access to the complete catalogue of products that the SQDC has at any given moment. This means that while some products might be out of stock when you visit, a later visit will likely give you access (assuming the provider is able to, well, provide). This means all manner of rolled joints, dried buds, teas, sodas, cooking oils, hash, capsules, oils and so forth.
Where can I get cannabis delivery sent to?
So long as you live within the province of Quebec, you can get cannabis delivery right up to your door.
Where if I don't like what I got?
Refunds aren't possible, but returns for exchanges might apply! You need to take into account that this isn't about whether or not you 'like' what you bought—the SQDC takes a buyer-beware approach on that front—but if your product has something like the wrong order is sent to you, there's mould on your buds or the packaging is damaged upon delivery, you'll have upwards of 14 days to bring it to a physical SQDC location for the exchange. For all of the complete details, consult the SQDC's Returns and Exchanges Policy page.
Your complete guide to marijuana in Montreal
You're ganja have a good time with this guide to marijuana in Montreal, plus tips on cannabis laws specific to Quebec.
Montreal dispensaries of the Société québécoise du cannabis, where you can buy non-medical cannabis to smoke responsibly.
Whatever you're craving—greasy, cheesy, super spicy, fresh or sweet—here's where to fulfill your munchies in Montreal.