The 22 best things to do in Montreal
The best things to do in Montreal will astound you: from Olympic Park to the old city and, yes, a whole lot of bagels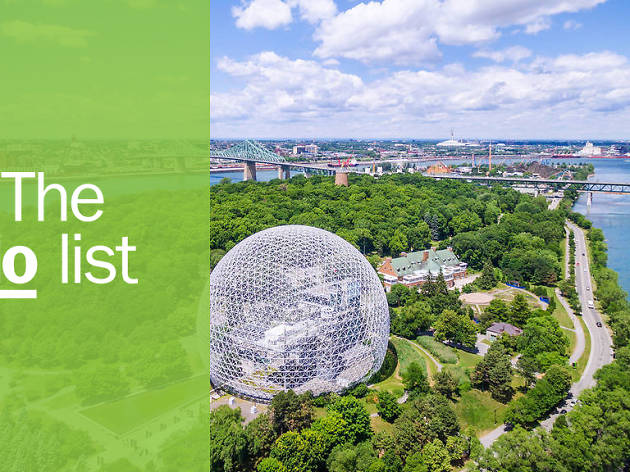 No matter the season, there's never a shortage of things to do in Montreal, especially when they involve top-notch restaurants and super-fun nightlife activities. Although smaller than New York and San Francisco, Montreal certainly ranks as a top destination for all sorts of travelers. From women's only derby games to historical attractions, neighborhood tours and, of course, a whole lot of bagel-related brunch action. Here are the very best things to do in Montreal.
Done something on this list and loved it? Share it with the hashtag #TimeOutDoList and tag @TimeOutEverywhere.
Find out more about how Time Out selects the very best things to do all over the world.
Best things to do in Montreal
1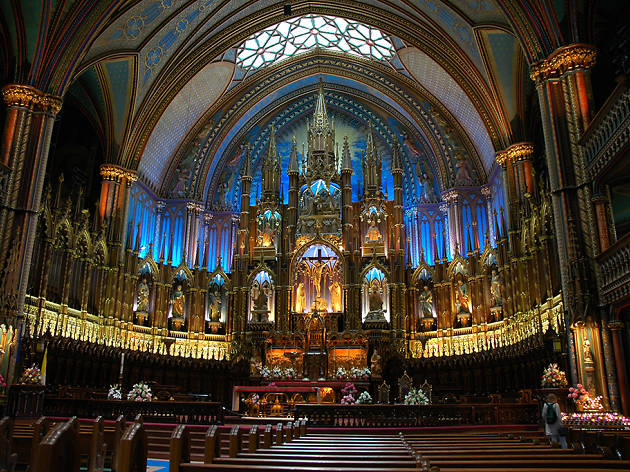 Photograph: Courtesy CC/Flickr/Moiggi Interactive
What is it: In the heart of Old Montreal, the first Gothic revival church in Canada stands as a grandiose testament to the city's religious heritage. Dating back to 1824, the historic monument boasts an imposing Casavant organ with upwards of 7,000 pipes and the Gros Bourdon, the largest bell in North America.
Why go: Bathed in blues and stained glass, the basilica's richly ornamented edifices are crowned by the nave's high-vaulted azure ceilings, dotted in a canopy of gold stars. Tickets for a light show and organ performance are also available, but a visit for the architecture alone would suffice.
2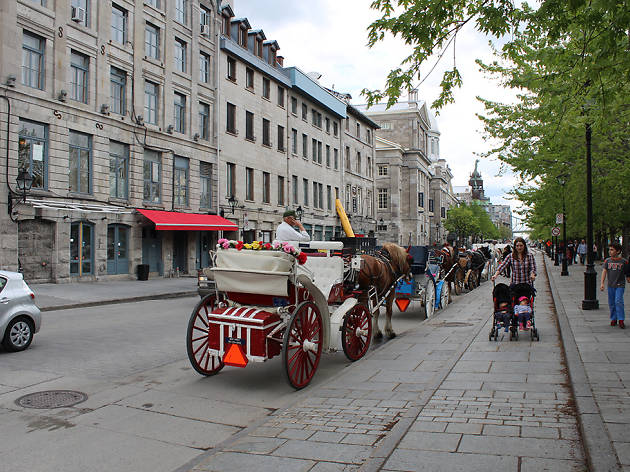 Photograph: Courtesy CC/Flickr/ShinyaSuzuki
What is it: European in feel, Old Montreal's narrow cobblestoned streets and old-world edifices harken back to as early as the 17th century, when the first settlers arrived. A quick promenade to the Old Port's riverside boardwalks offers stunning views of the Clock Tower and Jacques Cartier Bridge.
Why go: Still bustling, the old city center is filled with landmarks like Bonsecours Market, Aldred Building and City Hall. Art galleries and trendy eateries like Crew Collective & Café, Olive & Gourmando and Barroco bring modern prestige to historical buildings in novel and savory ways.
3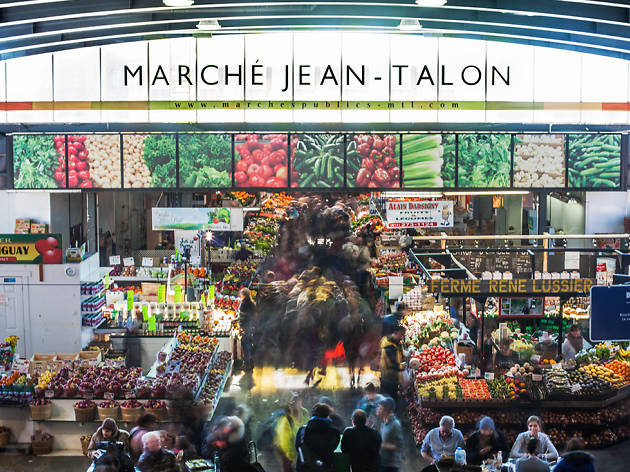 Photograph: Courtesy CC/Flickr/Shena Tschofen
What is it: A fixture in Little Italy since 1933, this open-air public market is one of the oldest and largest of its kind in North America. Flower, fruit and vegetable stands showcase the best of the local harvest alongside specialty vendors of cheese, charcuterie, pastries and other artisanal products.
Why go: Fresh Quebecoise produce may be the market's main draw but temptations from surrounding eateries such as Le Petit Alep, Café Saint-Henri MJT and El Rey Del Taco are also worth a gander.
4
Photograph: Courtesy Yelp/Robert G.
What is it: Constructed especially for the 1976 Olympic games, the Olympic Stadium's 45-degree angled tower is still the tallest inclined tower in the world and is definitely worth a trip. Make your way to the top for spectacular westward views of the city that you won't find anywhere else. Next door, the Biodôme (which is set to reopen at the end of summer 2019) recreates natural North American ecosystems, including the Sub-Antarctic Islands habitat made famous by its playful penguins.
Why go: First off, every Sunday, the esplanade in front of the stadium lights up with Fiesta Olympica, a free-entry Latin-themed dance and food festival. But there's more: on the first Friday of every month, 50 food trucks congregate in the same area, creating an impromptu outdoor food court of the city's best meals on wheels. It's delicious.
5
Photograph: Courtesy Yelp/Andi S.
What is it: Schwartz's is to Montreal what Katz's is to New York City (dare we say it). Once partly owned by Canada's biggest export – Celine Dion – and still in the same premises it was when it opened in 1928, this Hebrew deli is as much a landmark as it is a lunch spot.
Why go: If our recommendation isn't enough to persuade you of its brilliance, then the daily queues around the corner ought to. If you're not sure what to pick, plump for a smoked-meat sandwich for the true Montreal experience, with a side of fries, a pickle and a cherry soda.
6
Photograph: Courtesy Yelp/Stacie S.
Brasserie Artisanale Dieu Du Ciel!
What is it: Both literally and figuratively at the center of the city's crowded craft beer scene, this Mile End-based brewpub keeps over 15 beers on tap, ranging from experimental oak-aged sour beer to hoppy new wave IPAs and a maple-infused scotch ale.
Why go: The Aphrodisiaque, a dark and velvety cocoa and vanilla stout, ranks as one of the best beers in the world and is made on site in the in-house brewery.
7
Photograph: Courtesy Yelp/Cyndy K.
What is it: You know what makes a bagel from Montreal a "Montreal Bagel"? A wood-fired oven and some sweet, sweet honey. When it comes to finding them in the city, there are two go-to places: Fairmount and St-Viateur Bagel. These are highly popular with the locals (always a good sign) and are only a block apart, so you can always visit both if you're feeling particularly peckish.
Why go: If you've never had one, you're in for a treat. Compared to a New York bagel, Montreal's doughy delights are softeer, sweeter and denser. In terms of fillings: don't detract from the bagel too much. Opt for a classic cream cheese in a seeded bagel.
8
Photograph: Courtesy Yelp/Julien F.
What is it: Docked at Atwater Quay, just behind the similarly named market, this Bateau Mouche turned floating bar is a fun summertime watering hole. Dubbed Canal Lounge, the spot's menu focuses on classic cocktails and reasonably priced tap beers.
Why go: Montreal may be on an island, but restaurants and bars of the floating variety are few and far between. Plus, the Canal Lounge's rooftop deck offers waterside views that can't be beat.
9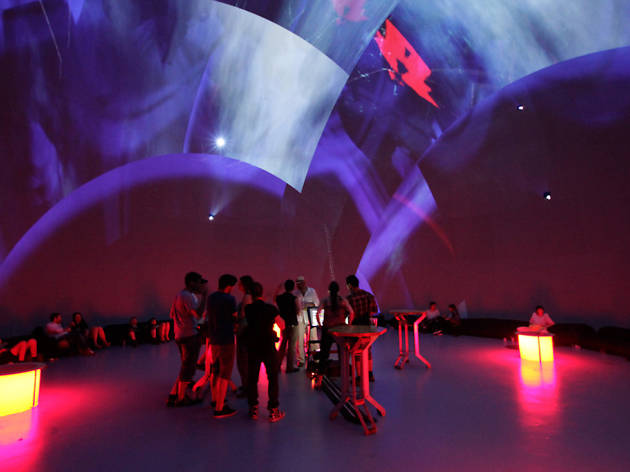 Photograph: Courtesy CC/Flickr/Cecile et Pierre Chandrion
What is it: Atop the Society for Arts and Technology's (SAT) location on St. Laurent sits the Satosphere, the first modular and immersive theater of its kind. More than 150 speakers and eight video projectors are used to bring digital installations to life in the futuristic 42-foot-tall dome.
Why go: A little-known secret of the SAT is that it's home to one of the Latin Quarter's best rooftop patios. Outside on the third-floor terrace, the silver Satosphere becomes the backdrop for inventive cocktails and seasonal menu options from Labo Culinaire.
10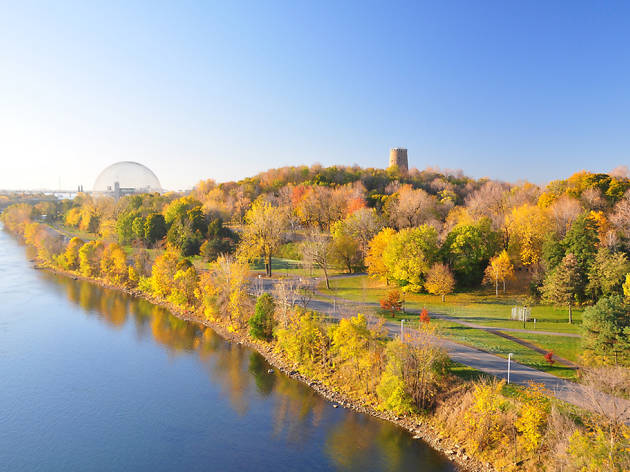 Photograph: Courtesy CC/Flickr/abdallahh
What is it: Easily accessible by subway, car, bike or river shuttle, Parc Jean Drapeau is spread across two islands in the St. Lawrence River southeast of Montreal. With open green spaces, the park offers an outdoorsy escape from the city and hosts big events like Osheaga, Piknic Electronik and the International Fireworks Competition.
Why go: For those into sports and recreation, there's no shortage of things to do on the island, from hiking and kayaking to visiting the beach or the aquatic complex. When the Circuit Gilles-Villeneuve isn't being used for the Grand Prix, cyclists and rollerbladers are welcome to run laps. If you're more into entertainment, visit the casino or the La Ronde amusement park.
11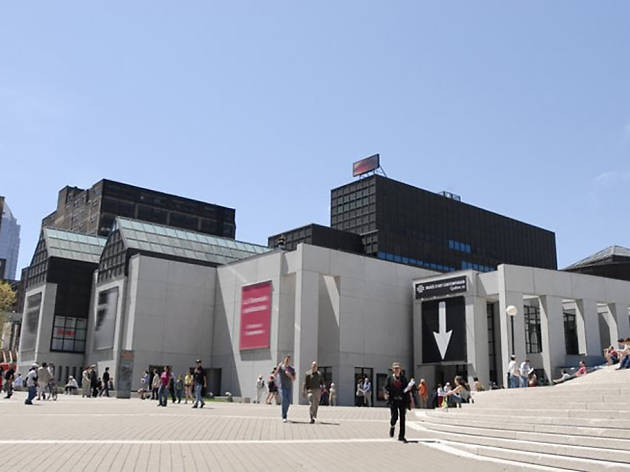 Photograph: Courtesy Yelp/Musée d'Art Contemporain
What is it: Within the Place des Arts complex of the Quartier des Spectacles is the MAC, Canada's largest museum dedicated to contemporary art. Already architecturally ambitious, the museum—which houses almost 8,000 art pieces—is set to undergo a massive glass-covered makeover next year.
Why go: Before the MAC closes in January 2019 and establishes temporary headquarters elsewhere, make sure to see one of the museum's most well-known pieces, La Voie lactée by Geneviève Cadieux. Installed on the roof of the museum, the looming photo of a woman's sensuous lips has been a part of the city's skyline since 1992.
12
Saint Laurent Street Art Crawl
What is it: June in Montreal means one thing: art crawl season. For ten days the Mural Festival takes over The Main with an explosion of color thanks to local and international artists.
Why go: Throughout the festival visitors can enjoy guided art tours, exhibitions and block parties. Plus, the Grill Saint Laurent food festival runs during the same time, so you can delight your tastebuds with some innovative and excellent street food.
13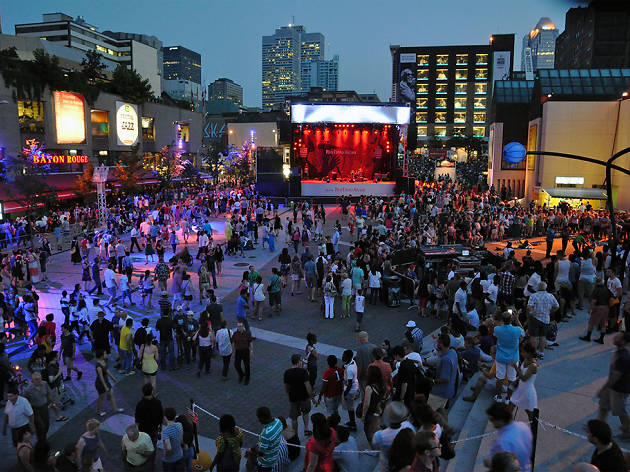 Photograph: Courtesy CC/Flickr/Caribb
Montreal International Jazz Festival
What is it: Each summer, the world's largest jazz festival kicks into full swing in the Quartier des Spectacles neighborhood, with free and ticketed concerts in outdoor and indoor venues.
Why go: Don't worry if jazz isn't your jam. Organizers have been known to book an eclectic array of headliners, which over the years has included the likes of Lauryn Hill, Bob Dylan and Brian Wilson of The Beach Boys.
14
Photograph: Courtesy Yelp/Julien F.
Village au Pied-du-Courant
What is it: This reclaimed public space on the edge of the St. Lawrence River in Hochelaga-Maisonneuve has been reimagined as a beachy art commune. Installations merge with playgrounds, pavilions, gardens and games in the eclectic open market.
Why go: On a warm summer night, with the iconic Jacques Cartier bridge in the background, the village's beer garden is an ideal spot to catch live music and Montreal's annual International Fireworks Competition.
15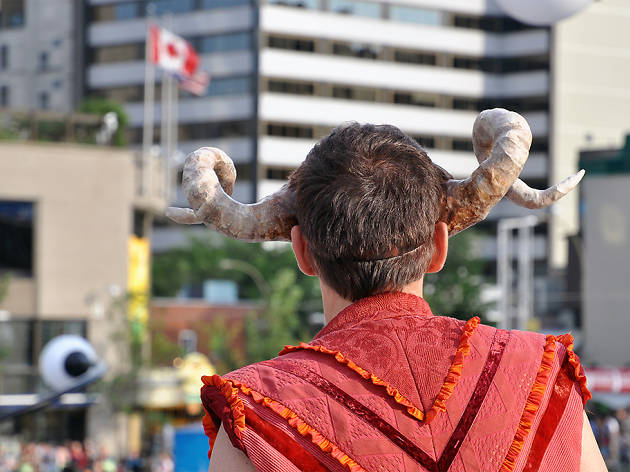 Photograph: Courtesy CC/Flickr/Caribb
What is it: If you have even the tiniest interest in comedy, you'll likely know the weird-ass little green monster Victor. He's been representing Just For Laughs, the largest international comedy festival in the world, since its inception in 1983. Every year for four days in July laughter and japery take over Montreal's best clubs and theaters.
Why go: If you want to catch the big guns before they reach the stars, this is the place to do it. The likes of Rowan Atkinson, Drew Carey and Flight of the Conchords all came through JFL fest. Either get an express pass and hit-up as many shows as you can, or take advantage of all the freebies (of which there are plenty).
16
Photograph: Courtesy Yelp/Satyanas X.
What is it: Weather permitting (and sometimes not), summertime Sundays are spent in Mount Royal and Jeanne-Mance park under the watch of the Sir George-Étienne Cartier monument. Slackliners, circus performers, larpers and casual picnickers gather in droves on the mountainside, with the Tam-Tam drum circle and dancers pounding out a rhythmic soundtrack.
Why go: Hippies and hipsters come together at this free and freewheeling weekly festival. Although there's a light police presence, authorities tend to have a laissez faire attitude toward drinking and recreational drug use during Tam-Tams.
17
Photograph: Courtesy Yelp/Magdalena L.
What is it: While situated in a restored heritage building in the heart of Old Montreal, this multipurpose art venue favors the avant-garde with exhibitions, film screenings, concerts and special talks. A permanent Virtual Reality Garden installation is a premier destination for artists working in the immersive format.
Why go: The centre's curators and programmers have a knack for booking up-and-coming artists and also surprisingly big stars. Musicians like Madonna and Diplo have made special appearances at the intimate venue, and local filmmakers Denis Villeneuve and Xavier Dolan have held special screenings and events here as well.
18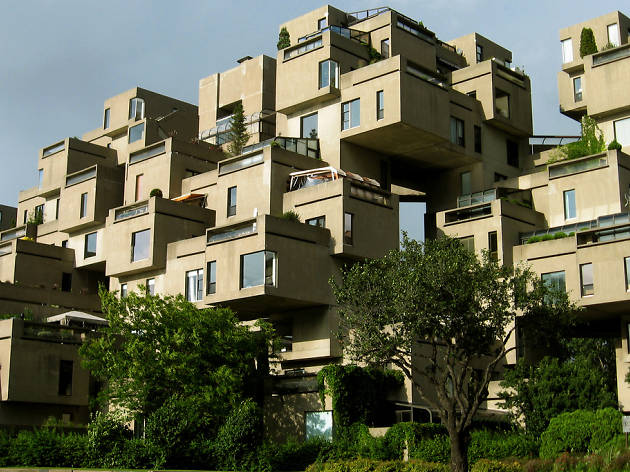 Photograph: Courtesy CC/Flickr/Etienne Coutu
What is it: A brutalist beauty to some and an eccentric eyesore to others. This concrete Jenga, designed by Israeli-Canadian architect Moshe Safdie and built in 1967 as part of the World Fair, showcases a way of modernist living that Safdie invisioned for ever expanding urban environments around the world. While the Habitat 67's style may not have caught on, the complex holds a place in the hearts of (most) Montrealers.
Why go: It's about 30-minutes walk from the Biosphere and Bota Bota spa. Plus, if you're partial to a spot of water sports, you can surf the two-meter waves or tackle the tamer Lachine bunny rapids.
19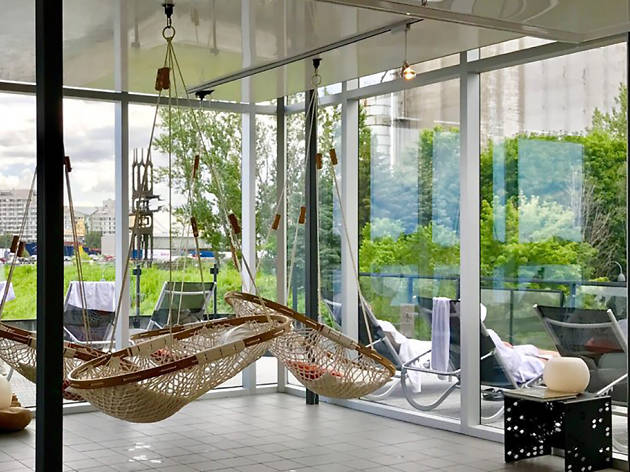 Photograph: Courtesy Yelp/Wil S.
What is it: Head down to the Old Port for a floating spa experience on a modern ferryboat. The Nordic water circuit stimulates and relaxes as you move from dry sauna or steam bath to cold dip, finishing in the whirlpool on the middle deck, which boasts impressive views of Old Montreal.
Why go: Thanks to a partnership with two local cinemas, a selection of Cannes Film Festival movies will be screened for patrons at dusk from an inflatable waterproof screen.
20
Photograph: Courtesy Yelp/Amy S.
What is it: Every summer, the busiest thoroughfare in the Gay Village is transformed into a festive, pedestrian-only walkway. Running along Saint-Catherine from rue Berri to rue Papineau, 70 special art installations and more than 50 terraces are dotted along the stretch—creating a stunning visual.
Why go: More than 180,000 balls float over the street, forming an 18-colour rainbow. Designed by Claude Cormier, the multicolored ball canopy is picture perfect from below or above. To get an overhead view, find the bridge near the TVA building or visit one of the village's rooftop terraces.
21
Photograph: Courtesy CC/Flickr/madisynaliya
What is it: Each time January rolls around, thousands of toque and mitten-clad electronic-revellers descend upon Jacques-Cartier Quay in Old Montreal for the coldest outdoor music festival in the world.
Why go: Despite its frigid temperatures, the winter dance party is one of the hottest electronic music events of the year. People fly in from across the globe to dance under a wintry sky to cold beats spun by some of the world's best EDM DJs.
22
What is it: Grab tickets to see one of Montreal's rough-and-rowdy women's roller derby team's home games. Founded in 2006 as the first flat-track league in North America, the organization now includes five fiercely competitive teams.
Why go: Montreal's Roller Derby League ranks as one of the best in the Women's Flat Track Derby Association. And while it's not every day that you get to see women crushing it in a rink, these gals also know how to seriously dominate puns. Names like Bomb Jovi, VelvetOnTheGround, Miracle Whips and Banger Management pack an extra punch into the hard-hitting affair.
Find the hottest reservations in town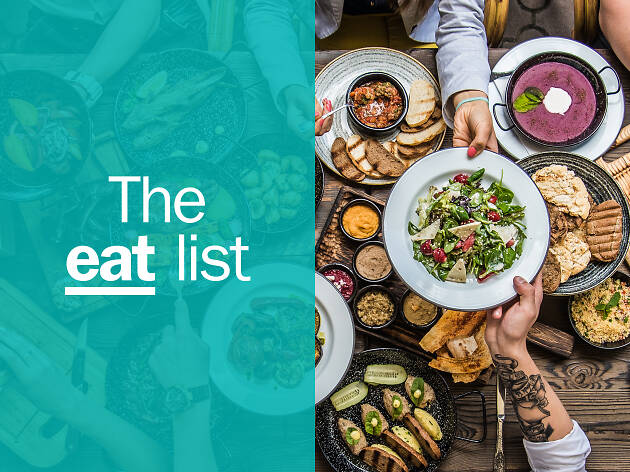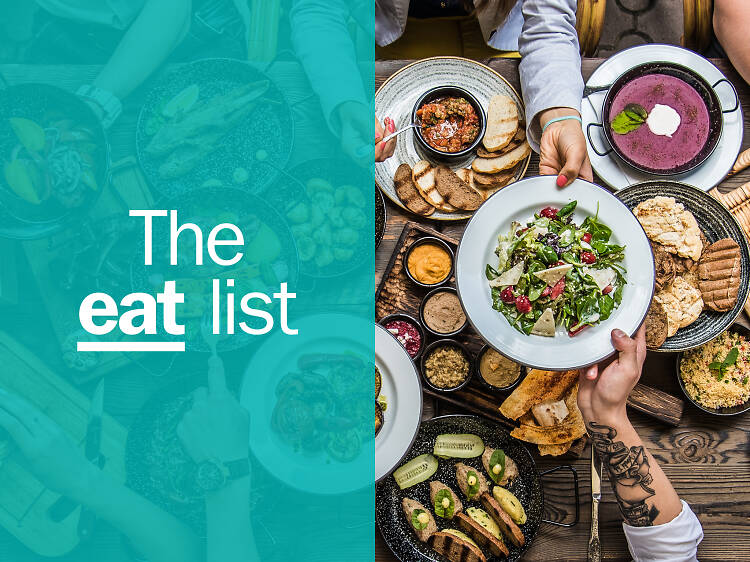 From inventive brunch dishes to celebrity chefs helming both traditional and daring menus and a revamping of all sorts of worldly cuisines and flavors, the best restaurants in Montreal will turn any eater into a serious foodie.