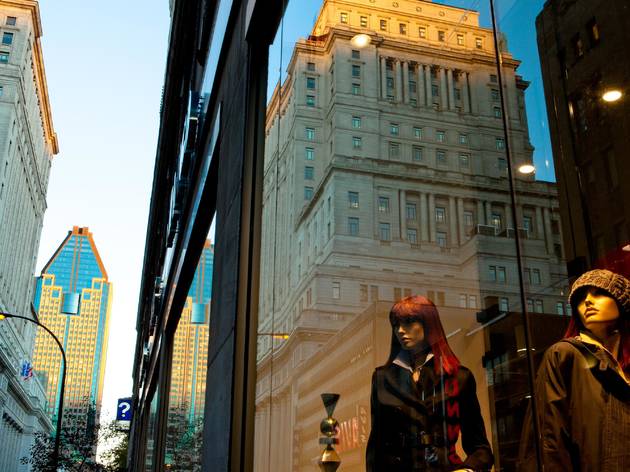 Here's when stores will reopen in Montreal, and what will shopping be like
Stores are slowly beginning to reopen in Montreal on May 25, but what will the new shopping experience be like?
UPDATE: The mayor of Montreal announced in a press conference on May 21 that the amount of inspectors will be increased to ensure that recommendations by the government concerning public health will be followed. Face masks in Montreal are currently encouraged, and if disposable ones are used, they should be disposed of properly; don't litter!
In a press conference on May 18, premier François Legault announced that stores will reopen in Montreal on Monday, May 25. While this may come as good news to businesses in the city that have been forced to close for the last two months, it will be a slow and gradual process which can only continue if the outbreak numbers stay in check for the city and province as a whole.
These openings are restricted to stores which have curbside entrances. It's good news for retailers who have been faced with either laying off or furloughing their employees throughout the enforced lockdown.
Shoppers in the city can expect new measures that are reflective of what's been in place at businesses that were deemed essential since March 14, with workers wearing PPE, hand sanitizer at the front door, contactless payment, and restricting the amount of customers that can be in a store at one time.
Furhter to that, the Retail Council of Canada released a set of recommendations and advisories in a release yesterday, detailing what retailers both large and small can do to plan their reopening. "Reopening the retail sector and revitalizing our economy will require new strategies, new rules and new skills," said Diane J. Brisebois, President and CEO of the RCC, in the release.
It's called the Road to Retail Recovery Playbook and it collects together anything a shopper might consider, from the more obvious precautions such as customer screening, social distancing rules, payment methods and store cleanliness to the more nuanced processes of employee screening and how to approach a confirmed case.
Shoppers visiting small retailers might find it a little less hectic to visit and shop as the experience is reflective of what they've found at SAQs, pharmacies and grocery stores. The story is a little different, however, for large reatilers that have multiple floors to manage.
Recently, the retail giant in downtown Montreal Holt Renfrew Ogilvy released its plans on how it will be opening its doors. Customers can expect a lot of pre-opening deep cleaning, gloves and masks to be made available for anyone who asks for them, area of high contact like PIN pads on Interac machines will be santized after every use and cash won't be accepted, among more precautions.
Meanwhile, personalized experiences like the valet services and the café will be closed (so no takeout), appointments will be encouraged, return policies will be extended, "touchless consultations and select sampling" will replace makeup try-ons, and there will be curbside pickup for orders online.
The news of stores reopening in Montreal is welcome, but areas that can accommodate and are built around large gatherings like shopping malls, gyms, cinemas and performance venues in Montreal continue to be closed until further notice.