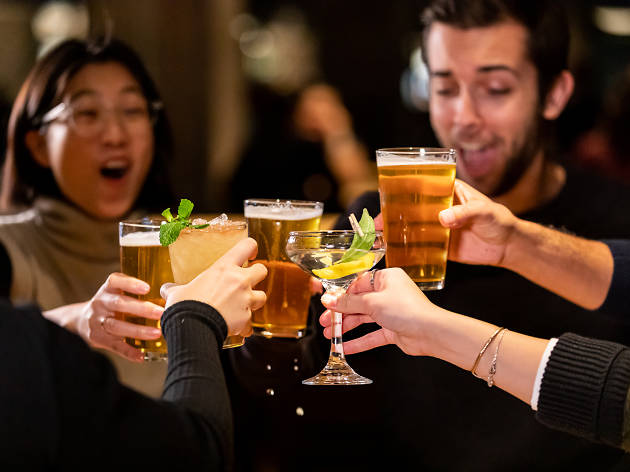 13 reasons to grab your next drink at the Time Out Market Montréal's Bars
After you check out the selection of drinks at Time Out Market Montréal, your 5 à 7s and weekend will never be the same
You won't just eat well at Time Out Market Montréal—you'll drink well, too. The bar section of this cultural and culinary hotspot in the heart of Downtown Montréal features three top-notch, single-focused bars that are full of good reasons to drop by and quench your thirst. Here, you'll find all the details on the market's Beer Bar, Wine Bar and Time Out Bar, the last of which features cocktail recipes from a selection of the best bars in Montreal that has been especially curated by our editors. Here's a taste of what's on offer to help you start planning that next 5 à 7 or weekend outing.

RECOMMENDED: Full guide to Time Out Market Montréal
Grab your next drink at the Time Out Market Montréal's Bars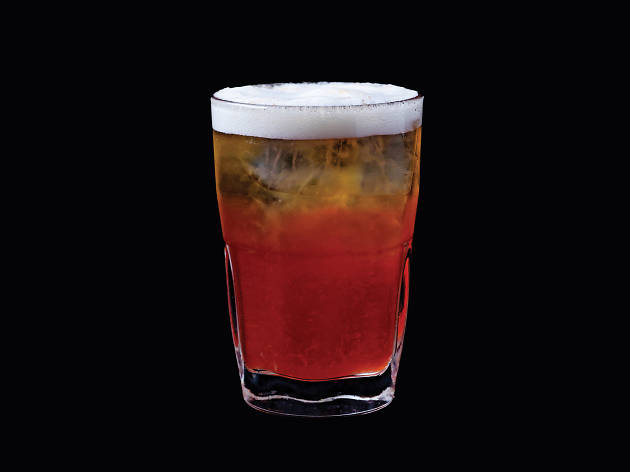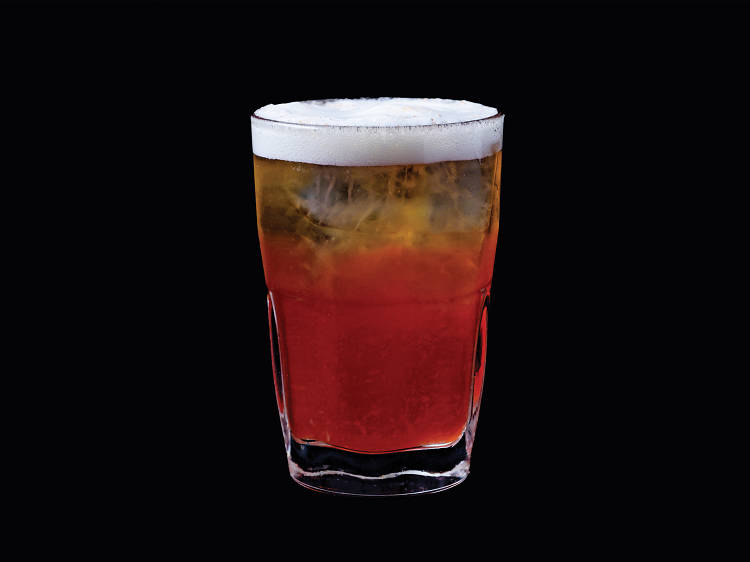 Photograph: Logan Mackay
1. La Nostalgie by Le Coldroom
This cocktail hits all the right notes. The skilled speakeasy Le Coldroom's contribution to the market features vodka as its base, which is then punctuated with rhubarb liqueur, raspberry syrup and squeezed lemon. Just before the bartender slides it over to you, the mixture is crowned with a hoppy kombucha foam and a dusting of nutmeg.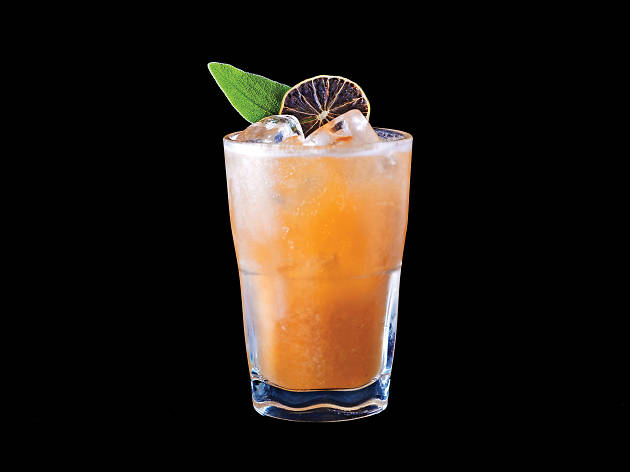 Photograph: Logan Mackay
2. Isla Mujeres by Le Royal
Quench your thirst 10 times over with this concoction from Le Royal. Tequila and a citrusy Québécois apéritif is mixed with guava nectar, tamarind, citrus syrup and a bubbly splash of soda. Calling it fruity is a serious understatement, as a slapped garnish of sage tops off an amazing bouquet of aromas as you sip away.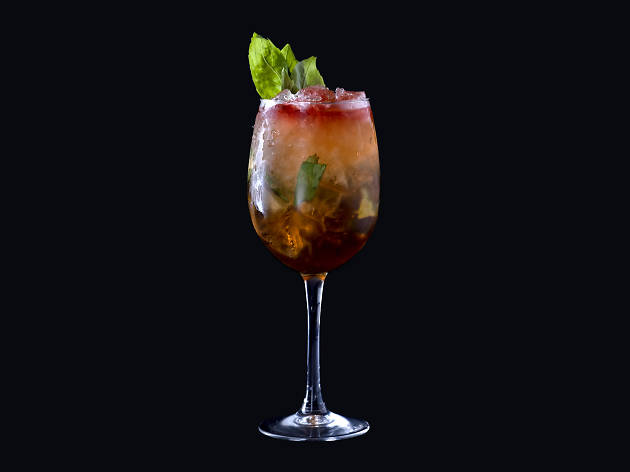 Photograph: Logan Mackay
3. Spritz Glacé by Le 132 Bar Vintage
Aperol Spritzes were so last year, so we'll welcome anyone who can take that classic and kick it up a notch. Enter this new take from the star player Le 132 Bar Vintage, where a base of Québécois and wine-based apéritifs are mixed with bubbly before it's covered in crushed ice, garnished with fresh Thai basil and given a touch of bitters for an extra herbaceous kick.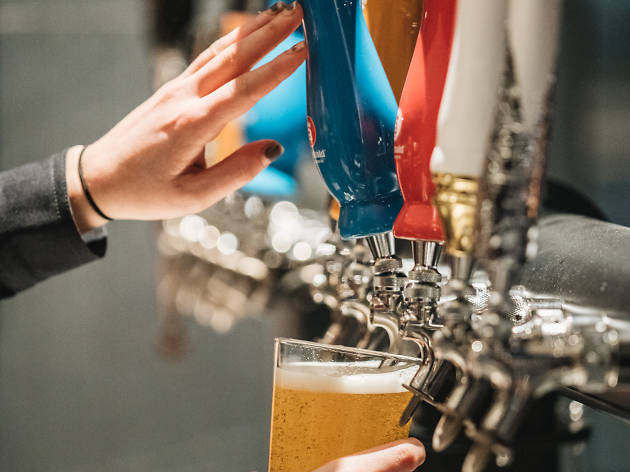 Photograph: JF Galipeau
4. Grab some brews at the Beer Bar
It ain't all about cocktails at Time Out Market. As much as we love mixology, sometimes nothing can beat a glass of beer, and that's why we've put together a range of Québécois microbreweries—plus a couple of fancy imports—for you to knock back. We're pulling pints and offering flights from Dieu du Ciel!, Microbrasserie de Charlevoix, Pit Caribou and Archibald alongside bottles from places like Le Castor and Le Bockale. If you're not sure what you want, just ask the bartender for a taste.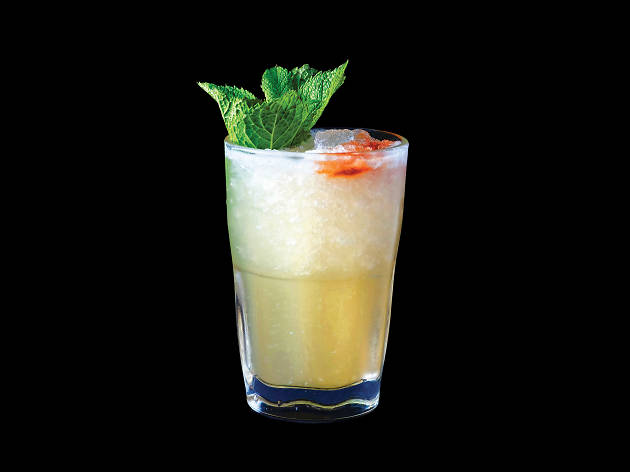 Photograph: Logan Mackay
5. MN Mai Tai from Le Mal Nécessaire
Summer never ends with this recipe from the tiki-style cocktail champions of Chinatown. A playful take on the classic cocktail, the MN Mai Tai is comprised of light and dark rum, falernum syrup, lemon and pineapple juices, a splash of bitters and topped with crushed ice and a mint garnish. As it goes with all tiki drinks, this one goes down easy, so be sure to pace yourselves between finishing this one and ordering the next.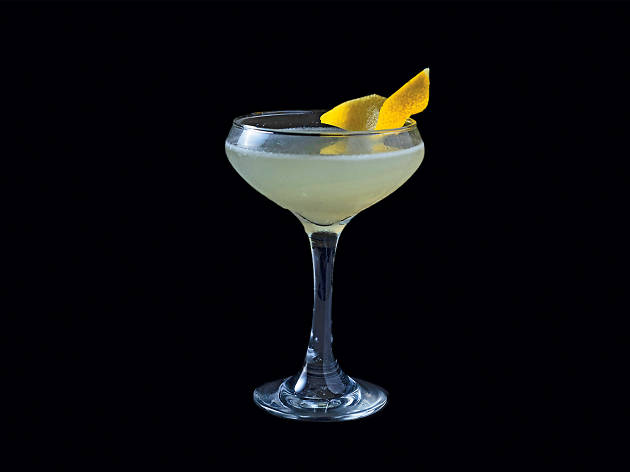 Photograph: Logan Mackay
6. Yuzu No Hana by Gokudo
Leave it to the bartending masters of the Japanese yakuza-themed bar in Downtown Montreal to concoct a drink that hits just about every taste bud. Mezcal and elderflower liqueur get shaken up with jalapeño slices, lemon juice and yuzu syrup to create a revitalizing all-in-one drink that's served in a chilled coupe glass. Smoky, spicy, sweet and sour—it's not the best of both worlds, it's the best of every world.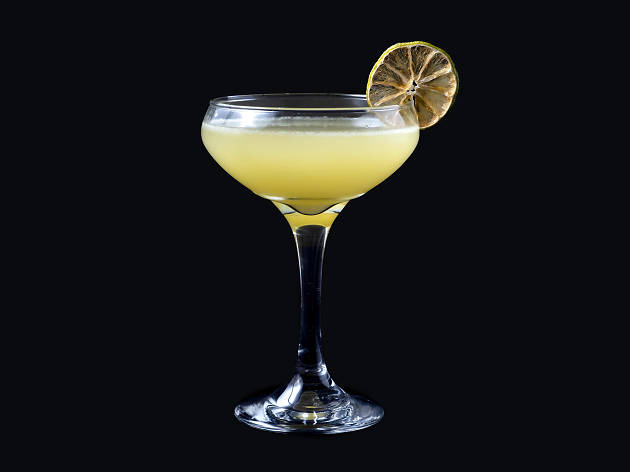 Photograph: Logan Mackay
7. C'est de Famille by El Pequeño
With this recipe on the cocktail menu, you won't have to wait to grab a spot at the Havana-style nine-seater in Old Montreal (but we'll never turn down a stool there). A mix of gin, rum and elderflower liqueur are enhanced with the application of matcha syrup, lime juice, black pepper and cardamom bitters. It might sound like an unlikely collection of flavours, but one sip will have you wondering why it didn't happen sooner.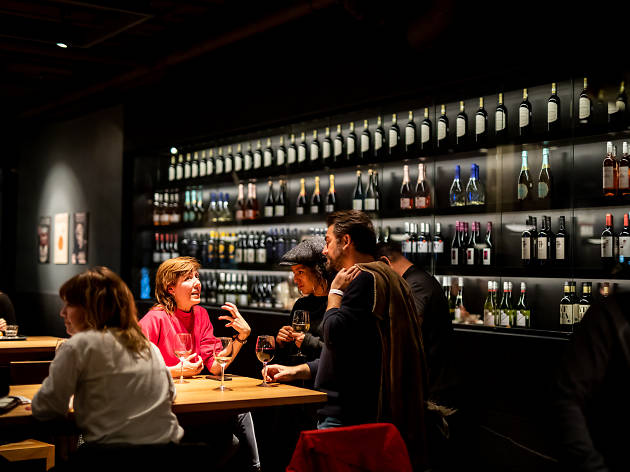 Photograph: JF Galipeau
8. Pick a vintage at the Wine Bar
Whether you're a major oenophile or just someone who wants a drink as fancy as the food you ordered, pull up to the Wine Bar for your next glass of red, white, bubbly. You'll find a diversified selection from around the globe, from New Zealand and Greece to France and Italy, as well as options from our own backyard in Québec and Ontario. Folks who like to drink more trendsetting side will enjoy the vegan and organic bottles, plus an exclusive selection of orange and natural wines that changes regularly.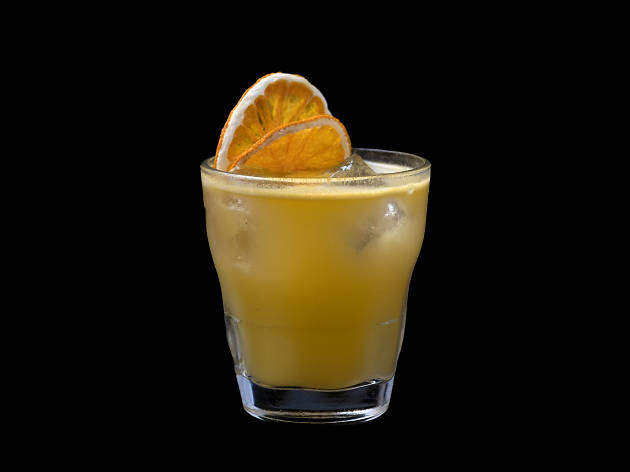 Phtoograph: Logan Mackay
9. Dr. Ryan Green by Perles et Paddock
The doctor is in, and we'll take this medicine any day of the week. You've got to hand it to the Griffintown bar and restaurant Perles et Paddock; this drink is downright delicious despite its simplicity. A shaken mix of rye, herbal liqueur, lemon juice and apricot syrup make for a smooth cocktail with a surprisingly complex profile that's sweet and sour, but has deep, fragrant flavor that slowly comes out after every sip.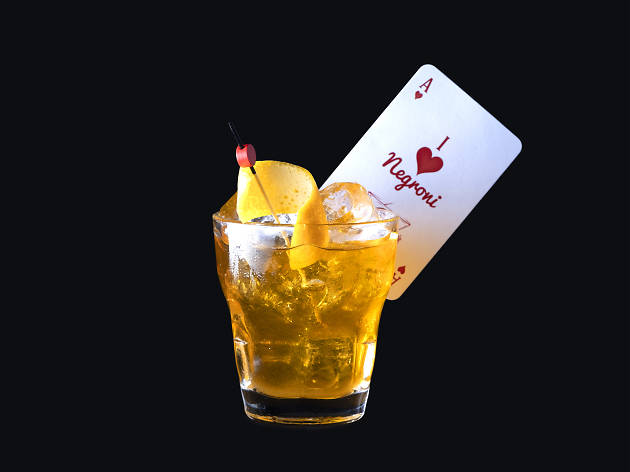 Photograph: Logan Mackay
10. Negroni #4 by Le 4e Mur
Fans of the popular Italian cocktail eschew from any remixes of or alterations to the classic, but you're missing out if you don't try this at least once. The top-tier mixologists at Le 4e Mur are masters of their craft, and one taste of this citrusy-sweet take immediately converted us. Bear with us here: Gin and an orange Québécois apéritif is coupled with the classic Italian red, mixed with apricot syrup and—of course—garnished with orange. We won't blame you if you prefer the classic, but this recipe opens a whole new set of doors.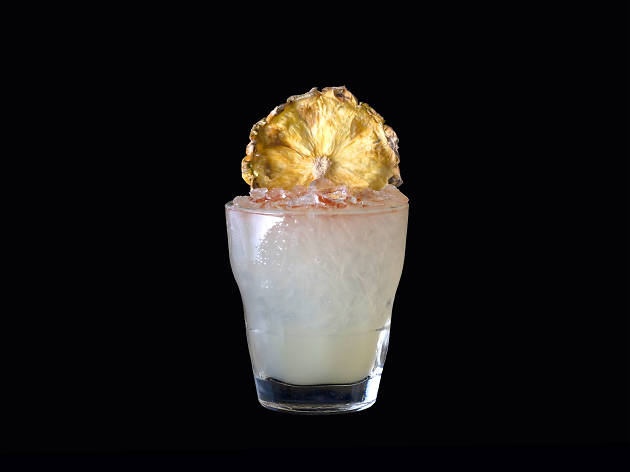 Photograph: Logan Mackay
11. São Vicente by Cordova
One taste of this recipe from the cocktail wunderkinds at the Saint-Henri bar and coffee shop, and you're south of the equator. Cachaça (made from distilled sugarcane) is shaken up with crushed ice, pineapple gum, bitters and lime juice to create a slightly foamy, light and sweet mix. Taking all of the best parts of more tropical-style drinks and finessing it into something sleek and refined, Cordova has seriously knocked this out of the park. Good for both hot summer days and wintertime pick-me-ups.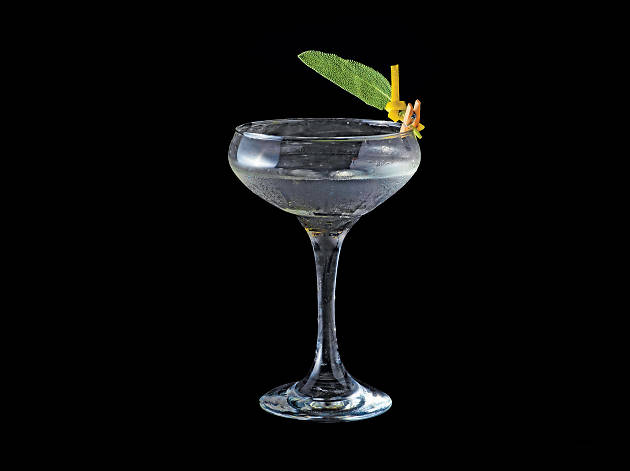 Photograph: Logan Mackay
12. Sage Martini by Club Pelicano
Nothing gets as classy as ordering a martini—unless you're ordering a version that ups the ante. Club Pelicano's concoction features vodka and gin mixed with cucumber bitters and a sage-leaf garnish to create a flavourful, boozy wallop you won't find in any martini menu in town. They must've made this recipe with lazily sitting by the pool in mind, as you'll definitely want to sip this swanky one slowly. Sit back, relax, and look cool as hell with a coupe glass of this in your hand.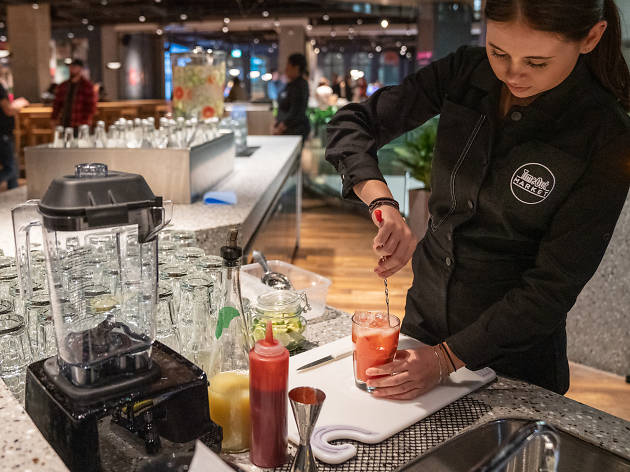 Photograph: Patricia Brochu
13. Freshen up with mocktails and house sodas
Whether you're the designated driver or are having a sober month, we got you. Instead of opting for a glass of water, we've put together a menu of alcohol-free drinks that bring together some stellar flavors, like the Yuzu Smash with yuzu, cucumber and lime, the Zingi made with ginger soda, strawberry and lime, a range of flavors for homemade sodas or "pints" of killer kombucha. If that's not enough, hit up the Soda Bars on the restaurant sida for even more alcohol-free options.
Discover Time Out Market: The best of the city under one roof
Time Out Market Montréal is made up of some of the city's best food, drink and culture—here's why you should go.