The best things to do in Napa
Put down your wine glass (trust us) and check out some of the best things to do in and around Napa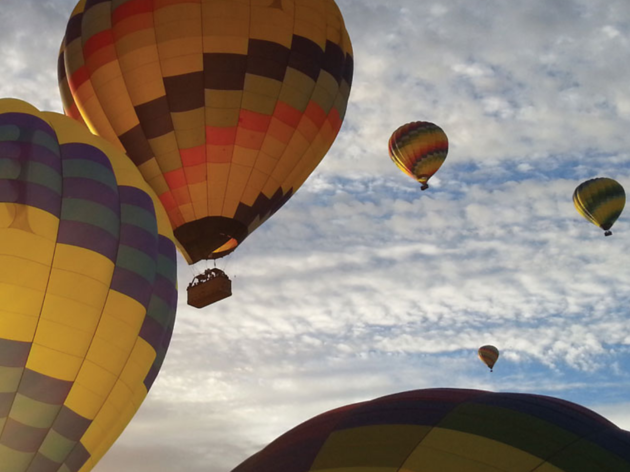 We get it—you're in town for the best Napa Valley wineries. Of course! But after a few days of swirl, sip, spit, repeat, your tastebuds will get a little weary. You can swich things up by checking out some great Napa restaurants, but if it's your entire tummy that needs a rest, set aside a day or two to explore Napa's offerings that don't come in a glass, from a game of bocce ball to a sunrise ride in a hot air balloon, or—if your belly is ready—a walk through one of the cutest farmers' markets in the state.
Best things to do in Napa
Things to do, Markets and fairs
Oxbow has capitalized on the sweeping trend of one-stop-shop markets, offering a lively space to snack, drink, shop and kick back in Downtown Napa. If you're here for a full meal, there are plenty of places to dine: Ca' Momi, a pizzeria where you can snag Neopolitan-style pies and paninis; an offshoot of Gott's Roadside, serving their signature burgers and ahi poke tacos; Hog Island Oyster company, where you can slurp down bivalves to your hearts content. But possibly the best part of Oxbow is wandering the vendor stalls for knickknacks and artisan goods. Napa Valley Distillery is a veritable library of shrubs, bitters and anything else you might want in a liquor store. At the Olive Press, you can sample dozens of olive oils and balsamic vinegars before landing on a couple to take home. Sampling is key here—you could practically make a day of it—but if you do want to rest and recharge between stalls, there are picnic benches both inside and outside to partake in some quality people watching.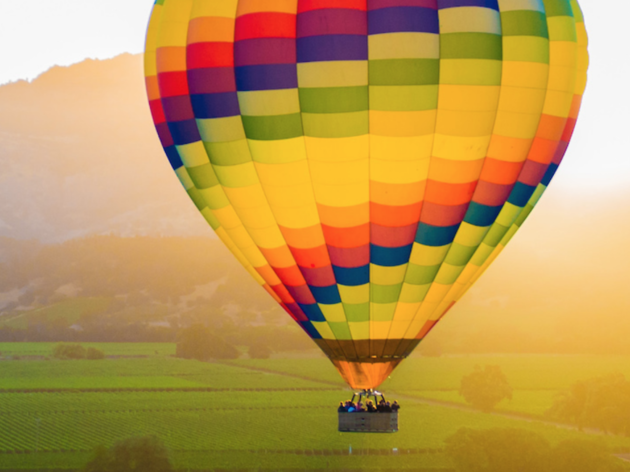 Photograph: Courtesy Napa Valley Balloons
The first morning you spend in Napa, you'll notice a flock of brightly colored balloons floating silently across the sky. Hopefully by your second or third morning, you'll be riding in one. It's a unique and exciting way to check out the Valley's stunning landscape, and most trips come with a snack and sip of something bubby afterward. Excursions are usually held early in the morning before any wind picks up, so be ready to set that alarm—trust us, it's worth it (as is the heftly price tag). Check out Napa Valley Aloft, Balloons Above the Valley or Napa Valley Balloons for rates and trip options.
Things to do, Walks and tours
The revered cooking school isn't a walled-off fortress where culinary prodigies toil away in secret. Anyone can stop by the CIA, located in the historic Greystone Cellars building in St. Helena. On the ground floor, visitors will find a gift shop filled with everything you could possibly need to channel your own Top Chef persona, along with an impressive corkscrew collection, the Vintners Hall of Fame, the Ghiradelli Chocolate Discovery Center and more. One-hour cooking demos take place on the weekends; you can check out the schedule and make reservations here. Outside, don't be surprised to spot students pruning the expansive gardens that line the building.
Things to do, Walks and tours
You can hear the Napa Valley Wine Train before you see it. Starting in Downtown Napa, the train rumbles through towns and vineyards on a 36-mile round trip journey to St. Helena and back, a cavalcade of railroad cars that were built, for the most part, in 1915 by the Pullman Standard Company. Passengers can choose from a variety of dining journeys, including the Gourmet Express (a multi-course meal with wine), Romance on the Rails (dinner and wine in a private booth on the train's Vista Dome) and Murder Mystery (a murder mystery themed dinner). The three-hour dinner rides generally stick to the rails, but if getting off and exploring the vineyards is more of your thing, opt for one of the winery tours; most go to a few wineries and include lunch or dinner on the train. For more information on scheduling a trip on the Napa Valley Wine Train, check out their tours and prices here.
A lovely hotel tucked into the Napa Valley hillside, Indian Springs stands out for its stunning pools and luxury spa. You don't have to be a hotel guest to book a treatment (though a stay here includes a personal shaded porch, outdoor flirepace, free bike rentals, bocce and shuffleboard, the list goes on), so make it a day trip regardless of where you're staying. The spa offers a simple list of high-quality treatments: massage, facials, mud baths and mineral water soaks. The mud baths are Indian Springs' most unique offering, followed by the Buddha Pond, which is essentially a relaxation/waiting room, but in an outdoor setting with chaise lounges overlooking a small pond and outdoor fireplace. On weekdays, a spa treatment gives you access to the property's pools; on weekends pool access is an extra $30. But it's worth it; both mineral pools are fed by nearby geysers and kept at temperatures between 82 and 102 degrees (depending on the season) for maxiumum soaking relaxation. One is an Olympic-sized behemonth, while another, smaller pool is for adults only; both are open until midnight so you can soak under the stars.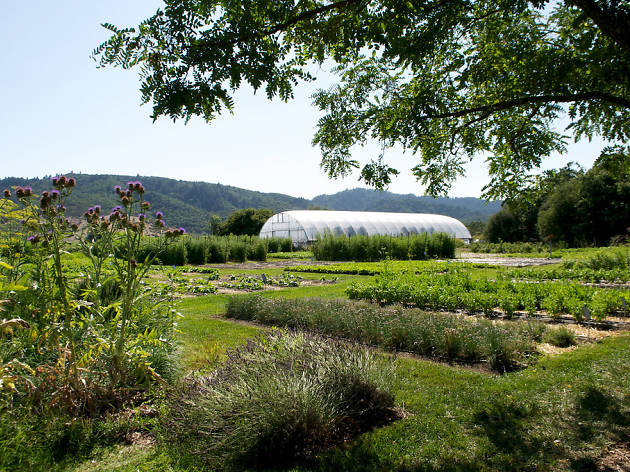 Photograph: Courtesy CC/Flickr/Annie C.
The French Laundry garden
Couldn't get a reservation at Thomas Keller's French Laundry? Believe us, you're not alone. But if you're still interested in checking out the grounds (and you should be, they're lovely), swing by and head across the street to the restaurant's garden, where they grow much of their produce and tend to bees and chickens. Walk through rows of kale, ramps, herbs and edible flowers, marveling at just how close the farm-to-table movement can really be. On your way out of Yountville, stop at Kelly's filling station, an adorable gas station-turned-local-market, for yummy snacks and a souvenir or two.
Movie theaters, Independent
Take a break from wine tasting and settle into a screening room at the Cameo Cinema in St. Helena, an independent movie theater built in 1913. You can bring your own bowl of popcorn to score a discount on tickets, but they also sell Fiorello's gelato if you're looking for something on the sweet side. The seats are roomy and comfortable, and the screenings are a mix of mainstream and more obscure movies.
Things to do, Markets and fairs
The St. Helena Farmers' Market has been a town staple since 1986, with a growing roster of vendors that spans the gamut from baked goods to jewelry, fresh produce to chocolates. Held in Crane Park, visitors will find the market set up every Friday morning from May through October; while the lineup of vendors always changes, the quality stays the same. Frequent events include a chef's table, kid's activities and a lecture series, where market goers can learn about making jam, gardening during a drought and beekeeping.
There are plenty of people bottling wine for you in Napa, but why not play winemaker for a day by bottling your own? Raymond Vineyards might look like every other winery off the St. Helena Highway, but step inside and you'll be thrust into a riveting, sensory-based experience, including a wine bottling class that will have you dressing up as a mad scientist, mixing and matching red varietals in test tubes until you've found a winner. Head into the corking and labeling room next door, where a custom-designed label will finish off your bottle to take home (cases are also available if you love your blend that much). Reservations for the $125 class can be made by online or by calling 707-963-3141.
Attractions, Parks and gardens
With baseball fields, bocce ball courts, tennis courts, horse shoe pits and more, Crane Park is a playground for both adults and kids. The 12-acre park is a relaxing spot to visit in between winery hopping and dining, a place where you can play a couple rounds of bocce before picnicning, and toss around a volleyball after stocking up on produce at the farmers' market that takes place in the park every Friday morning. Looking to throw a party or a big picnic here? Make sure to reserve a spot through the Recreation Department or City Hall.
Find out where to stay in Napa
A trip to Napa Valley is not to be rushed, and there's no shortage of standout hotels in Napa Valley for relaxing, swimming, and wining and dining in style.
When you're dying for a good California cabernet, pack your bags and check into a Napa Airbnb for a relaxing wine weekend.