The 13 best restaurants in Naperville
From chocolatiers to country cooking, here's our pick of the best restaurants in Naperville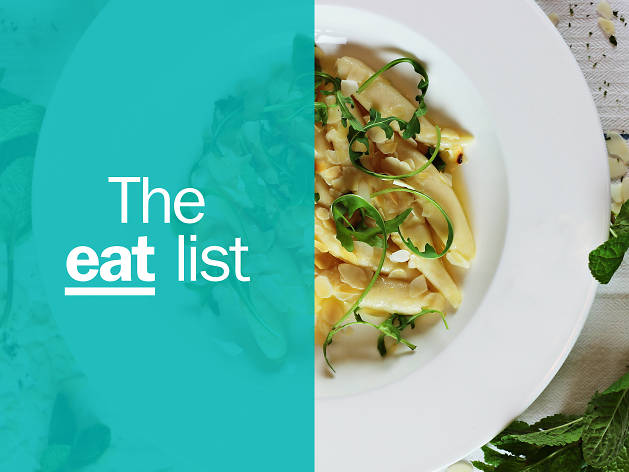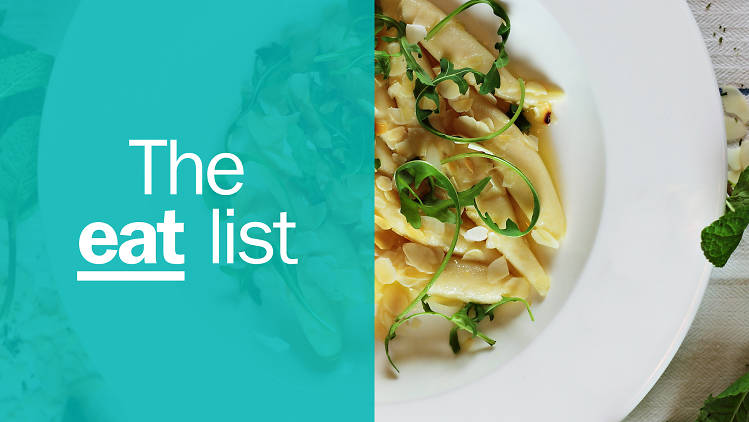 If you've mentally reduced Naperville to chain restaurants and pickup bars stuffed with North Central College students, you're missing out on the array of flavors it has to offer. Downtown Naperville's new Water Street District along the south bank of the DuPage River has brought with it the city's first hotel and a crop of fresh restaurants serving ambitious fare. Craving Peruvian or Pakistani? Find more options (plus easier parking) outside of downtown in strip malls along 75th Street or tucked among big-name chains on Freedom Drive off I-88. There are splurges and bargains alike, and wherever you land, you won't leave hungry.
Best restaurants in Naperville
1
Photograph: Courtesy CC/Yelp/Estela H.
What is it: The Hotel Indigo's top-floor bar and restaurant—Spanish slang for "good heavens"—with nouveau macrame decor, globally inspired dishes and massive windows looking out to downtown Naperville and beyond.
Why go: It's serving arguably the most intriguing cuisine and cocktails in town, from mussels and spicy Basque Country sausage swimming in smoky tomato broth to Don't Rye to Me, a beer-inspired rye cocktail with citra hops mist and syrup made from Solemn Oath Brewery's Snaggletooth Bandana IPA.
Price: Pricey
2
Photograph: Courtesy CC/Yelp/Michael F.
What is it: The first cafe outpost of Chris Chacko's coffee roastery, the deserved darling of fine-dining restaurants in Chicago and beyond. And it's no wonder that people love it - Chacko's been honing his craft for decades.
Why go: Can't shake your coffee cravings? No worries. Sparrow Coffee is a must-visit for coffee obsessives. Think single-origin coffees, deft baristas and lattes made with milk from cows raised on an organic, biodynamic Wisconsin farm. To eat, there's avocado toast, hand-held Liege waffles, quiche and pastries. Heaven.
Price: Average
3
Photograph: Courtesy CC/Yelp/Naf Naf Grill.
What is it: The current Naperville location of the Middle Eastern fast-food joint that had its humble beginnings in a former Taco Bell on nearby Ogden Avenue before it multiplied throughout Chicagoland.
Why go: The chicken shawarma, steak and falafel are all tucked into freshly baked pillowy pita with homemade pickles and drizzled with spicy harissa and skhug sauces. Don't sleep on the fries, which are shaped like potato chips and best dunked in a side of garlic sauce.
Price: Bargain
4
Photograph: Courtesy CC/Yelp/Bobby E.
What is it: The sleeker, more spacious sibling to Geneva's perpetually crowded Mexican restaurant Bien Trucha.
Why go: To gorge on tacos stuffed with Zarandeado-style octopus, Slagel Farms pork belly or braised short rib and sip crisp cocktails shaken with tequila, mezcal and sotol.
Price: Pricey
5
Photograph: Courtesy CC/Yelp/Raymond L.
What is it: A three-floor complex from local brewery, distillery and coffee roastery Two Brothers.
Why go: You can choose your own dining and drinking adventure here. The first floor has a coffee station, sandwich counter and bar serving wine and beer; the second floor is The Modern Tavern, serving lunch and dinner; the top floor is a cocktail bar with a terrace looking down onto Jefferson Avenue.
Price: Pricey
6
Photograph: Courtesy CC/Yelp/Javier D.
What is it: A farmhouse-chic breakfast and lunch spot serving desserty pancake stacks, funky benedicts, mimosa buckets and whimsical coffee drinks (think birthday cake milkaccinos and cookie butter lattes)
Why go: The oversized biscuit stuffed with eggs, cheddar and bacon is thing of sausage gravy-drenched beauty. (Pro tip: Use the NoWait app to avoid the hefty weekend wait.)
Price: Average
7
Photograph: Courtesy CC/Yelp/Carrie J.
What is it: A reliable Vietnamese joint with freshness and nuance that defies its DMV-adjacent strip mall location.
Why go: A dozen kinds of pho await to cure what ails you, whether that be a stuffy nose, a pesky hangover or just plain old hunger. The banh mi and spring rolls are worth ordering, too.
Price: Bargain
8
Photograph: Courtesy CC/Yelp/Setiawan S.
What is it: A delectable chocolatier and patisserie with an adjacent bistro and private event space upstairs.
Why go: This go-to cocoa locale is a must visit for those with a penchant for European tastes and insatiable sweet-tooths. Indulge in a cup of Le Chocolat's decadent Belgian-style sipping chocolate and if you want to share the experience, splash some cash out for one of the spectacular gift baskets. Need to level our your tastebuds? Sitting down for a croque monsieur or some beef bourguignon is as much worth the trip as a handful of truffles to-go.
Price: Pricey
9
Photograph: Courtesy CC/Yelp/France C.
What is it: A sleek and bustling two-floor bar and eatery with solid craft beer options on draft and trendy cocktails (See: frosé).
Why go: The people-watching on the roof—equipped a retractable greenhouse top for rainy days—can be as satisfying as the pretzel bun burgers, saucy tater tots and buttermilk fried chicken sandwiches. But mainly, it's thanks to the juicy beef pattys that luncheons never looked so delicious. Oh and make sure you grab some of Empire's dirty chips too, for potaoey-cheesy goodness.
Price: Average
10
Photograph: Courtesy CC/Yelp/Daniel Y.
What is it: The west-suburban location of Chicago's Chinatown restaurant of the same name, serving the same Cantonese specialties in a snazzy multi-roomed space.
Why go: You'll want to eat your weight in barbecue pork buns, pan-fried chive cakes and shrimp shumai from the dim sum menu.
Price: Average
11
Photograph: Courtesy CC/Yelp/Megan W.
What is it: A traditional Spanish tapas restaurant in a former Greek revival mansion, complete with a idyllic tree-shaded patio for wining and dining alfresco.
Why go: Grilled tiger shrimp, patatas bravas and heaping pans of paella match seamlessly with wines from Spain's Rioja, Toro and Penedes regions. Sunday brunch here is a bountiful tapas buffet plus meat-carving and omelet stations.
12
Photograph: Courtesy CC/Yelp/Alex A.
What is it: A no-frills counter-service space in northern Naperville serving traditional Peruvian eats and tasty sandwiches. Born out of owners Cesar and Adelina's desire to share their tasty family recipes, SanguCHE was voted one of Naperville's best restaurants by Naperville Magazine in 2017.
Why go: To snag a few of the empanadas, alfajores (dulce de leche-filled sandwich cookies) or tamales that are made fresh daily and often sell out before closing.
Price: Average
13
Photograph: Courtesy CC/Yelp/Archer B.
What is it: A suburban offshoot of the Devon Street original serving made-to-order Indian and Pakistani fare.
Why go: The $7.99 lunch specials—including chicken, lamb or beef skewers with basmati rice, salad and either paratha or chapati—are easy on the wallet. Save room for the housemade pista kulfi, Indian ice cream flavored with rose, vanilla and pistachios.
Price: Bargain
Discover Time Out Market: the best of the city under one roof