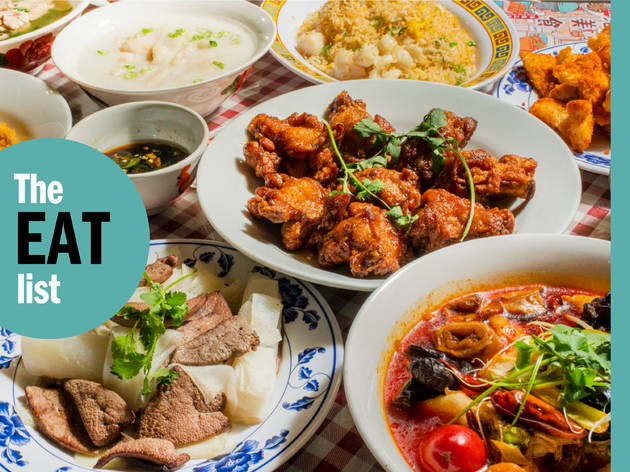 The 38 best restaurants in Chicago you have to try
There's no shortage of fantastic food in this city, but these Chicago restaurants make our short list of top eats
May 2021: Chicago is on the road to a full reopening and the rapidly-warming weather is sending diners running to patios and rooftops throughout the city. While some restaurants are still waiting to reopen indoor seating, many have returned over the past few weeks. This month, we recommend finding a place where you can dine outside, whether you enjoy Mediterranean dishes at Fiya or eat a hot dog at the Duck Inn. It's also a great time to snag a reservation at Michelin-starred fine-dining spot Ever, check out the reopened Ken Kee Restaurant in Chinatown or order a platter of sushi from Lawrence Fish Market. Take a look at what's new or rediscover an old favorite when you order from the best restaurants in Chicago this month.
The best restaurants in Chicago come in all shapes and sizes, from pizza joints and Michelin-starred heavyweights to some of the best cheap eats Chicago has to offer. The cuisines are just as varied, with every corner of the globe represented through Korean, Mexican, Italian, Mediterranean and Indian fare. Whether you're a lifelong resident or simply visiting for the weekend, stuffing your face at one of these restaurants is easily among the best things to do in Chicago. This belt-busting food scene shows no signs of slowing down, so we cut to the chase and ranked our essentials—the absolute best restaurants in Chicago. We call it the Time Out EAT List.
Our editors scour the city for great dishes, excellent value and insider info. They pay their way and sometimes, like the rest of us, their delivery driver gets lost. The EAT List is a unique, authentic snapshot of Chicago's ever-evolving dining experience right now: We update it constantly with the best new restaurants in Chicago as well as decades-old stalwarts that keep us coming back for more. It could be a mega-hyped destination restaurant or a remarkable food truck: If it's on the list, we think it's terrific, and we bet you will too.
If you've tried something you love on this list, share it under the hashtag #TimeOutEatList to show your appreciation. Plus, find out more about how we eat through Chicago to make the list.
Best restaurants in Chicago
The best of the city under one roof
We've rounded up the best chefs in the city to join us at Time Out Market Chicago, a culinary and cultural destination in the heart of Fulton Market. The 50,000-square-foot space houses 18 kitchens, three bars and one drop-dead gorgeous rooftop terrace—all spread across three floors. Our mission is simple: Bring the pages of Time Out Chicago to life with the help of our favorite chefs, the ones who wow us again and again. You'll find delicious barbecue from chef D'Andre Carter at Soul & Smoke, Mini Mott's delicious burgers, fried chicken from Cleo's Southern Cuisine, creative ice cream from Shawn Michelle's and much, much more.
Local chefs, restaurants and concepts we love so much that we welcomed them into Time Out Market
There are few things on this planet that are more satisfying than pristine raw fish. We're talking about the kind of stuff that practically melts on your tongue and tastes like fresh, open waters. At Ty Fujimura's sushi palace in West Town, the menu revolves around that level of quality. The seafood here is wrapped in warm, toothsome rice and crunchy, toasted nori—creating the perfect mélange of texture and temperature. For Time Out Market, Fujimura pored over Arami's past and present menus to create an all-star lineup of fish-filled rolls to cure all your sushi cravings.
Steaming bowls of noodles have been a fixture of chef Bill Kim's menus ever since he opened his first restaurant, and diners have always been eager to slurp his latest creations. Originally launched as a delivery-only concept, Bill Kim Ramen Bar specializes in broths that draw on Korean, Vietnamese and Mexican flavors, garnished with a creative array of toppings. Whether you're looking for a conventional bowl or ramen or something a bit more adventurous, Kim has something you can enjoy by the spoonful.
Born in Seoul and raised in Chicago, chef Bill Kim's earliest food memory is standing at his mother's side, grinding sesame seeds with a mortar and pestle. Back when his career first started, Kim immersed himself in French cuisine, with guidance from industry heavyweights like Jean Banchet and Charlie Trotter. These days, he's developed a signature style all his own, dispensing a hit list of border-blending, Asian-inflected treats, such as the belly-warming udon soup and pillowy dumplings, which are so addictive, you'll wish you had ordered double—save yourself the wanting and just do it.
More top Chicago restaurants