The 11 best pizzerias in Naples
Looking for the perfect pie? Quite right. These incredible pizzerias in Naples can deliver the moreish goods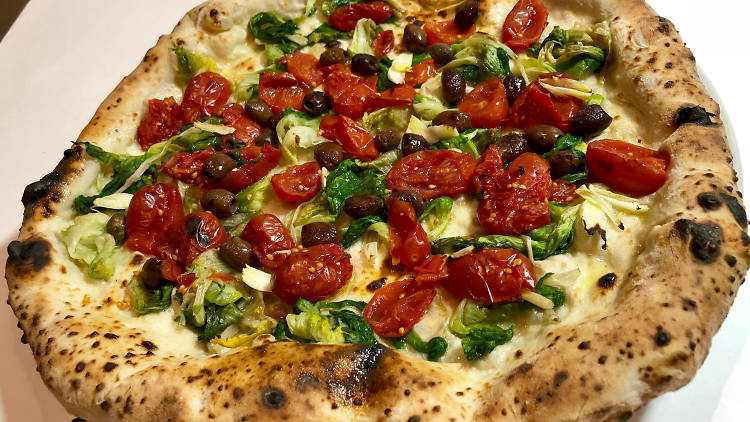 Cliché it may be, but pizza really does feel like a religion in Naples. They say it was invented here, of course, so no wonder the Associazione Verace Pizza Napoletana still ensures strict quality control over methods, ingredients and product sourcing. Such is Neapolitan pizza's renown that a few of the most famous restaurants have opened up secondary locations everywhere from New York to Dubai. But unless the ingredients are also shipped over, they'll struggle to replicate the perfect alchemy struck between locally ground flour, regional mozzarella and tomatoes grown on neighbouring Vesuvius in this food-obsessed city.
Every local will fiercely debate and defend their favourite, but all will agree: you haven't been to Naples until you've eaten pizza, and you haven't really eaten pizza until you've had it here. From the religiously simple to the decadently experimental, a grand tour of the city could easily consist of simply following the pizza trail, dropping in to test all of the top contenders. By the end of your trip, you may well be an active participant in the century-old debate over which pie's king of them all.
RECOMMENDED: Full guide to the best restaurants in Naples
Best pizzerias in Naples
The anarchic crowd of hungry guests lining up outside Sorbillo may make you think twice, but relax: put your name down and grab a spritz from the tiny kiosk next door and chat away with as you wait. Because this pizza's well worth hanging around for. Inside, a warm, cosy interior awaits – alongside some of the best (and certainly most famous) pies in town. The menu spans classics like marinara and margherita, as well as a handful of more inventive takes.
La Masardona originated in the down-at-heel Case Nuove district and used to be the area's best-kept secret before word spread of their light, crispy dough filled with oozing hot ricotta and tomato ragù. Over the past year or so, it's quickly garnered a rep for being the best fried pizza in Italy. They've now opened another joint on the seafront, making it a bit less of a trek for visitors.
Walk past the stand of fried delicacies and upstairs you'll be treated to some truly outstanding pizza. But don't blame yourself if you don't make it past the threshold – a goody bag filled with croquettes, fried aubergine, arancini and frittatine (pasta stuffed with meat and peas) may be just what you need to recharge after a day of traipsing around this hilly city.
Starita's cavernous no-frills interior brims with locals and visitors who flock to conquer their generously piled pizzas. The overflowing tables often seem an impossible challenge, but always end up conspicuously empty. Don't miss their pizze montanara, where they double down with oven-baked pizzas built on their perfect fluffy fried dough.
Salvatore and Carla are La Sanità's golden couple. Masters of their trade, Salvatore makes mouth-watering imaginative pizzas and Carla welcomes you with open arms, so you feel immediately at home in this formerly crime-ridden neighbourhood. Located on the characterful piazza in front of the baroque Santa Maria della Sanità church, it makes for the perfect lunch stop after a morning stomping through the tiny back streets to the underground cemetery and catacombs.
Ristorante Mattozzi is a go-to for locals after exquisitely fresh pasta and seafood dishes. But their pizza is quietly among the best in town, too. A short walk from the ferry terminal, it's the perfect stop-off for a leisurely lunch before you sail off to one of the nearby islands (where, frankly, a better meal will be tricky to find).
Naples's pizza kitchens are notoriously dominated by men, but Isabelle de Cham, who apprenticed at the legendary La Masardona, has built her eponymous address with an all-female staff. Since exploding on to the scene in 2018 in the Sanitá district, her restaurant has been heaped with awards and praise, including being touted in the local press as a favourite among some of Naples's most respected old-guard chefs.
On the border between the chic areas of Chiaia and Posillipo, 50 Kaló has earned a rep among wealthier locals as the place to be for good wine and even better pizza, just steps from the waterfront. Focused on sourcing top-quality ingredients, it's pricier than spots in the centre, but it goes without saying you can taste where the extra few euros go.
Smart white table cloths, elegantly dressed families and a huge display of fresh fish on ice in the middle of the restaurant... Ciros is as much a good fish restaurant as an excellent pizzeria. Packed on Sundays, it makes the perfect lunch spot for families: parents can order more refined dishes such as grilled sea bass or octopus stew while kids enjoy their usual margherita, sprinkled with clams and mussels if they're feeling adventurous.
Julia Roberts's character famously found prayer in India, and love in Bali, but she ate pizza at Da Michele. Everything about this place is simple, from the tiled interior to the stripped-down menu with only two options (with or without mozzarella). There's no question why you're here: to enjoy perfectly cooked pizza, and, perhaps, have some sort of religious experience while you're at it.
Tradition holds that the best fried pizza is made not in a kitchen, but out on the street in aluminium vats of boiling oil – just like those Sophia Loren makes in Di Sica's Neapolitan classic 'L'Oro di Napoli'. Despite the obvious health and safety concerns, street pizza-making still flourishes clandestinely, you just need to know when and where. Your best bet is on Via Vergini or deep in the Spanish Quarter on any given Saturday afternoon.
After more solid recommendations?
Naples is perhaps the one city where every local agrees on the best chef in town: their mamma. Unfortunately for visitors, unless you can score an invitation to their family dinner table, you'll have to try to find the next best thing. Fortunately, there's no shortage of options to rival even the best home cooking.