The 20 best things to do in Naples
Italy's third city is in the midst of a renaissance. Get around with our ultimate guide to the best things to do in Naples
Charming, hodgepodge, run-down Naples, once a rogue and dangerous Italian city to be avoided, is in the midst of a grand renaissance. Back on the map thanks to the success of Elena Ferrante's 'Neapolitan Novels' and Roberto Saviano's crime saga 'Gomorrah' – plus the international TV adaptations of both – travellers who once would have bypassed this rough-hewn city are flocking here in droves.
And unlike Rome, Florence and Venice, increasingly hollowed out by mass tourism, Naples has still held on to much of its character and old-world charm. Laundry laces the back alleys, markets brim with sweet-smelling local produce, life here is lived on the streets. Neapolitans, despite their dodgy reputation, welcome visitors like guests in their home.
Layers of history are visible as you wander Naples's narrow, cobbled streets, dipping in and out of the many bars, restaurants and galleries started by the new generation of entrepreneurs, chefs and artists reinvigorating the city once again. Of course, it also has the advantage of having one of the most stunning backdrops in the world. With Vesuvius to the east, the ancient port of Pozzuoli to the west and the timeless islands of Ischia, Procida and Capri nestled in the glittering bay, it's no wonder the Romans nicknamed the area Campania Felix – the happy land. Head here today, and you'll quickly understand why. Buone vacanze!
Done something on this list and loved it? Share it with the hashtag #TimeOutDoList and tag @TimeOutEverywhere. Find out more about how Time Out selects the very best things to do all over the world.
Best things to do in Naples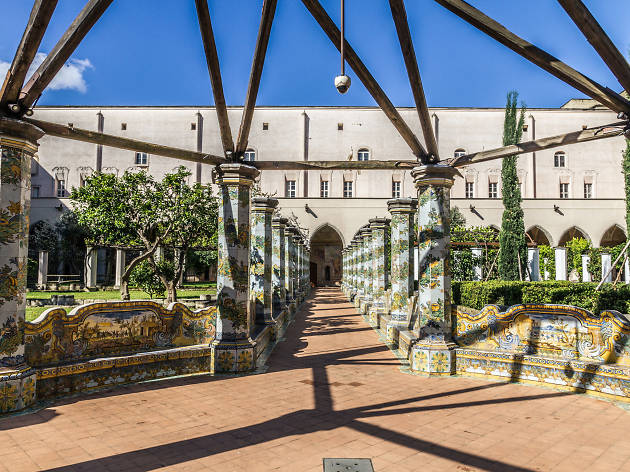 Photograph: Wikimedia Commons / Matthias Suessen
1. Chiostri di Santa Chiara
What is it? Behind the restored Gothic basilica of the same name, you'll find this network of cloisters belonging to the closed order of Santa Chiara. Bombed by the allies during the Second World War, the vast complex's walkways are lined with blossoming orange trees and covered in bright majolica tiles depicting typical 18th-century Neapolitan scenes.
Why go? Bang in the city's chaotic centre, the ornately decorated cloisters provide a much-needed slice of calm after a long day avoiding mopeds and three-wheeler Piaggio Apes.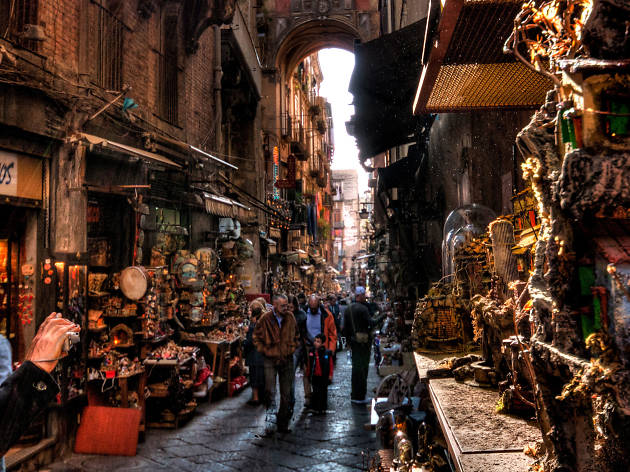 Photograph: Flickr / Umberto Rotundo
2. Via San Gregorio Armeno
What is it? The city's most famous alleyway, dedicated to the selling of kitsch nativity souvenirs.
Why go? Sneak away from the crowds into the hidden cloister of the San Gregorio Armeno church, with its grand 17th-century enclosed garden filled with citrus trees. It's only open for two hours in the morning before the nuns reclaim it for themselves.
Photograph: Courtesy Yelp / Giuseppe G
What is it? Though you're not likely to need to use the metro during your visit, it's worth seeking out the funicular lines that shunt residents up to the hilly suburbs. Their colourful carriages are used by 10 million passengers a year.
Why go? For the panoramic views from the top. Take the Centrale line from Augusteo to Petraio then walk to the medieval Castel Sant'Elmo. The tangle of Naples city centre's buildings is framed by the sea on one side and Vesuvius on the other.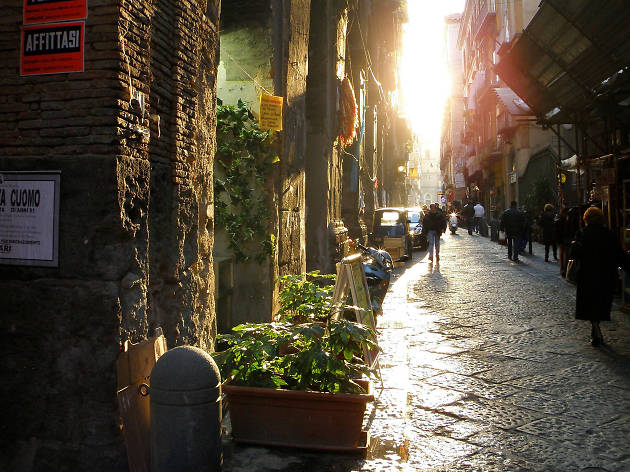 Photograph: Wikimedia Commons / Mattia Luigi Nappi
What is it? One of the few things all Neapolitans can agree on is that the best pizza can be found on Via Tribunali. You can get the signature fluffy, charred dough anywhere along 'Pizza Alley', but if you have the patience to queue for Sorbillo, this Rolls Royce of pizza restaurants really shouldn't be missed.
Why go? To try the best pizza in the world: from world-famous Sorbillo to Figlio del Presidente, a favourite of Bill Clinton's, to Di Matteo, who make the city's tastiest arancini (rice balls).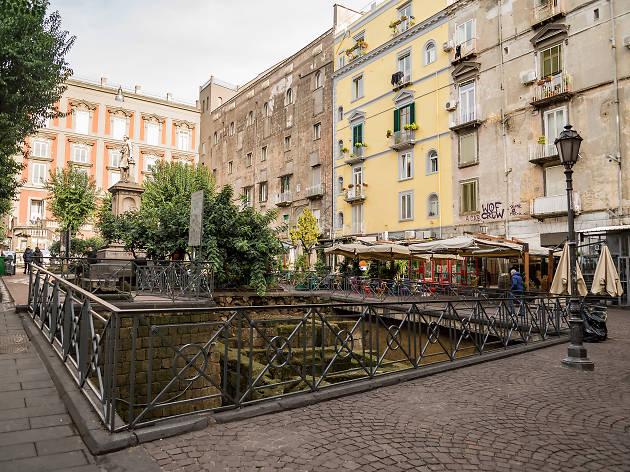 Photograph: Edella / Shutterstock
What is it? A meeting point for the young and thirsty of Naples, this bar-lined square bubbles over with students, locals and tourists come aperitivo time (and beyond). There are some ancient ruins left casually unprotected – and often covered in rubbish – at the square's centre.
Why go? The walls at Intra Moenia are covered with rows upon rows of vintage postcards and curios. Buy one to send home then claim a table outside to sit back and tipple as the crowds gather.
Photograph: Courtesy Yelp / Kristina G
What is it? Popular with everyone from local workmen to holidaying yopros, Caffè Mexico is the best coffee bar in town. Drop by for an espresso, which in Naples generally comes sweetened unless you ask otherwise.
Why go? Its sunny yellow awning and bright orange espresso machine will perk you up as much as the caffeine does.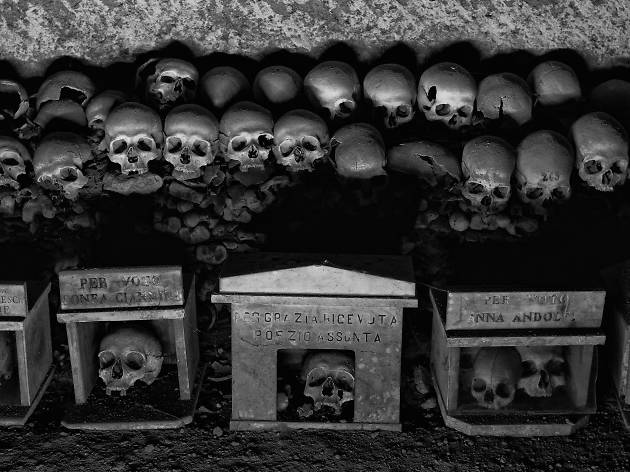 Photograph: Flickr / Dean Ayres
What is it? Beneath the heat and bustle of Naples's streets is an old quarry that became a burial site in the 17th century when a plague wiped out 250,000 of the city's residents. Though the Fontanelle cemetery's piles of bones are undeniably unnerving, the local tradition of caring for a lost soul's skull lends the place a very spiritual feel.
Why go? Watch for the odd Italian nonna on her way to tend to her designated skeleton in the hope of releasing its soul to heaven in return for a wish.
Photograph: Courtesy Yelp / Rebecca N
What is it? Over in the west of the city a spacious piazza is home to the almost brutalist-looking façade of a church called Gesù Nuovo. Take some time out and explore its ridiculously opulent interiors.
Why go? Learn more about Dr Giuseppe Moscati, who dedicated his career in the early 19th century to healing the poor. Thanks to a miracle or two he was made a saint in 1987.
Photograph: Courtesy Yelp / Qype User
9. Museo d'Arte Contemporanea Donnaregina (MADRE)
What is it? A world-class museum of modern art that's named after the 14th-century Gothic church within its walls. Museo d'Arte Contemporanea Donnaregina's beautiful main building holds site-specific works by Jeff Koons, Anish Kapoor and many other superstars of the visual arts.
Why go? You might, at some point, want to gaze appreciatively at something that's not older than Italy itself.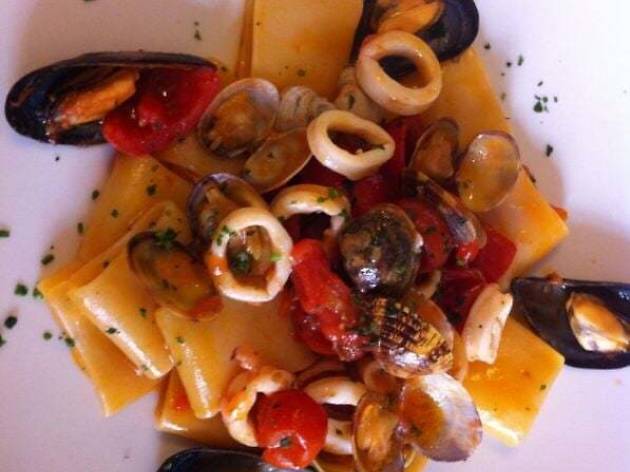 Photograph: Courtesy Yelp / Lucile M
What is it? It's not just pizza that Neapolitans nail. This seaside city is awash with fantastic seafood, and Mimi alla Ferrovia is a great place to eat a load of it. As well as traditional food done right this local favourite also boasts excellent house wine and staff who could moonlight as Naples tour guides.
Why go? One of the restaurant's many famous customers was legendary tenor (and food enthusiast) Luciano Pavarotti.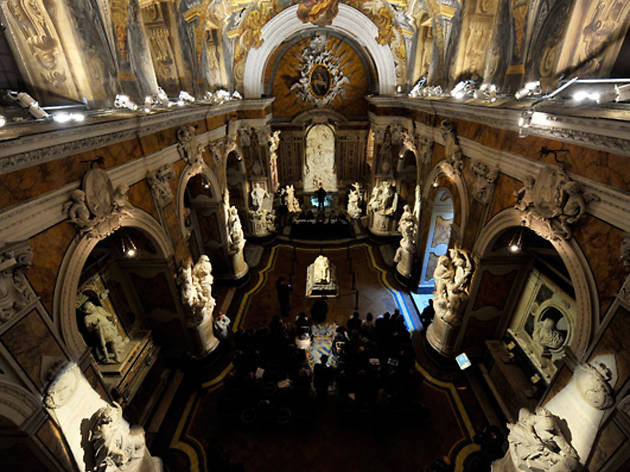 Photograph: Wikimedia Commons / David Sivyer
What is it? Designed by 'alchemist' and inventor Di Sangro, this chapel is home to one of the most beguiling marble sculptures in the world: Jesus lying down on a bed with a veil over his face, as he takes his last living breaths.
Why go? Di Sangro's tiny chapel is ornately decorated with sculptures and artworks rich with symbolism.
What is it? You know about Pompeii already, of course, but it's genuinely overwhelming IRL. The town's perfectly preserved streets manage to remain eerie despite rivalling the footfall of Oxford Circus on a Saturday.
Why go? Always nice to be reminded that humans are ultimately at the mercy of Mother Nature. Few things say carpe diem like the plaster cast of a corpse of a Pompeiian who'd been looting a jewellery shop.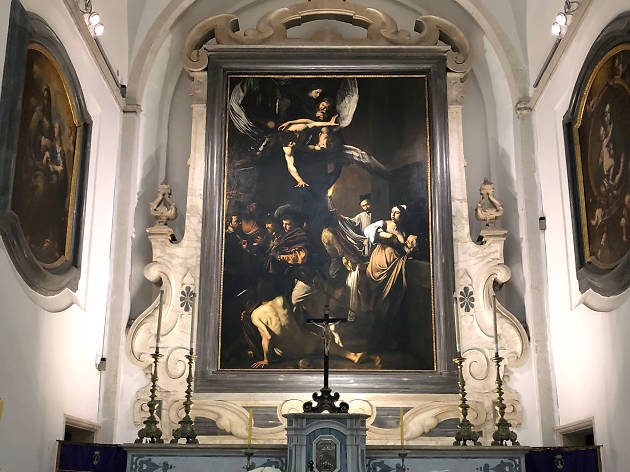 Photograph: Wikimedia Commons / Husky
13. Pio Monte della Misericordia
What is it? At the 'dodgy' end of Via Tribunali in the Forcella district you'll find the dinky chapel of Pio Monte della Misericordia, home to one of the only Caravaggio paintings still left in situ.
Why go? Compete with your travelling partner to spot the 'seven acts of mercy' depicted in Caravaggio's most famous Neapolitan work.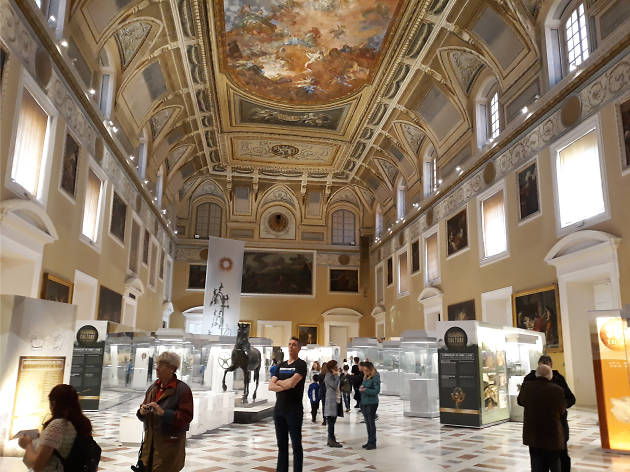 Photograph: Wikimedia Commons / Simon Burchell
14. Naples National Archaeological Museum
What is it? The Archaeological Museum houses Naples's most significant collection of Roman remains and displays much of the loot uncovered during the digs at Pompeii and Herculaneum.
Why go? It may hold a treasure trove of ancient artefacts and statues, which taken together pretty much laid the foundations for the western canon of art as we know it today, but it's the erotic art from Pompeii hidden in a tucked-away room that's the real draw here.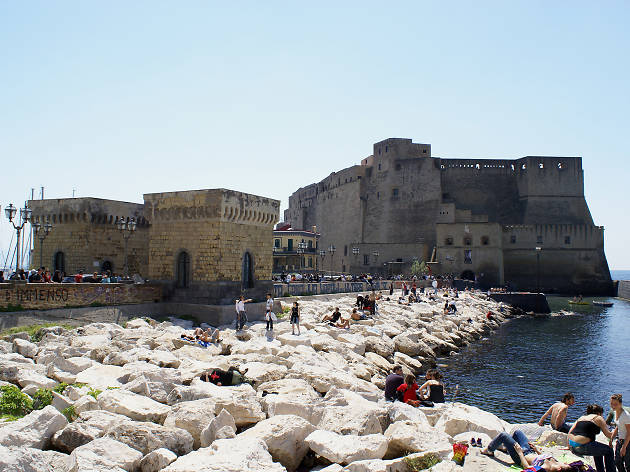 Photograph: Flickr / Enzo Abramo
What is it? An imposing castle that rises out of the sea on a small island connected to the mainland by a footbridge, it overshadows a small marina filled with sailing boats and surrounded by a plethora of smart seafood restaurants.
Why go? Climb the ramparts of the Norman castle, which marks the site where Greek colonisers founded the first settlement here more than 2,500 years ago.
What is it? Pompeii may have got all the glory but nearby Herculaneum also got completely engulfed by lava, and revealed even better-preserved scenes of everyday Roman life. A row of 12 boathouses, for instance, which were excavated in the 1990s, turned out to be the final hiding place of more than 300 people.
Why go? Though still popular with visitors, you actually get a bit of personal space at Herculaneum. What better way to get to grips with such appalling (and fascinating) history.
What is it? Of the Bay of Naples's three islands, it's Capri that's most absurdly beautiful, though that also means it's constantly smothered in tourists. Ischia offers thermal spas, but it is Procida's charming colourful houses and cobblestone streets that make it the under-the-radar offshore choice.
Why go? The pretty fishing village of Corricella had a starring role in 'The Talented Mr Ripley', the most aesthetically pleasing of all Jude Law's great works. Apart from 'Chocolat'.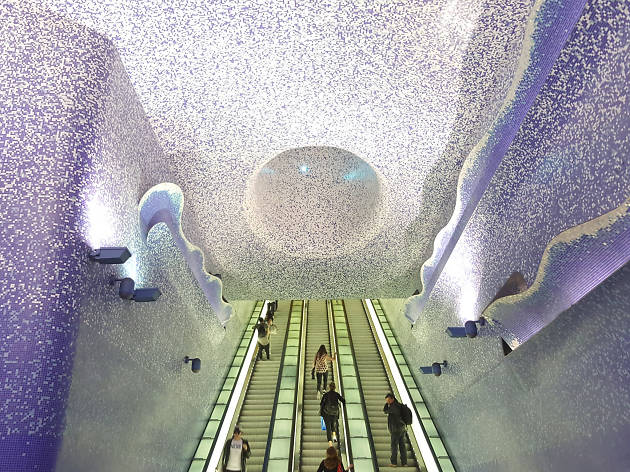 Photograph: Wikimedia Commons / Andrea Favia
What is it? The city's primary metro line hosts a wide array of striking art installations – more than 180 one-off commissions by pioneering international artists such as Sol LeWitt, Joseph Kosuth and Michelangelo Pistoletto.
Why go? The glittering silver-blue walls at Toledo metro station were designed to make you feel like you're traversing through the ground and into the sea.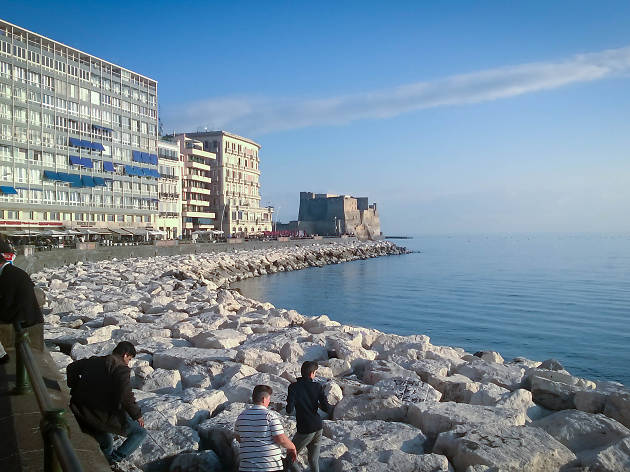 Photograph: Flickr / Nicola
What is it? A 2.5km strip of pedestrianised road that runs along the seafront, providing the perfect stress-free route for a stroll. Stop for lemon granita at the beach kiosks, claim a rock to sunbathe on or stop for a sundowner.
Why go? The views of Mount Vesuvius, Capri and Naples itself are spectacular. Add a photo-worthy sunset and you're basically in heaven.
Photograph: Courtesy Yelp / Livia I
What is it? The only belief system to rival that of the church here is football, and its much-loved poster boy is Diego Maradona. Go to San Paolo Stadium to watch SSC Napoli and you'll likely be rewarded with a world-class match; they play in Italy's top league, Serie A.
Why go? When surrounded by 50,000 fans all chanting for a goal you're guaranteed goosebumps. Remember to make the pilgrimage to Bar Nilo afterwards to visit the reliquary containing a strand of Maradona's hair.
Looking for somewhere amazing to stay?
Take your Italian getaway to the next level with a stay at one of these top hotels in Naples – including a converted palazzo, a Liberty-style villa and a modern five-star seafront hotel.
Best selling Time Out Offers