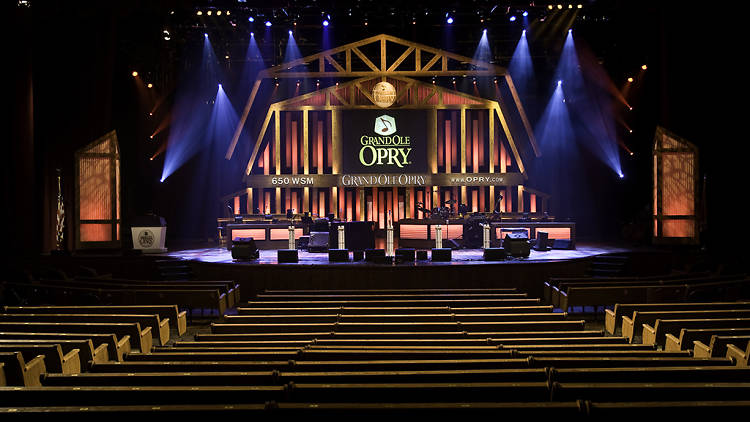 Started in 1925, the Grand Ole Opry is the world's longest running radio show—credited with making country music famous and establishing Nashville as its home base. Head to the Grand Ole Opry House to catch a live recording of the famous show every Tuesday, Friday and Saturday evening, with at least eight performers on each night's bill. If you're a particularly big fan, consider the new pre-show VIP Tour, which ends with you on stage as the big red curtain rises for the first performance. (The season at the Opry House runs February-October. The show moves to the Ryman Auditorium November-January).
More
Less
The Grand Old Opry says
The Grand Ole Opry is a weekly country music stage concert in Nashville, Tennessee that has presented the biggest stars of that genre. Founded on November 28, 1925 by George D. Hay as a one-hour radio "barn dance" on WSM, it is also among the longest-running broadcasts in history. Dedicated to honoring country music and its history, the Opry showcases a mix of legends and contemporary chart-toppers performing country, bluegrass, folk, gospel, and comedic performances and skits. Considered an American icon, it attracts hundreds of thousands of visitors from around the world and millions of radio and Internet listeners. The Opry is "the show that made country music famous" and has been called the "home of American music" and "country's most famous stage." The Grand Ole Opry is owned and operated by Ryman Hospitality Properties, Inc.In the 1930s, the show began hiring professionals and expanded to four hours; and WSM, broadcasting by then with 50,000 watts, made the program a Saturday night musical tradition in nearly 30 states. In 1939, it debuted nationally on NBC Radio. The Opry moved to a permanent home, the Ryman Auditorium, in 1943. As it developed in importance, so did the city of Nashville, which became America's "country music capital". The Grand Ole Opry holds such significance in Nashville that its name is included on the city/county line signs on all major roadways. The signs read "Music City | Metropolitan Nashville Davidson County | Home of the Grand Ole Opry".
More
Less
Venue name:
The Grand Old Opry
Contact:
Address:
2804 Opryland Dr
Nashville
37214