Heads up! We're working hard to be accurate – but these are unusual times, so please always check before heading out.
The 20 best Nashville restaurants
There is more to the city's culinary scene than hot chicken, and the best Nashville restaurants prove just that.
The ongoing influx of people moving to the Tennessee capital means many things, including a revamping of the best Nashville restaurants: as folks from different cultures start calling the city home, they are influencing the sorts of food served at local eateries. And we're oh-so-happy about it.
Not only that: chefs are taking advantage of a grander number of diners in their establishments, also enjoying the access to new flavors and ingredients. Locals, on their part, are reveling in culinary choices that involve more than the (very good) hot chicken that Nashville is known for. Winners all around.
So, before embarking on a tour of the city's top attractions and things to do, grab a quick, fresh breakfast taco in the morning, enjoy a yakitori skewer and a mai tai while soaking up the Southern sun at lunch or opt for a three-hour, multi-course exploration at dinner.
But there is more: Tennessee's climate and agricultural history give cooks easy access to local ingredients, so even if you're feasting on an Israeli dish, you're likely biting into an eggplant grown a few miles away. Southern dishes are inspired by the traditions of the Appalachian Mountains to the east (and more places with that focus, including Sean Brock's anticipated eatery, are in the works). Other trends include wood-fired grills charring dishes to perfection, and restaurant owners teaming with others to maximize the use of their space as rent prices have increased.
Ready to eat? One caveat: we're not including any of the eponymous Nashville hot chicken places in this ranking; we have a whole separate list for that particular delicacy.
Nashville restaurants
What is it: A small, husband-and-wife-owned cozy dinner spot with an amazing wood-fired oven, an appreciation of local ingredients, 80-year-old sourdough starter, and next-level desserts.
Why go: The team owns the adjacent Slow Hand Coffee + Bakeshop as well and you're allowed to sit in Pelican & Pig during the day when the bakery is crowded. At night, baked goods appear as desserts on the restaurant menu. Win-win. Vegetables like the grilled carrots with harissa are listed as "shareables," but you are going to want to keep those for yourself. Plus, the small menu changes regularly, so you have a good excuse to go back over and over again.
Price: Pricey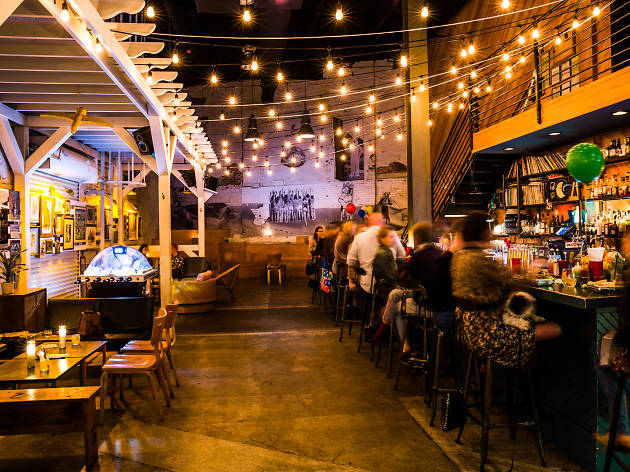 Photograph: Andrea Behrends
What is it: With just 24 seats and a nationwide reputation, Bastion remains possibly the most in-demand restaurant in Music City. Your online-only reservation requires a deposit by credit card, so it is a commitment, too.
Why go: Local chef Josh Habiger has worked at a number of lauded restaurants (including The Catbird Seat, also on this list). At Bastion, he creates an environment that is innovative but not intimidating—a rare feat indeed. Here's how it works: you select your desired ingredients from a paper menu, you sit back and relax until the food is served alongside an explanation about the dish concocted just for you. At the bar, you can actually watch your food being prepared—an experience worth the price of admission alone.
Price: Blowout
What is it: A "modern Middle Eastern" restaurant with a great happy hour, fresh baked breads and a vegetable-heavy menu—oh, and an ice cream sandwich for grown-ups.
Why go: Creative interpretations of a cross-section of Middle Eastern traditions and spices make sure your brain and palate won't be bored. The baba ghanoush served in its own skin (being that of the eggplant) is filling and better than the boring dips sometimes served elsewhere. The aforementioned sweet treat is made with pistachio ice cream and sesame seed cookies. The outdoor patio is an East Nashville oasis.
Price: Pricey
4. Arnold's Country Kitchen
What is it: One of Nashville's culinary contributions to the country is the meat-and-three, a cafeteria-style meal where diners select one meat entrée and three "vegetables," although mac-and-cheese counts as a vegetable in this case. This is a weekday, lunch-only spot.
Why go: Of all the meat-and-threes in town, Arnold's is the best-known and the most beloved. You'll see folks from all walks of life—the mayor, university students, musicians and tourists—waiting in line for a helping of fried chicken or creamed corn. Local restaurant companies have revealed that they take chefs they're trying to recruit to the James Beard award-winning Arnold's when trying to lure them. If it's good enough for them, it's most definitely good enough for us.
Price: Average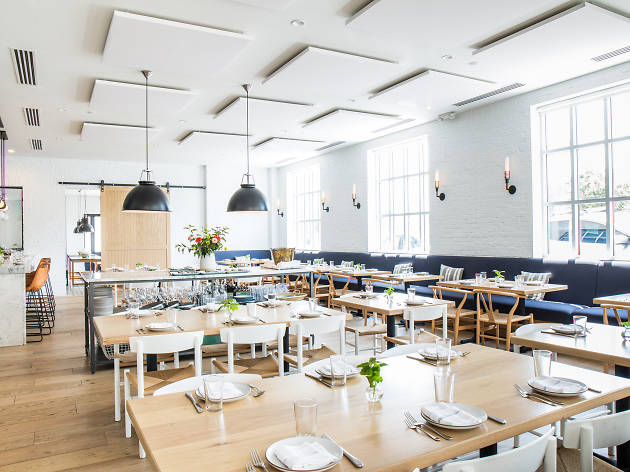 Photograph: Andrea Behrends
What is it: Imagine a seafood-friendly barroom with an emphasis on seasonal contemporary cooking. The room is sleek and well-designed, and has a good buzz: busy, but not insane.
Why go: The marble-topped oyster bar (the raw bar features more than 14 varieties of oysters) is popular among locals from the surrounding Germantown neighborhood and across the city. Chef Julia Sullivan, a Nashville native, trained at some of the country's best restaurants, including Per Se in New York, and is bringing her knowledge back home. The hometown Goo Goo Cluster candy makes an appearance during dessert time, too.
Price: Pricey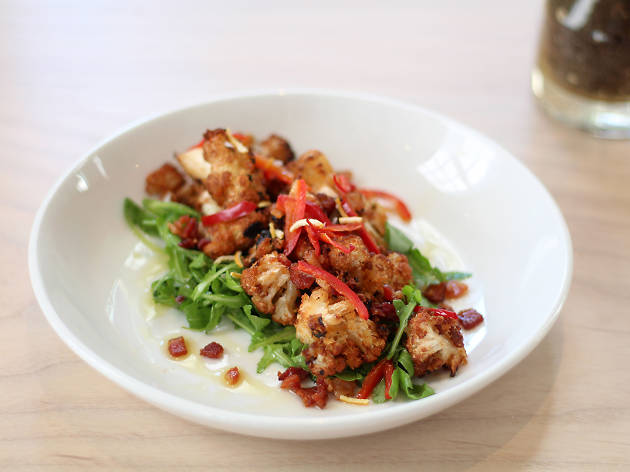 Photograph: Hathorne
What is it: A charming, friendly American eatery in the converted fellowship hall of an old church. The restaurant is owned by John Stephenson, who used to be a chef and owner of the now-shuttered, once-beloved Family Wash.
Why go: With executive chef Joey Molteni, Stephenson has melded American, Irish, Southern and Asian traditions in a place that feels as welcoming as a blended family, rather than the hodgepodge it could be. The menu is vegetarian friendly (don't miss out on the carrots with miso butter), but there are plenty of meat and fish dishes for carnivores as well.
Price: Average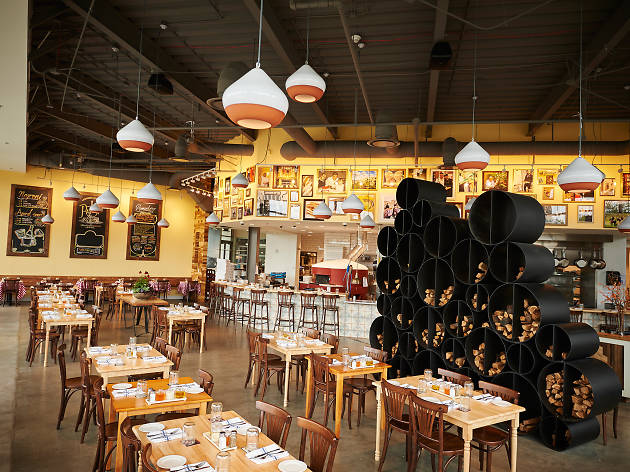 Photograph: Greg Rannells
What is it: It might look like your Lyft dropped you off at a doctor's appointment instead of a night out, but don't worry: there's charm galore inside this medical office park, not to mention wood-fired pizzas, fresh pastas and gelato worth forgetting all about Whole 30.
Why go: James Beard award-winning chef Gerard Craft developed a menu of solidly delicious Italian dishes. Watch the cooks stretch that pizza dough right in front of you while you sip on an aperol spritz. Or feast on the refreshing citrus, rosemary and olive salad while admiring the magnificent city view. Don't forget to order dessert (and a lot of it).
Price: Average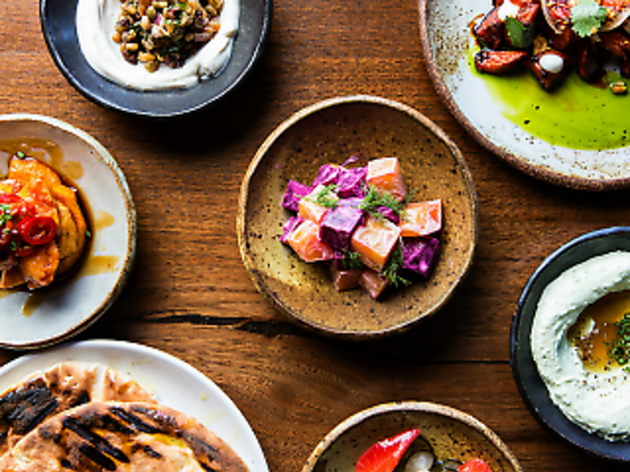 Photograph: Andrew Cebulka
What is it: That rare restaurant ideal for both a date and an outing with a large group of friends, Butcher & Bee makes Mediterranean-inspired dishes in what has become a hip East Nashville mainstay, with an open kitchen, buzzy interior and small patio.
Why go: For many, shareable plates are passé, but Butcher & Bee makes them modern again, with rich seasonings and fresh, seasonal ingredients, such as roasted radishes or carrots. The whipped feta is a neighborhood obsession.
Price: Average
Photograph: Ansley Cohen
What is it: As much food performance art as dining, The Catbird Seat is a one-of-kind culinary experience. Twenty-two diners seated around a U-shaped bar feast on more than nine courses, paired with wines or non-alcoholic beverages. Reservations open 30 days in advance.
Why go: Chefs change every year or so here—management calls the space a "chef incubator." The current team is made up of Will Aghajanian and Liz Johnson, who aren't afraid to push the envelope. Each course is a mini work of art, sometimes with tastes and textures you wouldn't expect (or choose), but, somehow, it all works. The experience of watching these plated masterpieces evolve in front of your eyes is part of the fun.
Price: Blowout
What is it: For over six decades, Swett's has served beef tips, fried chicken, green beans and more from behind a cafeteria line, making it one of the most beloved meat-and-three eateries in town.
Why go: The team knows how to make flavorful southern classics, and this is one of the places you'll run into everyone in town, from locals to politicians and tourists. The Swett's family is also cooking at the Johnny Cash's Kitchen & Saloon downtown.
Price: Average
11. Big Al's Deli & Catering
What is it: Classic southern food for breakfast and lunch is served from an unassuming house in the Salemtown neighborhood. Specials change daily but do always try the jerk chicken or the veggie burger for a taste of heaven.
Why go: Al knows his way around a kitchen, so this is some of the best soul food in town. He's also a nice guy and if not busy, he'll come out to share some great stories with you.
Price: Bargain
Photograph: Lisa Diederich
What it is: When Julia Jaksic moved from New York to Nashville, she noticed the city didn't have any all-day cafés, places you could wander into at 9am or 3pm and order whatever your palate was craving at the moment. It took Music City a couple of months to catch on but, now, the pretty, serene East Nashville restaurant is the local to-go.
Why go: The rose bowl, with quinoa and black lentils, is a neighborhood favorite, but you can't go wrong with any of the elevated salads, egg dishes or sandwiches. There's a full (marble-topped) bar for the cocktail of your choice, and the option to add CBD oil to your lattes and other beverages.
Price: Average.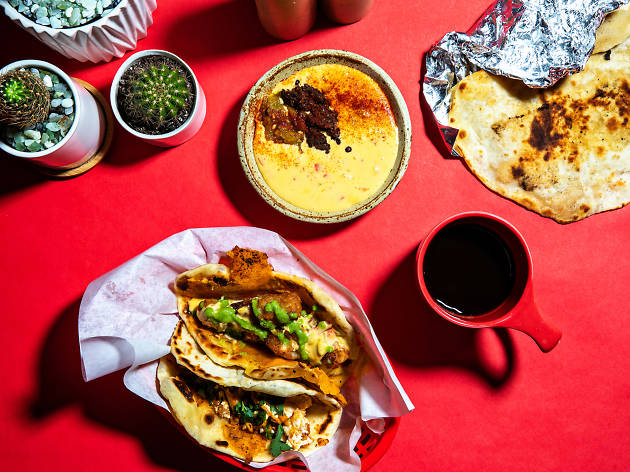 Photograph: Andrew Cebulka
What is it: Homemade flour tortillas are the base for this limited-hours (8am-3pm) taco spot from Butcher & Bee's Bryan Lee Weaver. Daily specials include Frito pie and chicken-fried steak, with a banana pudding/spiked bourbon shake for dessert.
Why go: Breakfast tacos, queso and other Tex-Mex goodness from one of Nashville's favorite chefs. Weaver grew up in Texas and is bringing his interpretation of the cuisine to East Nashville. The name is a nod to his favorite singer, Willie Nelson.
Price: Average
What is it: Expect two restaurants at a single location. From 7am-3pm, the corner is home to one of East Nashville's most popular all-day breakfast spots, Sky Blue. Em's bowl—a biscuit-topped bowl of home fries and eggs—is a legendary neighborhood hangover cure. On Friday through Monday nights, Setsun sets up a pop-up wine bar in the Sky Blue space with an emphasis on natural wines.
Why go: Why not? Some notes: Sky Blue doesn't take reservations so you'll likely have to wait for a table (especially on weekends), but you'll get to chat with neighborhood locals while on queue. Setsun does, however, accept reservations.
Price: Average
What is it: This small, bright restaurant in East Nashville serves a menu of Iberian (that's Spanish and Portuguese) dishes that changes every week. Belly up to the bar for a handcrafted cocktail… or some of the best non-alcoholic shrubs in the city. The environment is friendly but not obsequious.
Why go: Specific dishes are hard to call out because they change with frequency, but the small plates are made with a minimum number of ingredients, so they are simple—yet delicious.
Price: Pricey
What is it: An outdoor-only Hawaiian eatery serving lunch, dinner and a long cocktail list.
Why go: If you can't book a trip to the Hawaiian islands, this is the next best thing. The menu includes poke, rice, yakitori, Bento boxes and other traditional dishes, served from an on-premises food truck kitchen.
Price: Bargain
What is it: First a food truck with a long line and then a tiny eatery with a long line, Mas Tacos Por Favor has expanded and now is a larger restaurant with a full-service bar and, you guessed it, a long line.
Why go: Yes, it is true, there are plenty of places to get a better-than-decent taco in Nashville. But these avocado tacos are something else, creamy and fried, but not heavy. The chicken tortilla soup has just the right spice level and daily specials mix it up with soups and other tacos such as cactus. Mas Tacos Por Favor only accepts cash, so bring some or use the on-site ATM.
Price: Bargain
What is it: In suburban Donelson near the airport, nestled next to a hardware store, is a funky all-day eatery with a faint patchouli smell, healthy sandwiches, salads and, at night, a full bar and live music. PHAT, in this case, stands for Pretty Healthy and Tasty.
Why go: The huge menu means you'll find something that feeds even the most fickle of appetites. The hummus envy samplers change daily while options for wraps, tacos and salads run the gamut from extra meat to vegetarian friendly.
Price: Bargain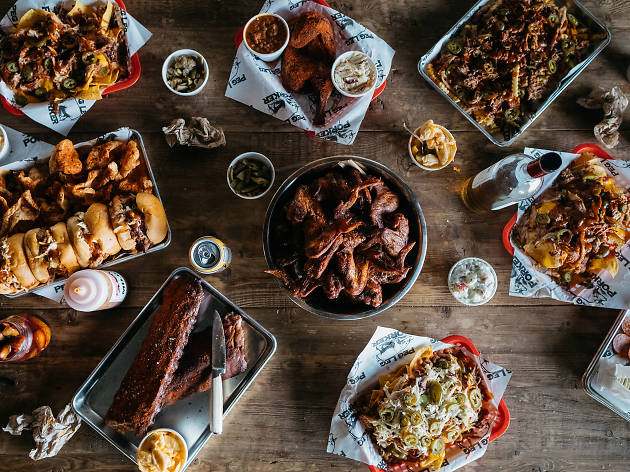 Photograph: Alyssa Jiosa
What is it: Memphis is better known for barbecue than Nashville is, but that doesn't mean Music City doesn't love its smoked meats. There are plenty of places to grab a slab of ribs or some pulled pork, and Carey Bringle's kitchen is one of the best.
Why go: Close to downtown, Peg Leg's serves barbecued ribs, chicken and pulled pork in a variety of ways, including on nachos, on plates or in sandwiches. Don't skip on a side of the Kool Aid pickles.
Price: Bargain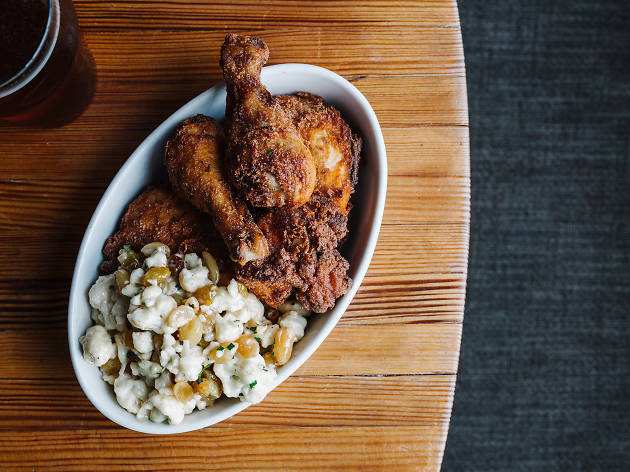 Photograph: Andrew Thomas Lee
What is it: Open from early morning to late night, Pinewood is a community hangout with a coffee shop and a bar, a bowling alley, two small outdoor pools, a co-working area with lots of outlets and—oh, yeah—a restaurant, all inside a converted trolley barn space with access to free parking.
Why go: It sounds like a hodgepodge of things that don't go together but, instead, Pinewood is the go-to for locals, visitors and even music celebs, with delicious cocktails and a menu that satisfies but doesn't overwhelm. Don't skip the fried broccoli.
Price: Average
Discover Time Out Market: the best of the city under one roof
Looking for a nightcap?
Whether you want to sample some Tennessee whiskey or just grab a cold beer while you listen to the live music that made this city famous, the best Nashville bars are sure to deliver.