The 20 best restaurants in Nashville
From cafeteria cuisine to incredible dining experiences, here's our pick of the best restaurants in Nashville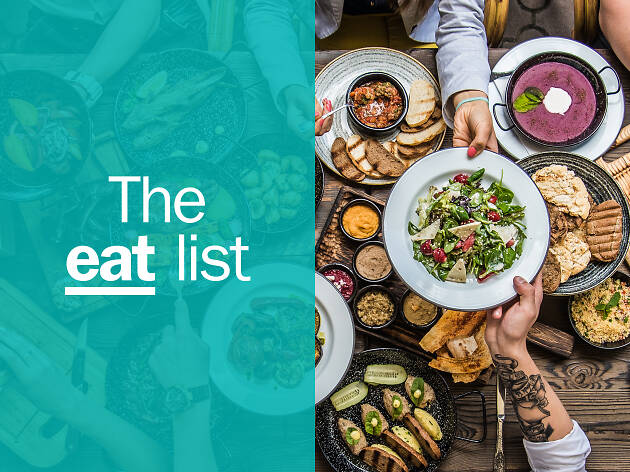 More than a few high-profile chefs—including Chopped's Maneet Chauhan and world-famous Jonathan Waxman, just to name two—have opened local kitchens in Nashville in recent years, adding celebrity street cred to a town now filled with serious eats (as well as a growing number of lauded bars).
You can find anything you want here; if you're not about white tablecloths of experimentation, no worries, the city is also known for the downhomiest of home-style foods (especially for brunch). The classic meat-and-three, a Nashville-style cafeteria where you choose one meat dish (often pot roast or fried chicken) and up to three vegetables (and macaroni and cheese counts as a vegetable in this context), is all over town. Making your way to these local foodie hangouts are a must-try thing to do in the city. And Nashville-style hot chicken, now at a fast-food joint near you, was birthed here. Try the spicy, pan-fried chicken, but don't say we didn't warn you; they call it hot for a reason.
The best restaurants in Nashville
1
What is it: With just 24 seats and a nationwide reputation, Bastion is possibly the most in-demand restaurant in Music City. Your online-only reservation requires a deposit by credit card, so it is a commitment, too.
Why go: Chef Josh Habiger created an environment that is innovative, but not intimidating, with a five-course menu you select on a paper menu and watch being prepared in front of you.
Price: Blowout
2
What is it: One of Nashville's culinary contributions is the meat-and-three, a cafeteria-style meal where diners select one "meat" entrée and three "vegetables," although mac-and-cheese counts as a vegetable in this case. This is a weekday, lunch-only spot.
Why go: Of all the meat-and-threes in town, Arnold's is the best-known and the most beloved. You'll see folks from all walks of life—the mayor, university students, musicians and tourists—waiting in line for a helping of fried chicken or creamed corn.
Price: Average
3
yelp
What is it: After a meat-and-three cafeteria, Nashville's best-loved contribution to culinary history is hot chicken. This is pan-fried, spicy chicken, usually made to order.
Why go: Prince's is where the hot chicken craze began, and while there are other places that make it faster (and have amenities such as drinks in glasses and air-conditioning), no one makes it quite like Prince's. Diner beware: Prince's doesn't mess around with spice levels.
Price: Bargain
4
yelp
What is it: It might look like your Lyft dropped you off at the wrong place when you first get to this office park. But trust us, there's charm galore inside, not to mention wood-fired pizzas, fresh pastas and gelato all worth forgetting about Whole 30.
Why go: James Beard Award-winning chef, Gerard Craft, developed a menu of solidly delicious Italian dishes, with fresh inspiration. Watch the cooks stretch that pizza dough right in front of you while you sip an aperol spritz. Or feast on the refreshing citrus salad while looking at the view of the city. Either way, don't forget dessert.
Price: Average
5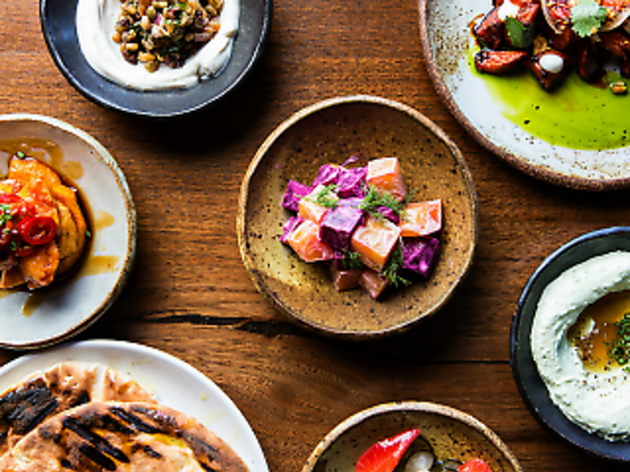 What is it: Venture to Butcher & Bee and you'll find something of a rare restaurant. Why? Because it's just as good for a date as a group. Think: Mediterranean-inspired dishes in a hip East Nashville hideaway, with an open kitchen.
Why go: For many, shareable plates are passé, but Butcher & Bee makes them modern again, with rich seasonings and fresh, seasonal ingredients, such as roasted radishes or carrots. The whipped feta is a neighborhood obsession.
Price: Average
6
yelp
What is it: Open from early morning to late night, Pinewood is a venue that's almost beyond description. There's a coffee shop and a bar, a bowling alley, an outdoor pool, a co-working area, and, oh yeah, a restaurant. You could spend an entire day here if you wanted.
Why go: It sounds like a hodgepodge of things that don't go together, but instead Pinewood is the go-to for locals and visitors alike, somewhere with delicious cocktails and a menu that satisfies but doesn't overwhelm. Oh, and trust us: don't skip the fried broccoli.
Price: Average
7
What is it: As much food performance art as dining, the Catbird Seat is a one-of-kind culinary experience. Twenty-two diners seated around a U-shaped bar feast on more than nine courses, paired with wines or non-alcoholic beverages.
Why go: Chef Ryan Poli isn't afraid to push the envelope. Each course is a mini work of art, sometimes with tastes and textures you wouldn't expect (or choose), but somehow they all work. The experience of watching these plated masterpieces evolve in front of your eyes is part of the fun.
Price: Blowout
8
yelp
What is it: This former transmission repair shop-turned into hipster hangout is so artfully designed that to call it a coffee shop seems like an insult.
Why go: Yes, the coffee is delicious. But if you just need a caffeine jolt, there are other places to go. To come to Barista Parlor (and there are now a number in the city, but the East Nashville location is the original) to watch your espresso be made from a handmade Slayer machine or coffee from a Chemex drip. The biscuit breakfast sandwiches are things of beauty, and the people-watching can't be beat.
Price: Average
9
yelp
What is it: To call Plaza Mariachi a strip mall with a food court is like calling the Grand Ole Opry a stage. This mega Mexican marketplace includes several restaurants, from an Argentinean steakhouse to a bakery to a ceviche bar.
Why go: The food is delicious, but the ambience is even better. Come at night and you can take free dance lessons, and even during the day, there's often live music while you dine. The atmosphere can seem a little like a cruise ship—lots of flashing lights and faux scenic backdrops—but it is fun and festive, and a lot less expensive than a cruise.
Price: Average
10
What is it: This small, bright restaurant in East Nashville serves a menu of Spanish and Portuguese dishes that changes every week. Belly up to the bar for a handcrafted cocktail…or some of the best non-alcoholic shrubs in the city. The environment is friendly, but not obsequious.
Why go: Specific dishes are hard to call out because they change with frequency, but the small plates are made with a minimum number of ingredients, so they are simple, yet complex.
Price: Pricey
11
What is it: Nashville has a huge amount of things working in its favour, but tragically, delicatessens are not one of them. Luckily for all of us with a penchant for top range foodstuffs, this New York import of Canadian-style edibles is here to up the city's game.
Why go: Neatly tucked away within the boutiquey Fairlane hotel, Mile End Deli offers poutine, deli sandwiches, bagels, and classic black-and-white cookies for a bargain price in the heart of downtown, where very little is a bargain. If you're in a rush, take your goods to go, or chill out by dining in the mid-century lobby.
Price: Bargain
12
What is it: Imagine a seafood-friendly barroom, with an emphasis on seasonal contemporary cooking. The room is sleek and well-designed, and has a good buzz: busy, but not insane.
Why go: The marble-topped oyster bar (the raw bar features more than 14 varieties of oysters) is popular with locals from the surrounding Germantown neighborhood. Chef Julia Sullivan, a Nashville native, has won many of the culinary awards you can imagine. The hometown Goo Goo Cluster candy makes an appearance at dessert,
Price: Pricey
13
What is it: Critics and locals alike rave about this pasta-centric (handmade, of course) restaurant with a killer cocktail list. The tables in the brick and wood loft space are communal, so you'll get to meet your neighbors. And while the menu is modern, the building is enchantingly historic.
Why go: You'll get to sample a menu that changes with the seasons, with an emphasis on farm-to-fork-style ingredients. Favorites include the rich ricotta cavatelli with tree-nut ragout. Reserve if you can but don't worry if you forget – walk-ins are also welcome.
Price: Blowout
14
yelp
What is it: The idea behind Little Octopus is that you feel like you are sitting on Venice Beach at sunset, no matter what time of day it is that you are hangin' in Nashville's Gulch neighborhood.
Why go: Get your knives and forks ready for a delightfully vibrant Caribbean menu. Expect an abundance of fresh seafood, seasonal vegetables and fun rum drinks. Dishes are small plates, served tapas-style, making Little Octopus a fab spot to visit with your friends.
Price: Pricey
15
yelp
What is it: From the folks who brought you Rolf & Daughters is an uber-hip East Nashville eatery in a building that was once an A&P grocery store.
Why go: If you're allergic to twee or hipster touches, Folk may not push the right buttons for you, with its edible flower pizzas from Neapolitan pizza oven, house-cured meats and the like. But the handmade breads and pizzas are delicious, and fresh vegetables lead the way at every turn.
Price: Average
16
Danielle Atkins
What is it: This restored five-and-dime lunch-counter was the site of 1960's sit-in demonstrations that helped the country desegregate.
Why go: The menu is as chockfull of southern specialities as the building is chockfull of history. Dine on some dishes that are updated with a healthier twist that the standard fried fare, as well as boozy milkshakes and plenty of classics, like fried chicken. The basement features live music and themed programs relating to civil rights.
Price: Average
17
yelp
Hemingway's Bar and Hideaway
What is it: Tucked away in the artsy Wedgewood-Houston neighborhood south of downtown, Hemingway's is a restaurant themed after the legendary author, but not in a way that is over-the-top or distracting from the good food and drink.
Why go: Hemingway loved his liquor, and the cocktail game is strong here. Dishes like Korean fried chicken complement the spirits, and the environment is buzzy enough to be fun, but you'll still be able to have a conversation with your friends.
Price: Average
18
What is it: It may look like a dive (okay, maybe it actually is a dive), but Rotier's has one of the best burgers in Nashville, the secret being that it is served on French bread. The hash brown casserole is a do-not-miss side, and milkshakes delicious, although not actually on the menu. (just ask for one)
Why go: While the food is tasty, one of the best things about Rotier's is that it is one of the few places in Nashville where everyone goes. City politicians, Vanderbilt professors, music stars, tourists, and locals all come here for a burger and a bargain.
Price: Bargain
19
First Tennessee Park
What is it: Located in right field of the actual First Tennessee Park, this is a seriously hip place to hangout during a Nashville Sounds baseball game. The owners operate several of Nashville's best restaurants (including Pinewood and Bastion), so this isn't standard ballpark food.
Why go: You'll find gourmet spins on the classic burgers and dogs, plus options such as a quinoa chopped salad, and globally inspired snacks such as empanadas and jalapeño corn fritters, and other dishes when guest chefs show up. You can even get actual table service.
Price: Average
20
yelp
What is it: This sleek American brasserie is located inside the shiny Kimpton Aerston Hotel, but it is not just for tourists.
Why go: All the dishes on the menu are prepared with intention, nothing here feels like an afterthought. But the specials, like eight different $8 Manhattans at happy hour, and a seasonal menu meant for sharing, make it a surprising find in a neighborhood that is crowded with other restaurants that cater to college kids.
Price: Average
Discover Time Out Market: the best of the city under one roof
Looking for a nightcap?
Find stops for a beer, whiskey (it is Tennessee after all), and craft cocktails. There's a beverage for every budget, from the pricy (with hand-shaped ice cubes) to happy hour specials with beers for a bargain.