Heads up! We're working hard to be accurate – but these are unusual times, so please always check before heading out.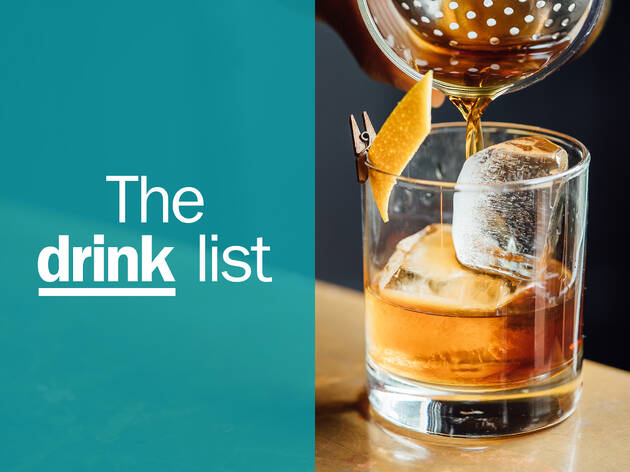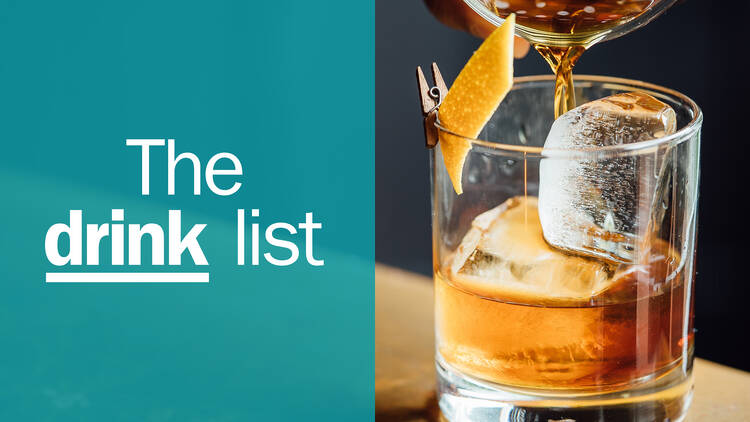 The 11 best Nashville bars
The best Nashville bars have undergone a resurgence, now important destinations on par with the city's top music venues
Whether you want to sample some Tennessee whiskey or just grab a cold beer while you listen to the live music that made this city famous, the best Nashville bars are sure to deliver.
In recent years, Music City's imbibing scene has grown as renowned as the local restaurant and music culture—which is saying a lot—making bar crawls some of the very best activities and things to do in town. Craft cocktails abound, but plenty of places also stock unique brews and extensive wine lists. East Nashville, in particular, has become a hotbed for locals and tourists, brimming with stylish, low-key hangouts that serve really good liquor. But notable spots have opened up all over town, from the fast-developing Wedgewood-Houston neighborhood to Lower Broadway and rooftops downtown.
This once-quaint Southern city boasts bars worth writing songs about, and we've rounded up the best of them below. Word of advice: to minimize your chances at a nasty hangover the next day, indulge in some delicious hot chicken either before or after your bar run. You won't regret it.
Best Nashville bars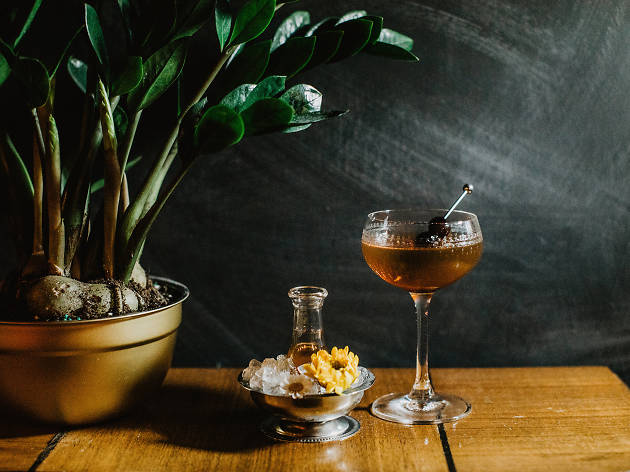 Photograph: Lindsey Grace
1. The Fox Bar & Cocktail Club
What is it: Located in the basement behind Nicoletto's Italian Kitchen, this cozy spot serves a leather-bound menu of creative cocktails you won't find anywhere else in town.
Why go: With booths lined in plush blue velvet and a reclaimed wooden bar—embossed with gold foxes, no less—the space is as elegant as the drinks are. The selection changes monthly and there's a special Old Fashioned menu featuring a range of bourbons and whiskeys that will have you go wild. Indulge in the unique snacks as well, think lavender kettle corn and vegan pimento cheese with crostini.
What is it: With its beachy décor and selection of rum-based drinks, this island-inspired East Nashville bar is tropical in look and spirit.
Why go: From the palm frond-wallpaper in the entryway to the porthole-style windows, Pearl Diver will make you forget Nashville is landlocked. The spacious lounge opens to a patio in the back, complete with cabanas and torch lights. At the seafoam green bar—or a separate bar outside—sample drinks like the bar's namesake cocktail: blended rums with honey, butter and spices.
Photograph: Andrew Thomas Lee
What is it: Pinewood is a little bit of a lot of things: a coffee shop, a restaurant, a bowling alley and a co-working space.
Why go: At the center of it all (both literally and figuratively) is an impressive bar, a place where craft cocktails are conceived and made, and friendships are toasted over them. In season, head outside where you can cool off with frozen cocktails poolside (served from a retrofit Airstream trailer).
What is it: Downtown Nashville has no shortage of rooftop bars, but with exceptional drinks and a prime locale, Rare Bird stands out from the flock (see what we did there?).
Why go: Located atop the boutique art deco-inspired hotel Noelle, the lounge space is as chic as it is comfortable, boasting two fireplaces and a wooden bar with burnt orange leather chairs. Sip a Nashville Julep, made with mint and Dickel No. 12, and take in the best view in the city.
Photograph: Danielle Atkins
What is it: There's no sign on the exterior, but that hasn't kept people from across the country from discovering Patterson House.
Why go: Cocktails here are crafted with care, and there's no standing room: you must have a seat in order to be served. This contributes to a civilized cocktail hour, but you might have to wait a minute. Not a pickup scene, this is a place where you'll want to savor your cocktail, from its creation to its last drop.
Photograph: Andrea Behrends
What is it: Newer establishments may come and go, but Dino's is still Nashville's go-to dive bar.
Why go: Simple fare—cheeseburgers, fries and cheap beer—keeps locals coming back to the well-loved space on Gallatin Ave. The Formica laminate and wood paneling look largely as they did when the bar opened in the 1970s, and the space is open late every night, so you can get a taste of Old Nashville anytime your heart (and palate) desires.
Photograph: Flamingo Cocktail Club
7. Flamingo Cocktail Club
What is it: Housed in a renovated church in Wedgewood-Houston, this bright pink Miami-inspired lounge offers great music and eclectic drinks.
Why go: Orange velvet sectionals and wicker chairs surround a marble, pastel-colored sundial in the center of the floor, where the bar hosts dance parties. And if you stay past your bedtime, you won't have to wait long for its sister space, Falcon Coffee Bar, located in the front of the building, to open in the morning.
8. Rosemary & Beauty Queen
What is it: Imagine a house party with great music and even better drinks.
Why go: Located in a century-old yellow house near Five Points in East Nashville, Rosemary is homey, complete with built-in bookshelves and antique furniture. The drinks are affordable—most range between $8-$12—and local DJs man the playlists. There's also a small food menu and seating in the spacious backyard.
Photograph: Downtown Sporting Club
9. Downtown Sporting Club
What is it: A multi-level complex in the former Paradise Park space on Lower Broadway where you can lean into your sporty side.
Why go: Take a break from the honky-tonks and try some shuffleboard. Along with a slew of activities, including cornhole, arcade games and ax-throwing (drink responsibly), Downtown Sporting Club also has three restaurants and a rooftop bar. You could spend a whole day here—or longer: there are 20 guest rooms starting at $179 each.
Photograph: Courtesy Yelp/Vanetta G.
What is it: You won't find a flashy entrance or even a sign at this style-heavy speakeasy. Get to the entrance (marked by a single gold triangle painted over the brick exterior) in the alley behind nearby restaurant Taco Mamacita. Prepare to be dazzled by the staircase as you descend.
Why go: A variety of things bring Nashvillians to this Edgehill Village bar, whether it be the airy, industrial interior (it was a former boiler room in the 1920s), the seasonal cocktails or the DJ sets.
What is it: Walden takes an all-natural approach to its menu and atmosphere.
Why go: The wooden floors and tables that fill the space are accented by flowers and greenery, including a black and white mural of blooms on the back wall with foliage on its border. Sit in swings—yes, actual swings—and sip on an Aloe Vera You Much cocktail with gin, apricot and CBD oil, while munching on snacks like goat cheese crostini with lavender, fennel and edible flowers.
Got the little ones in tow?
While the city screams country and might inspire a Johnny Cash jam session or two, you don't necessarily have to embrace its musical roots (though of course we're all for a trip to the Grand Ole Opry). Take a look at our list to get inspired.