Heads up! We're working hard to be accurate – but these are unusual times, so please always check before heading out.
Where to eat the best New Orleans beignets
The best New Orleans beignets are made by deep-frying yeast dough or choux pastry. Ready to eat them all?
Devouring all the best New Orleans beignets is a weekly (daily?) right of passage for locals and a bucket list-must for visitors. Let us help.
As the undisputed frying capital of the world, this Louisiana town really knows how to deliver the fritter—a skill that isn't just applied in the most famous spot in the world that dishes out the good stuff (hello, Cafe du Monde) but can actually be witnessed at restaurants (and even bars!) all over town.
So: what is a beignet? Put simply, it's a French pastry consisting of deep-fried dough sprinkled with confectioners' sugar. Yes, it's as delicious as it sounds.
Beignets in the Big Easy are made with yeast dough or choux pastry, sometimes stuffed with savory bites and other times smothered in powdered sugar, but always served piping hot. The beignet isn't just made in NOLA, either: in 1986, it was proclaimed the Louisiana state doughnut. Clearly, if there is one thing to do in town it is to eat all the beignets. Ready?
Best New Orleans beignets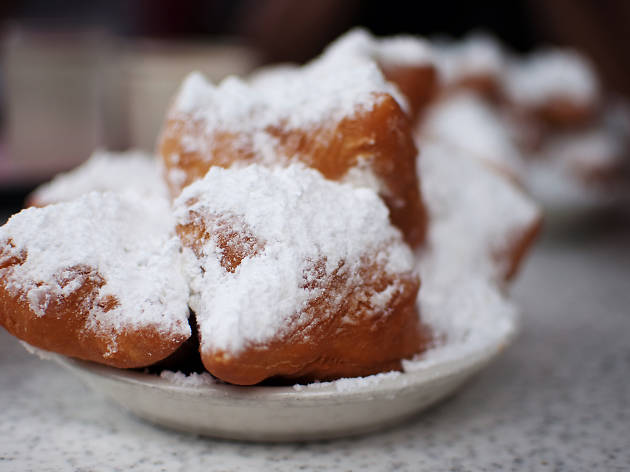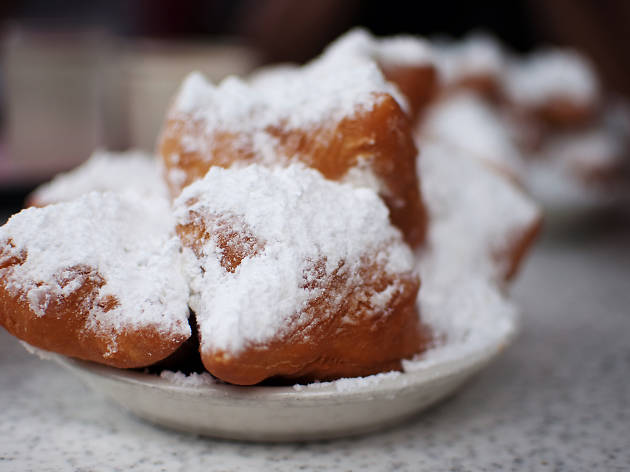 Photograph: Courtesy Creative Commons/Flickr/Chuck Yeager
Cafe du Monde is the granddaddy of all beignet places in New Orleans. First opening its doors in 1862, the spot is still at the same corner of Decatur and St. Ann streets. Open 24 hours a day, every day except for Christmas, the café doesn't try to do anything but what it does best: make beignets. Served in a paper tray of three, these fluffy square puffs of fried dough are smothered in confectioners' sugar and served with chicory-laced coffee, fresh-squeezed orange juice or, since 1988, soft drinks. That's it. A word of advice to newbies visiting this location or one of the eight other outposts around the region: don't wear black and don't put your elbows on the table (they will stick to it).
Cafe Beignet has been doing beignets proud since 1990, taking the Cafe du Monde model and ramping it way up. They do three beignets to a serving and chicory coffee extremely well, but that's only the beginning. At any of their three locations in the French Quarter, you'll find omelettes, waffles, po'boys, jambalaya, gumbo and a full cocktail menu, often accompanied by live jazz from afternoon until closing.
3. Loretta's Authentic Pralines
Loretta Harrison began her praline company over 35 years ago with her decadent French Quarter sweet shop and, nowadays, she's also serving beignets for breakfast and lunch at her café on Ramparts in the Marigny. And while she's happy to serve you the traditional sweet three-on-a-plate beignets, you really need to try her praline-filled beignets as well. For savory choices, sample the crab beignet or the burger beignet and be sure to eat them piping hot for maximum pleasure.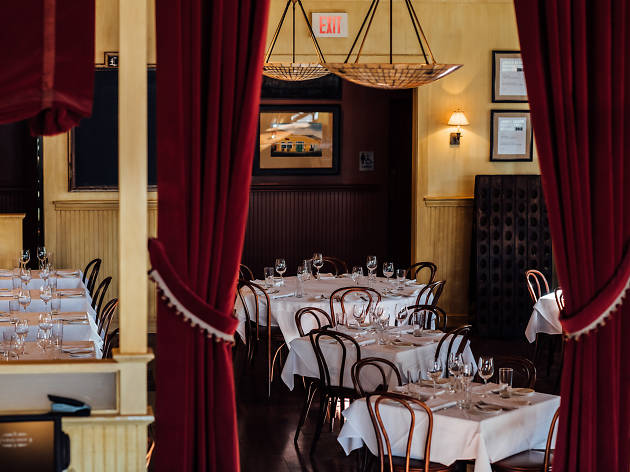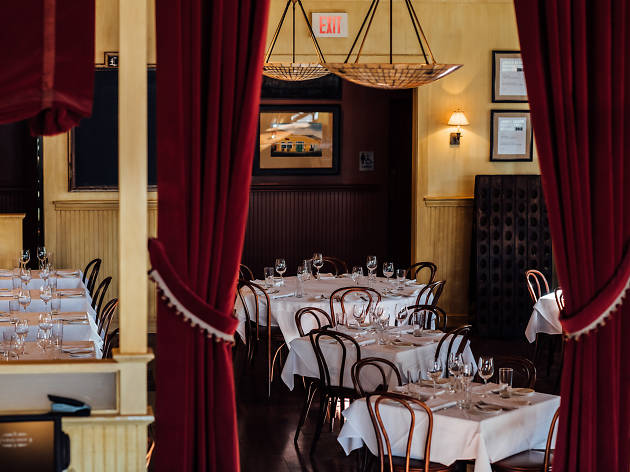 Photograph: Denny Culbert
To get a taste of chef Justin Devillier's blue crab beignets, one of the unique creations that have helped propel him to James Beard award fame (yes, he won in the best chef, South category back in 2016), we'd advise making a reservation. Lunch is an easier time to grab a table, but no matter when you visit, the luscious combo of crab, pastry and a malt vinegar aioli will make you beg for more.
5. New Orleans Coffee & Beignet Co.
Along lovely St. Charles Avenue sits New Orleans Coffee & Beignet Co., a little bakery café that fries up not only traditional beignets, but also chocolate ones. Choose your favorite and pair it with one of the many coffee choices, or go for extreme decadence and enjoy a frozen creme caramel coffee (just pretend there are no calories in it): a sugary, slushy quaff perfect for those hot NOLA summer days.
Photograph: Restaurant R'evolution
6. Restaurant R'evolution
Restaurant R'evolution has been doing everything right since it opened inside the Royal Sonesta Hotel in the French Quarter in 2012. Under the helm of chefs John Folse and Rick Tramonto, this fine-dining outpost offers delicately fried, beer battered crab beignets as an appetizer at lunch or dinner, served with four deliciously different rémoulades for dipping. You won't find sweet beignets here, but if you're still hungry by dessert, go for the dark chocolate cremeux. You can thank us later.
Photograph: Courtesy SoBou
SoBou is part of NOLA culinary history, a place created by different branches of the Brennan family, New Orleans' dynasty of wonderful food. It's got a cool vibe and incredibly good food, all wrapped up in a spot that's front and center in the French Quarter (and a disparate part of the W Hotel). There's a lot of culinary innovation going on here, like shrimp and tasso corn dogs and crawfish boil fried chicken sticks. When it comes to beignets, they are taking it to a whole new level: dig into the wild shrimp and crawfish beignets, stuffed with Andouille sausage and boiled corn, too; once you dip them into the spicy Cajun remoulade and take a bite, you may just realize you've died and gone to foodie heaven.
If melt-in-your-mouth savory beignets are on your wish list, get thee to Trinity near the Ursuline Convent in the French Quarter for some of the best NOLA has to offer. During happy hour, you'll discover the crawfish and fontana beignets on the snacks menu. Those succulent pillows of dough filled with luscious cheese and crawfish are perfectly paired with a tarragon aioli, which will make you start believing in a holy trinity, if you don't already. Find them on the dinner menu, too, as a side dish.
Photograph: Courtesy The Vintage
The Vintage on Magazine Street serves beignets (and pastries, too) all day long, with a much-appreciated suggestion to pair them with some bubbly at night. When it's dark out, those traditional delicacies are paired with cava or, for a real splurge, with Veuve Clicquot champagne; all day long, it's coffee and "fancy" beignets, which can mean s'mores beignets on one visit, king cake or matcha beignets during another. Basically, go get yourself a different one each day.
Indulge in a sweet beignet for dessert at this brasserie that serves locally sourced food. You never know what variation on a beignet you'll find here, sometimes it will be a classic one and others you'll luck into a quirky take, like a cherry beignet infused with a rum sauce, for example. Find this restaurant inside the Loews New Orleans Hotel in the CBD.
New Orleans is home to all sorts of restaurants, including eateries for vegans. At Seed on Prytania Street, the staff cooks "garden-based" dishes, but that doesn't stop them from firing up the fryer, where they deep fry tofu, eggplant, potatoes (for French fries) and, of course, oh-so-sweet beignets. Naturally, those are covered in powdered sugar—that's vegan, too.
Luca Eats, the sandwich café in the Uptown Carrollton neighborhood, is known for its pressed sandwiches, like apples and brie for breakfast and the popular Cubano for lunch. No matter when you stop in (warning: they are open 7am-2pm only), the Oreo beignets are always on the menu. How do they combine those two disparate elements into one famous dessert? You'll have to take a gooshy bite to figure that one out on your own.
13. Katie's Restaurant and Bar
Katie's, in Mid-City since 1984, suffered terribly during hurricane Katrina back in 2005, but rose from the waters to live again. Known for its pasta, po'boys and pizza, Katie's also makes a unique savory beignet that keeps people coming back for more. Katie's Teyo's seafood beignet is a flavorful mix of shrimp, crawfish, onions, mozzarella, cheddar and jalapenos, served with a jalapeno aioli that adds even more spice. On Sundays at brunch, try the crawfish beignet and a cochon one (regarding the latter: think of the seafood version replaced with juicy pork cochon du lait while keeping the cheeses, onion and jalapeno). Deliciousness all around.
Consider these local happenings when planning your visit
Pack those dancing shoes and ditch the diet: there's no rest for the weary, as proven by the best New Orleans events. Some annual and some one-offs, they range in genre and scope—we highlight photo exhibits, famous cocktail events, music and film parades and more—but all have one thing in common: they are the beating heart of the city's cultural scene.