The 20 best restaurants in New Orleans
We promise you: dining at the best restaurants in New Orleans will completely change your perspective on food.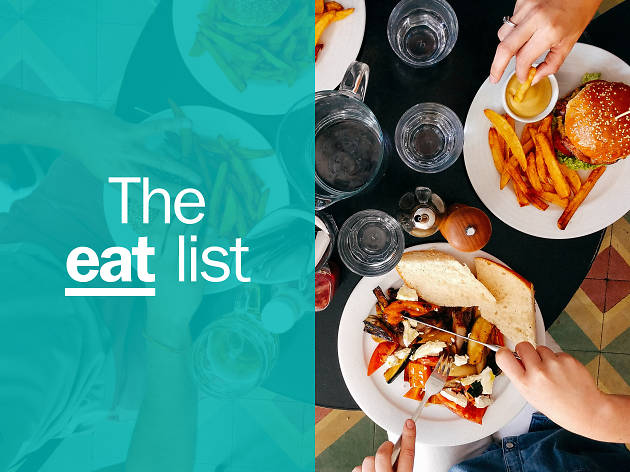 New Orleans is and always has been one of the world's great food towns (also, coincidentally, one of the most fun-filled destinations within the US, bursting with amazing things to do and places to stay). It's not only about the city's dining scene: Louisianians happen to be really good cooks as well, even when their creations are relegated to the comfort of their own kitchens. And when you get world class Afro-Caribbean-meets-Euro-Colonial cuisine in your own home, your standards for eating out become astronomically high. Basically, fine dining here becomes exceedingly fine and local taste buds end up driving gastronomic trends and dictate the fortunes of those who enter the culinary scene. The result? Glorious, indeed. From white tablecloth eateries in fancy hotels to more casual (yet just as robust) spots, here are the best restaurants in New Orleans.
Best restaurants in New Orleans
1
Photograph: Courtesy Yelp/Feedithnola F.
What is it: Saint Lucia-born chef Nina Compton took home the 2018 James Beard award for Best Chef: South for her contemporary take on the food of the Caribbean—which includes New Orleans, both geographically and culturally—at this chic Warehouse District restaurant.
Why go: A personality-filled menu of bright, blissful dishes that manage to nudge the palate ever-so-gently while still offering comforting bursts of familiar flavors. While the ambiance is contemporary and unquestionably cool, there's a coziness to the place as well: the sort of vibe that lets you feel good about enjoying yourself while immersed in delicious food and company. Joy in food—isn't that the whole point?
Price: Pricey
2
Photograph: Courtesy Yelp/Dean C.
What is it: New Orleans' upper crust has been dining at this robin's-egg blue mansion in the Garden District since 1880, and chefs like Emeril Legasse and Paul Prudhomme have made their bones in this kitchen. That same eatery is now helmed by chef Tory McPhail and it has never stopped creating sublime, delicately forward-thinking plates of mostly-traditional Creole-style food.
Why go: The lunch specials are among the world's best fine dining deals (the accompanying 25-cent martinis certainly help) but, if it's within your budget, definitely opt for the chef's tasting menu for dinner (better yet, book the chef's table in the kitchen): a decadent, inspiring experience. Although it changes nightly, it always includes ingredients like crawfish tails, oysters, foie gras and Angus beef—all prepared using methods that are unexpected but deeply grounded in New Orleans tradition.
Price: Blowout
3
Photograph: Courtesy Yelp/Aaron A.
What is it: While Dong Phuong was founded over 35 years ago in New Orleans East, home of the city's enormous Vietnamese population, most locals first heard of this humble bake shop just a few years ago, when word got around that the staff here was baking the city's best king cakes (a traditional Carnival season treat).
Why go: Because the baked treats are straight-up delicious. They've got Vietnamese goodies, both savory and sweet, and while the fluffy, feather-light brioche king cakes are undoubtedly excellent, there's way more to the menu. Queue up and try flaky meat turnovers with pork and mushrooms, charsiu pork pâté chaud, mung bean newtons. Even better? Small items are usually only a buck or two, so you can keep your wallet just as happy as your stomach.
Price: Bargain
4
Photograph: Courtesy Yelp/Gabie S.
What is it: Chefs Greg and Mary Sonnier's Gabrielle was a night-out favorite among locals and in-the-know visitors for years before it was completely destroyed in the post-Katrina flooding. Twelve years later (yes, the city is still recovering), Gabrielle triumphantly reopened in a new location with a menu featuring some of the old favorites (including the much applauded slow-roasted duck with crimini mushrooms and orange-sherry sauce) and lots of new innovations, all inspired by Creole and Cajun traditions. Locals are, obviously, beside themselves with joy.
Why go: If you had been to the original Gabrielle, a visit will be like seeing a beloved old friend after a decade of separation; if you hadn't, it'll be like meeting a new one.
Price: Pricey
5
Photograph: Courtesy Yelp/Linda L.
What is it: Willa Jean takes Southern cooking and baking traditions and gussies them up, bestowing them with modern twists to delight any palate.
Why go: While it's worth stopping by at this contemporary, chic bakery for any meal, Willa Jean do one thing very well: brunch. It's so good, in fact, that you might have a bit of a tricky time getting a table. But don't let that put you off, because the edibles are more than worth it. Expect to be satisfied by a range of delicious dishes, including sausage, egg and pimento cheese on a fluffy house-made biscuit and a croque madame to die for. Locals who work in the adjacent Central Business District also love popping in to grab breads, cookies and other treats from the bakery counter.
Price: Average
6
Photograph: Courtesy Yelp/Karen D.
What is it: Soul food and Creole staples are the name of the game at this Tremé restaurant, helmed by nonagenarian chef Leah Chase, the inspiration behind Disney's Princess Tiana (really!), star of Beyoncé videos (really, really!) and a local leader of the civil rights movement. The walls are lined with art by African American artists and chef Chase holds court in the dining room more often than not, visiting with friends old and new as they dig into heaping plates of rice and beans and shrimp clemenceau.
Why go: If you don't have a New Orleans mama to make you gumbo, chef Chase is the culinary foster mother you will certainly adore.
Price: Average
7
Photograph: Courtesy Yelp/Kim P.
What is it: Following a less-than-private dispute, chef Alon Shaya left the Besh Group restaurant that won him a James Beard award (and which still bears his last name). But don't despair foodophiles, because in May 2018, Shaya launched his very own restaurant – Saba. Thanks to Saba's intriguing (and downright delicious) menu, Saba has become a destination diner. The theme? Modern Israeli, bursting with various other cultural influences from across the Middle East. There's also a hint of North African flavor to some dishes and a whisper of East Europe as well.
Why go: It's the pita itself that is at the heart of this meal. The flatbreads are toothsome and pillowy, the perfect foil to a variety of richly-spiced hummus, labneh and dip preparations, as well as a tasty array of fresh salads and entrées served family style.
Price: Pricey
8
Photograph: Courtesy Yelp/Bacchanal
What is it: A wine and cheese shop with the best backyard in the city, Bacchanal feels less like a restaurant and more like a private party to which you are magically granted entrance.
Why go: This is the backyard picnic of your dreams. The menu is based around small plates prepared with broad Mediterranean influences and local ingredients in mind, and everything on it pairs beautifully with the impeccably curated wine selection. Build your own cheese plate from the coolers inside or order things like bacon-wrapped figs and watermelon gazpacho from the menu. Get comfy with a bottle or three of wine, a live band playing music and any friends you can round up. It sounds like a hell of a night to us.
Price: Average
9
Photograph: Courtesy Yelp/Jay Z.
What is it: In a city of great po' boys, it's legitimately hard to choose the best, but the line out the door at lunchtime every day is a fairly good sign that something good is happening here. Yes, the po' boys are top-notch, but this is also just a fun, borderline-divey, neighborhoody, old-school New Orleans working-class lunch joint.
Why go: Seriously good po' boys and a great neighborhood vibe. Fried shrimp and roast beef po' boys are house favorites (combine the two in the surf-and-turf if you can't decide) and they're both overstuffed and hilariously sloppy—makes it hard to hold your cheap beer, but that's half the fun of it.
Price: Average
10
Photograph: Courtesy Yelp/Santiago M
What is it: Cozy and funky, Elizabeth's offers a Southern hipster aesthetic without any of the blistering irony—it's just pure fun in here. The food, like the decor, is fundamentally down-home, but with touches of whimsy. Although lunch and dinner are top notch as well, this might be the best dang breakfast spot in the city.
Why go: The fried green tomatoes are some of the best in the state and this is one of the only restaurants in town that serves callas, a traditional Creole fritter that's sort of like a rice-based hush puppy. Long ago, and perhaps unfairly, the beignet eclipsed this foodie favorite as the preferred local fried pastry.
Price: Average
11
Photograph: Courtesy Yelp/Rob S.
What is it: Look lively, carnivores. La Boca is all about the steak, Argentinian-style. Big ol' hunks of beef are cooked fast on a ripping hot grill to order and served with a trio of sauces and a variety of à la carte sides.
Why go: Meeeeeeeeeat. You can't go wrong ordering an entraña (skirt steak) smothered in chimichurri, and then sopping up the juicy mess on the plate with an order of fries. More adventurous eaters will appreciate the inclusion of items like morcilla (blood sausage) and mollejas (sweetbreads) on the menu. The wine list is appropriately heavy with South American reds, but the bar also makes the best pisco sour in town.
Price: Blowout
12
Photograph: Courtesy Yelp/Lauren C.
What is it: Katie's, a homey neighborhood restaurant in a residential stretch of Mid-City, has a pretty big yet consistently delicious menu that digs into all of the big categories of traditional New Orleans food, from seafood to gumbo to po' boys to Italian-Creole pastas, as well as burgers and pizza. All of it is a solid couple levels up from your average New Orleans baseline (which is, as we've discussed, super-high).
Why go: Downright delicious traditional-ish New Orleans food and a diverse enough menu that everyone in a group, picky or adventurous, will not just be satisfied with, but thrilled about.
Price: Average
13
Photograph: Courtesy Yelp/Thomas C.
What is it: This baby brother of the also-excellent gourmet Cajun sit-down restaurant next door has become the Central Business District's favorite fast-casual spot and a destination that, for many, has eclipsed its fancier sibling.
Why go: Gourmet twists on Cajun traditions in a fun, industrial-chic setting will keep you coming back for more. Sally up to the counter to order a variety of Cajun-style butcher block options, like boudin (a spicy rice and pork sausage), head cheese and smoked sausage links, as well as creative sandwiches (and some upscale takes on local traditions, including what might just be the best muffuletta in town) and small plates galore. Take some hot sauce home with you.
Price: Average
14
Photograph: Courtesy Yelp/Alfonso M.
What is it: New Orleans, despite being definitionally part of Latin America, isn't as packed with Latin restaurants as foodies might hope, but there are a handful of great options, and Maïs Arepas is the best among them. Expect a warm, inviting space with even more warm, inviting staff ("service" is really upgraded to "hospitality" here) and a menu packed with thoughtful contemporary interpretations of Colombian food.
Why go: The best Colombian food on the Gulf Coast, ultra-friendly and helpful staff, and obscenely delicious margaritas, to boot. As you might expect from the restaurant's name, arepas—little corn pancakes that are like the blissful marriage of tortillas and biscuits, stuffed with meats and veggies and other fun fillings—are the focal point, and they arrive with a heap of hot, freshly-fried plantains.
Price: Average
What is it: If you're looking for classic Creole fare in an upscale setting in the French Quarter, you absolutely will not do better than Brennan's, which is not the oldest of the city's old-line restaurants, but it is without a doubt one of the best. Most famous for inventing bananas Foster and largely popularizing New Orleans' decadent, boozy take on brunch, Brennan's is a torchbearer for the old-world fine dining experience that put the city on the culinary map centuries ago. After closing in 2013, Brennan's reopened under new ownership a year later with a facelift: a glamorous renovation, a new star chef (Slade Rushing) and a menu that features famous classic dishes and new, seasonally-inspired ones that change regularly.
Why go: Elegant surroundings, flawless service, delicious food and—c'mon, it's so fun—tableside flambée.
Price: Blowout
16
Photograph: Courtesy Yelp/Dean C.
Willie Mae's Scotch House
What is it: Scotch is in the name and, yes, you can order a glass of it, but that's not what people come to this humble, tidy Tremé spot for: it's the fried chicken that keeps 'em lining up.
Why go: For the world's best fried chicken, obviously. You'll dream about it for days: the thick batter manages to be both light and deeply crunchy, with salty, impossibly juicy meat underneath it. The menu also offers a nice slate of Louisiana-style soul food sides: decadent butter beans, spicy red beans, fried okra, cornbread and a mac and cheese that'll make you want to jump up and kiss the chef. Willie Mae's is off the beaten path, but totally worth the trip.
Price: Average
17
Photograph: Courtesy Yelp/St. James Cheese Company
What is it: If cheese matters to you (and let's be honest it should), then you won't find anywhere quite as deliciously magnetic as the St. James Cheese Company. Let your mouth fall in awe, because these guys are purveyors of great stacks of the melty stuff. If your idea of heaven is gossiping about cheesy varieties for hours then you're in luck: it's is an object of obsession here. Plus, don't forget that you'll be able to nibble (or guzzle) on cheese in several of it's tasty forms – we're talking sandwiches, salads, cheeseboards and more. And as if that wasn't enough, the venue hosts regular tastings and classes where connoisseurs teach you everything about the food, too. We'll see you there, ok?
Why go: Cheese. Queso. Fromage. You get the point.
Price: Average
18
Photograph: Courtesy Yelp/Namarazzi N.
What is it: Cajuns and Creoles have been boiling crawfish in spicy, heavily-seasoned water in and around New Orleans for longer than anyone can remember. If that's what you're craving, it is not too hard to find a bar offering a boil in the back courtyard on any given weekend during crawfish season (approximately February through June). But a few years ago, word got out that Vietnamese folks in Houston, many of whom arrived there after Katrina displaced much of New Orleans' huge, insular Vietnamese community, were doing their own thing with crawfish (and other boil-friendly seafood: shrimp, crab, clams, etc.)—boiling it with slightly different spices then tossing it in a garlicky butter-based sauce — and it was good. The burgeoning trend slipped in via New Orleans' back door, but with the 2018 opening of the outstanding BOIL Seafood House, it burst out of the shadows. Never ones to resist fun new flavors (or more ways to eat crawfish), locals fell in love quickly.
Why go: You've got to taste the crawfish that everybody is talking about. Trust us.
Price: Pricey
19
Photograph: Courtesy Yelp/Teresa H.
What is it: Casamento's is the very best kind of relic of New Orleans' past: a living legend with tiled walls, formica-topped tables, slightly salty (with hearts of gold) waitstaff and the fattest, juiciest oysters in town, hand-shucked to order by masters of the task.
Why go: The fried seafood is delicious and the char-grilled oysters are always a good bet, but it's the big platters of briny, cold oysters and the proudly old-school vibe that keep generations of locals returning.
Price: Average
20
Photograph: Courtesy Yelp/June H.
What is it: Chef Susan Spicer's first and best restaurant is tucked into a historic French Quarter cottage, complete with a handsome courtyard where time seems to pass just a bit more slowly than it does in the rest of the world.
Why go: Bayona is a wonderful choice for a romantic dinner (though you may want to hold off on the famous cream of garlic soup for another time) and is also a lovely choice for a leisurely lunch. The menu changes daily (with a few stalwarts, including veal sweetbreads, which you should definitely try) and features whimsical, Mediterranean-style twists on Creole and Southern dishes, with strong nods to the bounty of local farmers and fishermen.
Price: Blowout
Discover Time Out Market: the best of the city under one roof
More of the best of New Orleans
Whether you want to stay near the party on Bourbon Street or get to know more of the city, here are the best places to stay in New Orleans and the top things to do and eat while you're there.
Whether the Big Easy attracted your attention for its reputation as one of the best bachelor party destinations or best couples vacations in America, you'll need to know about all the best things to do in New Orleans.
New Orleans is home to a scattering of stylish, budget-friendly hotels, that'll let you save some of your holiday dough to spend on extracurricular activities.
More to explore