The 10 best Thanksgiving movies for kids
These super special Thanksgiving movies for kids—including A Charlie Brown Thanksgiving—need to be in your holiday lineup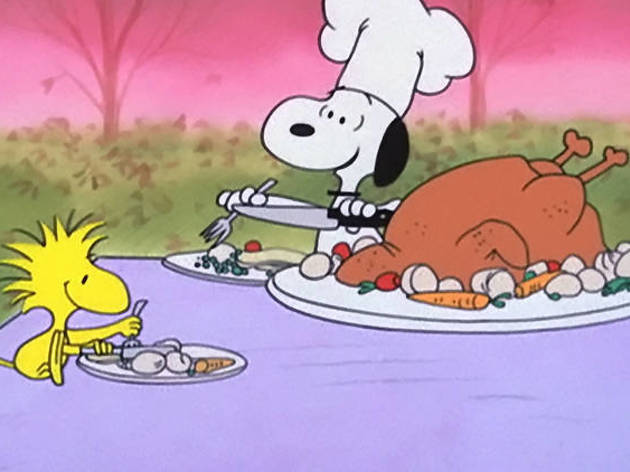 After turkey time, all we want to do is watch the best Thanksgiving movies! For kids, Thanksgiving is a special time to share, eat and cuddle up with heartwarming flicks (like A Charlie Brown Thanksgiving or Winnie the Pooh: Seasons of Giving) that you'll want to watch season after season.
RECOMMENDED: Thanksgiving for kids in New York City
While you're at it, make sure to enjoy the best things to do in the fall with kids (including late-season harvest fests, getting your hands on the best pies and enjoying as many outdoor activities for kids as you can before the temperatures feel wintry. You might also explore our November events calendar for kids to get in on even more cool happenings!
Looking to plan a cool adventure outside the city? Peep our favorite winter getaways from NYC for some fresh air in some of the prettiest scenic towns.
The best Thanksgiving movies for kids
1
A Charlie Brown Thanksgiving (1965)
Oh, Charlie! Another day, another adventure. While the gang's Christmas special is probably the most famous installment in the T.V. series, A Charlie Brown Thanksgiving is an equally heartwarming tale that's worth watching over and over. The Emmy-winning episode has all the Thanksgiving essentials: football (well, Charlie Brown's pitiful attempts at the game), delicious meals and, of course, a bit of bickering amongst the Peanuts. As the kids try to whip up a meal of their very own, Peppermint Patty is less than impressed with the menu of buttered toast, popcorn and jellybeans. Rated G.
2
Reggie (Owen Wilson) is the smartest gobbler in his flock. He knows his fellow turkeys are being fattened up for human consumption come Thanksgiving, though his dimwitted brethren are happily ignorant. Fortunately, fate puts our hero in the path of a muscular birdbrain (Woody Harrelson) with a magic doorknob that leads the duo to a time machine, which takes them back to the very first Thanksgiving. Rated PG.
3
Miracle on 34th Street (1947)
Sure, this is as classic a Christmas film as they come, but its jumping-off point is none other than the Macy's Thanksgiving Day parade in NYC! When Santa Claus gets tipsy before his annual ride on the parade float, he gets the boot—but his bearded replacement, Kris Kringle, be the real deal? His commitment to the job has all the kids in awe and sets off a media firestorm that ends up in a court of law. What a perfect way to close out Turkey Day and get the kids excited for Santa's visit! Rated G.
4
Photograph: 20thCentFox/Courtesy Everett Collection
To get to know his girlfriend's son, blue-collar guy, Dutch (Ed O'Neill), offers to pick Doyle up from school in Atlanta to bring him home for Thanksgiving dinner in Chicago. The preppy kid turns out to be a piece of work, but a few mishaps during their cross-country journey, including a fireworks display gone wrong and run-ins with some interesting characters, end up bringing the two together. Rated PG-13.
5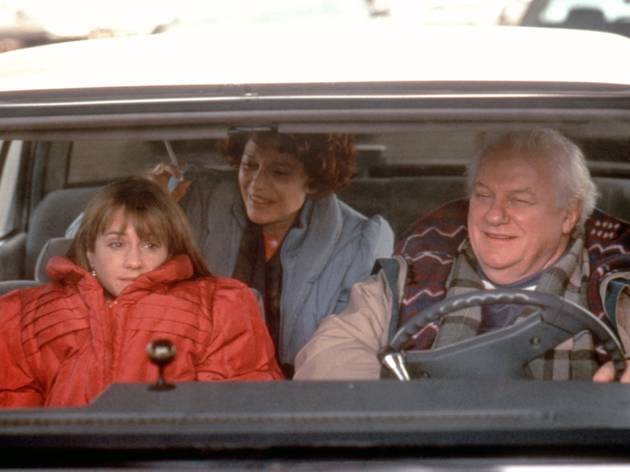 Photograph: Paramount/Courtesy Everett Collection
Home for the Holidays (1995)
This comedy/drama hybrid stars Holly Hunter as Claudia, a down-on-her-luck single mother who returns to her parents' Baltimore home for a bit of comfort over the holidays. However, her dysfunctional family provides anything but. Her sister Joanne's attitude and dramatic brother Tommy (Robert Downey Jr.) stir up trouble, and on top of it all, her daughter Kitt (Claire Danes) decides to spend the holiday with her boyfriend. This film is an after-dinner flick for families with kids on the older side, but is sure to draw some laughs. Rated PG-13.
6
Alvin and the Chipmunks - Alvin's Thanksgiving Celebration
Think you can handle Alvin, Simon and Theodore's super high-pitched voices for a little over an hour? If you're up to the challenge—and lets face, it, you'll do anything for those kiddos of yours—you might switch on this gem: Alvin's Thanksgiving Celebration. Believe it or not, Dave is getting married—and there's a lot that goes on there! The Chipmunks will also explore some famous momens in U.S. history, too. Not rated.
7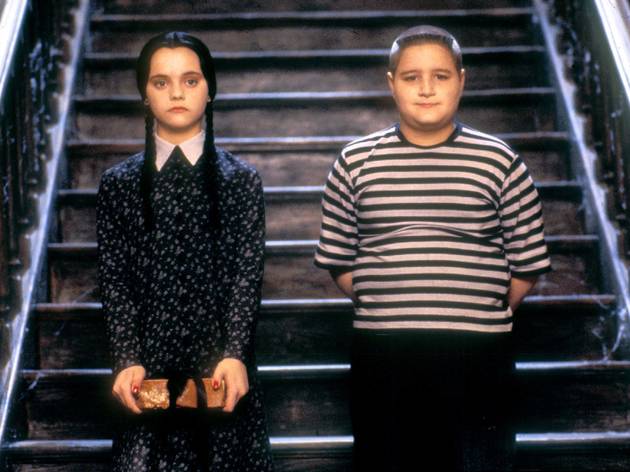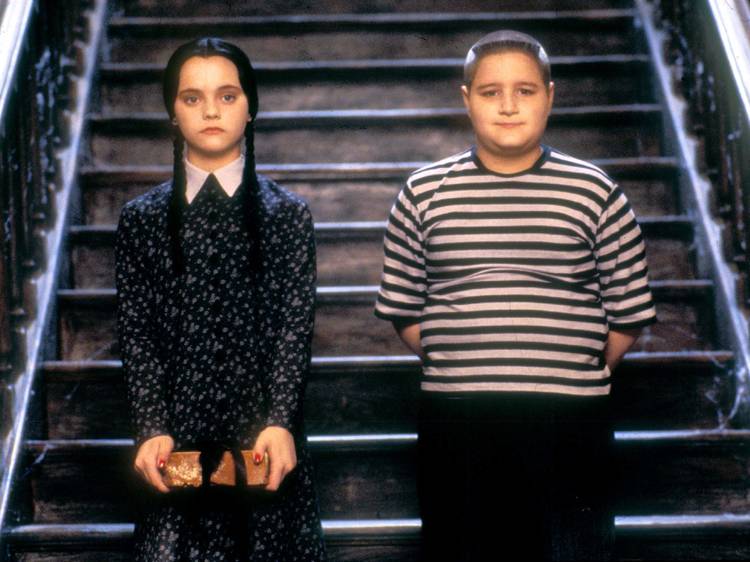 Photograph: Moviestore/Re/REX Shutterstock
Addams Family Values (1993)
When Gomez and Morticia welcome a son, Pubert, into their slightly disturbed family, jealous siblings Pugsley and Wednesday (a wonderfully devious Christina Ricci) plot to do away with the bundle of joy and are sent away to summer camp. Though this flick doesn't take place during Turkey Day, the scene in which Wednesday hijack's Camp Chippewas's musical rendition of the first Thanksgiving is reason enough to watch. When the indigenous Americans (played by the outcast campers) revolt against the pilgrims, your whole gang will be delighted. Rated PG-13.
8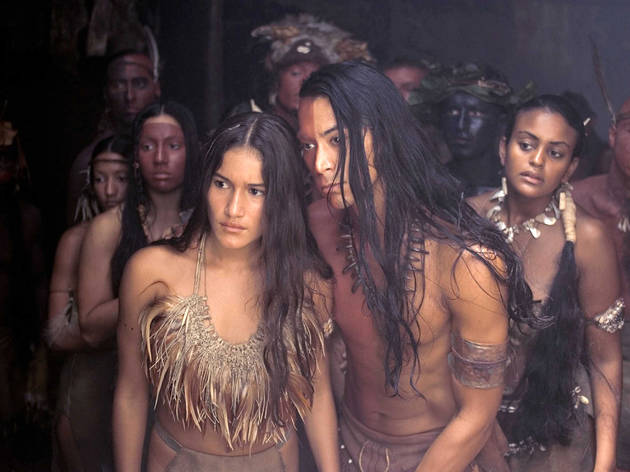 Photograph: Moviestore/Re/REX Shutterstock
This live-action take on the story of Pocahontas and the settlement of Jamestown, Virginia gives viewers a peek into the period when the first Thanksgiving took place. When English settlers come ashore on strange, new land, they begin to set up a colony in the "New World" to the dismay of the Native Americans who call it home. Captain John Smith (Colin Farrell) is captured and brought to Chief Powhatan, the father of young Pocahontas (Q'orianka Kilcher). Families will love the beautiful landscapes, celebrity appearances (look out for Christopher Plummer and Christian Bale) and the blossoming love story. Rated PG-13.
9
Winnie the Pooh: Seasons of Giving
This direct-to-video flick is worth unearthing when the season of pumpkin pie is near. Go on an adventure in the Hundred Acre Wood with Pooh, Piglet, Tigger and the rest of the gang as they sleuth for Thanksgiving dinner ingredients to see if they can find everything they need to make the day perfect. Some versions also offer additional episodes, so do your research! Not Rated.
10
When an African-American boy from a poor neighborhood is taken in by a wealthy Tenneessee woman, life changes for both of them. Thanks to Leigh Anne Touhy (Bullock) and her family, "Big Mike" Oher is given an opportunity to put his athleticism and protective instincts to use on the football field, eventually becoming a first-round NFL draft pick. A Thanksgiving Day scene when Big Mike causes the family to pause and appreciate their meal and one another is particularly touching—one that might even convince your family to flick off the game for a while next year. Rated PG-13.