Best Thanksgiving movies for kids and families
Thanksgiving movies for kids go best with family, an extra helping of sweet potatoes and a slice of apple pie
Searching for the best Thanksgiving movies for kids? We have 'em all right here. Polish off your plate and find a comfy spot to enjoy classics like A Charlie Brown Thanksgiving (of course!) and newfound holiday flicks including Free Birds. If you're still hungry, might we suggest a marathon with a slice of pie and cup of hot chocolate?
RECOMMENDED: Thanksgiving for kids in New York City
This lineup is as irresistible as that turkey nap you know is a strong possibility. And if you need ideas for what to read at storytime at the end of the day, here's our list of the best Thanksgiving books for kids. When you're ready to get back outside, check out our November events calendar for kids.
Happy, and healthy, holidays!
Thanksgiving movies for kids
If this bad boy was on your Halloween watch list, we suggest you keep the creepy, kooky fun alive for a few additional weeks. In this '90s take on our favorite spooky clan, we learn that the Addams family has actually expanded to include young baby Pubert. Wednesday and Pugsley are less than pleased with his arrival. That's when their new babysitter—who's eyeing Uncle Fester's big bucks—decides to enroll the kiddos in summer camp. Obviously, it's not the children's cup of poison. Camp Chippewa is the location of the famous Thanksgiving play scene that goes awry at Wednesday's direction. You know we're in for trouble the minute Wednesday, who stars as Pocahontas says, "Wait. We cannot break bread with you." Rated PG-13.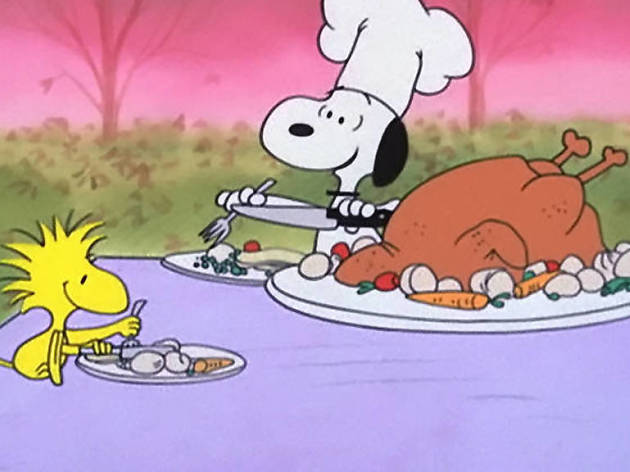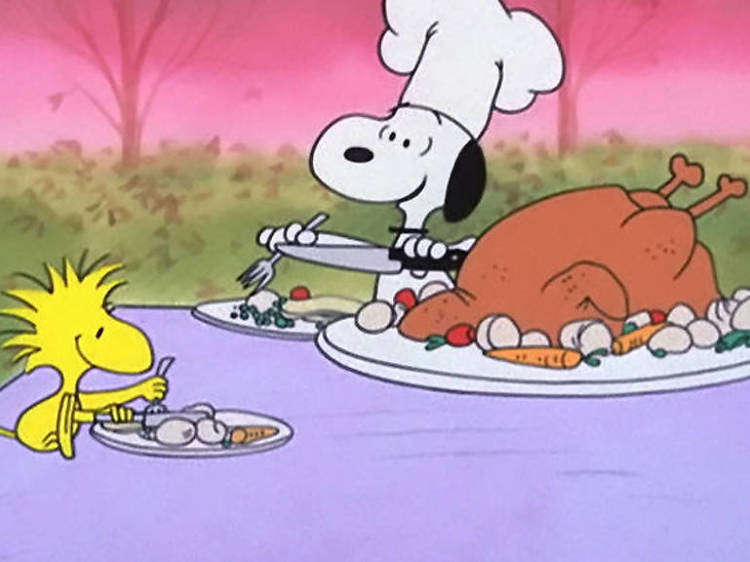 Photogrpah: Courtesy American Broadcasting Company/CBS
2. A Charlie Brown Thanksgiving (1965)
Something we all can agree on: Charlie Brown specials do not get old. A Charlie Brown Thanksgiving takes its place in the trio of great Peanuts holiday movies along with It's the Great Pumpkin Charlie Brown and A Charlie Brown Christmas. This Emmy-winning story has all the Thanksgiving essentials: football (kick the ball, Charlie Brown), a holiday feast and, of course, the oddly adult-free but adult-like conversation among the Peanuts. This year, it will air exclusively on Apple TV+. Rated G.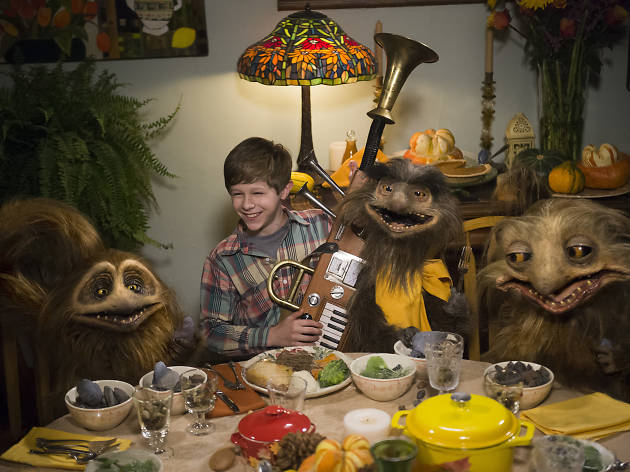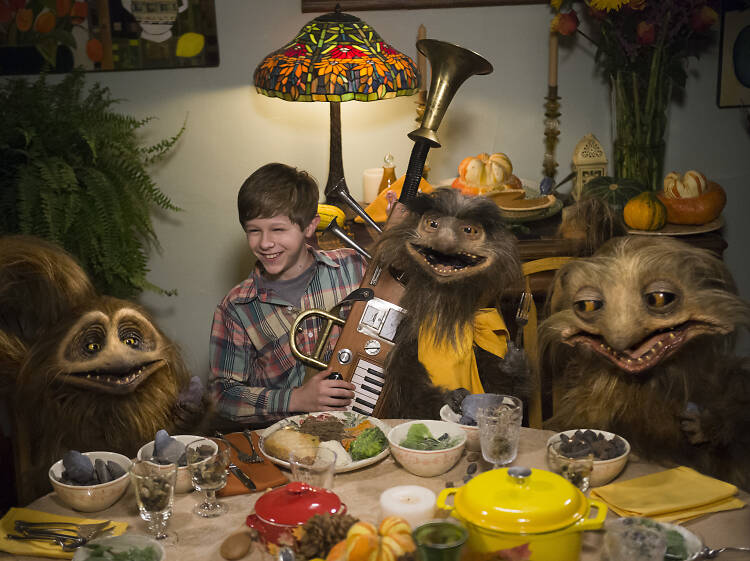 Photograph: Courtesy Sergei Bachlakov
3. Jim Henson's Turkey Hollow (2015)
Let's be honest: We can't say no to anything that involves Jim Henson. In this new addition to the holiday movie canon, we follow the Emmersons who are en route to Aunt Cly's for a festive celebration. Tim and Annie are less than thrilled with her small town. However, their interests are piqued when they hear the legend of the howling hoodoo.That's when they decide to hold the second helping of stuffing and go out to uncover the truth about these mythical creatures. Rated PG.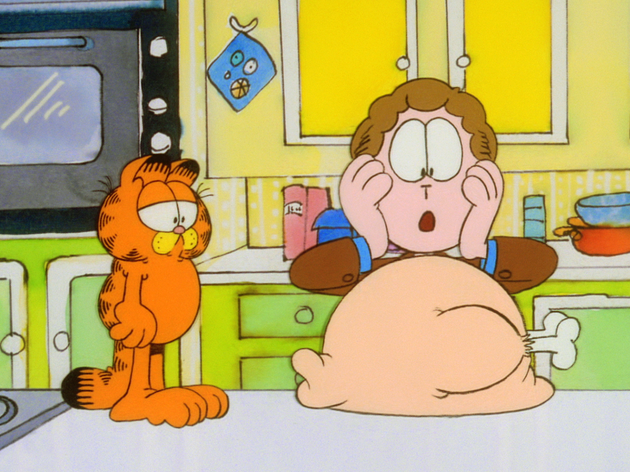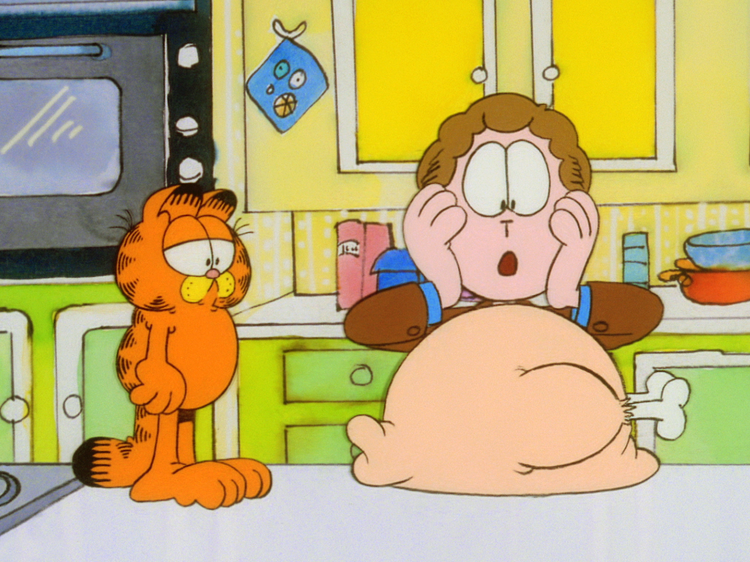 Photograph: Courtesy Paws Inc.
4. Garfield's Thanksgiving (2017)
Thanksgiving is all about indulging, and it's certainly the most inappropriate time to start thinking about healthy eating...especially when you're as enamored with food as Garfield. Our favorite hungry cat is looking forward to the most magnificent eating day of the year, but his plans come to a screeching halt when his owner decides it's the perfect day to begin a new diet. Talk about bad timing! Not Rated.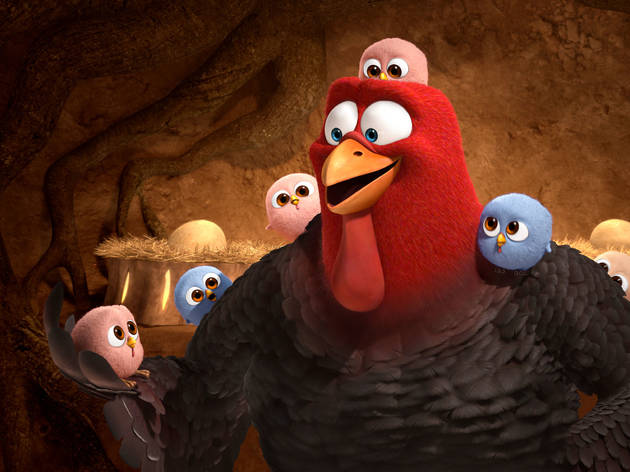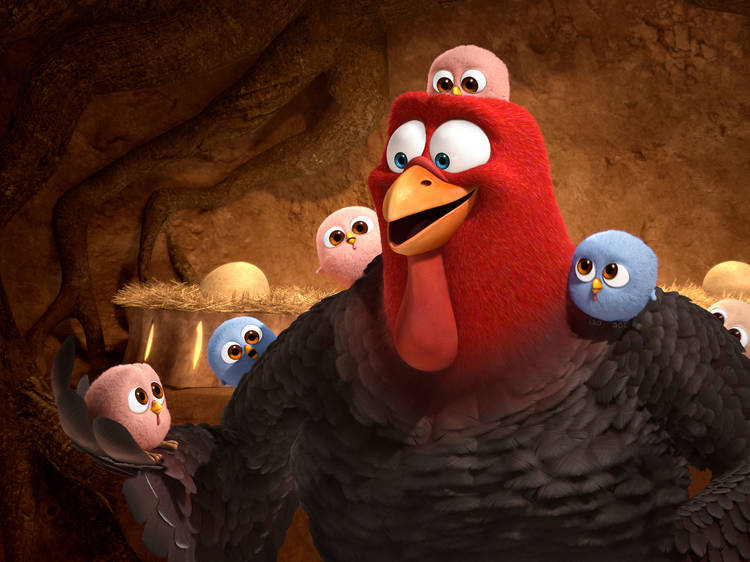 Photograph: Courtesy of Relativity Media/Turkey's Films LLC.
Reggie (Owen Wilson) is the smartest gobbler in his flock—and a smart you-know-what. He knows his pals are just being fattened up for Thanksgiving, but they don't particularly care because, well, you know what they say about turkeys. As luck would have it, Reggie meets up with Jake (Woody Harrelson), who has a magic doorknob that leads them to a time machine that takes them back to the very first Thanksgiving. Rated PG.
Courtesy 20th Century Fox
6. Miracle on 34th Street (1947)
The reigning king of Christmas movies, Frank Capra's poignant fable stars Jimmy Stewart as George Bailey, a man with big ambitions (and a bigger heart) who defers his dream of leaving small-town Bedford Falls, but makes personal sacrifices that create a staggering ripple effect of inspirational goodwill on earth—a great message for young viewers watching at home. He even helps an angel get his wings. It's the perfect way to close out Turkey Day—and get the kids excited for Santa's visit! Rated G.
When a boy from a poor neighborhood is taken in by a wealthy Tennessee woman, life changes for both of them. Thanks to Leigh Anne Touhy (Sandra Bullock) and her family, Michael "Big Mike" Oher (Quinton Aaron) is given an opportunity to put his athleticism and protective instincts to use on the football field, eventually becoming a first-round NFL draft pick. A Thanksgiving Day scene when Big Mike causes the family to pause and appreciate their meal and one another is particularly touching—one that might even convince your family to flick off the game for a while next year. Rated PG-13.
You and your loved ones might be chowing down on drumsticks and loading up on Thanksgiving carbs, but there are some professions that cannot skip work, even on a holiday. A mall cop just so happens to be one of those fields, as Paul Blart proves. He takes his role quite seriously, even if everyone else doesn't seem to think his work is a top priority. After you've settled in with dessert, get ready to LOL as Blart (Kevin James) takes on the mall's threat—aka Santa's helpers. How's that for holiday mayhem? Rated PG.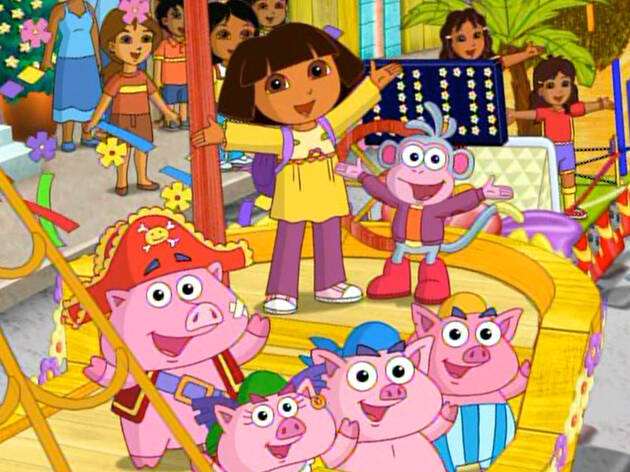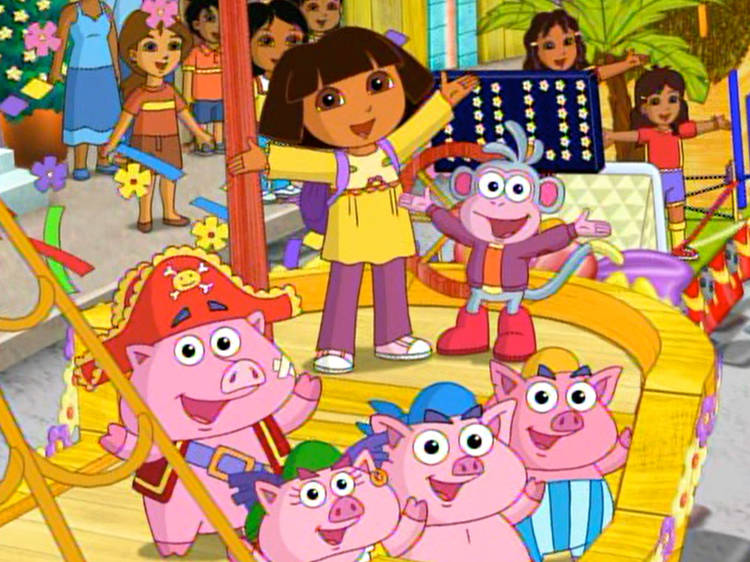 Courtesy Nickelodeon/Viacom International Inc.
9. Dora the Explorer: Dora's Thanksgiving Day Parade (2012)
Who can say no to an adventure with Dora and the gang? Make the holiday extra memorable this season by tuning in as Dora swoops in to help—with some guidance from your little sidekicks. Our leading lady is ready to enjoy the Thanksgiving parade, but when the Pirate Piggies accidentally float away, it's go time. Will she be able to save Turkey Day from a disaster? Not rated.
10. Alvin and the Chipmunks - Alvin's Thanksgiving Celebration (2008)
Think you can handle Alvin, Simon and Theodore's super high-pitched voices for a little over an hour? If you're up to the challenge—and let's face, it, you'll do anything for those kiddos of yours—you might stream this gem. Believe it or not, Dave is getting married in Alvin's Thanksgiving Celebration, and it's not working out as planned. With the Chipmunks, when does it ever? Not rated.
11. We're Back: A Dinosaur's Story (1993)
A group of four supersmart dinosaurs–a tyrannosaurus rex, a triceratops, a hadrosaur and a pterodactyl–are brought forward in time to New York City and set out for the Museum of Natural History. A bot named Louise agrees to help them get there. The problem? They're dinosaurs, and it's hard to hide in Manhattan. That is, unless it's Thanksgiving and there's a parade of gigantic creatures making its way down the streets. Rated G.
12. Winnie the Pooh: Seasons of Giving (1999)
This direct-to-video flick is worth unearthing when the season of pumpkin pie is near. Go on an adventure in the Hundred Acre Wood with Pooh, Piglet, Tigger and the rest of the gang as they sleuth for Thanksgiving dinner ingredients to see if they can find everything they need to make the day perfect. Some versions also offer additional episodes, so do your research! Not Rated.