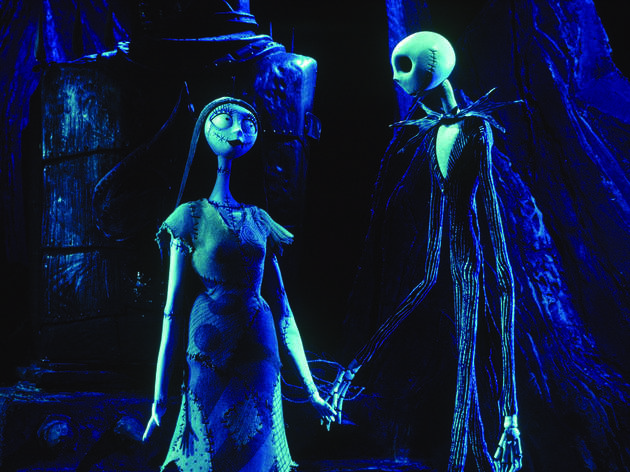 The best Halloween movies for kids
Here are the best Halloween movies for kids. Read on to see our list of delightfully spooky films for young goblins!
We love scary films, and we can't wait to share our list of the best Halloween movies for kids with you! These 23 creepy, freaky and fun family films are perfect for kids of all ages—we've included recommended age groups for these kids' Halloween movies to make sure your children watch something that's suited to their age and maturity level. Our ranked list will help you pick just the right shriek-worthy film for your next movie night!
After venturing to fall festivals and finding your way out of the best corn mazes NY has to offer, be sure to grab the popcorn (and candy corn) for a spooky movie marathon!
RECOMMENDED: Full guide to Halloween for kids in NYC
Looking for even more seletions beyond our favorite Halloween movies for kids? You'll want to browse our favorite Disney movies on Netflix, kids' movies on Amazon Prime, cool family movies on Netflix—and even these Christmas movies for kids and Thanksgiving movies for kids if you just can't wait for the holiday season.
Best Halloween movies for kids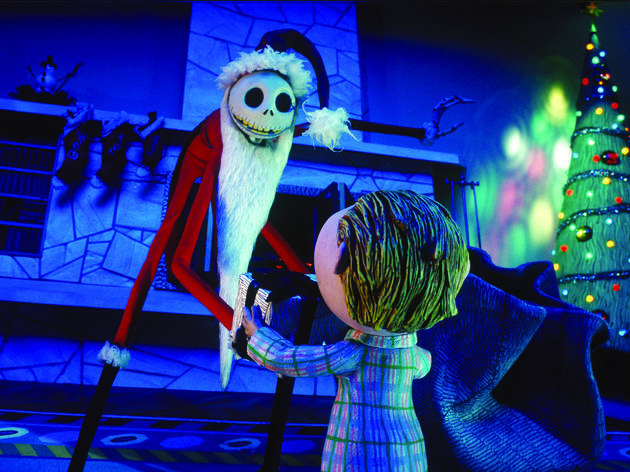 Courtesy Disney Enterprises Inc.
1. The Nightmare Before Christmas (1993)
What happens when the Pumpkin King is totally over Halloween? If you're Jack Skellington, you tumble into Christmas Town and set your mind to making this the best Christmas ever—even if that means kidnapping Santa. He puts his plan into action to goofy and macabre results. It seems the residents of Halloween Town can't exactly master the art of making toys most kids like (cue evil wooden ducks and carnivorous wreaths). The film is a little dark for younger kids, but it's a visual delight, and it's full of over-the-top Halloween-themed songs that will get your toes tapping. Rated PG (really 8 and up)
Photograph: Courtesy Disney
As we all know, monsters live in a parallel world: Their job is to scare us, and they can only pull that off if they hide that we actually terrify them. When a regular day of spooking children doesn't go quite as planned, two monster pals end up with an adorable kid in tow (eeek—what could be scarier!), and need to get her home safely. Monsters, Inc. has the feel-good ending you'd expect of a family film, and with leading voices from John Goodman and Billy Crystal the film became an instant Haloween classic. Rated G (really 5 and up)
Photograph: Courtesy Disney Enterprises Inc.
Young Victor Frankenstein is unpopular at school, so when his dog (and best friend) Sparky dies in an accident, he does what any brainy boy would do, and brings him back to life. This moody and beautiful black-and-white film could only come from the mind of Tim Burton–it's actually the feature-length remake of a short from 1984–and it's filled with strange creatures and oddball humans. The stellar cast includes Winona Ryder, Martin Landau, Catherine O'Hara and Martin Short. It's silly, but it's also fairly dark, and better suited to older kids. Rated PG (really 9 and up)
4. Toy Story of TERROR! (2013)
The Toy Story gang goes ends up in a motel where Mr. Pricklepants mysteriously goes missing—and then the toys start disappearing one by one. This is a playful sendup of–and homage to–the horror film genre that's silly enough for kids, and entertaining enough for adults. It's also short, which makes it a good choice for young attention spans. No rating (really 5 and up)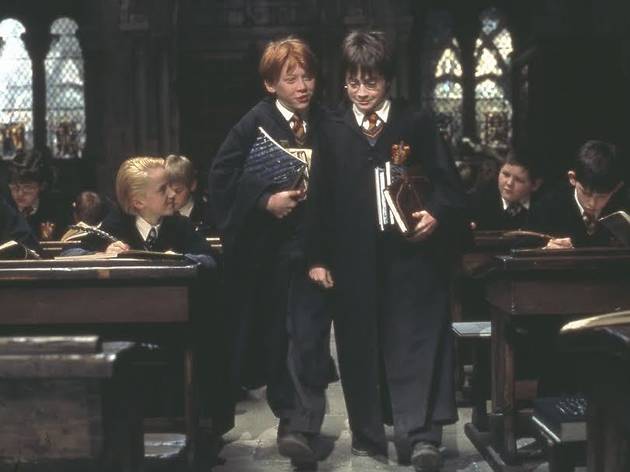 Photograph: Courtesy Warner Bros.
5. Harry Potter (2001–2011)
First, let your kids read the books. Then, let them watch these films, as literature's greatest child wizards come to life in the fantastical world of muggles, monsters and mystics created by J.K. Rowling. Fact is that Harry Potter is now a cultural touchstone, and these vivid stories deal with loss and heartache as well as friendship and overcoming adversity. Besides, the magic is really cool. You should note that this eight-film series grows progressively darker: Harry Potter and the Sorcerer's Stone (2001) is suitable for seven-year-olds, but the two-part Harry Potter and the Deathly Hallows (2010 and 2011) is better saved for older kids. Rated PG and PG-13 (really 7 and up)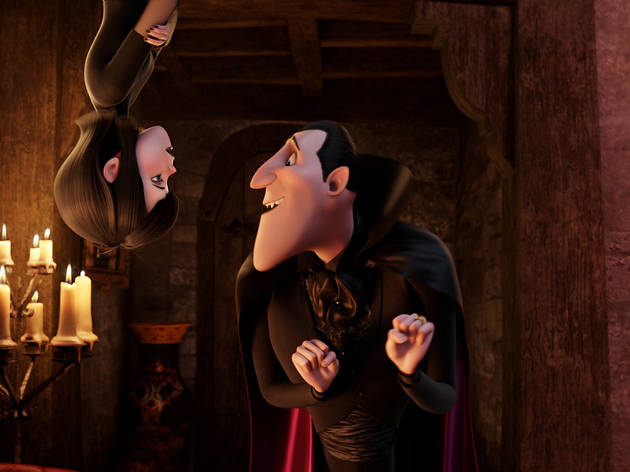 Photograph: Courtesy Sony Pictures Animation
6. Hotel Transylvania (2012)
This animated film is a kid-friendly twist on your typical horror movie. Count Dracula (voiced by Adam Sandler) is operating a high-end resort situated far from humankind. When Jonathan (Andy Samberg) stumbles upon it and falls for the Count's daughter, Mavis (Selena Gomez), the overprotective if undead dad must make sure his guests don't discover the human visitor. The voices of stars such as Kevin James, Fran Drescher, David Spade and Molly Shannon bring a little life to the monsters—even ghouls have fun when they're on vacation. Rated PG (really 6 and up)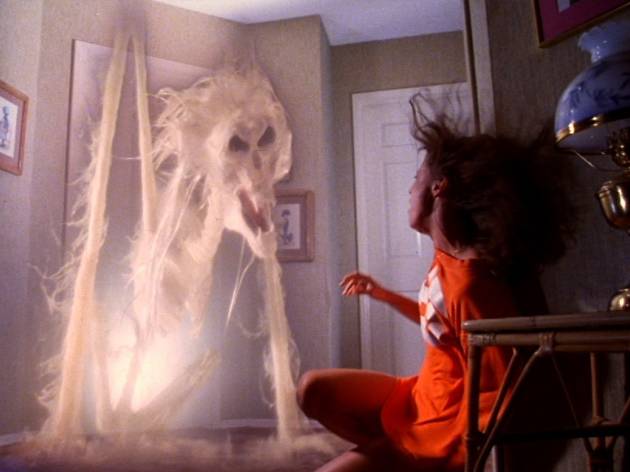 Photo: Courtesy of MGM/UA Entertainment Company
Once you watch this film it's hard to forget, especially if you're introduced to it as a kid. Um, hello, those decomposed bodies in the pool? #NOPE. We'll state right up front that this movie definitely terrifies little kids. However, when the time is right you can introduce it to your older kids, tweens and teens, who will rate it as an instant classic—you'll love seeing it through their eyes. (Don't bother with the remake from 2015.) No need to summarize a plot you already know, but if you need to jar your memory, how about this: "They're he-ere." Rated PG (really 12 and up)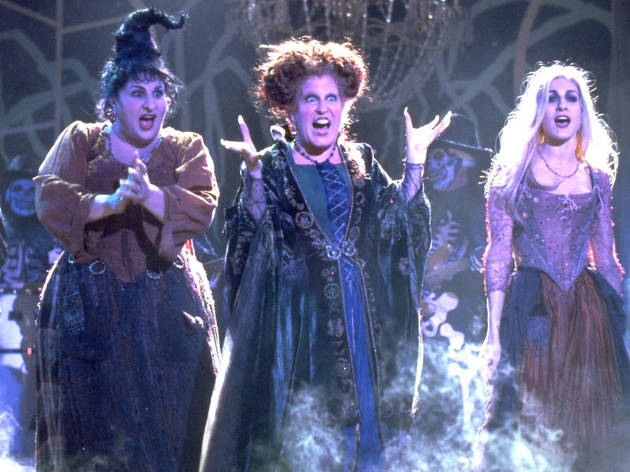 Photograph: Courtesy Disney Enterprises Inc.
What makes a better Halloween movie than three evil witches? Head to the 1600s, where Sanderson sisters (Bette Midler, Sarah Jessica Parker, Kathy Najimy) cast a spell that killed a little girl and turned her brother into an immortal black cat. Then, fast forward to the '90s and meet Max Dennison, who just moved from Los Angeles to Salem, Mass, with his parents and his little sister. He'll do anything to impress his cute neighbor, Allison, who just so happens to have access to the old Sanderson House. He even lights the Black Flame Candle, which as legend has it, will bring back the Sanderson sisters—and does! But hey, who believes in all that hocus pocus, anyway? Rated PG (really 10 and up)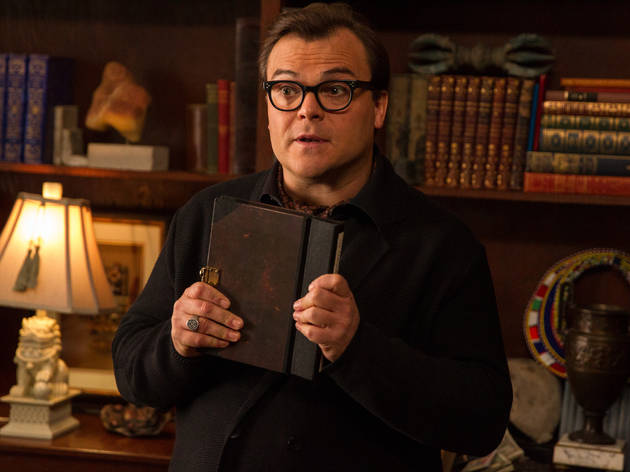 Hopper Stone, SMPSP
Nothing compares to the creepy, crawly '90s YA horror stories of R.L. Stine, so when we heard about a live-action movie based on the series, we were a little iffy. Surprisingly, this Goosebumps film is well-done: Jack Black leads the charge with a kooky story and plenty of laughs. In the film, tween Zach Cooper has a mega-crush on his neighbor Hannah, but he can't quite figure out Hannah's super overprotective Dad. As it turns out, Hannah's Dad is actually the real R.L. Stine, and he has some pretty big secrets to hide. Can the unlikely crew save the town from certain disaster? Rated PG (really 9 and up)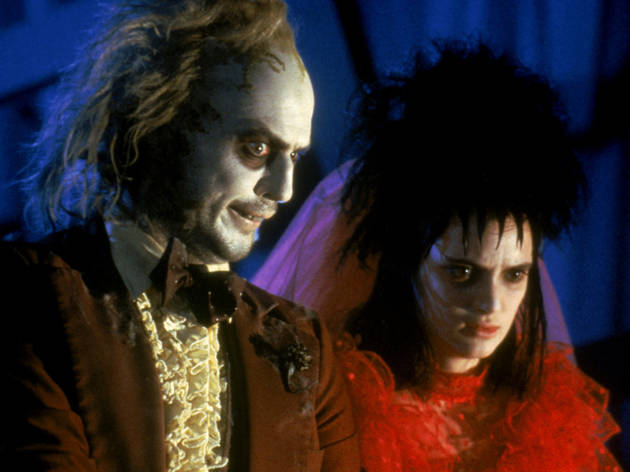 Photograph: Courtesy Geffen Studios
Young Adam and Barbara (Alec Baldwin, Geena Davis) are dead, and a new family is moving into their home! What to do? Cue Beetlejuice (Michael Keaton), in all his putrescence, known for expelling unwanted houseguests (and solving other problems, too). Living goth child Lydia Deetz (played by a translucent-skinned Winona Ryder) helps Beetlejuice expel her unbearable parents and reclaim the home for good. Rated PG (really 12 and up)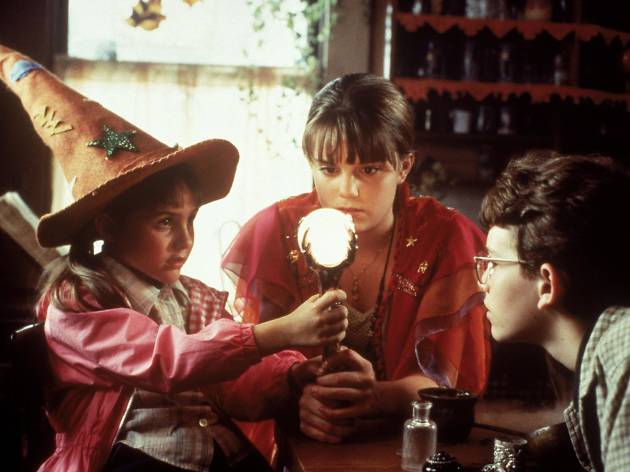 Photograph: Courtesy Singer White/Ventura Valley Film/Kobal/REX/Shutterstock
Marnie Piper (Kimberly J. Brown) is toughing it out in a household that can't stand Halloween, but little does she know she'll soon be living out every tween's dream: She's actually a witch and has magical powers. After overhearing a conversation between her mother and grandmother, Marnie sets off to see for herself if Halloweentown is real—and boy is it ever! But remember that whole "with great power comes great responsibility" thing? It's the truth, and Marnie (alongside her brother and little sister) encounters more trouble than she bargained for. Rated TV-G (really 6 and up)
Courtesy Paramount Pictures
12. Addams Family Values (1993)
Most folks find beauty in young love, new babies and iconic American activities like going away to summer camp, but the Addams Family isn't any ordinary family. In fact, they're gearing up for one of the most "normal" summers of their lives, and Wednesday isn't having it. Will she and her brother brave the season's most unusual traditions? Not without some serious sulking, plotting and competition. Rated PG (really 9 and up)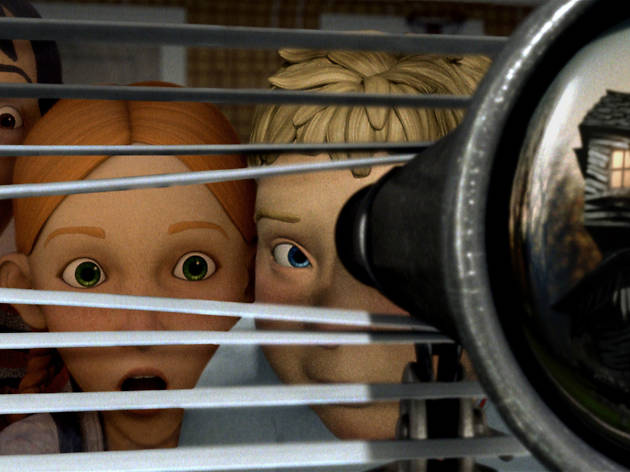 Photograph: Sony Pictures Imageworks
One house on the street is not like the others, and teenager DJ knows it. Unfortunately, it's harder than expected for him to convince the police and his babysitter that their neighbor's home is actually a living, breathing monster. DJ and his friends must embark on a crazy adventure in hopes of saving the people the house has eaten (and ideally destroying it afterward). Anxiety-prone kids should pass on this one, but young horror fans will dig this film for its relatable characters and heartwarming ending. Rated PG (really 9 and up)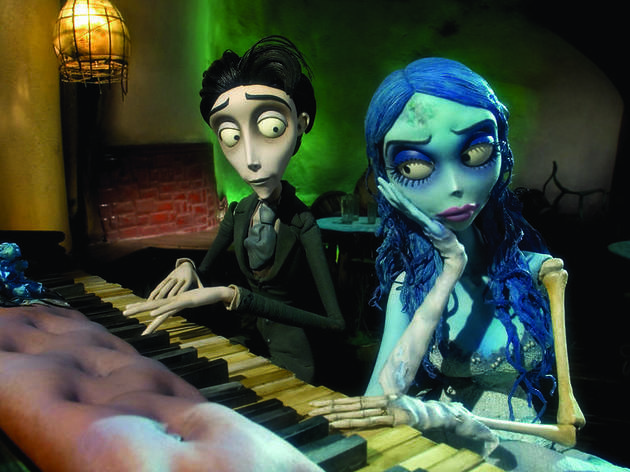 Photograph: Courtesy Warner Bros. Pictures
Think you're having a rough day? The protagonist in this stop-motion Tim Burton flick accidentally proposes to a dead girl when he's dreaming of proposing to his (very alive) arranged match. Awkward. You and your crew navigate the world of the undead as Victor tries to get things back in order—though by the end, normal isn't exactly what he'd thought it was, and you'll have a hard time figuring out who to root for in this sad, sweet romance. Rated PG (really 9 and up)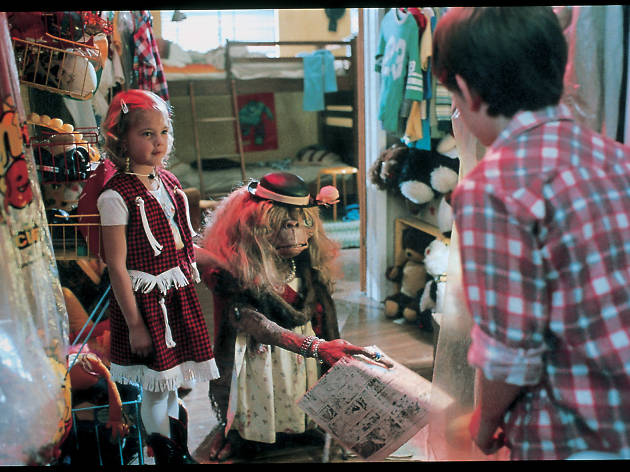 Courtesy BFI/Universal Pictures
15. E.T. the Extra-Terrestrial (1982)
When Elliott finds an alien hiding in his mom's tool shed, a friendship blossoms into something truly–ahem–out of this world. With the help of his siblings, he keeps E.T. a secret, but it's hard to keep the creature safe with government agents sniffing him out. You'll overlook some slightly salty banter to allow your pint-size crew the joy of giggling when Elliott dresses E.T. as a ghost to sneak him out of the house on Halloween, and you're sure to say "awww" when young Drew Barrymore comes onscreen. Oh, and a final fun fact: Steven Spielberg's character E.T. is actually inspired by an imaginary friend he had as a child. Rated PG (really 7 and up)
A father seeks a very special gift for his son, ultimately purchasing a very cute "mogwai" (uhh…"monster"??) with strict instructions in Chinatown. As expected, Billy does not care for the critter named Gizmo exactly as instructed, and total mayhem ensues, complete with rapidly-multiplying hideous monsters. The film takes place at Christmastime, but the horror here is flexible enough to creep your kids out at any time of year. Rated PG (really 11 and up)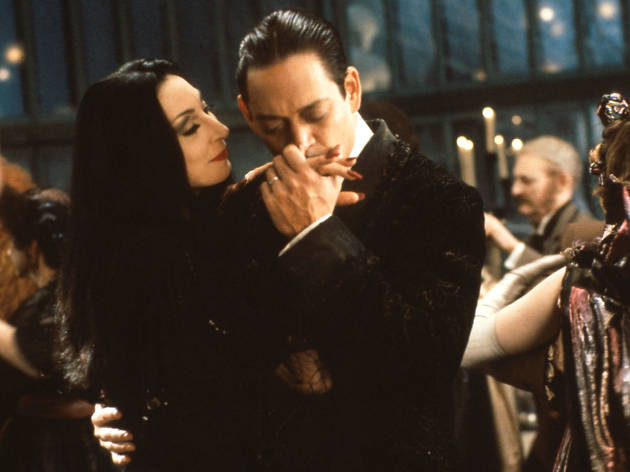 Photograph: Courtesy Melinda Sue Gordon/Orion Picture
17. The Addams Family (1991)
Being reunited with loved ones is always exciting, but something is a bit...strange about Uncle Fester's homecoming (even for his standards). The entire kooky clan begins to pick up on his unusual ways, and soon everyone suspects this man isn't the Addams he claims to be. We must ask, "Will the real Uncle Fester please stand up?" Rated PG-13 (really 11 and up)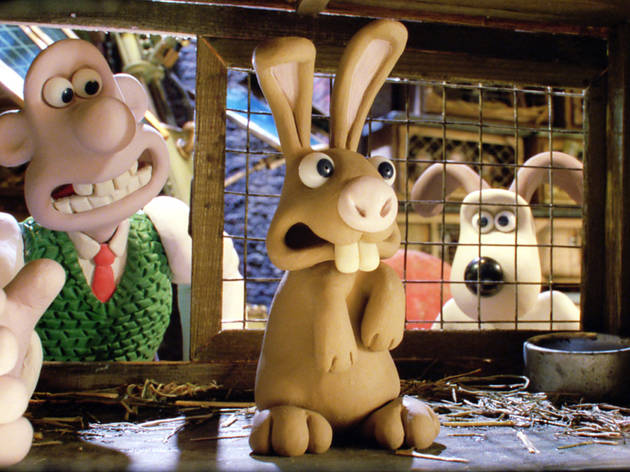 Photograph: DreamWorks/Everett Collection
18. Wallace & Gromit: The Curse of the Were-Rabbit (2005)
Things take a spooky turn for absent-minded inventor, Wallace, and his trusty canine companion, Gromit, in this stop-motion, claymation flick based on the popular series. The pair create one of their infamous contraptions in order to help their friends protect their gardens from hungry rabbits. A malfunction results in the creation of a giant, rabbit-like monster, which gets Wallace into trouble in more ways than one. Rated G (really 6 and up)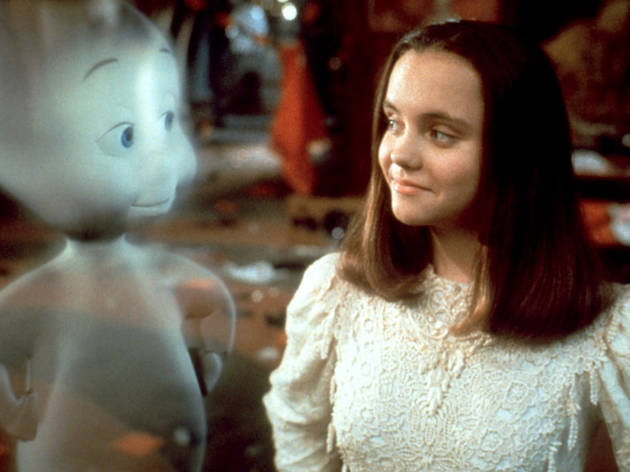 Photograph: Universal/Everett Collection
Instead of inheriting her father's millions (as expected), Carrigan Crittenden gets only his broken-down mansion. She soon realizes that in order to claim the house (and the hidden fortune that may be inside), she needs to boot the troublesome ghosts that call it home. Crittenden hires Dr. James Harvey, an experienced afterlife therapist who moves into the mansion, and his daughter Kat meets Casper (the only friendly ghost of the bunch). They all work together to help the spirits cross over to the other side (expect some mild cursing in the process). Will they be able to pull it off? Rated PG (really 7 and up)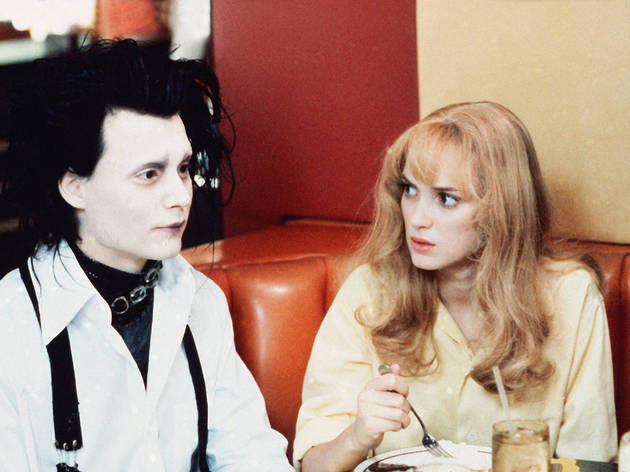 Zade Rosenthal/20th Century Fox/Kobal/REX/Shutterstock
20. Edward Sccissorhands (1990)
This candy-colored dark comedy is now a horror classic, the film that launched the career of Tim Burton and turned Johnny Depp into a movie star. It's probably more stylized than you remember: those houses, those dresses, those stilted conversations. It's also probably more cruel—Edward has a rough time of it. This is a film to watch with your older kids and tweens. Rated PG-13 (really 12 and up)
Courtesy Focus Features/Laika
Sure, Norman Babcock is kind of a weirdo, but we love him anyway. Anyone can relate to not quite fitting in, but let us be clear: This isn't your average 11-year-old. Norman can talk to the dead, and it's not exactly normal, but his judgy town is soon to change its tune when 17th-century zombies want to come out and play. We love this film because it's quirky and teaches compassion and tolerance for the strange and unusual. Rated PG (really 10 and up)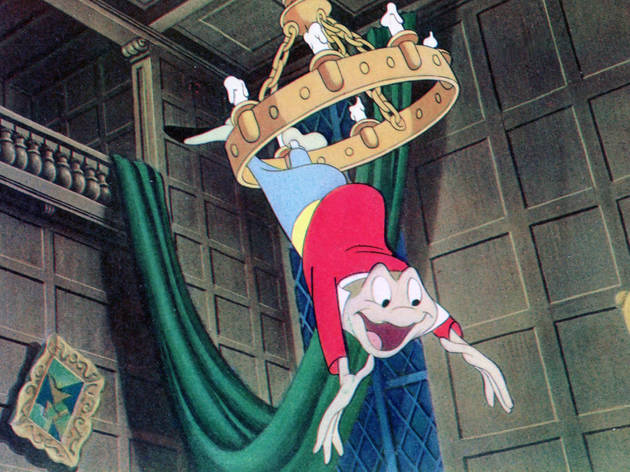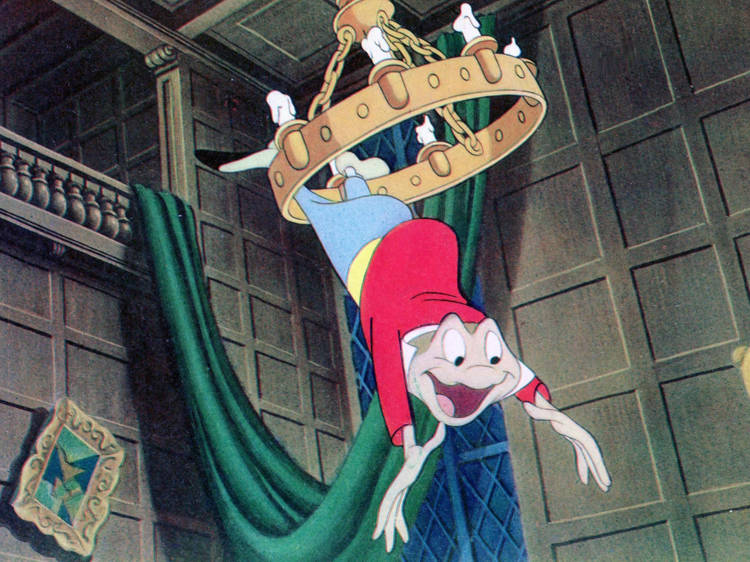 Photograph: WALT DISNEY PICTURES/Ronald Grant Archive/Mary Evans/Everett Collection
22. The Adventures of Ichabod and Mr. Toad (1949)
Washington Irving's grisly tale of Sleepy Hollow becomes more palatable for the kiddies in this cartoon, the second of two featurettes. Following The Wind in the Willows adaptation is this story of bumptious schoolmaster Ichabod Crane and his nemesis the Headless Horseman. It's a trite, chocolate-box picture of colonial days—until the Horseman shows up for one of those nightmare sequences with which Uncle Walt so relished. He sure liked to terrify his young audiences. Rated G (really 6 and up)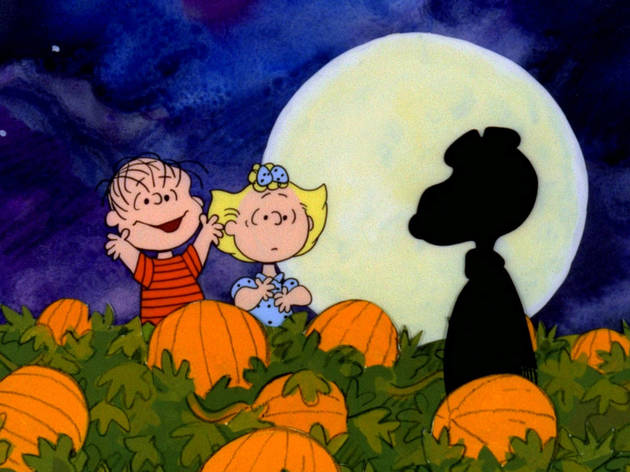 Photograph: Everett Collection
23. It's The Great Pumpkin, Charlie Brown (1966)
Can't get enough of Charlie, Snoopy, Linus and the rest of the gang? This sweet flick is one of several holiday-themed family favorites involving your favorite characters. Though A Charlie Brown Christmas is one of our go-to's, It's the Great Pumpkin, Charlie Brown frequently makes its way into our movie marathons in early fall. We love the cute costumes, the trick-or-treating, the pumpkins and—gasp—getting a glimmer of Lucy's softer side. Not rated (really 2 and up)