The best Halloween movies for kids
The world's best Halloween movies for kids are sure to get 'em in the holiday spirit. Read on to see our ranked list!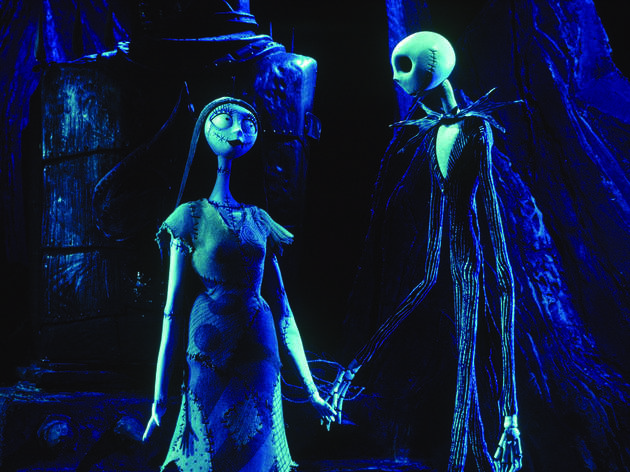 Take October's "EEEEK!" and "AHHHH!"–factor to new levels with 21 totally epic Halloween movies for kids! These scream-worthy selects are amazing for family movie nights, spooky sleepovers and yes—getting to watch your old favorites over and over again.
RECOMMENDED: Full guide to Halloween for kids in NYC
With the help of our ranked list, which covers age-appropriateness too, you'll be able to make the right pick(s) for your crew. Enjoy classics like Ghostbusters (original), The Nightmare Before Christmas and Poltergeist plus flicks like Monster House and Coraline for the younger set. If you're sharing the couch with particularly small folks, explore less creepy crowd pleasers like It's the Great Pumpkin, Charlie Brown.
Looking for even more movies for kids? You'll want to browse our favorite new disney movies, cool family movies on Netflix and even these Christmas movies for kids.
The best Halloween movies for kids
1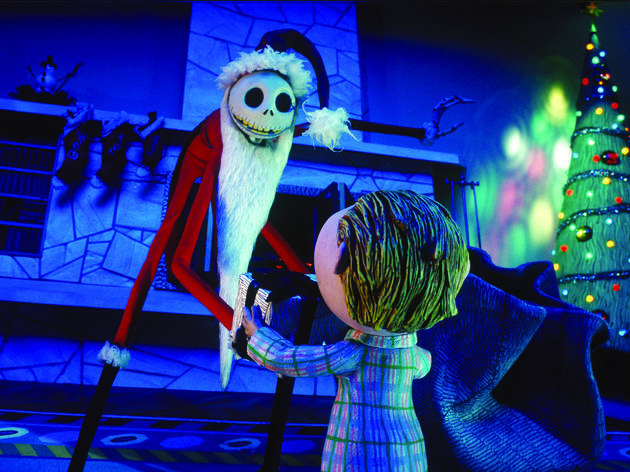 The Nightmare Before Christmas (1993)
What to do when you're the Pumpkin King but totally over Halloween? While most folks don't have this problem, Jack Skellington definitely finds the grass greener on the other side. After stumbling into Christmas Town, he's inspired to show the world it's best Christmas ever—even if it means kidnapping Santa himself. While his (mostly?) well-intentioned plan is backed with utmost passion, it turns out that the residents of Halloween Town can't exactly master the art of making toys the average kid would like (cue evil wooden ducks and carnivorous wreaths). While the film is undoubtedly a little dark for younger kids, it's chock full of over-the-top Halloween-themed songs your older set will love to sing for hours on end. Rated PG (really 8 and up)
2
Poltergeist (1982)
Most of us find this film hard to forget, especially those of us who saw it as kids. Um, hello, those skeletons in the pool? #NOPE. We'll preface this recommendation by saying this movie definitely terrifies little kids. However, your older kids, tweens and teens will find it an instant classic—and you'll love the opportunity to see it through their eyes. Quick summary: When a greedy developer builds on sacred Native American burial grounds, the new neighborhood—including one very special little girl—endures some unwelcome surprises. Rated PG (really 12 and up)
3
Ghostbusters (1984)
Three spirit-obsessed scientists are canned from their jobs at NYU, but they don't let that get 'em down; instead, they put their talents to good use. Using their passion for the occult as a driving force, they start a ghost-extermination company to help New Yorkers handle some very real ghost troubles. Their work doesn't come without its skeptics, though...one even wrongly jails them for fraud! Ultimately the unlikely team helps to save the city from an ancient god. Be warned: It's another film that's not quite rated for the current day, and Ghostbusters is probably only appropriate for tweens and older. Rated PG (really 11 and up)
4
Monsters, Inc. (2001)
Being in the business of scaring kids isn't easy—Sulley's buddy Mike always reminds him so. When a regular day of terrifying the world's children doesn't go quite as planned, the two monster pals end up with an adorable kid (eeek—what could be scarier!) in tow and need to make a plan to get her home safely. Monsters, Inc. delivers a feel-good ending, and with leading voices from John Goodman and Billy Crystal (plus impressively advanced animation for the time—look at Sulley's fur!), the film easily became an instant classic. Also, what's better for Halloween than a monster movie? Rated G (really 5 and up)
5
Hocus Pocus (1993)
What makes a better Halloween movie than three evil witches? Head to the 1600s, where Sanderson sisters (Bette Midler, Sarah Jessica Parker, Kathy Najimy) cast a spell that killed a little girl and turned her brother into an immortal black cat. Then, fast forward to the'90s and meet Max Dennison, who just moved from Los Angeles to Salem, Massachusetts with his parents and his little sister. He'll do anything to impress his cute neighbor, Allison, who just so happens to have access to the old Sanderson House. He even lights the Black Flame Candle, which as legend has it, will bring back the Sanderson sisters—and does! But hey, who believes in all that hocus pocus, anyway? Rated PG (really 10 and up)
6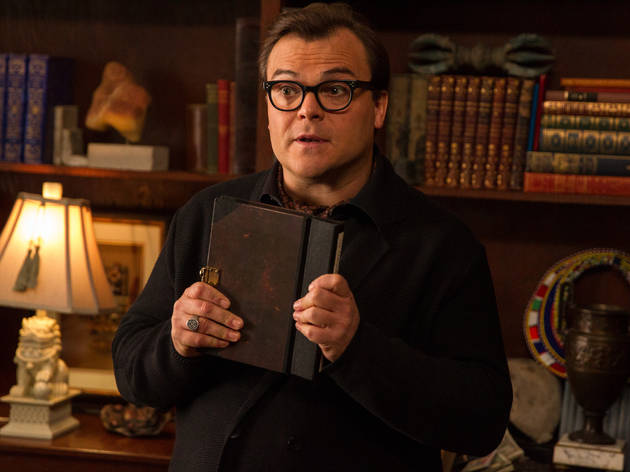 Goosebumps (2015)
See your favorite "Goosebumps" monsters in action with this cool Jack Black flick. Moody tween Zach Cooper has a crush on his cute neighbor, Hannah, but he's a little thrown off by her dad's weird behavior —and not normal protective dad-style weird either…really, really weird. When it turns out Dad is actually the famed author R.L. Stine and he's hiding a rather monstrous secret in his original manuscripts, the crew must work together to save their town from a disaster of a plot twist. Who knows? Zach might even earn the author's stamp of approval before the night is over…maybe. Rated PG (really 9 and up)
7
Harry Potter (2001–2011)
Literature's greatest boy wizard is turned into one of the movie's most charismatic under-12 heroes (a tip of the pointy hat to Daniel Radcliffe) as J.K. Rowling's world of muggles, monsters and mystical goings-on at Hogwarts is brought to life on screen. Things will get seriously PG-13 dark by the time this eight-film series ends, but the kid-friendly adaptation of book one truly makes viewers of all ages believe in magic. Rated PG (really 6 and up)
8
Beetlejuice (1988)
Young Adam and Barbara (Alec Baldwin, Geena Davis) are certainly dead, and a new family is certainly moving into their home! What to do? Cue Beetlejuice (Michael Keaton), in all his putrescence, known for expelling unwanted houseguests (and solving other problems, too). Together, the crew (with the help of living goth child Lydia) work to expel her unbearable parents and reclaim the home for good. Rated PG (really 12 and up)
9
Halloweentown (1998)
What little girl doesn't want to find out that she has magical powers? Halloween-obsessed Marnie Piper (Kimberly J. Brown) gets the best surprise ever when her gifted grandmother (Debbie Reynolds) unveils a huge family secret: Marnie's a witch! Oh, and there's a whole other world where Halloween is a way of life, not just a holiday: Halloweentown! We hope she'll be able to lend a hand, since an evil Warlock is starting some trouble. Rated TV-G (really 6 and up)
10
Addams Family Values (1993)
This dark comedy-sequel dives right in with your favorite creepy crawly crew as they navigate some seemingly (and to them, horrifyingly) normal activities—like dating (the torture!), tolerating a new baby brother (the agony!) and even going to summer camp (the most vile of all). You'll wish they were your neighbors…well, if you appreciate all things macabre. Rated PG-13 (really 11 and up)
11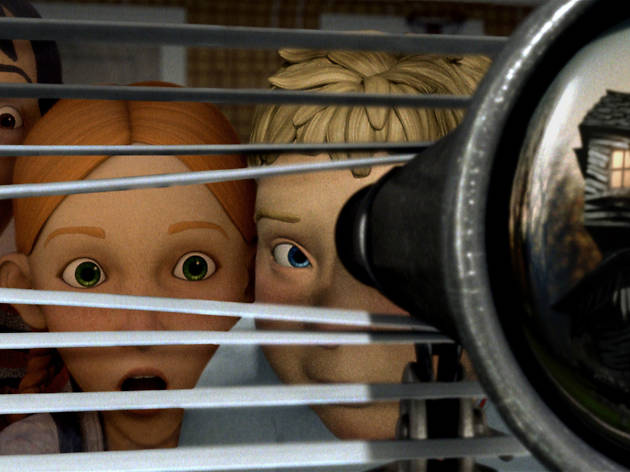 Monster House (2006)
One house on the street is not like the others, and teenager DJ knows it. Unfortunately, it's harder than expected for him to convince the police and his babysitter that their neighbor's home is actually a living, breathing monster. DJ and his friends must embark on a crazy adventure in hopes of saving the people the house has eaten (and ideally destroying it afterward). Anxiety-prone kids should pass on this one, but young horror fans will dig this film for its relatable characters and heartwarming ending. Rated PG (really 9 and up)
12
Corpse Bride (2005)
Think you're having a rough day? The protagonist in this stop-motion Tim Burton flick accidentally proposes to a dead girl when he's dreaming of proposing to his (very alive) arranged match. Awkward. You and your crew navigate the world of the undead as Victor tries to get things back in order—though by the end, normal isn't exactly what he'd thought it was, and you'll have a hard time figuring out who to root for in this sad, sweet romance. Rated PG (really 9 and up)
13
E.T. the Extra-Terrestrial (1982)
When Elliott finds an alien hiding in his mom's tool shed, a friendship blossoms into something truly out of this world. With the help of his siblings, he keeps E.T.'s existence a secret, but it's hard to keep the creature safe when government agents try to sniff him out. You'll overlook some slightly salty banter to allow your pint-size crew the joy of giggling when Elliott dresses E.T. as a ghost to sneak him out of the house on Halloween, and you're sure to say "awww" when young Drew Barrymore comes onscreen. Oh, and a final fun fact: Steven Spielberg's character E.T. is actually inspired by an imaginary friend he had as a child. Rated PG (really 7 and up)
14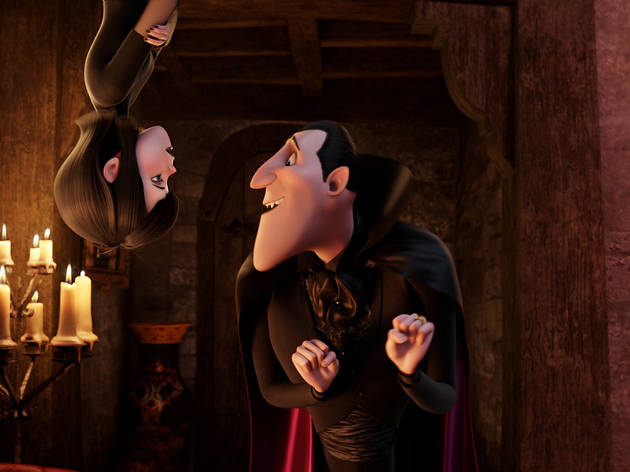 Hotel Transylvania (2012)
This kid-friendly, animated twist on your typical horror movie finds Count Dracula (voiced by Adam Sandler) operating a high-end resort, situated far from humankind. When teen boy Jonathan (Andy Samberg) stumbles upon it falls for the Count's daughter, Mavis (Selena Gomez), the overprotective, undead dad must make sure his guests don't discover the human visitor. The familiar voices of stars like Kevin James, Fran Drescher, David Spade and Molly Shannon help to further demonstrate that monsters have a non-spooky side—especially when they're on vacation. Rated PG (really 6 and up)
15
Gremlins (1984)
When a young boy, Rand, takes in a furry Ewok-like creature named Gizmo, he's told to follow very strict instructions. But Rand takes his pet-owner duties less than seriously, and he soon discovers that Gizmo has spawned several ugly monsters which wreak havoc on the town. Sure, the flick takes place around Christmastime, but the prospect of Gremlins lurking in your home is enough to creep anyone out. Rated PG (really 11 and up)
16
The Addams Family (1991)
A creepy, kooky family, comprised of Gomez, Morticia and their pallid children Pugsley and Wednesday, reside in a creaky mansion next to a cemetery. They mind their own business, dedicating their time to grim interests that others find disturbing, when Gomez's long-lost brother Fester suddenly returns—though it turns out that their visitor may be an imposter, dead-set on getting a hold of the family's fortune. Rated PG-13 (really 11 and up)
17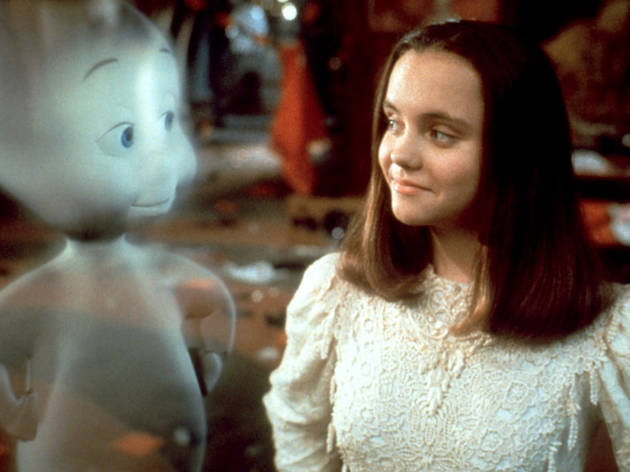 Casper (1995)
Instead of inheriting her father's millions (as expected), Carrigan Crittenden gets only his broken-down mansion. She soon realizes that in order to claim the house (and the hidden fortune that may be inside), she needs to boot the troublesome ghosts that call it home. Crittenden hires Dr. James Harvey, an experienced afterlife therapist who moves into the mansion, and his daughter Kat meets Casper (the only friendly ghost of the bunch). They all work together to help the spirits cross over to the other side (expect some mild cursing in the process). Will they be able to pull it off? Rated PG (really 7 and up)
18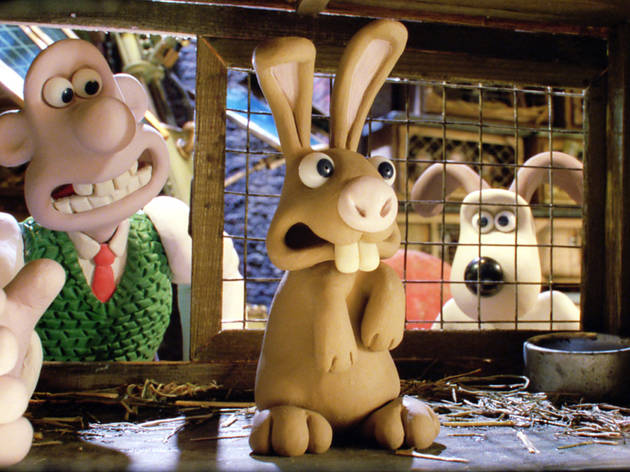 Wallace & Gromit: The Curse of the Were-Rabbit (2005)
Things take a spooky turn for absentminded inventor, Wallace, and his trusty canine companion, Gromit, in this stop-motion, claymation flick based on the series. The pair create one of their infamous contraptions in order to help their friends protect their gardens from hungry rabbits. A malfunction results in the creation of a giant, rabbit-like monster, which gets Wallace into trouble in more ways than one. Rated G (really 6 and up)
19
ParaNorman (2012)
This comedy-thriller from LAIKA tells the story of odd 11-year-old, Norman Babcock. At first, it's a familiar tale about a kid who doesn't quite fit in (the boy claims he can talk to the dead), but everyone starts singing a different tune once it's revealed that Norman is the only person who can prevent the town's destruction by 17th-century zombies. This flick (best for ages 7 and up) has its freaky moments, but in the end it's an endearing lesson about tolerance and compassion toward the strange and unusual. Rated PG (really 10 and up)
20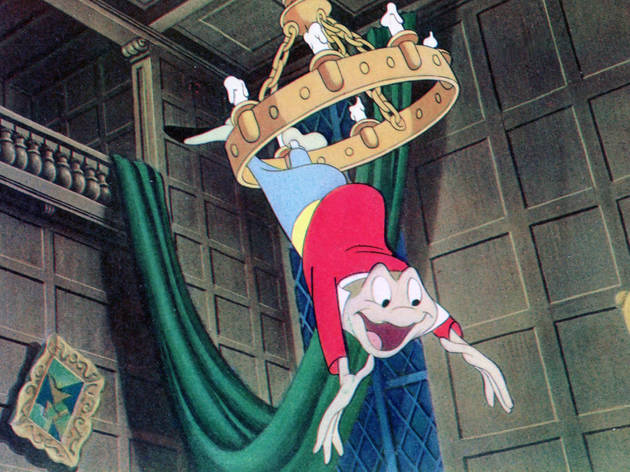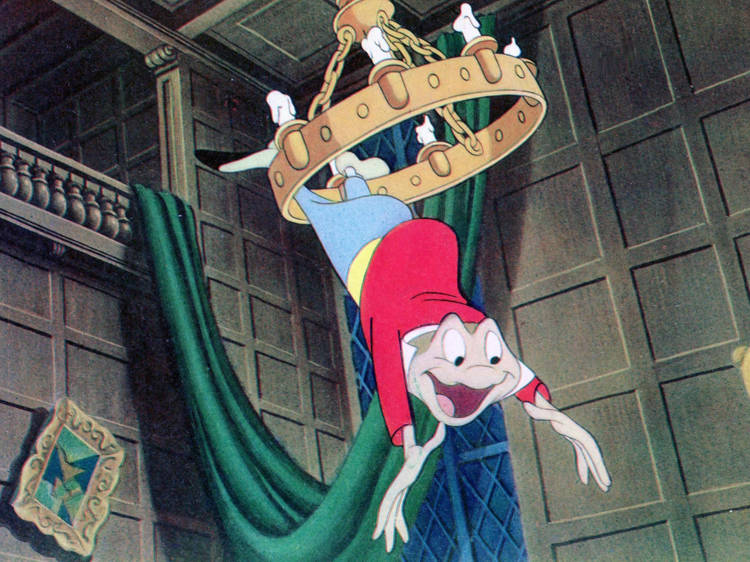 The Adventures of Ichabod and Mr. Toad (1949)
Washington Irving's grisly tale of Sleepy Hollow becomes more palatable for the kiddies in this cartoon, the second of two featurettes. Following The Wind in the Willows adaptation is the story of bumptious schoolmaster Ichabod Crane and his nemesis the Headless Horseman. It's a trite, chocolate-box picture of colonial days—until the Horseman shows up for one of those nightmare sequences with which Uncle Walt so relished terrifying his young audience. Rated G (really 6 and up)
21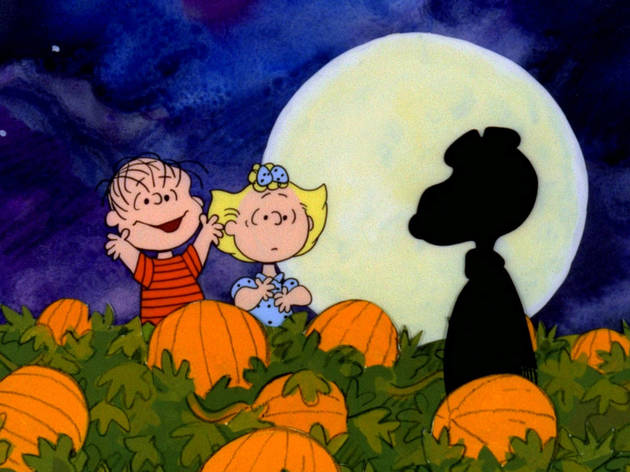 It's The Great Pumpkin, Charlie Brown (1966)
Based on Charles M. Schulz's comic strip Peanuts, this Halloween classic features trick-or-treating, pumpkins and cute costumes (Snoopy too). You'll sympathize with Linus, who patiently waits for the Great Pumpkin to come, and see a softer side of Lucy, who eventually dumps her bad attitude to be sweet to her brother. Not rated (really 2 and up)
More fun for kids