Every 14 year old knows that Goosebumps is for babies. If you want the real scares out of your monthly Scholastic book catalog, you go straight to Fear Street.
After two Jumanji-inspired movies and several series inspired by his popular Goosebumps books for young readers, prolific writer RL Stine — the kid-lit answer to Stephen King — is getting another adaptation. Netflix's Fear Street takes its cue from the author's longstanding teen-focused series of haunted-house thrillers and sanitized slashers.
The three-part Fear Street — part one of which debuts on Friday, July 2 — is an ambitious move for Netflix, which is releasing each film a week apart. More surprising for fans, though, is the fact that the film is courting sleepover dares in a big way, adapting the PG-rated series as a hard-R slasher franchise.
"Readers know that the book series is rated PG. But the movies are rated R. That means a lot more thrills — and a lot more terror!" The author said in a statement. "I have seen Leigh Janiak's epic trilogy releasing on Netflix in July and I can tell you the scares and the SCREAMS are more than I ever expected. What fun to see the horrors of Shadyside come to life!
Here's what we know about the films ahead of their release.
What is Fear Street?
Stine published the first Fear Street novel, The New Girl, in 1989. To date, there are more than 160 books across multiple narratives, all taking place in the horror-plagued town of Shadyside. They include such titles as The Wrong Number, The Prom Queen, Who Killed the Homecoming Queen?, Drop Dead Gorgeous, The Dead Lifeguard and Cheerleaders: The Evil Lives.
Like Goosebumps, Fear Street became a phenomenon and a mainstay of Scholastic book catalogs, selling close to 100 million copies and predating Twilight as a runaway horror crossover for teens.
What are the films about?
The three films will reportedly draw on various titles in the Fear Street canon, and like the books it appears the films will genre hop between urban legends, murder mysteries, gothic horror, supernatural scares and slasher fare.
The trailer for 1994 seems to take a cue from The Town That Dreaded Sundown, paying direct homage to that particular slasher and Friday the 13th by depicting a burlap sack-masked axe murderer. The plot also hinges on an ancient witch who returns to the same Ohio town regularly to wreak havoc, likely by possessing teens and forcing them to kill
The film will be followed on July 9 by Fear Street Part 2: 1978, which appears to go much more overt with its Friday the 13th homaging by relocating to a run-down summer camp for its slasher antics.
The series will then leap back a few centuries for Fear Street Part 3: 1666, which will likely serve as an origin story for the bloodthirsty witch and tie into the previous entries as the town's time-spanning teens seek to put an end to the carnage.

Leigh Janiak, a veteran of MTV's Scream series, directs all three entries.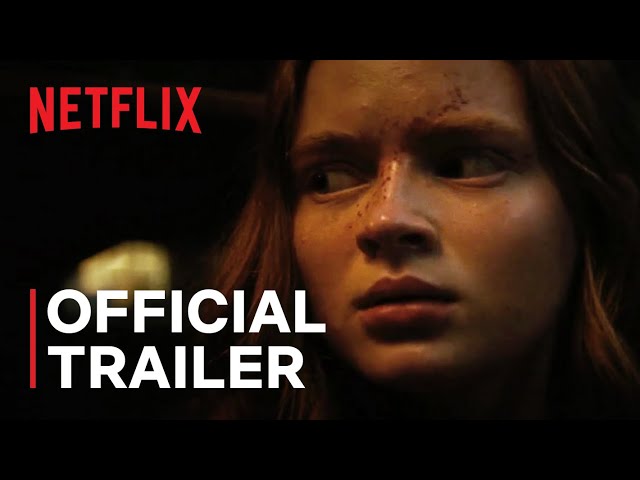 How R-Rated will these films be?
Had you told a '90s kid that a Fear Street film would be more hardcore than an adaptation of the horrifying Scary Stories to Tell in the Dark series, they would have laughed at your face... then immediately gotten nightmares thinking about Stephen Gammell's gruesome illustrations. But in 2019, producer Guillermo del Toro and André Øvredal — who previously helmed the skin-crawling Autopsy of Jane Doe — put out a PG-13 adaptation of every goth kid's favorite book.
In a twist of Who's Been Sleeping In My Grave proportions, Fear Street doesn't appear to be shying away from its R-rating, instead wearing it as a badge of honor… and something of a dare for younger audiences who might be scared off by the film's embrace of slasher conventions.
1994 is rated R for "strong bloody violence, drug content, language, and some sexual content." 1978 contains the same adult content, and one-ups them with a dose of nudity and "language throughout."
1666's rating details are yet unavailable, though chances are they involve somebody being burned alive.
The Stranger Things vibes are strong
Like Netflix's global phenomenon, Stranger Things, Fear Street is hugely indebted to what's come before, with each installment embracing the films of its assigned era. That includes a heavy Scream vibe to go with its more generic slasher overtures of 1994. 1978, meanwhile, seems to latch on to the counselor-kebab traditions of Friday, Sleepaway Camp and The Burning.
The films also seem to be leaning heavily into visual cues to establish their settings, with 1994's footage scored to Rob Zombie and featuring close-ups of AOL chat rooms and DOT matrix computers.
Along with the nods to John Carpenter, Tobe Hooper and Amblin movies, the films actually prominently feature stars from Stranger Things. Season 3 newcomer Sadie Sink (Max) headlines the cast of 1978, which also features Community favorite Gillian Jacobs. Maya Hawke — who also joined up at Season 3 as Scoops Ahoy employee of the month Robin — is also heavily featured in the trailer for 1994, and from the looks of the things her role might be akin to Drew Barrymores in the heavily referenced Scream.
When will Fear Street be released?
Netflix subscribers can screen Fear Street Part 1: 1994 beginning July 2. 1978 debuts on July 9, with the series-capping 1666 making its debut on July 16.
These are the 100 best horror films of all time