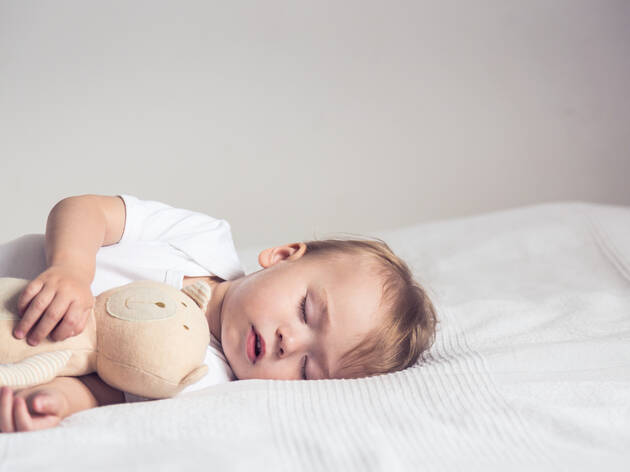 Best lullabies for kids all parents need at bedtime
The best lullabies for kids will help your busy little New Yorkers catch some much-needed Zs
Time to tuck in with the best lullabies for kids. After a busy day running around NYC with your tot in tow, everyone in your brood will need to take a load off. From favorites like "Twinkle Twinkle Little Star" to classic-rock selections such as "Golden Slumber" (we're looking at your Beatles' fans), our favorite lullabies for kids are a neccessity before calling it quits for the day.
If you happen to be up late (perhaps after a marathon of the best kids' movies or family comedy movies) bust a move with our go-to dance songs for kids—a lullaby won't be necessary because your kids will be wiped out from moving and groving (no need to thank us, parents). Check out our Spotify playlist and get those jams ready for bedtime, and don't forget the nightlight.
Best Lullabies for kids
Lull your tot into a dream-like state with this classic lullaby that celebrates a mother's love for her baby. It's soothing, comforting and likely to elicit a few yawns from your little one.
2. "Twinkle Twinkle Little Star"
Help your child drift into a sweet slumber with this quintessential bedtime song. Let the stars serve as a nightlight and your good-night melody.
3. "Row, Row, Row Your Boat"
The steady chant that transports you gently down the stream is bound to result in a few heavy eyelids...hopefully after one or two plays.
Truthfully, when you have a newborn on your hands, you're certainly going to welcome a little quiet time. "Hush Little Baby" is a sweet, catchy way of sending your baby into a lengthy snooze (fingers crossed)!
5. "When You Wish Upon a Star"
No roundup of songs for kids would be complete without the mention of at least one Disney tune. This Pinocchio jingle will keep kids hopeful and make all of their dreams seem extra sweet.
Dormez-vous, Frère Jacques? Parents can only hope that this charming French melody will result in a night without screaming or crying. Oui, oui!
Tuck the kids in with some reassurance of how much you love them—"You Are My Sunshine" will do the trick.
8. "Brahms' Lullaby"/ "Lullaby and Goodnight"
When the clock boasts some frightening times, you'll be anxious to "lay thee down now and rest." Make the attempt at shuteye with this calming wish for a good night's sleep.
Tackle your best Judy Garland impersonation and help the kids stay fast asleep with the help of this beloved song. What a wonderful world, indeed.
Now this is a lullaby parents can really get behind. Send your little ones to sleep with a low-key track that exposes them to some epic classic rock. Honestly, is there a generation out there that doesn't appreciate The Beatles? We didn't think so.
The name says it all in this all-too-relatable bedtime song. If only shaking that dreamland tree is easy at it seems in this melodious track. A parent can only hope!
12. "A Dream Is a Wish Your Heart Makes"
Although adorable animals from the woods might not be tucking in the kids the way they do Cinderella, this precious Disney tune will give youngsters something to look forward to when they shut their eyes.
If the birds, sheep, mountains and bees are snoozing, help your little tot follow suit with this sweet, pacifying song.
Can't get your little fella to hit the hay? Give this favorite lullaby a whirl. The calming tempo will will help him catch some Zs as quickly as possible.