Heads up! We're working hard to be accurate – but these are unusual times, so please always check before heading out.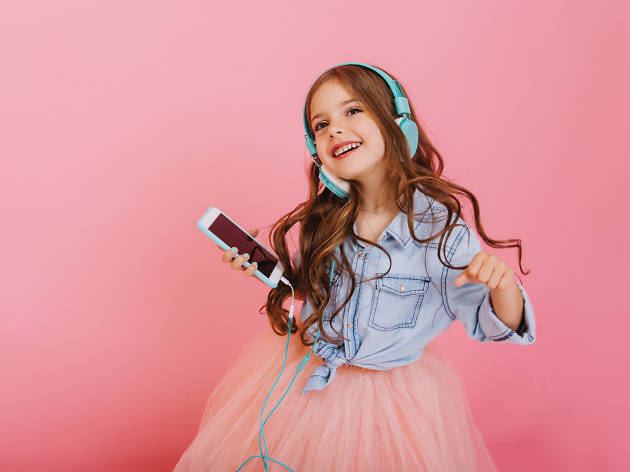 Best dance songs for kids
Hope you're ready to bust a move. Our list of dance songs for kids is so infectious that you'll have shimmy and shake!
There's no use trying to sit still. These fun, cheery dance songs for kids will have everyone on their feet—including parents!
A dose of '90s nostalgia, classic '80s beats, current jam-worthy titles and of course, famous Disney anthems are all on the menu thanks to our fantastic playlist. No matter your family's genre of preference, there's something guaranteed to help you and your little ones boogie. (Seriously, it's not like anyone can resist "Thriller," even after all of these years.)
Grab your speakers and turn up the tunes. The best dance songs for kids are the best way to spice up any playdate, dinner or simple night at home.
While you're at it, be sure to also take a look at the best songs for kids, the best Disney songs approved by Mickey and Minnie and NYC's coolest dance parties for kids.
Dance songs for kids
"Happy" by Pharrell Williams
We have to agree with you, Pharrell—happiness is certainly the truth. When this irresistible track debuted in Despicable Me 2, we immediately swooned...and have been clapping along ever since.
"Can't Stop the Feeling" by Justin Timberlake
We can't stop the feeling either, JT. We are completely enamored with your contagious rhythm and vocal range in this jam-worthy beat. When a singer belts, "dance, dance, dance, dance," it's kind of hard not to obey, right? Added bonus: This song was featured in one of your kids' favorite flicks: Trolls.
Though there's been plenty of argument as to what this song actually means, the '90s hit will live on as one of the catchiest songs to dance to. No worries if you didn't catch a verse or two!
"Macarena" by Los Del Rio
Though it's been a considerable amount of time since this song hit the scene, its popular beat—and accompanied dance moves—spans generation. Is there anyone out there who doesn't know how to do the Macarena?
"Thriller" by Michael Jackson
No dance playlist would be complete without the creepy-cool Michael Jackson hit, which has inspired wickedly fun dance moves to bust out at weddings or Halloween parties.
"ABC" by the Jackson Five
The "ABCs" get a soulful flair with the help of the Jackson Five. No one is strong enough to resist jamming along with this famous band of brothers, especially one led by the king of pop (budding king of pop at the time).
"Twist and Shout" by The Beatles
Regardless of the playlist, this classic rock powerhouse deserves some time in the spotlight, and rightfully so. Channel your inner Ferris Bueller and start twisting and shouting with your crew...but get off the float!
One of those songs that everyone recognizes, "Dancing Queen" reigns supreme on our list of dance tunes. Don't be afraid to feel the beat from the tambourine!
Little tots today will love bouncing around to the upbeat sounds of JoJo as she sings about friendship, staying true to yourself and the un-wanted drama of the hallways.
We'll tell you what we want, what we really, really want: A few '90s tunes to take our playdate to new levels. What little lady won't enjoy shaking along with Sporty, Scary, Baby, Ginger and Posh?
The cheerleading anthem for acrobats everywhere, "Mickey's" contagious rhymes have truly blown our minds.
"All Star" by Smash Mouth
This kid-friendly rock ballad will have your kid bouncing around and embracing those positive vibes. Rock on!
"Under the Sea" from "The Little Mermaid"
Arguably one of the best Disney songs around, this tropical, underwater tune is perfect for summer jam sessions.
"Party in the U.S.A" by Miley Cyrus
Some of Miley's music can't be tamed (no pun intended) but this country jam in the midst of her Hannah Montana days proves to be fun, charming and perfect for dancing.
"Rock Around the Clock" by Bill Haley and The Comets
We're kickin' it old-school with this fun '50s song you won't be able to get out of your head. It's the perfect sleepover anthem if you're hosting your kiddos' best buds from school—fingers crossed, for your sake, they won't rock till broad daylight.