Best family comedy movies for kids
No one will be able to resist these family comedy movies. From animated flicks to classic films, this list has it all!
Is there a better feeling than laughing until it hurts?
If you need some inspiration for your next night, check out our guide to the best family comedy movies that will provide a serious case of the giggles. No one in your crew will be able to resist this amazing lineup.
From the movies that have been passed down from generation to generation—The Goonies, Ferris Bueller's Day Off—to new renditions of classic tales (Peter Rabbit), you'll have no trouble making a selection. Don't forget the popcorn! Be sure to also check out the best kids' movies of all time, our favorite sleepover movies, the best kids' movies in theaters and the best Disney princess movies.
Best family comedy movies
1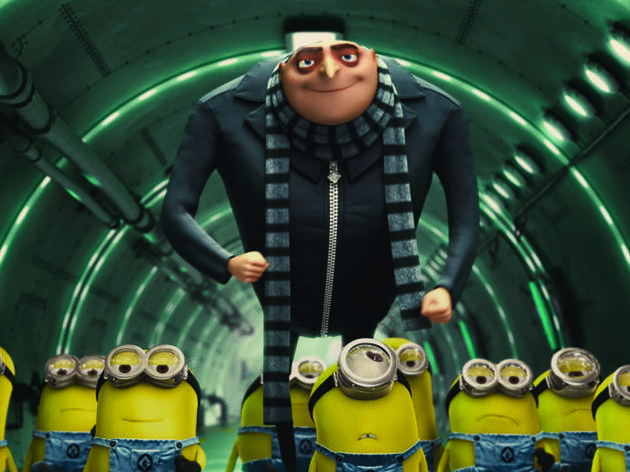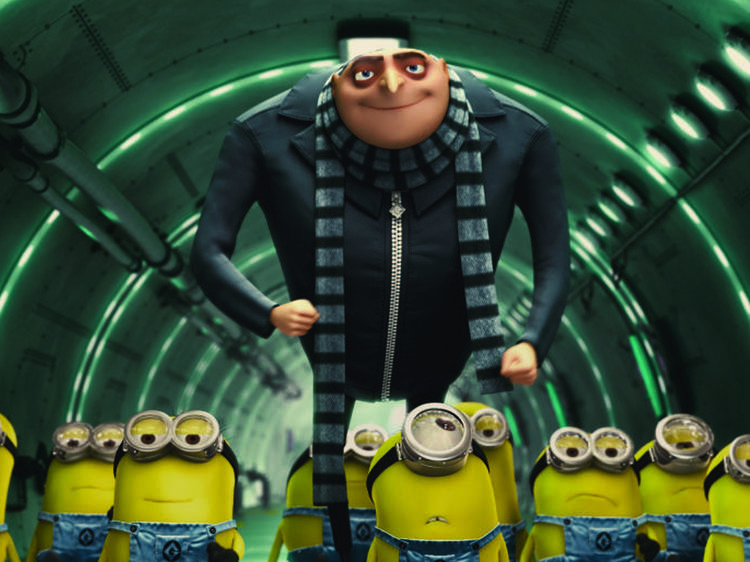 Photograph: Universal Pictures and Illumination Entertainment
Steve Carell is the voice of Gru, a suburban supervillain whose seemingly innocuous home sits above a vast underground lair populated by hordes of yellow gibberish-speaking minions. Gru is prone to freeze-raying passers-by and plots to steal the moon, but when he adopts three adorable tow-headed orphan girls it's not long before their plucky charm and winning optimism begin to melt his cold, cold heart. Rated PG.
2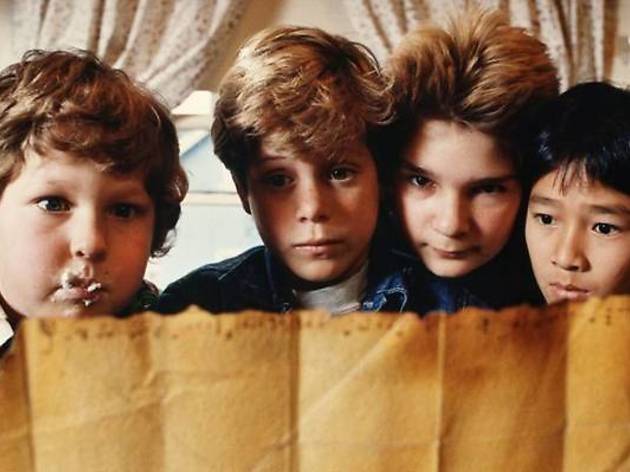 Photograph: Courtesy Warner Bros.
Anything from Spielberg is going to be a crowd-pleaser, especially when it involves a group of kids from Astoria who go on the wildest journey you could imagine just to save their home. One-Eyed Willy certainly met his match with Mikey. Rated PG.
3
Courtesy of Warner Bros. Picture
With one obvious exception, toy stories do not have the luckiest big-screen pedigree: the results are often either sugary cartoons for undemanding kids or noisy blockbusters for brain-dead teens. If the producers of 'The LEGO Movie' had taken either approach, there would have been an outcry: these lifeless plastic bricks are too beloved, too iconic to be subjected to the Hollywood sausage-factory treatment. Luckily the script is witty, the satire surprisingly pointed and the animation tactile and imaginative. Rated PG.
4
There are mischevious antics, hysterical camp moments and, at the heart of it all, a tender story. Lindsay Lohan's portrayl of twin sisters separated by their parents' divorce has become a beloved remake all 90s children love when they need a good laugh, cry and happy ending. Rated PG.
5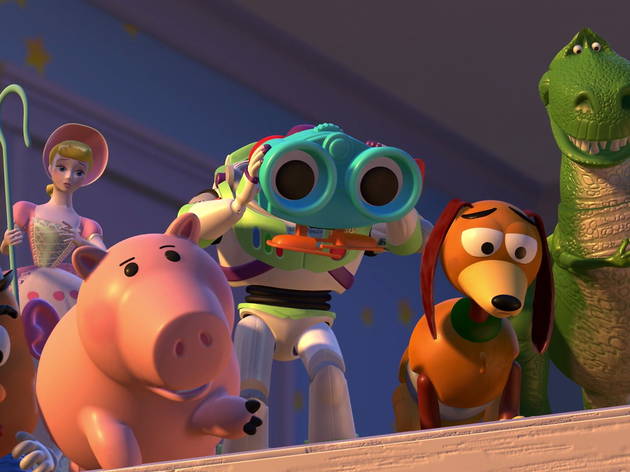 Photograph: Courtesy Disney/Pixar
While multiple iterations of Toy Story have turned it into a substantial franchise, the original tale is still our favorite by far. Who can forget meeting Woody and Buzz for the first time? Kids will love seeing Andy's toys come to life and even go on an unexpected journey when some things go awry. Don't be surprised when they start looking at their own toys a little differently. Rated G.
6
© 20th Century Fox
Kids will love mischief-maker Kevin McCallister, an 8-year-old boy whose family accidentally leaves him behind when rushing out of the house for Christmas vacation in France. Alone in their Chicago home, Kevin learns to fend for himself. Eventually, Kevin must protect his home against Harry and Marv, who plan to burglarize the entire neighborhood. Kevin's mother Kate tries to rush home as soon as she realizes his absence, but plenty of chaos ensues while Kevin is left to his own devices. Rated PG.
7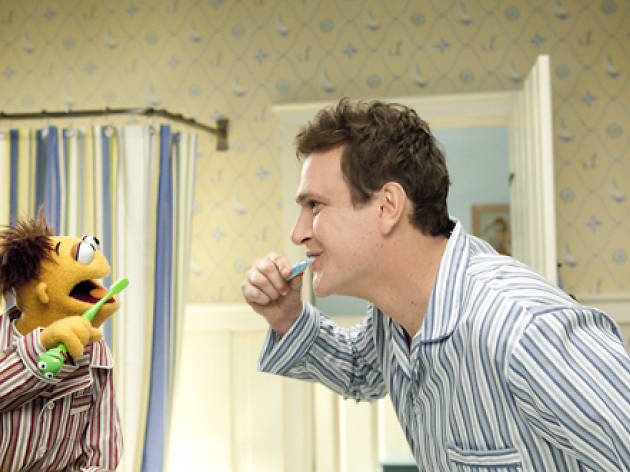 Patrick Wymore
The original 'Muppet Show' first screened its unique combination of sweet, surreal and subtly satirical silliness in 1976. Over 30 years later, Jason Segel and Amy Adams revived the franchise with this feelgood film, chock-full of soulful psychedelic songsmithery and rubber chicken gags. But the real stars are, of course, the Muppets themselves. Prepare yourself for subversive asides, terrible puns and some of the most ludicrous, maniacal musical numbers ever committed to film. Rated PG.

8
The Princess Bride (1987)
Could Rob Reiner's simultaneous send-up and celebration of fairy tales have better captured the imagination of all who live for the phrase "Once upon a time..."? In-con-ceiv-able, we say! You won't find a sweeter love letter to the glories of cross-generational storytelling. Rated PG.
9
While kids' movies were making pop-cultural references before this DreamWorks toon came out, none of them were quite as savvy as this ogre's tale in dismantling legendary bedtime stories—and in a way that kids would find both clever and funny. It's like a collegiate Postmodernism 101 course, only aimed at elementary-school students and with better fart jokes. Rated PG.
10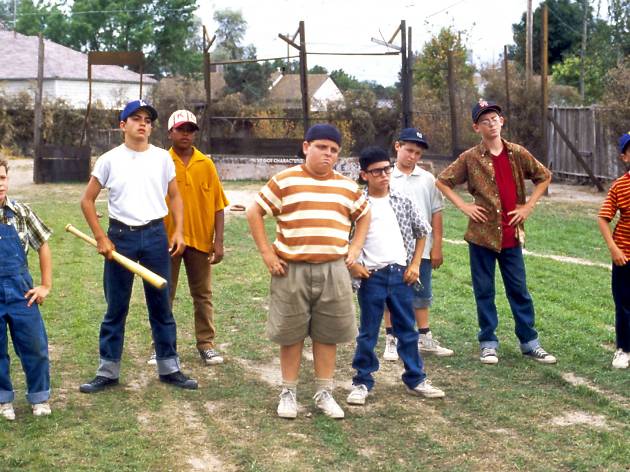 Moviestore/REX/Shutterstock
During the summer of 1962, a spotty crew of dead-end kids throw a baseball around at the neighborhood diamond. The new kid in town, Scotty Smalls, is accepted simply as a gofer, but the gang's leader, Rodriguez, takes him under his wing. The quirky crew gets into plenty of mischief outside of batting practice, and they'll have to put their heads together to get a prized baseball back from a snarling neighbor. Rated PG.
11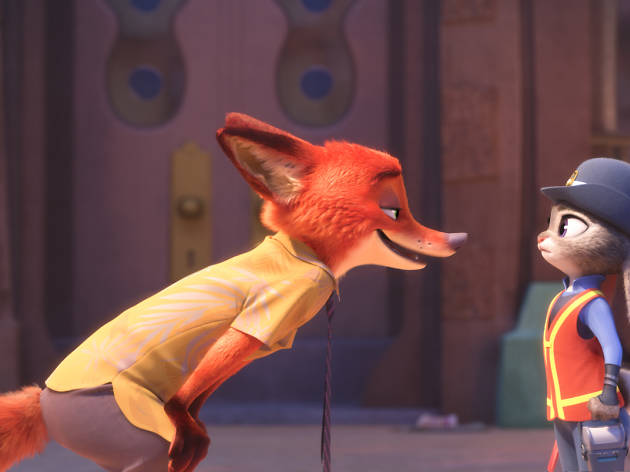 ©2016 Disney. All Rights Reserved.
Talking animals In a Disney film? Nothing new there. But this animated adventure takes the idea somewhere fresh by giving us a distinctly human world, with cities, streets and ice cream parlors populated by almost every mammal you can think of. The critters are voiced by Jason Bateman, Idris Elba, J.K. Simmons and more notable celebs, plus there are some fantastic set pieces for older audiences, including a brilliant comic slow burn with a very leisurely bureaucratic sloth and a charming riff on the wedding scene from The Godfather. Rated PG.
12
Britain's Aardman Animations has always had a sly sense of anthropomorphist humor (see their sensational Wallace and Gromit shorts), so it's no surprise that the company's parody of The Great Escape—this time, the POWs are chickens breaking out of a farm—is hilarious. What is shocking is how what could have been a one-joke comedy becomes, in Aardman's deft clay-molding hands, something moving and absolutely poult-errific. Rated G.
13
The LEGO Batman Movie (2017)
Are you prepared for the LEGO action? If so, buckle up for a giggle-filled ride with Bruce Wayne and his battle against those who evilly plot to rule Gotham City. He also accidentally adopts a goofball orphan who desperately wants to be his sidekick. What to do…Rated PG.
14
Pixar
What would life be like if your feelings were on display for all to see? This Pixar-animated film cleverly shows us when feelings (literally) come alive through Riley, an 11-year-old girl who has some trouble adjusting to her new environs when her parents uproot her from Minnesota and move to San Fransisco. There couldn't be better actors than Amy Poehler, Bill Hader, Mindy Kaling and Lewis Black to embody those niggling feelings better kept inside. Rated PG.
15
Honey, I Shrunk the Kids (1989)
Father and failure-plagued scientist Wayne Szalinkski works tirelessly on a shrink-ray invention in his attic laboratory to no avail—until one day the contraption finally works. His kids and the neighbors unknowingly wander into the lab and are hit by the laser beam, shrinking to 1/4 of an inch. As the concerned parents search for their youngsters, the kids make their way through the now larger-than-life world around them, tackling perilous obstacles like mud puddles, an ant and a bowl of Cheerios. Rated PG.
16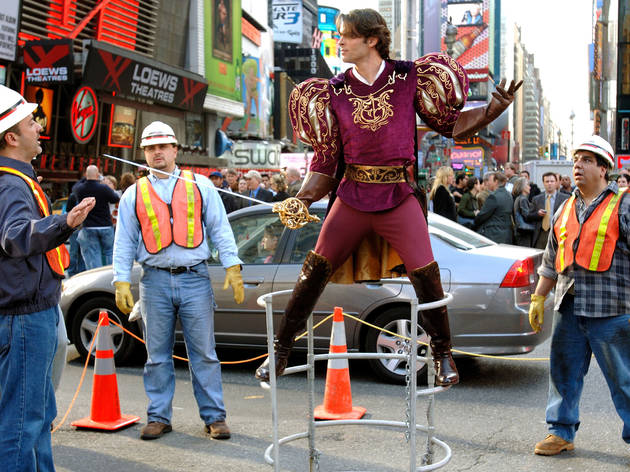 Barry Wetcher/SMPSP
A modern-day twist on classic fairytales, Enchanted begins in conventional, animated Disney territory, with Giselle being courted by Edward, her Prince Charming. His witchy mother banishes Giselle to twenty-first century New York City, where the film flits from animation to live-action just as Giselle (now Amy Adams), emerges from a manhole into a world of bustling humanity. As lawyer Robert Philip (Patrick Dempsey) begins to fall for her, Edward appears (in the guise of James Mardsen) and Giselle is left facing a typically predictable rom-com dilemma. Rated PG.
Science projects and study sessions go awry when "Mr. Schneebly" shows up to class. The goofy and unorganized teacher is really a rock n' roll musician and tricks the class into performing in a local competition. What will happen when his big secret lets out? Youngsters will love the laugh-out-loud moments and parents will appreciate the classic rock references and tunes. Rated PG–13.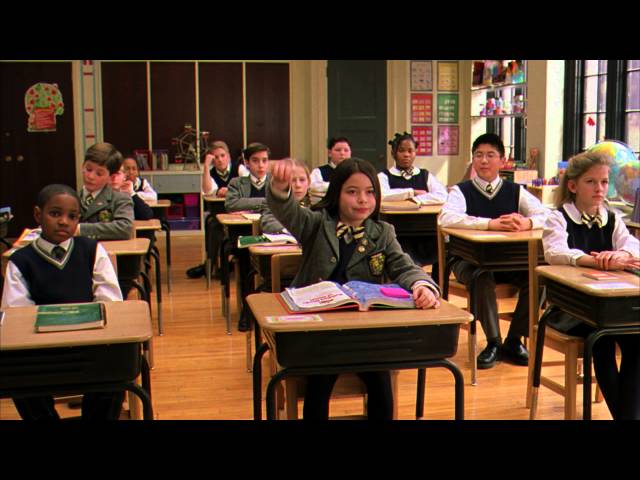 18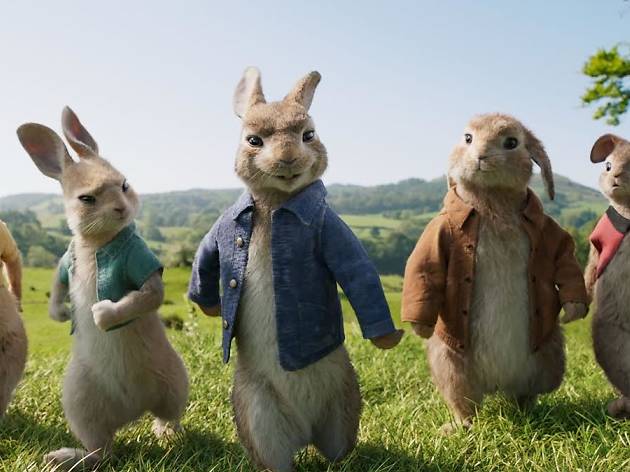 Photograph: Courtesy Columbia/Sony Pictures/Kobal/REX/Shutterstock
Beatrix Potter's infamous bunny gets an extra dose of mischief in this modern rendition of the classic tale. As Peter and co. lash out against McGregor in the hopes of winning Bea's affection, kids (and their adult counterparts) will swoon over the hilarious antics. Rated PG.
Pee-Wee's Big Adventure (1985)
Pee-Wee Herman sets out on a quest to find his missing red bike, something he is unable to part ways with. While on his journey to find his prized possession, he has many interesting adventures along the way. Rated PG.
20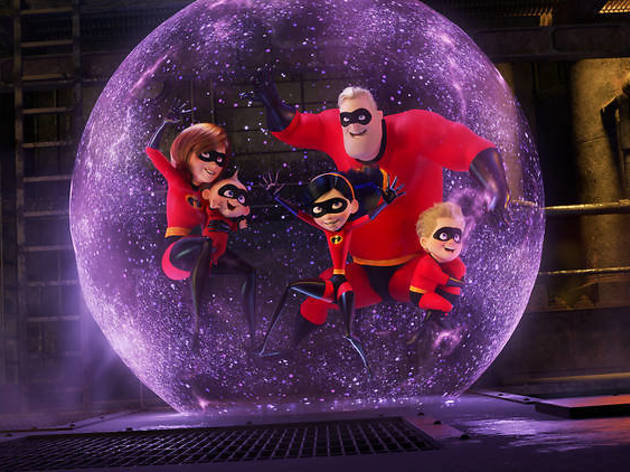 Photograph: Courtesy Pixar
The Incredibles (2004 & 2018)
This super hero, crime-fighting family has won the hearts of children and adults alike as it takes on evil. The 2018 film, The Incredibles 2, takes a page from Wonder Woman's book, as Elastigirl is off fighting crime while her hubby, Mr. Incredible, is home with the kiddos. But when the crew needs to take down another nefarious plan, they'll just have to make it work. Rated PG.
21
Photograph: Courtesy Netflix and FTP Edelman
Kung Fu Panda (2008–2016)
The trio of films garners a lot of attention for its ironic main character—the super-lazy, clumsy and out-of-shape Po, a panda bear who secretly wants to be a master of kung fu. Rated PG.
The five-film franchise generates a lot of "LOLs" as its characters attempt to survive the Paleolithic ice age. Rated PG.
Ferris Bueller's Day Off (1986)
The fan-favorite continues to live on for its laugh-out-loud, moments of skipping school that all kids can relate to (sorry, parents). Let's be real: "Life moves at you pretty fast. If you don't stop and look around every once in a while, you could miss it." Rated PG–13.
See what's new for kids on Netflix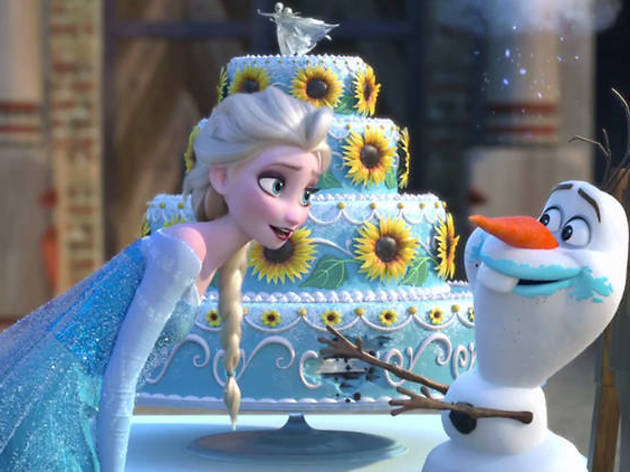 Things to do, Film events
Consider this your ultimate guide to family movies on Netflix! We're here to tell you what's coming and going on your favorite on demand movie service every month, so check in regularly to get the scoop.