Best animated Christmas movies for kids and families
The best animated Christmas movies go perfectly with a cozy blanket and a large cup of cocoa. What will you watch first?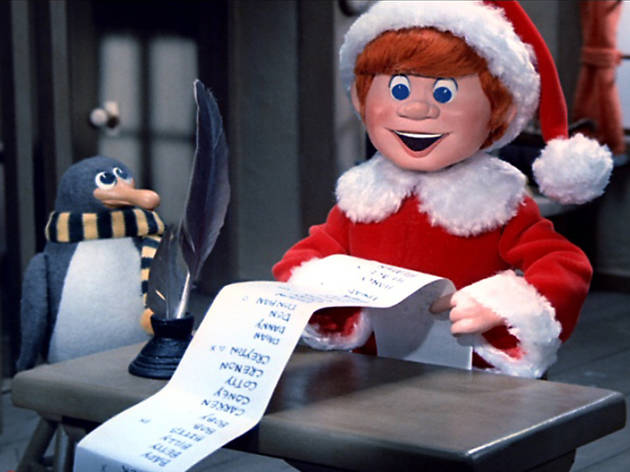 The most wonderful time of the year is upon us, so kick back with the best animated Christmas movies for kids and families.
From classic cartoons to new favorites, our list provides a little variety for everyone in your brood, whether you're a sucker for the Grinch or can't resist the Peanuts gang.
RECOMMENDED: Full guide to Christmas for kids in NYC
Don't wait! Now is the perfect time to get cozy and watch these festive animated Christmas movies. Make sure to snag some of the best hot chocolate in NYC before you press "play." When you're done with your movie marathon, make sure to check the best winter activities for kids and lace up for a loop around NYC's greatest kids' ice skating rinks.
Best animated Christmas movies
1
Dr. Seuss' How the Grinch Stole Christmas (1966)
That small-hearted villain from Mt. Crumpit goes down to Whoville for some seasonal spoiling—only to discover that Christmas cheer can never be stolen. Spooky thespian Boris Karloff is the inspired narrator for this delightful TV special, a faithful rendition of the rhyming classic that will have everyone singing "Da hoo doray." Not rated.
2
Rudolph the Red Nosed Reindeer (1964)
A young reindeer is picked on and banished from the reindeer games because of his bright red nose. He quickly befriends a prospector and an elf who wants to be a dentist, and together, the group happens upon a whole island of misfit toys. Rudolph makes it his mission to see if he can help them. On Christmas Eve when he returns to the North Pole, it seems like it may be too foggy to fly. Fortunately, Santa sees Rudolph's nose as an excellent solution. Rated TV-G.
3
A Charlie Brown Christmas (1965)
Cartoonist Charles Schulz first brought his soulful Peanuts comic strip to life in this divine television special, a clever skewering of Christmas commercialization (Charlie Brown's sister Sally even asks Santa for cold hard cash) and a heartfelt celebration of holiday holiness, all set to Vince Guaraldi's iconic jazz piano. Plus: the most pathetic Christmas tree ever. Rated G.
4
Chris Van Allsburg's quietly charming picture book about a train headed for Santa's workshop becomes an overstuffed animated extravaganza thanks to this Hollywood cacophony of Christmas cheer. The pioneering movie (a major showcase for motion-capture technology) admittedly has dead-eyed characters with creepy skin textures, but the overall experience has wondrous moments of computer-generated spectacle. Rated G.
5
Frosty the Snowman (1969)
The 1950 novelty song popularized by Gene Autry becomes an animated TV special that faithfully details every stanza, from the corn-cob pipe and button nose to the old silk hat that makes the title character dance around—as well as that pesky sunlight that always threatens to turn him into a puddle. Rated G.
6
This smart and very British 3D animation from the Aardman stable opens with one of life's great questions: how does Santa visit so many homes so quickly? The answer, it seems, is a high-tech army of elves dispatched, SAS-style, from a silent spaceship disguised as a cluster of stars. But it never used to be like this, not before Santa's eldest son, Steve (Hugh Laurie), modernized the operation. Nevertheless, one parcel slips through the net, so it's left to Santa's sensitive younger son, Arthur (James McAvoy), and the retired, grumpy Grandsanta (Bill Nighy) to deliver the package using reindeer and sleigh. All of which inspires a frenzied inter-continental dash and one too many padded-out mishaps. What makes this festive fantasy engaging is the savvy way in which it debunks cold efficiency in favor of more wholesome values. Rated PG. (via Time Out London/Derek Adams).
7
Mickey's Christmas Carol (1983)
Mean old Scrooge has a lot to learn about the spirit of Christmas, and the ghosts of Christmas past, present and future, played by Mickey's pals, have a lot to teach him, as they journey together on a heartwarming adventure of the true meaning of the holiday. Rated G.
8
Grandma Got Run Over By A Reindeer (2000)
Young Jake witnesses his spunky grandma get run over by Santa's reindeer, but his teenage sister and parents don't believe him since they don't believe in Santa. Going on a quest that exposes his evil cousin's cruel intentions, and even brings him all the way to the North Pole, Jake is determined to find his missing grandma and show everyone that Santa Claus was indeed at his house that fateful night. Rated TV–G.
9
Olivia: Merry Christmas, Olivia (2010)
Your favorite Nickelodeon 6 ¾-year-old piggy Olivia is back in action in this series of live episodes. You'll follow Olivia as she wishes to become a Santa that returns lost toys (her favorite toy monkey Matilda is missing). You'll also see her trying to make the perfect family Christmas in the middle of summer (complete with a snow machine). Above all, Olivia just wants everyone to have a great Christmas, and you'll follow her on heartwarming adventures that your kids can really relate to. Not rated.
10
A Garfield Christmas (1987)
Though Garfield is typically accustomed to snacking, giving Odie a hard time and more snacking, things change during the holidays. When his owner brings the crew to his parents' home for a Christmas celebration, no one can seem to agree on how to spend their time—a classic predicament during the busiest time of the year. Despite his typical mischevious ways, Garfield manages to get everyone to cooperate and appreciate what December 25 is all about. Not rated.
11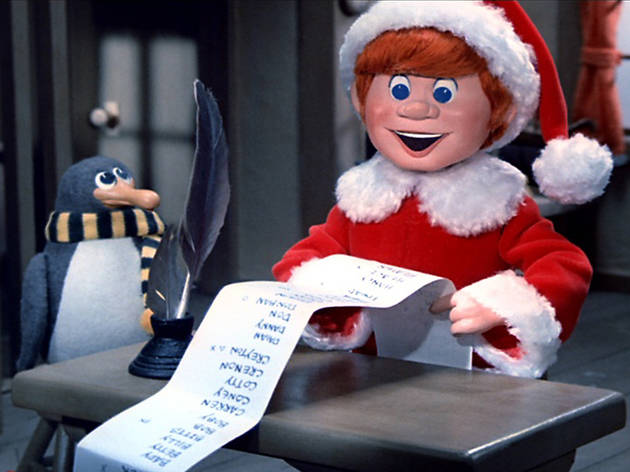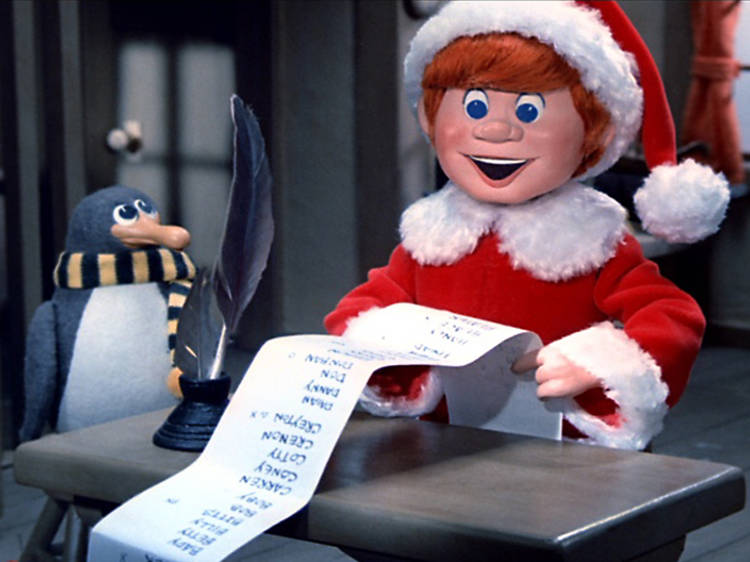 Photograph: Courtesy Warner Bros.
Santa Claus is Comin' to Town (1970)
December is a highly anticipated month, largely thanks to Saint Nick's Christmas Eve pilgrimage. In this '70s film—narrated by none other than Fred Astaire—families get a taste of how the Christmas magic comes to be. Expect to learn how reindeers fly, how exactly Santa makes his way down the chimney and even how Mr. and Mrs. Claus were first introduced. D'aww! Despite some scrooges along the way, this sweet story prevails and makes this time of year all the more jolly and bright. Not rated.
12
The Elf On The Shelf Presents: An Elf's Story (2011)
Grab your family's elf on a shelf (OK, scratch that—you know the rules) and kick back for a new holiday favorite. In this classic-to-be, young Taylor isn't quite sure how to get in the Christmas spirit. That's when a young elf named Chippey is sent to restore the little boy's faith in the holiday. There are ups and downs along the way, but overall the duo realizes what's most important during this time of year. Not rated.
13
The Nightmare Before Christmas (1993)
The king of the pumpkin patch is changing his ways. Once enamored with all-things spooky, Jack Skellington has now turned his attention toward Christmas. His newfound appreciation for the December holiday definitely puts Jolly 'Ol Saint Nick in a pickle, but this Halloween-Christmas hybrid is loveable regardless thanks to Tim Burton's classic quirkiness, festive tunes and of course, Jack and Sally. We wouldn't blame you for having this on repeat from October to December. Rated PG.
14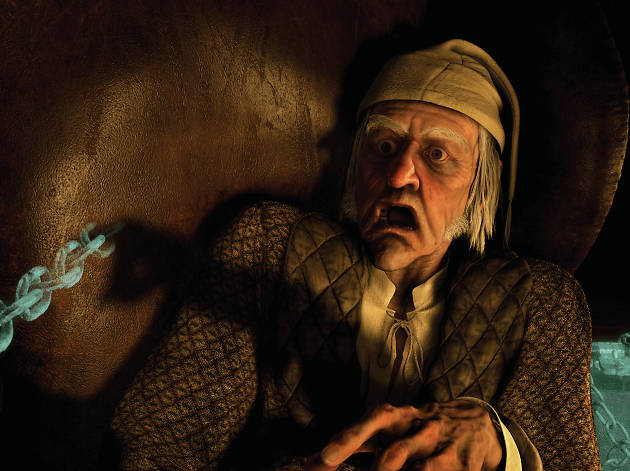 Photograph: Courtesy ImageMovers Digital LLC
Disney's A Christmas Carol (2009)
Jim Carrey voices the curmudgeonly Ebenezer Scrooge in Disney's animated take on the Charles Dixens' classic. The Christmas killjoy goes on a journey through his past, present and future via three spirits in order to make him see the beauty in this time of year. Rated PG.
Rudolph and Frosty's Christmas in July (1979)
The wicked Winterbolt—who is certainly on Santa's naughty list, if you ask us—awoke from a spell. Now that's he's up, he's ready to put the light out on Rudolph's shiny red nose, which is already getting dimmer. Will Christmas go on with our star reindeer's most beloved feature? Not rated.