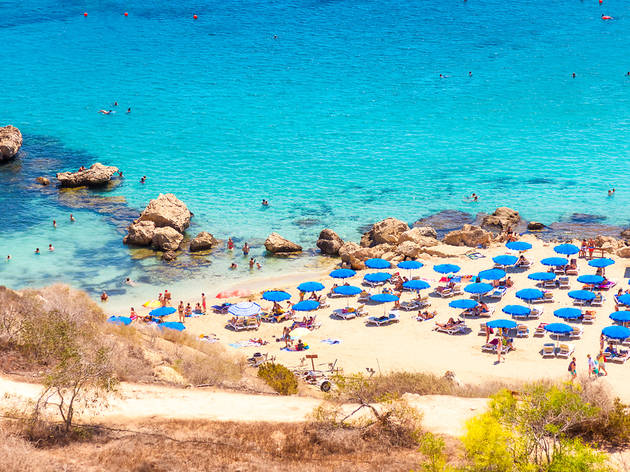 Cyprus is open to travellers – and will refund your trip if you catch Covid-19
The Mediterranean island opened its borders to certain nationalities on June 9, with UK travellers set to be welcome from July 15
Posted: Thursday June 25 2020, 12:50pm
After months of lockdown, Cyprus has reopened its borders – but only travellers from certain countries are currently being let in. There's also a twist to lure back visitors: if you test positive for Covid-19 after visiting, the Cypriot government will reimburse your travel costs.
Hotels in Cyprus opened on June 1, while international flights kicked off again on June 9. As for who is allowed entry right now, flights from Greece, Malta, Bulgaria, Norway, Austria, Finland, Slovenia, Hungary, Israel, Denmark, Germany, Slovakia, Lithuania, Switzerland, Poland, Romania, Croatia, Estonia and the Czech Republic are currently allowed to land. (Some travellers have to submit a recent, negative test result.)
As for the likes of the United Kingdom, United States, France, Spain, Italy and any other country who might have been hoping for a holiday on one of Cyprus's sandy beaches in early summer, as things stand, they would not be allowed to enter the country.
But that might be about to change soon. Ryanair has said it plans to run flights between UK, Italy, France, Cyprus and other destinations in July, while country's deputy tourism minister Savvas Perdios has said passengers from the UK will likely be welcome from July 15.
'The UK is our biggest market. It's massively important to us, and the situation there is improving all the time. In a few weeks from now, by mid-July, flights will be possible from the UK to Cyprus … July 15 sounds very reasonable,' he reportedly remarked.
If your homeland is on the list of currently-approved countries, the Cypriot government has come up with a pretty unusual guarantee to encourage you to hit that booking button. It's pledging to pay the holiday expenses of any travellers who test positive for coronavirus after visiting.
Accommodation, medicine and food for the entire affected group would all be included, with travellers only needing to pay for their journey back home. A dedicated hospital and hotel would also be available for stricken tourists.
So we might all have a chance to swim in that clear blue sea before 2020 is done – and without worrying about whether our travel insurance will cover us if our trip gets ruined by Auntie Rona.
Remember, many countries are still warning against all non-essential travel and some are quarantining all overseas arrivals, including their own returning citizens. Check all the relevant restrictions before you think about travelling.
When will you be able to travel again? Here's what we know so far.
Where can you go on holiday right now? These are all the countries that have already reopened their borders.
Share the story