Whovians assemble, because Doctor Who is coming back with a bang. Screenwriter and producer Russell T Davies is back after rebooting the show to glory in 2005 and he's bringing back a bunch of familiar faces – and new ones – for a trio of episodes to mark the BBC sci-fi serial's 60th anniversary.
And the upcoming specials are just the beginning. 'This is just the start, as the fever starts to burn,' says Davies. 'We're heading for a November full of Doctor Who surprises, for fans and new viewers alike. Stay alert!'
Fresh off the back of an action-packed trailer, here's all we know so far about the upcoming 60th anniversary specials.
What's the release date of the Doctor Who 60th anniversary?
While we know the episodes are airing in November, the BBC is yet to confirm an exact date. It's possible the specials will air around the November 23, the date on which the first episode of Doctor Who aired back in 1963.
It remains to be seen if episodes will air across consecutive nights or weeks. Typically, Doctor Who airs at around 7pm UK time on Saturday evenings.
Where can I watch the 60th anniversary special?
Doctor Who will premiere exclusively on BBC One for audiences in the UK and Ireland, before being available to stream on BBC iPlayer.
Disney+ is now the exclusive home for new seasons of Doctor Who for fans outside of the UK and Ireland.
Intergalactic viewers from Skaro, Gallifrey or New Earth should check local streaming services.
If any Earthlings want to brush up on their knowledge ahead of the specials to really know their Slitheen from their Sontarans, then all of the 'New Who' (2005 reboot onwards) series are on BBC iPlayer.
Those who want to venture further back can catch all 626 episodes of Classic Doctor Who that originally aired between 1963 and 1996 over on ITVX or BritBox.
How long is the episode?
Nothing's confirmed yet, but traditionally regular episodes are 45 minutes; special episodes tend to be 60-90 minutes.
What do I need to know before watching the special episodes?
You'll probably already know that David Tennant is back as the titular time traveller. But what's important to note is that he's now referred to as the Fourteenth Doctor, despite being the Tenth Doctor in his initial run.
So while previous reprisals of the role have seen him pulled through time but still as the Tenth Doctor, this time Tennant's incarnation will have all the knowledge and experience of those who came after him – played by Matt Smith, Peter Capaldi and Jodie Whittaker. He'll even have a brand new costume and a sonic screwdriver to boot.
Keeping up so far? Good, because it's about to get even more timey-wimey.
Catherine Tate is back as former office temp-turned-intergalactic time traveller, Donna Noble. However, when we first meet Donna in the upcoming specials, she will have no memory of the Doctor and the adventures they shared together.
This is because back in 2008's series finale, 'Journey's End', Donna's memories were wiped by the Doctor. She'd absorbed Time Lord energy, power that would have 'burned up' her mind. However, the Doctor warned Donna's family that the catch to saving her life was that she would 'explode' if she ever remembered their time together.
The latest trailer opens with Donna unaware of life beyond Earth, but soon shows her battling aliens with no explanation of how we get to that point with her head staying intact.
Who is in the cast for the Doctor Who 60th anniversary special?
The late, great Bernard Cribbins will make a posthumous appearance as Donna Noble's loveable grandfather Wilfred, while Yasmin Finney (Heartstopper) will play Donna's daughter, Rose.
Miriam Margolyes will lend her voice to the Meep, a character first introduced in Doctor Who comic strips in the 1980s. A small creature with large, loris-like eyes, the Meep's adorable appearance belies its true nature as a homicidal wannabe dictator of planets.
'I'm relieved I got to work on Doctor Who before I died,' says Margolyes. 'With sci-fi you never know. Thank you for making an old woman very happy.'
Hollywood star Neil Patrick Harris is set to be the villain of the special episodes, taking on the role of the Toymaker, an all-powerful enemy last seen in 1966. Sometimes referred to as 'The Celestial Toymaker', the character's original incarnation would often go toe-to-toe against the Doctor in a series of childish, and often rigged, games.
Ncuti Gatwa is seen in a split second at the end of the trailer, but the BBC have confirmed that Gatwa's first episode as the Fifteenth Doctor will air over the festive period, so don't expect to see much of him in the three specials.
UNIT – that's 'Unified Intelligence Taskforce' to the newcomers, the organisation that defends Earth from malevolent aliens – is back with a bang, with Jemma Redgrave reprising her iconic role as Kate Lethbridge-Stewart. Think of her as the Doctor Who equivalent to Marvel's Nick Fury.
Ruth Madeley (Years and Years) will play a character called Shirley Anne Bingham, who can be seen speaking with the Doctor in the latest trailer. No details have been revealed about the character, although there's speculation that she could be working for UNIT.

What's been revealed in the trailer?
The two-minute trailer has everything you'd expect, with adorable aliens, formidable foes, plenty of action, and, of course, some soon-to-be-classic Donna Noble quotes.
Chaos seems to follow Donna, even now she's unaware of her previous adventures, with a spacecraft crash landing near her home and an alien hiding in her house. Could there be something more sinister behind her chance reunion with the Doctor? Our money is on the encounter being a move in the Toymaker's sinister game.
UNIT seems to have had a major upgrade, now operating from a skyscraper towering above the London skyline. At one point we even see the Doctor arriving at the UNIT headquarters in a helicopter that's towing the TARDIS.
The malfunctioning TARDIS seems to be a constant throughout the specials, with the time machine even abandoning the Doctor and Donna in their hour of need at one point. It's not the first time that the TARDIS has been shown to have a sentient personality of its own, but it remains to be seen what threat could be so severe to make it flee.
Check out the trailer below.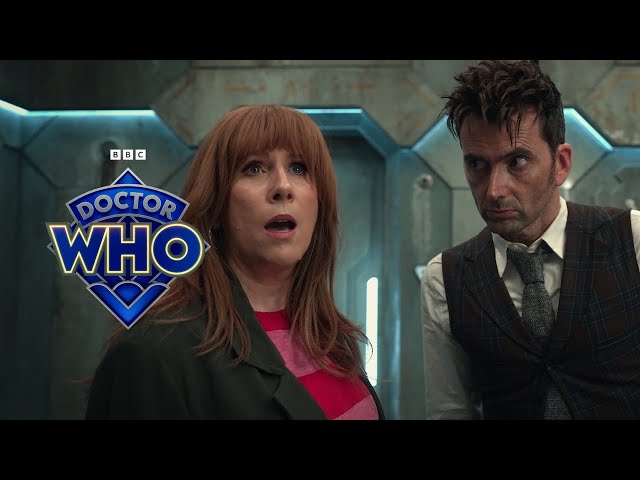 7 things in Doctor Who that only British people will understand.
Why 2023 will be the biggest year in Doctor Who's six decades.