Well, it turned out that Frank Herbert's richly imagined sci-fi epic 'Dune' wasn't as unadaptable as we all thought. But in fairness to David Lynch's beloved but flawed 1984 stab at the task, director Denis Villeneuve has the luxury of two films to cram in all its political chicanery, colonial critiquing, IMAX-scale action and massive killer sandworms.
Thanks to the colossal success of Dune with cinema-goers (and HBO Max subscribers), that second movie is about to go into production with a cast that just gets cooler by the day. Joining Dune alumni Timothée Chalamet, Oscar Isaac, Rebecca Ferguson, Jason Momoa and Zendaya, is a whole host of exciting new cast members.

Dune, of course, ended on a cliffhanger with – spoiler warning – Chalamet's Paul and Lady Jessica (Ferguson) finding themselves in the midst of the Fremen tribe people, a group of natives to the deserts of Arrakis. Here's what to expect when Dune: Part Two picks up the story.
When will Dune: Part Two be released?
It's out in cinemas worldwide on October 20, 2023. Thanks to Covid concerns, the first movie was released simultaneously on HBO Max, but Part Two will be out exclusively in cinemas. 'The success [of Dune] means we get to make the second movie, which means we'll be able to complete the second half of Herbert's novel,' Villeneuve tells Vanity Fair. 'That film will debut exclusively in theaters. It's part of the deal.'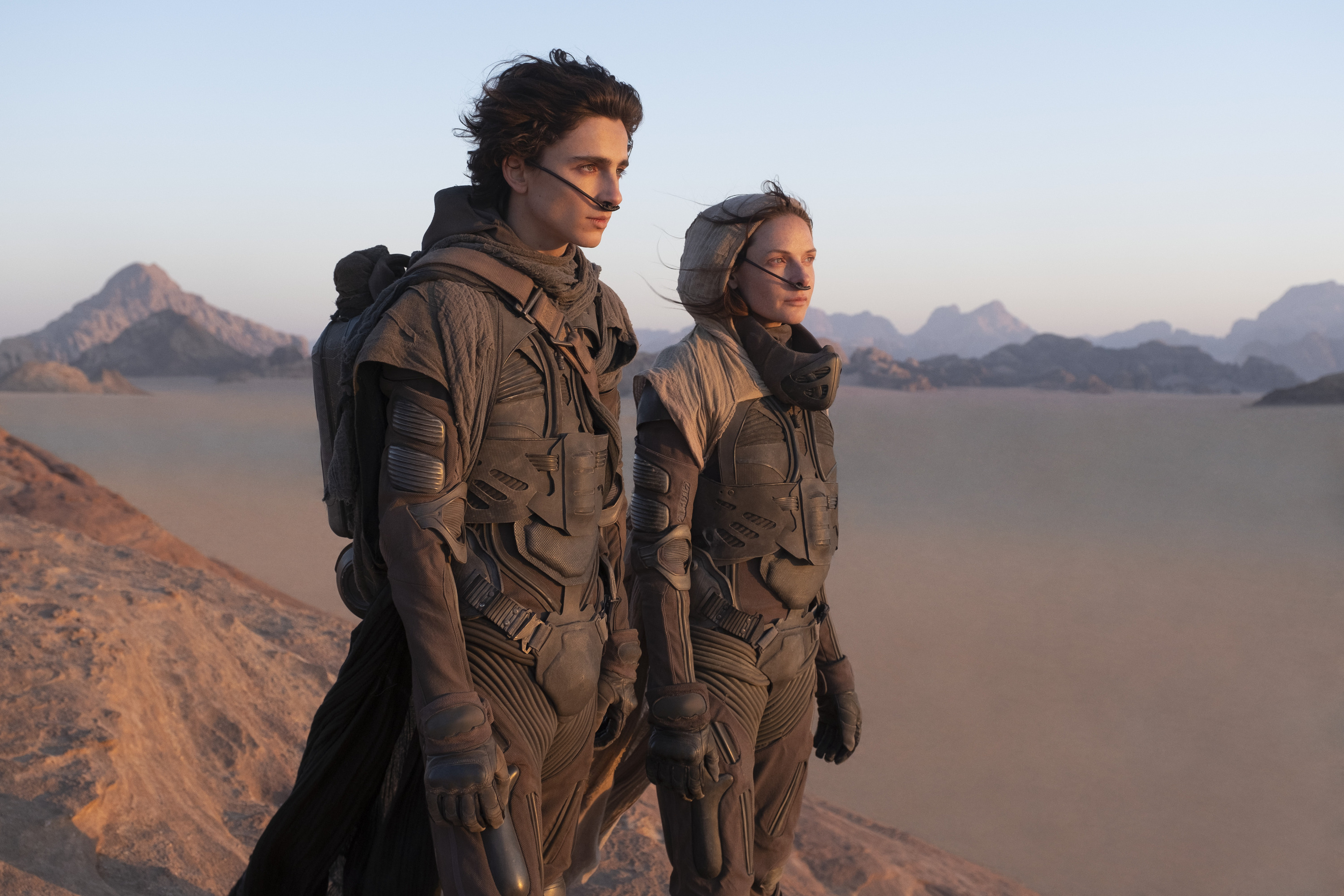 Which cast members are returning for Dune: Part Two?
Timothée Chalamet and Zendaya are both confirmed to return to Arrakis as Paul Atriedes and Fremen warrior Chani respectively. Chani was a fairly elliptical presence in Dune, appearing often in Paul's visions, so expect a much meatier role for Zendaya in this one. A romance is in the sun-crisped desert air, too.
Joining them are Rebecca Ferguson as Paul's mother Lady Jessica Atreides, a member of the Bene Gesserit sisterhood who is marooned with her son on Arrakis. Josh Brolin returns as Gurney Halleck, the fearsome House Atreides warmaster played by Patrick Stewart in the Lynch version.

Two key Atreides figures who won't be back are Oscar Isaac's Duke Leto and Jason Momoa's swordmaster Duncan Idaho – unless Villeneuve has some unexpected flashbacks up his sleeve.
Javier Bardem and Stellan Skarsgård both return as Freman leader Stilgar and the grasping, oil-bathing Baron Vladimir Harkonnen respectively. As head of the House Harkonnen, Skarsgård's spice-hungry overlord will be the film's primary villain, with Dave Bautista back as his equally egregious nephew, Glossu Rabban Harkonnen, and David Dastmalchian – last seen as Polka-Dot Man in The Suicide Squad – returning as the Harkonnen's mega-brained Mentat, Piter De Vries.
Who is joining the cast of Dune: Part Two?
This is where things get even more exciting for the already eagerly anticipated follow-up. The new recruits are a seriously buzzy bunch of A-list names that includes No Time to Die's Léa Seydoux, brand-new Black Widow star Florence Pugh and the King himself, Elvis star Austin Butler. Oh, and one Christopher Walken.
Seydoux plays Lady Margot, an Arrakis-based member of the Bene Gesserit sisterhood who will be pursuing a different agenda from her fellow sister, Lady Jessica.
Black Widow and Midsommar star Pugh is playing Princess Irulan, while Butler is stepping into the metal pants of Sting to play Feyd-Rautha Harkonnen, Baron Harkonnen's warrior prince nephew who will face down Paul Atreides. Will that infamous codpiece be joining him? You'd guess not.
Walken will be lending his trademark intonation and megawatt charisma in the role of Shaddam IV, the ruling Emperor of the Known Universe and the story's secondary villain. Expect to find this emperor in a vendetta kinda mood.
Who is directing Dune: Part Two?
Denis Villeneuve, of course, is back in the director's chair for the sequel. The first film was the Arrival and Blade Runner 2049 filmmaker's highest-grossing movie to date, and he's reunited with Dune co-screenwriter Jon Spaihts to pen the script for the second instalment.
What happens in Dune: Part Two?
Villeneuve is promising a 'more intense' second instalment, as the remnants of the House Atreides – led by Paul and Lady Jessica – attempt to rebuild after the catastrophic events of the first movie. 'It will be for Paul and Jessica to be accepted by the Fremen culture,' Villeneuve tells Time Out, 'to immerse themselves and become one with it, and that's one of my favourite parts of the novel. They learn the ways of the desert, and Paul has to learn to control this rising power within himself to foresee the future and to avenge his father. Dune is a tragedy.'
Bardem, who returns as leader of the Fremens, says that audiences should expect the unexpected. 'I've read the new draft [of the script] and I think they've done an amazing job of putting together the pieces in a way that is gonna surprise people,' he told journalists at the Cannes Film Festival. 'They won't be surprised, obviously, because they've read the book, but they'll be surprised by the way they put it together. I was very moved by it.'
Will there be sandworm riding in Dune: Part Two?
If fans of Frank Herbert's sci-fi tome (and the 1984 David Lynch movie adaptation) were left disappointed by the lack of sandworm-riding in the first film, they can be reassured that the giant subterranean tuboids will be saddled up in part two. 'The answer can be just: Yes, of course,' confirms Villeneuve. 'As the story requires.'
Worm-riding is the Fremen's main mode of transport and Paul must learn the art, along with mastery of his Bene Gesserit-taught powers. Villeneuve is promising more action across the board in a follow-up that 'will definitely be more visual and less dialogue-driven'.
Where is Dune: Part Two filming – and when?
Dune: Part Two is set to begin filming at the end of this summer, with likely locations including the Rub' al Khali desert in Abu Dhabi, Wadi Rum in Jordan and Stadlandet in Norway.
Will there be other Dune movies or any TV spin-offs?
The Dune-iverse seems like it's here to stay. Villeneuve has already expressed an interest in making a third film in the Dune franchise, based on the 'Dune Messiah' book. 'I think Dune Messiah would be a beautiful film,' Villeneuve tells Screen Daily, 'and it would complete Paul Atreides' journey. But I'm going one movie at a time. It's so difficult, and I'm a bit lazy! But I think three movies is a possibility.'
'I want to make part two as fast as possible,' he tells Vanity Fair, 'and then I will wait a few years – until Timothée Chalamet gets a bit older – to do the final instalment.
HBO is also developing a spin-off series titled Dune: The Sisterhood, which will serve as a prequel to Dune and explore the mysterious Bene Gesserit order, the Jedi of Dune's world.
'As a storytelling universe, Dune has extraordinary potential,' screenwriter Jon Spaihts tells the LA Times. 'This is a universe of 10,000 worlds, with civilisations spanning millennia and so many schools and tribes of people caught up in political intrigue, spiritual searches, battles and ancient vendettas. You could tell stories in this universe forever, but I think it tempts fate to make plans that far into the future.'

Watch this space, in other words.
Read Time Out's interview with Dune director Denis Villeneuve.